How to build a capsule wardrobe—16 essentials every wardrobe needs
From the classic trench to the perfect white t-shirt, get your capsule wardrobe right getting dressed will be easier forever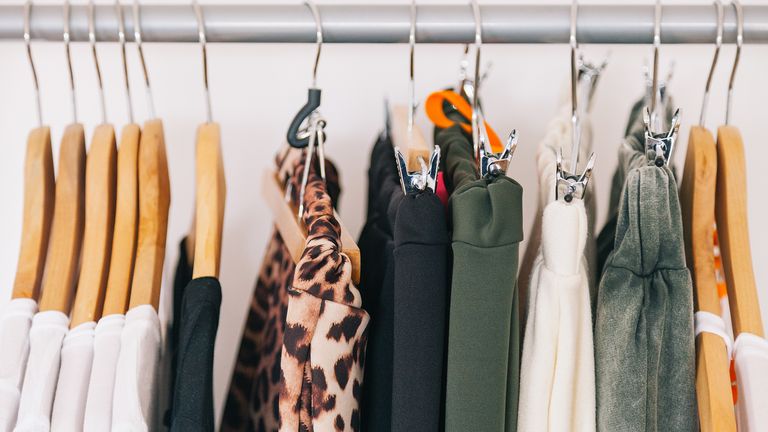 (Image credit: Getty)
Knowing how to build a capsule wardrobe is a skill fashion experts swear by, but it doesn't take a style insider to create one. A successful capsule wardrobe can be simple to put together and is guaranteed to make getting dressed every morning considerably easier.
A capsule wardrobe is a stripped-back minimalist wardrobe consisting of key items that are timeless, good quality, and easy to mix-and-match with each other. Often considered your wardrobe basics, these include pieces such as your best jeans, a well-tailored winter coat, your favorite white trainers, best cashmere sweater and your go-to t-shirts. They are the investment items that never fail to make you feel stylish that you continue to reach for years after you bought them.
Sometimes the more clothing options we have, the harder the decision, which is why building a capsule wardrobe will make getting dressed a whole lot easier and quicker.
What is a capsule wardrobe?
A capsule wardrobe is a selection of never-date items in a complimenting color palette that works well together. These are fashion fail-safes—classic pieces that will forever be stylish and can easily be styled with more fashion-forward pieces for a fresh update each season.
"It comprises the brilliant, basic building blocks that give you countless outfit options, but can also be built upon with the addition of extra pieces which might be a little more trend-led or occasion appropriate," explains stylist Karen Williams.
A capsule wardrobe is normally made up of a handful of year-round stylish separates with a few seasonally relevant pieces such as a winter coat and the best bathing suits thrown in.
"Think of a capsule wardrobe as a shortcut—it gives you something to build a look from, which can save you time and headspace when you're getting ready. And if you shop smart, you'll build a collection of key pieces that will stand the test of time and give you fantastic cost-per-wear," adds Karen.
Quick links: Where to shop for your capsule wardrobe
Why is a capsule wardrobe a good idea?
1. It saves you money
A capsule wardrobe will not only save you time in the morning, it also has a positive impact on your bank balance. According to a recent study, the average woman has 103 items in her wardrobe, with an eye-watering 58% of those items hanging unworn for the past six months. Purchasing hardworking, long-lasting pieces that can be re-worn and styled several ways means you'll get more wear out of your wardrobe and wont need to shell out for new pieces that risk not getting worn.
2. It saves the planet
This is also beneficial to the environment. It's no secret that the rise of fast fashion has had a devastating impact on the environment, with experts predicting that by 2050 the fashion industry will take up a quarter of the world's carbon budget. By buying less but better, we can reduce the need for harmful fast fashion practises, help promote ethical manufacturing and cut down on landfill.
3. It saves you from shopping regret
Additionally, reducing clutter and stocking up on wardrobe essentials that work well together will make your closet easier to navigate—especially on busy, blurry-eyed mornings. It's a win-win.
"It's such a good way of seeing exactly what you have, which in turn should help you stop buying multiples of things that you might already have tucked away in the back of your wardrobe—helping you to shop in a more mindful way," says blogger and author Anna Newton, who has been flying the flag for capsule wardrobes for more than six years.
"By having a capsule wardrobe you'll make wiser choices, more long-term purchases and less impulse buys," adds stylist Susie Hasler.
How to make a capsule wardrobe
The first, and probably biggest step is to declutter your wardrobe. We know it's a daunting task but it will certainly pay off in the long run.
"Having a wardrobe clear-out can be therapeutic and traumatic in equal measure—it can be so hard to let things go," says Karen.
"My advice would be to get rid of anything and everything that isn't serving you—either because it doesn't fit right, doesn't make you feel fabulous or it's no longer worn and is no longer relevant to you. Be disciplined and ruthless."
To make the whole process a little bit easier, Anna recommends sorting clothing into three piles:
Make one pile for clothing that you regularly wear—these are the no-brainers.
The next pile is for anything you haven't worn for a while (18 months plus), or that no longer fits, or doesn't make you feel good when you try it on. Consider selling these items on resale sites such as eBay, Depop and Vinted, or donate to your local charity shop.
Make a final pile of things that you'd love to keep but need a little TLC. Whether that's a repair, a brush with a cashmere and wool comb, a dry clean. Looking after your clothing is so important, so it's a good idea to give pieces some love before you organize them back in your wardrobe. Anything that can't be repaired can be recycled.
"If you can't do it all in one hit, do it in stages," adds Karen. "This is most definitely a process. Have a first edit, and then go back and look at it again in a month's time and reappraise the items you're not wearing. Repeat and repeat! Once you've edited your clothes, you'll also find it much easier to spot some of the gaps in your wardrobe, too."
Once you've decluttered, you should be left with clothes you love and wear regularly. These pieces will form the basis of your capsule wardrobe which you can then build upon over time if you feel you are missing a few essentials.
What are the key components of a capsule wardrobe?
The key elements of a capsule wardrobe will vary from person to person, but it's really about good-quality basics that will form the foundations of a multitude of outfits.
"There really is no set rule here, and it depends on many factors, including our lifestyles, careers, and how much flexibility we enjoy in our wardrobe," advises Anna.
For most women, a capsule wardrobe will consist of versatile items such as:
Jeans
A winter coat
T-shirts for layering
Sweaters or knitwear
Boots and trainers
A little black dress
When it comes to numbers, there are no set rules and a capsule wardrobe can consist of anything from 10 pieces to 80.
"The rule of owning just 40 pieces might work for some people, but maybe it's 80 that works better for you—there's no perfect number that everyone should be aiming for. Take your time with it and don't feel pressure to do one big purge of clothing and start from scratch, it's overwhelming and expensive," explains Anna
And remember they are investment pieces, so it's worth buying good quality garments that will last from one year to the next. Stick to classic colours too, all of a similar palette to make it easier to coordinate. We'd recommend starting with neutral colours rather than bold hues but if you love colour then go for it. You know what color suits you.
"Above all else, you need to look at what makes you feel good. What fabrics do you feel most comfortable in? What fits do you go back to time and time again? What outfit silhouette do you feel most flatters your body? You want to fill your wardrobe with pieces that are not only practical, versatile and comfortable, but that also make you feel fab," adds Anna.
The items in your capsule wardrobe need to be able to be worn a multitude of ways too.
"If you're in doubt about buying something, ask whether you can wear it three different ways; if you can only wear an item one way, it's not worth it," says Susie.
How to create a capsule wardrobe—recommended essentials by our fashion team
With all of the above in mind, here are the hardworking pieces we suggest investing in when building a capsule wardrobe from scratch, or when adding to your existing one.
Best tops for a capsule wardrobe
White t-shirt. The perfect layering tool and guaranteed to go with everything - smart or casual.
Breton t-shirt. Classic and chic for those jeans-and-a-nice-top days.
Linen shirt. Smart for the office yet cool enough to throw over bikinis in the summer.
Cashmere sweater. Elevates your wardrobe basics and is an investment piece that lasts.
Fashion editors picks
---
---
---
---
Browse more capsule wardrobe tops
---
Best bottoms for a capsule wardrobe
Jeans. A key building block in any wardrobe. Whether you prefer a mom cut, straight or a skinny leg, a perfectly-fitting, flattering pair of jeans is a staple that can be worn day and night.
Tailored Trousers. A workwear essential, beautifully made tailored trousers can be dressed up with a blazer and heels or dressed down with a classic white t-shirt and trainers.
Midi skirt. Whether opting for printed or plain, the universally flattering length works with every style of shoe.
Fashion editors picks
---
---
---
Browse more capsule wardrobe bottoms
---
Best dresses for a capsule wardrobe
Printed midi dress. One-step statement dressing at its finest. Look for classic prints that won't date such as polka dot, leopard spot and floral.
Shirt dress. A feminine take on classic shirting, a button-down dress can be elevated with sleek flats for the office, or made holiday-ready with espadrilles.
LBD. As Karl Lagerfeld once said, "One is ever over-dressed or under dressed with a Little Black Dress". The ultimate day-to-evening piece.
Fashion editors picks
---
---
---
Browse more capsule wardrobe dresses
---
Best outerwear for a capsule wardrobe
Blazer. A well cut blazer will pull together any outfit rendering a midi dress and flats office-ready, and giving a classic t-shirt and jeans polish.
Trench coat. One of the most timeless coat styles going, a classic trench in camel tones balances style-factor with practicality and can be worn over any outfit, from smart tailoring to off-duty denim. The ultimate rain-proof light layer.
Biker Jacket. A classic since the 1950s, the biker jacket has an enduring cool-factor which can be effortlessly added to leggings, jeans or dresses. Invest in a premium leather style which gets better with age.
Fashion editors picks
---
---
---
Browse more capsule wardrobe outerwear
---
Best shoes for a capsule wardrobe
Black ankle boots. A chic ankle boot in high-quality, durable leather and with a walkable heel can be slipped under trousers or paired with dresses for work and weekend.
White trainers. As comfortable as they are stylish, classic white trainers are a cornerstone of the off-duty wardrobe (just add denim). Choose a sleek, minimal style that can also be teamed with tailored trousers and a tux jacket for a contemporary twist on cocktail dressing.
Strappy sandals. A low, walkable heel will add polish to both dresses and jeans. Opt for a paired back strap sandal in a versatile neutral that works for both day and night.
Fashion editors picks
---
---
---
---
Browse more capsule wardrobe shoes
Best bags for a capsule wardrobe
Crossbody bag. The perfect day-to-night accessory, the hands-free bag is roomy enough for the essentials whilst looking sleek and compact.
Backpack. Keep things practical and look stylish on-the-go with a shoulder-friendly backpack.
Tote bag. Whether you're on a shopping spree or commuting, a trusty tote will cope with any handbag overspill.
Fashion editor's picks
Kate Spade Astrid Medium Camera Bag $198 or £195
---
---
Matt & Nat Annex Vegan Backpack $150 or £120
---
Longchamp Le Pliage Original Shoulder Bag $195 or £90
---
If this list doesn't sound like you, make your own list of essentials, based on the pieces you get the most wear out of. Remember, these are only the building blocks. And don't forget about accessories—they are a great (and often inexpensive) way to add interest to classic, neutral pieces and give an outfit your own style twist.