How to build a capsule wardrobe—according to the fashion experts
Everything you need to know to create your very own capsule wardrobe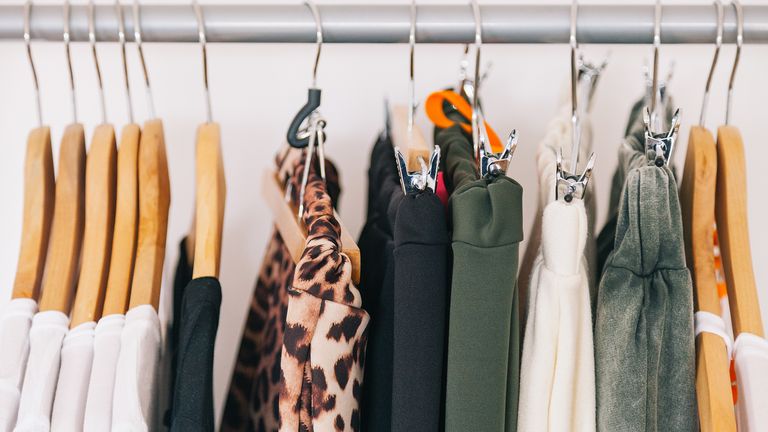 (Image credit: Getty)
By Jess Beech , Aleesha Badkar
A capsule wardrobe might be the answer to the age-old problem: a closet bursting with clothes but nothing to wear. But why exactly is less more in this instance? Well, in part because a streamlined wardrobe, free from the clutter of impulse purchases and incorrect sizes, makes finding an outfit that looks stylish and fits well so much simpler—especially for when it's time to head back to school.
A capsule wardrobe, slimmed down to the essentials—your best jeans, a perfectly tailored winter coat, failsafe basics—will also help you save money by limiting those fashion buys that stay hidden in the back of your closet, tags still on. According to a recent study, the average woman has 103 items in their wardrobe, with an eye-watering 58% of those items hanging unworn for the past six months.
But it's not just your bank balance that will benefit from the transition to a capsule wardrobe. By buying less, focusing on well-made items that will last, you'll be making more sustainable fashion choices. This is certainly no bad thing; it's no secret that the rise of fast fashion has had a devastating impact on the environment, with experts predicting that by 2050 the fashion industry will take up a quarter of the world's carbon budget.
Convinced of the benefits of taking a more streamlined approach to your closet? Our capsule wardrobe checklist will help you whittle down the contents of your wardrobe.
What is a capsule wardrobe?
A capsule wardrobe is a curated edit of pieces that work well together. "It comprises the brilliant, basic building blocks that give you countless outfit options, but can also be built upon with the addition of extra pieces which might be a little more trend-led or occasion appropriate," explains stylist Karen Williams.
"Very often, because they're basics, they tend to be quite classic pieces, so can run the risk of being a little bit conservative or safe. However, think of them as a shortcut—they give you something to build a look from, which can save you time and head space when you're getting ready. And if you shop smart, you'll build a collection of key pieces that will stand the test of time and give you fantastic cost-per-wear."
Why is a capsule wardrobe a good idea?
A capsule wardrobe will not only benefit your bank balance as you make more considered purchases, but it has a positive impact on the planet too, as you're likely to find yourself shopping less. Additionally, reducing clutter and stocking up on wardrobe essentials that work well together will make your closet easier to navigate too—especially on busy, blurry-eyed mornings. Win-win.
"It's such a good way of seeing exactly what you have, which in turn should help you stop buying multiples of things that you might already have tucked away in the back of your wardrobe—helping you to shop in a more mindful way," says blogger and author Anna Newton, who has been flying the flag for capsule wardrobes for more than six years.
"You don't really need many clothes in a capsule wardrobe," adds stylist Susie Hasler. "The key is to choose items that you can wear in different ways. So if you're in doubt about buying something, ask whether you can wear it three different ways; if you can only wear an item one way, it's not worth it. By having a capsule wardrobe you'll make wiser choices, more long-term purchases and less impulse buys."
The same goes for handbags; it's smart to have a go-to bag that works with most of your capsule outfits.
Top tips for clearing out your wardrobe
Ok, so we've established that having a capsule wardrobe is a good idea, but what's the best way to go about making space for one?
If the idea of decluttering your wardrobe is enough to leave your palms sweaty, you're not alone. "Having a wardrobe clear-out can be therapeutic and traumatic in equal measure—it can be so hard to let things go," says Karen. "My advice would be to get rid of anything and everything that isn't serving you—either because it doesn't fit right, doesn't make you feel fabulous or it's no longer worn and is no longer relevant to you. Be disciplined and ruthless."
"Hang onto classic shapes and silhouettes; if they still fit, they're bound to get a second lease of life," Karen continues. "I promise you will feel so much better with a streamlined wardrobe of 20 things that you love and will wear on repeat, rather than a rail full of stuff that has no purpose in your life. It will give you so much clarity and save you time and headspace when you get dressed."
Daunted by the idea of tackling your wardrobe in one go? No problem.
"If you can't do it all in one hit, do it in stages," adds Karen. "This is most definitely a process. Have a first edit, and then go back and look at it again in a month's time and reappraise the items you're not wearing. Repeat and repeat! Once you've edited your clothes, you'll also find it much easier to spot some of the gaps in your wardrobe, too. How exciting to start over again and go shopping for things you'll really love and need—think of this as a fresh start in more ways than one."
To make the whole process a little bit easier, Anna recommends sorting clothing into three separate piles.
"Make one pile for clothing that you regularly wear (both in lockdown life and pre-lockdown life)—these are the no-brainers."
"The next pile is for anything you haven't worn in the past two years, that no longer fits, or doesn't make you feel good when you try it on."
"Make a final pile of things that you'd love to keep but that perhaps need a little TLC—whether that's a repair, a brush with a cashmere and wool comb, a dry clean. Looking after your clothing is so important, so it's a good idea to give pieces some love before you organize them back in your wardrobe."
Another great tip is to consider selling the items from pile two to help you fund new pieces for your capsule wardrobe. Resale sites such as eBay, Depop and Vinted make it easy to find a new home for your unwanted items, while making you a little money in the process.
Does having a capsule wardrobe mean you can't follow trends?
Fashion is meant to be fun, and putting too many rigid rules in place will quickly start to feel stifling. Adding a few new, trend-led pieces into the mix will help spice things up, but remember the basic principles: if it doesn't fit properly, suit your shape or go with anything else in your wardrobe, it's not worth it.
"I'm more likely to follow trends with accessories or old favorites, such as a linen shirt, but in a different color than I'd usually go for," explains Anna. "It's more about a subtle twist on something I already love, rather than something that feels like an 'out-there' purchase for me. A capsule wardrobe makes you hone in on your taste and style, so you're more likely to make trend-led purchases that actually work for you, and have longevity in your wardrobe."
What are the key components of a capsule wardrobe?
The key elements of a capsule wardrobe will vary from person to person, but it's really about good-quality basics that will form the foundations of a multitude of outfits. Susie explains that "the staple pieces of a capsule wardrobe are often the pieces that people are lacking—they're usually the basics a lot of us walk past in the shops or we scroll past when we're shopping online."
When it comes to how many pieces you should have in a capsule wardrobe, that's also flexible too.
"There really is no set rule here, and it depends on many factors, including our lifestyles, careers, and how much flexibility we enjoy in our wardrobe," advises Anna. "The rule of owning just 40 pieces might work for some people, but maybe it's 80 that works better for you—there's no perfect number that everyone should be aiming for. Take your time with it and don't feel pressure to do one big purge of clothing and start from scratch, it's overwhelming and expensive."
When building a capsule wardrobe there are also a few different factors to think about. Anna explains, "You need to consider your needs in terms of work and your life beyond that—you might find you can make some pieces work for both scenarios, whereas others might need more of a work/ weekend split. But, above all else, you need to look at what makes you feel good. What fabrics do you feel most comfortable in? What fits do you go back to time and time again? What outfit silhouette do you feel most flatters your body? You want to fill your wardrobe with pieces that are not only practical, versatile and comfortable, but that also make you feel fab."
With all of that in mind, here are a few pieces that we suggest investing in to start your capsule wardrobe.
Best tops for a capsule wardrobe
White or Breton striped t-shirt
Linen shirt
Cashmere jumper
Best bottoms for a capsule wardrobe
Jeans
Black trousers
Midi skirt
Best dresses for a capsule wardrobe
Best outerwear for a capsule wardrobe
Oatmeal-coloured trench
Structured blazer
Pea coat
Best shoes for a capsule wardrobe
Smart trainers
Ankle boots
Court shoes
If this list doesn't sound like you, make your own list of essentials, based on the pieces you get the most wear out of. Remember, these are only the building blocks. And don't forget about accessories—they are a great (and often inexpensive) way to add interest to classic, neutral pieces and give an outfit your own style twist.