Stylish dresses to hide a tummy - plus top tips from our fashion experts
Looking for dresses to hide a tummy? Find out what to look for and where to find it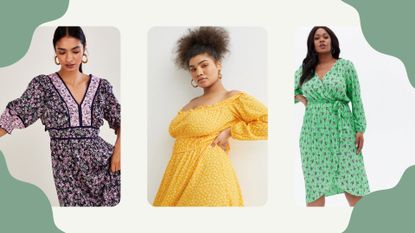 (Image credit: Future: Monsoon / H&M / New Look)
The shops are full of stylish dresses to hide a tummy, for those who are self-conscious about their stomach. Many people find it hard to shift weight from around their middle and if you're looking to discreetly skim over your midriff, it's good to learn what to look for when shopping.
Whatever your body type, we can all have moments of self-consciousness and if you're struggling to feel good while dressing for your shape, learning some styling tricks will help you feel better in your clothes.
Feeling self-conscious about your stomach is enough to ruin the shopping experience so we've packed this feature full of our expert top tips for how to pick the best summer dresses to hide a tummy so that you can get dressed with confidence. Rather than just focusing on disguising your stomach, consider how to draw attention to your best assets. Apple body shapes tend to have a generous bust, a small bottom, and slender arms and legs. So far, so gorgeous. In fact, the only difference between apples and the much-coveted hourglass body shape is a less defined waist, and we have plenty of ideas to help with that.
But most importantly, remember, a stubborn midsection (or any body hang-up for that matter) shouldn't affect your style - get dressed for you and most importantly learn to enjoy your wardrobe, accept your body and celebrate yourself- keeping that in mind will improve your confidence.
The best styles of dresses to hide a tummy
Wrap: Flattering on all body shapes, a wrap dress is a capsule wardrobe staple, not to mention a shape Kate Middleton turns to on the regular. A well-cut one will fit and flatter up top, before skimming over your middle. The deep V neckline makes them well suited to larger busts, but they'll provide a boost to smaller cup sizes too. For added coverage, look for wrap dresses with a soft ruffle across the front or some soft draping detailing.
Empire line: When it comes to hiding your stomach, empire line styles are always a good bet. Drawing the eye to the smallest part of your torso by nipping you in directly under the bust, they give the illusion of a higher waistline. The rest of the dress should have a flared or A-line fit that floats over the stomach.
Trapeze: Don't be put off by the name, trapeze dresses don't have to be tent-like. Opt for a style that flutes out once it has past your armpit (so you get a little bit of bustline definition before it fills out. This shape is a good dress silhouette to hide a tummy because it doesn't cling to your shape, making it a particularly comfortable one too. For petite frames, opt for a shorter style, no longer than knee length, while taller shoppers can afford to go for a midi trapeze dress. Length is important in this style so that you don't end up overwhelmed.
Ruching: Ruched details and gathering swooping across a midsection of a dress is an ingenious way to hide a tummy. Subtle puckering and soft drapery is a really flattering way to disguise your middle and when it starts from the side of the waist it can also help to create the illusion of a narrower waistline.
Printed: Don't shy away from patterns and prints. A busy print acts as sartorial camouflage and helps to hide a multitude of insecurities, including helping to disguise a tummy. Wearing print is also an easy way to inject vibrant colors into your wardrobe.
Illusion paneling: Illusion dresses are a super sleek way to not only hide a tummy but also create hourglass curves. Using block coloring, illusion dresses revolve around having a central panel through the front center (and sometimes also back center) of the dress. Cutting through you vertically, the center block panel creates the illusion of a narrower silhouette and more slender waistline, adding curves and disguising a tummy in the process.
Higher waistlines: It can be tempting to opt for dresses that have little shape in a bid to hide your stomach, but actually when it comes to dressing to hide a tummy, having an element of shaping and tailoring is really important. While you should avoid horizontal detailing right across your stomach, do invest in tailored dresses, including shift dresses that have a slightly higher waistline. This again narrows you at a smaller part of your frame and a well-tailored dress will still skim the areas that make you feel self-conscious.
Gorgeous dresses to hide a tummy, chosen by our fashion experts
1. Marks and Spencer Floral Tie Waist Wrap Dress
Specifications
RRP: $69 / £39.50
Sizes: US: 2-20 / UK:6-24
Marks and Spencer's is one of the most famous British clothing, homeware and food brands. With something for everyone (whatever your age), it's no surprise it also has stylish dresses to hide a tummy. A wrap dress silhouette is universally flattering as the crossover detail, coupled with a side tie and double front adds distance to your midriff, ensuring that the dress glides rather than clings to your frame. This floral number is ideal for the new season and can easily be dressed up with a fascinator to solve what to wear to the races, or worn with sandals for a sunny day out with friends and loved ones.
A floral print will never go out of style, while they may not be 'groundbreaking', according to the fashion quote from Miranda Priestly in The Devil Wears Prada, they are always on-trend come the summer months, meaning you can wear this dress for a lifetime.
---
2. H&M+ Crêpe off-the-shoulder dress
Specifications
RRP: $34.99 / £24.99
Sizes: L-4XL
H&M has a bustling curve collection, making this Scandinavian clothing brand one of the best plus size clothing brands on the market. This off the shoulder style will require you to invest in one of the best strapless bras as you won't want your straps on show. Ideal for pear shaped bodies, the off the shoulder style will balance out wider hips as it shows of shoulders and collar bones. The ruched bodice will highlight your bust and narrow at your waist for figure flattering finish. To finish off this look for casual, sunny weekends, just add your best white trainers and a denim jacket.
---
(opens in new tab)
3. Mac Duggal Butterfly Sleeve Jersey Gown
Specifications
RRP: $398 / £325.40
Sizes: US: 0-16 / 4-20
This beautiful jersey maxi dress is a sure-fire hit for special occasions this summer. Whether you're looking for one of the best wedding guest dresses for a black tie event, or are already thinking about this year's holiday parties, this floor sweeping gown is one that will turn heads. In a comfortable jersey fabric, this occasionwear dress is both flattering and comfortable. V-neck and faux wrap front draws the eye down the body, lengthening your frame in the process. With midriff loving ruched detailing, the gentle gathering is ideal for those looking for stylish dresses to hide a tummy.
The long length adds versatility to the look, meaning you can tailor your shoe choice to your mood. Comfortable flats? No problem, no one will know. Fancy rocking a pair of heels? They'll work too. With a short fluted sleeve, you'll get the benefit of upper arm coverage and the ability to wear your best bra. The fuller sleeve will also feel lighter and breezier - great if dancing is on the cards.
---
4. Hobbs Farrah Dress
Specifications
RRP: $420 / £199
Sizes: US: 2-16 / UK: 6-18
Knots, twists, ruching and folds are secret weapons when it comes to stylish dresses to hide a tummy, as any gathering or angled drapery across the midriff will skim your belly and will glide over the areas you're most self-conscious about.
While wrap dresses and side ruching is fairly common place, we're loving the knot detailing used here to both hide a tummy and add detail to the dress. The gorgeous silky fabric and dispersed floral print also add eye catching detail, taking eyes away from your middle, while the V-neck elongates your figure.
When it comes to stylish dresses to hide a tummy, color and color contrast can also play an important role. By keeping the botton half of this dress darker and the top half more vibrant, eyes will be instantly drawn upwards. You can also support the look with the quality shapewear for a smoother finish.
---
(opens in new tab)
5. Next Wrap Dress with Ruffled Trim
Specifications
RRP: $58 / £38
Sizes: US: 2-22 / UK: 6-26
Everyone finds shopping for a special occasion outfit stressful, but if you're also determined to find a stylish dress to hide a tummy, that task might seem even more overwhelming. This gorgeous floral frock has one of the best summer dresses written all over it and the trend-worthy animal print, coupled with the flattering V-neckline and wrap dress silhouette makes it an absolute winner for covering up your mid-section too.
The pretty ruffle detail at the hem will draw the eye down your body making you look longer and leaner, while the bold print covers up your stomach. The wrap shape is one we know is flattering, meaning dress envy is guaranteed.
---
(opens in new tab)
6. Karen Millen Color Block Dress
Specifications
RRP: $232 / £135
Sizes: XS-L
The best dresses for hiding a tummy aren't always oversized. You can wear bodycon iterations too, the trick is all in the print, pattern, and positioning. The illusion dress has been one that has flitted in and out of fashion, but for those wanting a stylish dress to hide a tummy, it's a look you should invest in whenever you spot it.
To make this trick work, you're looking for a dress with a contrast center panel. The contrast panel should be going vertically on the dress and narrower than the width of your front. This clever central panel should generally be in a block color for maximum effect. Creating a narrow column, the panel tricks the eye into seeing a smaller waistline and more defined curves. The block-colored panel will also make you appear taller too as the eye glides effortlessly up and down your figure.
As many illusion dresses have a figure-hugging fit, make sure to put on the right foundations - such as the best shapewear - to smooth out your shape.
---
7. Monsoon V neck blossom print dolly dress purple
Specifications
RRP: $94 / £75
Sizes: S-XL
An empire line dress is a great choice when it comes to stylish dresses to hide a tummy. Answering the question of what is boho style, this relaxed fit dress offers a gorgeous floral print that will work all year through. Featuring a V-neck and ruffled front, this dress should sit across the bust and shoulder before taking on an A-line silhouette from the empire line, enhanced by the contrast print and piped underband, hiding stomachs, skimming thighs and hips in the process.
Wear now with white trainers or your best sandals for a relaxed look, and come the fall winter shoe trends 2022 nail how to style knee-high boots, by pairing your best winter boots with this versatile frock.
---
(opens in new tab)
8. LK Bennett Nimes Navy and White Gingham Frill Detail Dress
Specifications
RRP: $540 / £299
Sizes: US: 2-14 / UK: 6-18
This beautiful midi dress is from LK Bennett, one of our favorite British clothing brands. Excelling at classic elegance, this is one of the best dresses you can reach for time and time again. Ideal for the office or summer weekends with friends, this picnic-ready frock will pair well with white sneakers, summer sandals or espadrilles for a more polished finish. The nipped-in waist offers a tailored and flattering fit, while the ruffled V-neckline will add curves to smaller busts and draws eyes to your upper torso. The fabric tie belt helps to create a more sculpted silhouette, and the subtle gingham print keeps this firmly in the summer dress arena.
9. Me+Em Houndstooth Jacquard Midi Dress + Tie
Specifications
RRP: $445 / £250
Sizes: US: 2-12 / UK: 6-16
Green dresses are big news this season and this beautiful houndstooth design nails the trend elegantly. Made from eco-conscious cupro fabric, this dress delivers on fit and style. With a sporty finish thanks to the discreet zip front and elasticated cuffs, the midi length means it's a look you can integrate into your office outfits or dress up for an occasion. With a directional tiered skirt and a comfortable elasticated waist, this dress is ideal for creating curves, whilst also hiding a tummy. The fabric belt can be removed altogether, or try tying the wide jacquard belt above your stomach - creating a higher waistline - and let the belt hang at the front, covering a midriff, effortlessly styling out the look.
---
10. SOEUR Philomene graphic-print silk midi dress
Specifications
RRP: $460 / £425
Sizes: 6-14
If you're in the market for summer outfits for work, then this dress should be on your list. One of the best shirt dresses, this design has a relaxed fit, allowing it to skim your stomach. With a removable self-fabric tie belt, you can create a high waistline or empire line fit with the belt, ensuring you can create definition while still skimming your frame. The bold graphic print draws attention away from your silhouette, and the neutral hues ensures this can be worn all year. Great in the summer with tan sandals and any of the best tote bags, try layering a fine roll-neck underneath in cooler weather and pairing with opaque tights and boots.
---
11. Boden V-Neck Tiered Dress
Specifications
RRP: $190 / £130
Sizes: US 2-22 / UK: 6-22
A chic midi dress, this is a real showstopper and can be worn throughout the year, layered in the winter with a roll-neck sweater, tights, and boots, then swapped for sandals for balmy summer evenings. The flattering V-neck will help to elongate your figure, making you appear longer and leaner. The under-bust panel creates an empire line silhouette, giving the impression of a narrower, higher waistline, before it glides off into an A-line shape, skimming your stomach. This pretty printed dress is one you'll reach for on-repeat.
---
12. J. Crew Tie-back tiered dress in stripe
Specifications
RRP: $148 / £165
Sizes: US: 00-24
A tiered dress is a super stylish dress to hide a tummy. Thanks to the tiered layers, this dress has a feminine A-line silhouette that will skim your silhouette. Fitted around the bust area it ensures your shape isn't entirely hidden but does gently glide over midriffs and hips. The timeless striped print draws the eye down and along the body, instantly lengthening you and we love the sweet bow detail at the back of the dress for added design. Ideal for what to wear to a bridal shower or even a sunny summer picnic, team this dress with your favorite sandals for an easy warm-weather look.
If you'd rather have extra arm coverage, opt for a cropped, cotton cardigan in a tonal hue for a seamless style. Prefer to layer? Then wear a white tee underneath this dress offers an instantly more casual finish for laidback luxe.
---
13. Eloquii Knot Front Pleated Skirt Dress
Specifications
RRP: $114.95 (US only)
Sizes: 14-32
Eloquii, an American clothing brand, is one of the few brands like Zara - in terms of fashionability, that is actually aimed at plus size women. Loved by some of the best fashion bloggers, it make some of the best plus size dresses, so Eloquii understand how to flatter curvy figures. Whether you're looking for great occasionwear, summer workwear or need to know what to wear on a first date, we highly recommend stopping by this online retailer for pieces that translate the trends into styles you will want to show off.
This pretty navy blue dress with a knotted front and draped skirt is ideal for those who want a stylish dress to hide a tummy. The knot acts as a central narrowing point, drawing the eye in and down the body, elongating your frame. Creating an empire line under the bust, the skirt pleats start higher up, skimming your middle and lengthening your legs, no heels required.
---
14. Simply Be Rainbow Leopard Print Frill Midi Dress
Specifications
RRP: £55 (UK only)
Sizes: 10-32 (UK only)
Simply Be is a great place to shop for bright color clothes. A plus size brand that follows the trends, this pretty rainbow, leopard print dress is ideal for a summer occasion, such as what to wear to a christening, but equally lovely for an evening of alfresco dining on vacation. The empire line silhouette is a flattering shape for hiding a tummy, with the front frill detail drawing the eye down, elongating your torso.
The diagonal direction of the print is another clever styling trick, that helps to smooth out your silhouette, diverting attention away from your middle and around the body. And of course, rainbow coloring is still in fashion, with the dopamine dressing trend still very much a part of the Fall 2022 fashion trends.
---
15. John Lewis & Partners AnyDay Animal Print Dress
Specifications
RRP: £20 (UK only)
Sizes: 6-20
Another leopard print number, but it is essentially, fashion's favorite print. This cute leopard print t-shirt dress is ideal great for summer months. With a lovely loose-fitting shape and light jersey fabric, this will keep your look trend-driven while remaining comfortable too. Drawing inspiration from a classic t-shirt dress, this particular iteration is an ideal stylish dress for hiding a tummy as the gathered seam detailing creates a more voluminous shape, ensuring the dress will skirt out and glide past your middle.
Leopard print is by far the most popular of all animal prints amongst the fashion pack, with many referring to the wild print as a 'neutral', meaning it will go with anything and everything in your capsule wardrobe. This casual tee dress is ideal for learning how to wear high top Converse too, just add your best leather jacket and you're good to go.
---
16. Zara Long Printed Dress
Specifications
RRP: $69.90 / £49.99
Sizes: XS-XXL
The trapeze dress is fashion's secret weapon when it comes to stylish dresses to hide a tummy. A shape that is particularly well done by Spanish clothing brand Zara, it's the total antithesis to the bodycon trend, gliding out from the bust line. A summer must-have, this look is comfortable, directional and available in a multitude of prints and patterns - it's truly summer's easiest style buy.
We love this long printed number, with an instantly relaxed vibe, it has a lovely vintage feel to it, but it's bang up to date in a bold print. Whether you're looking for the ultimate vacation wardrobe, or just want to fill your closet with simple but stylish day dresses, we can't recommend this bargain buy highly enough. The fitted shoulder offers some structure to the dress, but you can guarantee a midriff flattering fit here too. If this print or colorway isn't for you, keep your eyes peeled as Zara famously does this silhouette on repeat in warmer months.
---
17. DÔEN Ischia smocked cotton-blend maxi dress
Specifications
RRP: $288 / £294.54
Sizes: XXS-XXL
DÔEN is a current favorite amongst the fashion crowd for its easy to wear, uber pretty and warm weather-friendly dresses. A perfect answer to what is cottagecore, the brand's dress selection feels vintage and modern all at the same time. Made from BCI cotton, this dress is lovely and breathable and the sky blue hue makes it ideal for those mornings where there isn't a cloud in the sky.
The ruched bodice will frame your bust line, while the gathering detail, coupled with an A-line skirt will skim your frame for a flattering finish. The square neckline taps into the Regencycore trend that has grown out pop culture phenomenon Bridgerton.
While this flowy dress definitely has a more relaxed feel to it, thanks to the gathering detail and fitted bodice, you could smarten it up for a summer occasion with a pair of espadrilles and a directional headband.
---
18. Banana Republic Linen Dress
Specifications
RRP: $200 (US only)
Sizes: XXS-XXL
This beautiful linen dress is available in three colorways, black, yellow and an exceptionally fun print that features tiny zebras and delicately drawn palm trees. With an immediately sunny outlook, this bold yellow linen dress is bound to keep you cool thanks to the breathable fabric. Although this dress is pretty bold, this new season buy has lots going for it when it comes to skimming a midriff. The button-fronted, tailored top half will enhance your shape, framing your bust, while the fuller sleeves keeps it directional, skimming hips in the process. Cinch the full skirt above your middle with the self-tie fabric belt (or swap out for a leather iteration) to create a fuller skirt shape that will skim over your tummy with ease. The full sleeves only add to the fashion-forward feel of this look.
---
19. Joanna Hope Luxe Jersey Print Dress
Specifications
RRP: £69 (UK only)
Sizes: 10-32
You'll be hard to miss in this bold animal print dress. It's a misconception that stylish dresses to hide a tummy also have to disappear into the background. Statement prints, in great cuts are an ideal way to let you and your outfit shine without putting the spotlight on the areas you're self conscious of. This jersey dress will be wonderfully soft and comfortable, moving with you throughout the day. The bodice is cut to frame a fuller bust, with a higher cut waistline, to narrow you above your stomach, sculpting your curves without being tight over a tummy. The deep waistband will help to elongate your torso, while the lightly gathered skirt will gently skim your middle.
If you're worried about smoothing your silhouette while wearing a jersey dress, pair this number with one of the best bras for backfat or get the best plus size shapewear that will offer added support and contouring to your silhouette.
---
(opens in new tab)
20. Thought White Trapeze Dress
Heading off to sunnier climes? Aside from your best sunglasses, you'll want to slide a trapeze dress into your suitcase too. Universally flattering, this shape hangs from the shoulder, skimming over a midriff. The shape is comfortable and airy, ideal for warmer months and the simplicity of the style embodies this season's Coastal Grandmother trend for mature but effortless dressing. While white dresses are usually shunned for black dresses, they're often seen as 'slimming,' when it comes to the summer months, a trapeze shape, even in white, paired with the sandals looks stylish in every size.
---
(opens in new tab)
21. New Look Curves Green Ditsy Floral Plissé Belted Midi Wrap Dress
Specifications
RRP: £39.99 (international shipping available)
Sizes: 18-30
This gorgeous wrap dress pretty much sums up the season. One of the best green dresses this summer, featuring a lilac print, the design pulls two of the biggest fashion color trends 2022 together, and delivers them wrapped up (literally) with a timeless micro bloom design .
A universally flattering design, this frock is an ideal choice for those self conscious about their middle. With discreet tie side detailing - distracting from your stomach, the lightweight fabric floats across the midriff for subtle coverage. A great dress for any occasion this summer, the vertical animal print helps to elongate your frame, an illusion reinforced by the dipped side hems. As this is quite a loud print, keep your accessories neutral, pairing with barely-there sandals and a cream or beige clutch.
Jess Beech is an experienced fashion and beauty editor, with more than eight years experience in the publishing industry. She has written for woman&home, GoodtoKnow, Now, Woman, Woman's Weekly, Woman's Own and Chat, and is a former Deputy Fashion & Beauty Editor at Future PLC. A beauty obsessive, Jess has tried everything from cryotherapy to chemical peels (minus the Samantha in Sex and The City-worthy redness) and interviewed experts including Jo Malone and Trinny Woodall.