How to pick the best jeans for your body type according to style experts
Finding the best jeans for your body type can work wonders for your shape and confidence. We ask experts what to look for.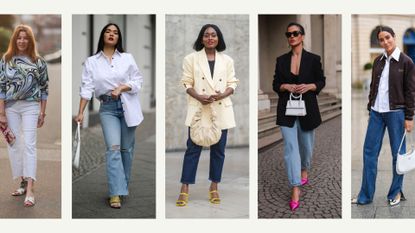 (Image credit: Getty)
Struggling to find the best jeans for your body type? The truth is, whatever size you are, jeans are one of the hardest items to get right. And with so many different shapes, rises and washes available, the sheer volume of choice only adds to the challenge.
The best jeans for your body type will largely be a personal choice, but starting with understanding your body shape can really help you on this journey. Knowing your body type will aid you in working out the type of jeans you're looking for, for example, the height of the rise of the shape of the leg that best works with your silhouette.
As fabrications have developed, we're seeing growing numbers of flattering jeans enter the marketplace, that have sculpting properties built into the design, helping to contour your silhouette. Regardless of whether you opt for classic rigid denim, or those pairs with built-in stretch, it's undeniable that the most important part of finding the best jeans for your body type, is that they are also ultimately, comfortable jeans that make you feel great.
"Jeans are probably the most iconic article of clothing we own, and the fit is a very personal thing, so the bottom line when shopping is always if you love it and feel great, then go for it," says fashion stylist and broadcaster Miranda Holder. "If you are in the market for a new pair, just make sure you have plenty of time allocated. Jeans shopping is usually a whole dedicated session with my clients, rather than adding it on at the end of a spree."
How to pick the best jeans for your body type
When you know what your body type is, it's much easier to find the best jeans for your shape.
"When it comes to feeling slinky in your denim, it's very much about the overall proportion of your outfit and taking into account your natural shape," advises Miranda.
We've broken down how to pick the best jeans for your body type into five shape guides. While you may be a mix of more than one of these shapes, this is a spring board to help you navigate the difficult world of denim shopping.
1. Best jeans for apple body type
Apple body shapes tend to carry most weight around their middle, particularly around the stomach, but they may also have an ample bust. Apples also tend to have slim arms and legs and a relatively small bottom.
Personal stylist and style writer, Natalie Robinson, says the key to finding the best jeans for this body type is all in the legs.
"Apple shapes tend to have slim legs, so my top tip is to show them off in a pair of stretch denim ankle-length skinny jeans," she says.
The best skinny jeans for apples will include some added stretch for comfort and a mid or high waist, which can help contour your middle if this is something you're looking for. Not sure how to style jeans like this for your shape? A longer-line top, such as an oversized shirt or blazer will skim your middle, while still showing off your legs.
However, skinny jeans aren't for everyone, and Natalie says there are other choices available for apple body types.
She says: "Bootcut or flared jeans are great for balancing out a wider upper body if that's what you want to achieve, but ultimately, straight-cut or girlfriend style jeans - a slimmer version of the boyfriend jean - will enhance slim legs as opposed to hiding them."
Levi's 311 Shaping Skinny Jeans
RRP: $69.50 / £95 | These jeans feature an innovative midriff contouring panel that also adds perkiness to your bottom. The darker washes such as black and indigo are also a great choice as they'll accentuate slim legs, while also narrowing the waist.
M&S Magic Shaping Flare Jeans
RRP: $55 / £45 | The slight flare at the bottom balances out a wider upper body. Make sure your jeans hit right on the floor to add height. Wondering how to style bootcut jeans? Keep your top more fitted, by tucking in, or opting for a body-conscious top.
2. Best jeans for Pear body types
If you consider yourself to have a pear shaped body, you more than likely have a smaller upper body, rounder hips, and a fuller bottom. The key to finding the best jeans for your body type is to balance out the volume in the hip and thigh areas.
"Boot-cut or wide-leg jeans complement pear shapes as they help to elongate such body types," says Natalie, who says the sleek lines will not only balance out your figure but also elongate legs.
Darker hues such as black and indigo offer added polish to your look, lending themselves to smart casual outfit ideas, making them a good choice for versatility.
Natalie also says it's best to swap low rises for the best high-waisted jeans as these highlight your waist and create a more balanced silhouette overall.
"It's best to shop for high-waisted jeans owing to the figure-flattering benefits of high-rise jeans for pear shapes (as they) draw attention to your naturally defined waist," she says.
As for how to style high waisted jeans for pear shapes, Natalie says it's all about creating a balance between the top and bottom half.
She says: "Layer the upper body with accessories or wear a structured jacket to balance out the lower body."
RRP: $48 / £32 | To look truly modern, flared jeans need to fall at the right length. These flares come in a variety of lengths, including short, making them some of the best petite jeans for pear shapes. The dark fabric makes these slimming jeans, whilst also leg lengthening. Pair with heels to make pins even longer.
Paige Cropped Wide Leg Jeans
RRP: $240 / £275 | The best designer jeans are timeless and these Paige cropped jeans certainly tick both of those boxes, plus the vintage denim feel makes them look lived in from day one. For how to style wide leg jeans, these are ideal for showing off the shoe trends 2023 such as flat mules or strappy heels.
RRP: $98 / £96 | Straight jeans are a must for every capsule wardrobe. Available in a wide range of sizes and leg lengths, these come with a touch of stretch to ensure the perfect fit. The high rise accentuates a pears' smaller waist shape. Tuck in your tops to show off your curves and balance out your body shape.
3. Best jeans for an hourglass body type
Hourglass figures are fairly equal in proportion between their top and bottom half, with a narrow, defined waist. If you identify with this shape, you may have larger thighs, bust, bottom, and also slightly rounded shoulders.
"If you boast Marilyn Monroe curves, the most flattering jeans will follow your natural contours to show off your sensational shape," says Miranda. "The golden rule is to always define your waist, so unless you are intending to zero in on the noughties revival of walking around showing off toned abs and baring your navel, higher-waisted jeans that finish at your natural waist will be best."
Miranda also advises ditching traditional rigid denim as the best jeans for curvy women contain some element of stretch so they move with you and also eliminate waist gape.
"The sweet spot for elastane content is about 2% (any higher and the fabric won't wear well) so make sure you read the label when purchasing," she says, also advising to choose jeans with a rounded yoke, as the V at the back of the waistband will help to ensure a snug fit.
When it comes to the style of jeans to choose, it's all about reflecting the cut in your top half.
"If you do the same above the waist in terms of silhouette as you do below, you can pretty much get away with anything," advises Miranda. As doing so will create a well-balanced and harmonious silhouette "Skinnies will look amazing on you, but my favorite, for a contemporary look are wide leg, flare, and boot cut."
Good American Good Waist Jeans
RRP: $99 / £107 | When it comes to choosing straight vs skinny jeans, both will look good on hourglass figures, but these skinny jeans come with a gap-proof waistband. The stretch in them makes them comfortable for all day-wear, while the body-hugging fit, ensures they're also great for perking up your bottom.
Hollister Curvy High Rise Flares
RRP: $50 / £42 | These jeans are made for hourglass figures thanks to the magic waistband, which eliminates gaping at the waist, while they still hug and fit perfectly over hips and thighs. Not sure how to style flared jeans? A tucked-in shirt and heels will create a look that can take you from the desk to the bar.
Topshop Hourglass Mom Jeans
RRP: $76 / £50 | Cut with more room around the hips, these are the best mom jeans for hourglass body types. As this pair finish at the ankle, they're also ideal for teaming with all kinds of shoes, from your best white trainers to heeled ankle boots, making them a must-have for any minimalist capsule wardrobe.
4. Best jeans for a rectangular body type
If your waist measurements match your hip or bust, you have a rectangle body shape. Your shoulders and hips will be roughly about the same width, while your legs will probably be long. The best jeans for this silhouette generally aim to add curves.
"If you have an athletic build and are straight up and down, it's all about creating that optical illusion again to create curves," says Miranda.
"Go for looser, more fluid shapes such as flare, wide leg or even baggy boyfriend jeans in lighter colored fabrics but make sure that these are mid to high rise so that they finish on your middle."
If you have a rectangular body shape, generally speaking, all jeans suit your body type, as they will either lean into your lean and lengthy look, or help to add curves to your frame. If you want to create a little more volume and define your waist more, choose stylish tops to wear with jeans that flow easily over your body and give the illusion of curves as they're not too figure-hugging.
"Reflect the volume you have just added to your lower section with something fluid on the top, such as an oversized shirt, but tuck it into the waistband to give you the illusion of more shape," says Miranda.
As well as choosing the right style of jeans, Miranda advises thinking about the pockets at the back.
"The higher they are situated the perter your behind will appear!" she says.
ASOS Low Rise Flared Jeans
RRP: $52 / £36 | If you're a lean rectangle, embrace the '90s fashion trends around at the moment and select low-rise jeans. They highlight the widest part of your hips, creating fuller curves. These jeans also have prominent back pockets with buttons, which will help create a more rounded bottom.
RRP: $178 / £187 | Lighter washes help create curves so are perfect for rectangle figures. These are the best straight leg jeans for athletic figures as the slim fit will skim slim legs, rather than overwhelming them, creating fuller thighs. Perfect for the summer, team them with a flowy boho top and sandals.
Boohoo Cargo Wide Leg Jeans
RRP: $60 / £28 | Wide leg jeans are great if you have long, lean legs, and these ones, in an extra-long length are some of the best jeans for tall women. The cargo pockets help to add curves, while also being a major denim trend for 2023. Team with heels and a little cami for a laidback evening outfit.
5. Best jeans for strawberry body type
You have a strawberry-shaped body if you're broader on the top half but have a relatively flat bottom, narrow hips and slim legs.
"As the strawberry body shape is basically the reverse of a pear, the advice is also reversed," says Miranda. "Lighter washes or some clever detailing on the denim will make your hips and legs look larger and have a balancing effect."
With so many types of jeans for women available, the best jeans for your body type, if strawberry fits you best, are those that will add volume to your bottom half, whether that's wide leg or the baggy '90s style.
Miranda says: "Add extra volume with a flare or wide leg and keep your top half (more fitted and) in a darker color to remain fully in proportion."
RRP: $295.05 / £245 | Thanks to the basket weave pocket detail and flared legs, these are the best jeans for a strawberry body type. Wear them long over your shoes for leg-lengthening properties, plus tuck in your top to accentuate your waist to balance your shape.
Ted Baker Barrel Leg Jeans
RRP: $195 / £110 | If you're looking for looser legs to balance out your strawberry shape, these are the best white jeans. The barrel leg adds curves to slender legs, while the high waisted fit will create a waist. Ideal for casual outfits with a floaty blouse and Birkenstocks.
What style of jeans are the most slimming?
According to Natalie, it's all about the wash when it comes to finding slimming jeans for your body type.
"Slim, well-fitting dark wash jeans in black or a deep indigo denim wash are the most slenderizing," she advises.
Miranda agrees, saying choosing darker jeans is useful for balancing out your figure.
"For example, if you are pear shaped and have a larger bottom and hips compared to your top half, wearing a dark wash pair of jeans will not only make this part of your body look slimmer, but the whole of your figure will look more in proportion," she says.
Natalie also recommends ditching the current the low-rise jean, despite its trend-worthy credentials.
She says: "Mid-rise jeans are also the best option for all heights and sizes," as they are the most sculpting on a midriff.
The final tip to finding those must-have jeans for your body type is all about the seams.
Miranda says: "Look out for pronounced vertical lines as these will elongate your legs and always be your friend, while a seam on the outer thigh that starts at the hip and travels in towards the knee on a slight diagonal is also very flattering."
Most important, however, is choosing jeans that you feel comfortable in. Whether you're looking for the best jeans for women over 50, or want jeans for those 49 and under, the only thing you need to really worry about is how they make you feel. The best jeans for your body type are the ones that make you feel fantastic and supported in a way that suits your lifestyle best.
What body type looks best in high waisted jeans?
While high waisted jeans suit most shapes, they are the most flattering jeans for those that want to highlight their waists.
"High-waisted jeans are incredibly flattering and accentuate (and can create) a svelte waistline" says Natalie.
If you have a rectangle or athletic shape, the best high waisted jeans will help give you more of a defined waist. Try a high-waisted flare or mom jean to enhance curves even further.
For an hourglass body shape, try high waisted jeans specifically designed for curvy figures. These will ensure you don't have gaping at the waist.
With over 22 years' experience in journalism, Jayne has written about a variety of subjects. She spent the start of her career within the world of film, interviewing Hollywood stars, attending premieres and lusting after red carpet outfits, and then moved into fashion, launching websites for big magazines such as Look, Woman's Own and Wedding and working with top fashion brands such as Westfield, LK Bennett and Hunter.
Career highlights include dressing up as Kylie (in gold hot pants!) for a national newspaper and working on big fashion events alongside Giles Deacon, Henry Holland and Naomi Campbell.