How to build a capsule wardrobe 2022—according to style experts
Here's how to build your own capsule wardrobe—from what to buy and how to style it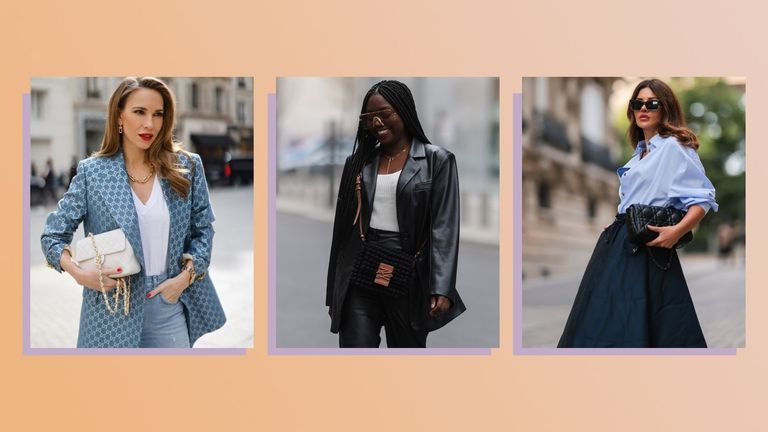 (Image credit: Getty Images / Future)
A capsule wardrobe feels like an intangible goal. It's a term loved by the fashion industry, but what does it actually mean and how do you go about building one?
A capsule wardrobe has long been thought of as a minimalist or stripped-back wardrobe, but in actual fact, at its core, it's simply just about ensuring that all your clothing works together. While many stylists may tell you a capsule wardrobe has to contain certain wardrobe essentials such as the best jeans, a well-tailored coat or the best cashmere sweater, it's important to think about your own personal style when compiling yours. Think about what underpins your current wardrobe. If you're someone that lives in jeans, then an edited selection of denim will likely form the basis of your capsule wardrobe, but if you live in dresses, then your capsule wardrobe will look very different.
In this feature, we will look at the varied basics in a capsule wardrobe and then how to tailor this to match your style. If you've got a closet that is currently bursting, we've also got some tips for how to organize your closet and strip it back to help you build your capsule wardrobe. While there's no fixed number of items, there is an element of curation required. Making a capsule wardrobe will allow you to get dressed more easily, spend less money and make smarter shopping decisions, and who doesn't want that?
What is a capsule wardrobe?
"I would interpret a capsule wardrobe as any set of items you wear a whole lot", says wardrobe consultant and stylist, Dr. Anne Hamlyn, of Dr. Dress Me. "Jeans, knitwear, a blouse, a jacket, a skirt or dress, that can be relied upon, mixed and matched, dressed up or down and enhanced by more creative and individual additions that bring you pleasure and make you feel alive and confident and uniquely you in the world."
The idea of a capsule wardrobe has always centered on key items that you must own like a white shirt or the best blazer, but these items don't necessarily take into account body type, personal tastes, or lifestyle. In reality, there is no mathematical formula to a capsule wardrobe, and injecting your personal style does play a vital role. That said, there are some key tips you can follow.
Dr Anne Hamlyn agrees, "If you want to live a subsistence sartorial life made up of 20 items because a uniform makes you feel safe and sorted that's totally fine, many people just want to get dressed with minimal fuss and not think about it anymore, but there's not much creativity, pleasure or risk in that. That's only the beginning. Most people who come to me want to express something with their clothes that's uniquely them."
A capsule wardrobe is about grounding your wardrobe in relevant basics, making sure you purchase clothes that will work with existing items in your wardrobe so that you can maximize their wear, and most importantly, end up with a closet of clothing you enjoy and feel good in.
"Think of a capsule wardrobe as a shortcut—it gives you something to build a look from, which can save you time and headspace when you're getting ready. And if you shop smart, you'll build a collection of key pieces that will stand the test of time and give you fantastic cost-per-wear. [A capsule wardrobe] can also be built upon with the addition of extra pieces which might be a little more trend-led or occasion appropriate" says fashion stylist, Karen Williams.
Why is a capsule wardrobe a good idea?
It saves you money: A capsule wardrobe will not only save you time in the morning, it can also have a positive impact on your bank balance. According to a study from ClosetMaid, the average woman has 103 items in her wardrobe, with an eye-watering 58% of those items hanging unworn for the past six months.
A capsule wardrobe is all about getting your wardrobe working for you and adding pieces to it that you can wear with existing items. It's all about shopping smarter.
It saves the planet: A capsule wardrobe could also be beneficial to the environment. It's no secret that the rise of fast fashion has had a devastating impact on the environment, with the UN stating that by 2050, the fashion industry will take up a quarter of the world's carbon budget. By buying less but better, or buying clothing that is more functional for our needs and wardrobes, we're more likely to keep hold of it for longer and less like to dump it into landfill or simply have clothes lying unloved.
Remember you can always learn how to sell clothes online, to make some money to fund new items in your capsule wardrobe, while giving your unloved pieces a new home too.
It saves you from shopping regret: A capsule wardrobe requires you to really think about your purchases.
"If you're in doubt about buying something, ask whether you can wear it three different ways; if you can only wear an item one way, it's not worth it," says stylist Susie Hasler.
---
What does a capsule wardrobe consist of?
This is the tricky bit. Your capsule wardrobe will largely depend on your lifestyle, personal taste and body type. We will break down a few key style personalities and what those capsule wardrobes might look like, but overall, all capsule wardrobes will include a combination of the below...
T-shirts and tops—V-neck, round neck, boat neck (depending on your style)
Winter coat—Tailored, casual weekend (eg. puffer)
Casual jackets—Leather, denim
Spring/Autumn coat—Trench coat
Jeans—Smarter and more casual styles, black and blue denim
Dresses—Midi dresses, maxi dresses, pinafore dresses, shift and a-line styles, floaty boho iterations for summer days and sweater dresses for cold winter eves.
Skirts—Leather skirt, denim skirt, maxi skirt, a-line skirt, pencil skirt, pleated skirt
Trousers—Smart/tailored trousers, relaxed fit, evening trousers
Sweaters/cardigans—A mix of more fitted and oversized pieces
Shoes & Boots—Flats, trainers, plimsolls, Chelsea boots/ankle boots, Knee-high, evening shoes, sandals
Something for special occasions—Whether that's an LBD (little black dress), a classic wrap dress, a flattering jumpsuit, or silk palazzo pants
Bags—Cross-body, tote bags, evening bags, rucksack, weekend bag
How many items should be in a capsule wardrobe?
When it comes to numbers, there are no set rules and a capsule wardrobe can consist of anything from 10 pieces to 80.
"The rule of owning just 40 pieces might work for some people, but maybe it's 80 that works better for you—there's no perfect number that everyone should be aiming for. Take your time with it and don't feel pressure to do one big purge of clothing and start from scratch, it's overwhelming and expensive," explains Anna of The Anna Edit.
Some schools of thought suggest that 50 items is the maximum you should have in a capsule wardrobe. This rough estimate works because you should be realistic about how many items you will wear over a given period of time. The idea of a capsule wardrobe is to make your clothes work harder and smarter. By the time you've finished curating, you should be wearing everything in it, and do you really have time and occasion for more than 50 items?
Capsule wardrobe: Investment styles
Invest in your basics...
When it comes to buying the building blocks of your wardrobe, invest as much as you can. Whether that's the best tailoring you can afford, the best denim or a great coat. The idea is that your basics are the foundations of your wardrobe, you'll wear these pieces all the time (for many seasons), adding in newer, often cheaper, more trend-led pieces as and when. But always think about whether that new purchase will go with at least 3 things in your existing wardrobe.
Keep your basics (fairly) neutral...
This just means they can easily be combined with newer purchases. Before you invest, always ask yourself 'what color suits me?. From there, you can form a color palette for your key wardrobe building blocks.
But...
"Above all else, you need to look at what makes you feel good. What fabrics do you feel most comfortable in? What fits do you go back to time and time again? What outfit silhouette do you feel most flatters your body? You want to fill your wardrobe with pieces that are not only practical, versatile and comfortable, but that also make you feel fab," adds Anna.
---
This is what you need in a capsule wardrobe
Your capsule wardrobe basics are the building blocks of your wardrobe. These are the pieces that underpin all the trend-led pieces you might inject within a season. They are the staple styles that hold your wardrobe together. Your building blocks might include an array of well-cut jeans, tailored trousers, a sharp blazer and the best leather jacket; alongside a failsafe evening dress and your party-ready jumpsuit. These are the items you might want to invest a little more in as you are likely to wear them on repeat and they're the pieces that always make you feel good.
The exact makeup of your personal capsule wardrobe we will go into a little later, but first, let's look at the possibilities.
The tops you need in a capsule wardrobe
When it comes to choosing the right tops for your capsule wardrobe many of these decisions will in large part be down to your particular body type and the silhouette of top that works best for you.
If you have a larger bust, you will be more likely to opt for a scoop or v-neck over a boat or high neck top as it helps to balance your proportions. Likewise, if you are a pear shape, you may want to emphasize your shoulders to balance out wider hips, meaning that puff sleeve heads or a shoulder-padded top could work best for your figure.
The types of tops you need in a capsule wardrobe include: round/scoop neck, V-neck, Breton top, camisole, wrap top, sweatshirt.
The knitwear you need in a capsule wardrobe
You might automatically associate knitwear with bitter winter months, but must-have knitwear styles for your wardrobe can play an important role in your capsule wardrobe all year through. While there are some styles you might only pull out on the iciest of days, lightweight cotton knits make a great basic building block in spring and summer months. The exact shape of knitwear you opt for, like with tops will depend on your body type. If you're looking for the most versatility stick to neutrals and block color styles that will remain timeless.
The types of knitwear you need in a capsule wardrobe include: Breton striped sweater, cashmere sweater, fitted roll neck, cable knit sweater, V-neck sweater, loungewear hoodie, sweater dress, short cardigan, long cardigan.
The shirts and blouses you need in your capsule wardrobe
When it comes to the best shirts for your capsule wardrobe there are a few different silhouettes to consider. Opt for classic styles from quality brands to ensure these pieces last. Inject your capsule wardrobe each season with new trend-led prints and colors to refresh your look.
The types of shirts you need in a capsule wardrobe include: White shirt, silk blouse, pussy-bow blouse, statement collar shirt, denim shirt and striped shirt.
The jeans you need in a capsule wardrobe
Curating your jeans collection for your capsule wardrobe does require some thought. Notoriously tricky to buy, finding the best jeans for your shape can be a nightmare. But, once you do, we advise you exercise some brand loyalty, as it will, in the long run, make your life easier.
It's also good to remember that when it comes to jeans shapes, not every shape will work for you and that's ok. Like to feel sculpted and shaped? A high-rise waist is what you're after. If you're balancing out a larger bust, look for a wider leg. Meanwhile, everything from kick flares to full flares will draw the eye away and down your body.
When it comes to how many jeans should be in your capsule wardrobe, there really is no set number. If you live in jeans, you may want two or three of the same cut so you don't wear pairs out too quickly and can rotate. Equally, think about what colors of jeans you need. Lighter blue washes are always seen as more casual, deep indigo without any distressed elements can be worn smartly, but very black jeans will always be the smartest.
When it comes to buying trend-led jean shapes, these can be injected as and when and are unlikely to form part of the building blocks of your capsule wardrobe. For these pieces, look to straight-to-market brands for cheaper options rather than investing in branded styles.
The types of jeans you need in a capsule wardrobe include: straight jeans, flared jeans, skinny jeans, ankle cropped jeans, kick flare jeans, dungarees.
The skirts you need in a capsule wardrobe
Having a selection of skirts in your capsule wardrobe will help you to maximize your tops. Essentially, building a capsule wardrobe is all about getting good basics together that you can mix and match as this increases the number of possible outfits you can create.
A bit like with jeans, you want to make sure you've got your basics covered, but after that, you can look for more trend-led iterations to mix up your wardrobe.
Opting for neutral block colors will always be more versatile, but if you love color and print, you should certainly add these into your building blocks too. And of course, whenever looking to purchase new items, make sure they go with at least three existing pieces in your wardrobe.
The types of skirts you need in a capsule wardrobe include: Leather skirt, denim skirt, slip skirt, pleated skirt, tulle skirt, maxi skirt, pencil skirt, knitted skirt, midi skirt.