How to build a capsule wardrobe 2023 - according to style experts
Here's how to build your own capsule wardrobe - from what to buy and how to style it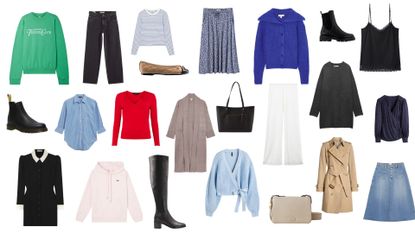 (Image credit: Future)
A capsule wardrobe feels like an intangible goal. It's a term loved by the fashion industry, but what does it actually mean and how do you go about building one?
A capsule wardrobe has long been thought of as a minimalist or stripped-back wardrobe, but in actual fact, at its core, it's simply just about ensuring that all your clothing works together. While many stylists may tell you a capsule wardrobe has to contain certain wardrobe essentials such as the best jeans, a well-tailored coat or the best cashmere sweater, it's important to think about your own personal style when compiling yours. Think about what underpins your current wardrobe. If you're someone that lives in jeans, then an edited selection of denim will likely form the basis of your capsule wardrobe, but if you live in dresses, then your capsule wardrobe will look very different.
In this feature, we will look at the varied basics in a capsule wardrobe and then how to tailor this to match your style. If you've got a closet that is currently bursting, we've also got some tips for how to organize your closet and strip it back to help you build your capsule wardrobe. While there's no fixed number of items, there is an element of curation required. Making a capsule wardrobe will allow you to get dressed more easily, spend less money and make smarter shopping decisions, and who doesn't want that?
What is a capsule wardrobe?
"I would interpret a capsule wardrobe as any set of items you wear a whole lot", says wardrobe consultant and stylist, Dr. Anne Hamlyn (opens in new tab), of Dr. Dress Me. "Jeans, knitwear, a blouse, a jacket, a skirt or dress, that can be relied upon, mixed and matched, dressed up or down and enhanced by more creative and individual additions that bring you pleasure and make you feel alive and confident and uniquely you in the world."
The idea of a capsule wardrobe has always centered on key items that you must own like a white shirt or the best blazer, but these items don't necessarily take into account body type, personal tastes, or lifestyle. In reality, there is no mathematical formula to a capsule wardrobe, and injecting your personal style does play a vital role. That said, there are some key tips you can follow.
Dr Anne Hamlyn agrees, "If you want to live a subsistence sartorial life made up of 20 items because a uniform makes you feel safe and sorted that's totally fine, many people just want to get dressed with minimal fuss and not think about it anymore, but there's not much creativity, pleasure or risk in that. That's only the beginning. Most people who come to me want to express something with their clothes that's uniquely them."
A capsule wardrobe is about grounding your wardrobe in relevant basics, making sure you purchase clothes that will work with existing items in your wardrobe so that you can maximize their wear, and most importantly, end up with a closet of clothing you enjoy and feel good in.
"Think of a capsule wardrobe as a shortcut - it gives you something to build a look from, which can save you time and headspace when you're getting ready. And if you shop smart, you'll build a collection of key pieces that will stand the test of time and give you fantastic cost-per-wear. [A capsule wardrobe] can also be built upon with the addition of extra pieces which might be a little more trend-led or occasion appropriate" says fashion stylist, Karen Williams (opens in new tab) - and having dressed everyone from David Beckham to Beyoncé, she should know.
---
What does a capsule wardrobe consist of?
This is the tricky bit. Your capsule wardrobe will largely depend on your lifestyle, personal taste and body type. We will break down a few key style personalities and what those capsule wardrobes might look like, but overall, all capsule wardrobes will include a combination of the below...
T-shirts and tops: V-neck, round neck, boat neck (depending on your style)
Winter coat: Tailored, casual weekend (eg. puffer)
Casual jackets: Leather, denim
Spring/Autumn coat: Trench coat
Jeans: Smarter and more casual styles, black and blue denim
Dresses: Midi dresses, maxi dresses, pinafore dresses, shift and A-line styles, floaty boho iterations for summer days and sweater dresses for cold winter eves.
Skirts: Leather skirt, denim skirt, maxi skirt, A-line skirt, pencil skirt, pleated skirt
Trousers: Smart/tailored trousers, relaxed fit, evening trousers
Sweaters/cardigans: A mix of more fitted and oversized pieces
Shoes & Boots: Flats, trainers, plimsolls, Chelsea boots/ankle boots, knee-high, evening shoes, sandals
Something for special occasions: Whether that's an LBD (little black dress), a classic wrap dress, a chic jumpsuit, or silk palazzo pants
Bags: Crossbody, tote bags, evening bags, rucksack, weekend bag
How many items should be in a capsule wardrobe?
When it comes to numbers, there are no set rules and a capsule wardrobe can consist of anything from 10 pieces to 80.
"The rule of owning just 40 pieces might work for some people, but maybe it's 80 that works better for you - there's no perfect number that everyone should be aiming for. Take your time with it and don't feel pressure to do one big purge of clothing and start from scratch, it's overwhelming and expensive," explains Anna of The Anna Edit (opens in new tab).
Some schools of thought suggest that 50 items is the maximum you should have in a capsule wardrobe. This rough estimate works because you should be realistic about how many items you will wear over a given period of time. The idea of a capsule wardrobe is to make your clothes work harder and smarter. By the time you've finished curating, you should be wearing everything in it, and do you really have time and occasion for more than 50 items?
Remember you may also wish to create several smaller capsule wardrobes to work for different seasons and occasions, for example, you may have a winter capsule wardrobe and a spring capsule wardrobe; you may also decide to have some pieces kept aside specifically for a capsule wardrobe for travel or borrow from other seasons accordingly.
---
The items you need in your capsule wardrobe
Your capsule wardrobe basics are the building blocks of your wardrobe. These are the pieces that underpin all the trend-led pieces you might inject within a season. They are the staple styles that hold your wardrobe together. Your building blocks might include an array of well-cut jeans, tailored trousers, a sharp blazer, and the best leather jacket; alongside a failsafe evening dress and your party-ready jumpsuit. These are the items you might want to invest a little more in as you are likely to wear them on repeat and they're the pieces that always make you feel good.
The exact makeup of your personal capsule wardrobe we will go into a little later, and while it's governed more by taste and lifestyle, some may find an over-50s capsule wardrobe differs slightly. But first, let's look at the possibilities.
---
The tops you need in a capsule wardrobe
When it comes to choosing the right tops for your capsule wardrobe many of these decisions will in large part be down to your particular body type and the silhouette of top that works best for you.
If you have a larger bust, you will be more likely to opt for a scoop or v-neck over a boat or high neck top as it helps to balance your proportions. Likewise, if you are a pear shape, you may want to emphasize your shoulders to balance out wider hips, meaning that puff sleeve heads or a shoulder-padded top could work best for your figure.
The types of tops you need in a capsule wardrobe include: round/scoop neck, V-neck, Breton top, camisole, wrap top, sweatshirt.
---
The knitwear you need in a capsule wardrobe
You might automatically associate knitwear with bitter winter months, but must-have knitwear styles for your wardrobe can play an important role in your capsule wardrobe all year through. While there are some styles you might only pull out on the iciest of days, lightweight cotton knits make a great basic building block in spring and summer months. The exact shape of knitwear you opt for, like with tops will depend on your body type. If you're looking for the most versatility stick to neutrals and block color styles that will remain timeless.
The types of knitwear you need in a capsule wardrobe include: Breton striped sweater, cashmere sweater, fitted roll neck, cable knit sweater, V-neck sweater, loungewear hoodie, sweater dress, short cardigan, long cardigan.
---
The shirts and blouses you need in your capsule wardrobe
When it comes to the best shirts for your capsule wardrobe there are a few different silhouettes to consider. Opt for classic styles from quality brands to ensure these pieces last. Inject your capsule wardrobe each season with new trend-led prints and colors to refresh your look, but always make sure you have the building block basics covered.
The types of shirts you need in a capsule wardrobe include: White shirt, silk blouse, pussy-bow blouse, statement collar shirt, denim shirt and striped shirt.
---
The jeans you need in a capsule wardrobe
Curating your jeans collection for your capsule wardrobe does require some thought. Notoriously tricky to buy, finding the best jeans for your shape can be a nightmare. But, once you do, we advise you exercise some brand loyalty, as it will, in the long run, make your life easier.
It's also good to remember that when it comes to jeans shapes, not every shape will work for you and that's ok. Like to feel sculpted and shaped? A high-rise waist is what you're after. If you're balancing out a larger bust, look for a wider leg. Meanwhile, everything from kick flares to full flares will draw the eye away and down your body.
When it comes to how many jeans should be in your capsule wardrobe, there really is no set number. If you live in jeans, you may want two or three of the same cut so you don't wear pairs out too quickly and can rotate. Equally, think about what colors of jeans you need. Lighter blue washes are always seen as more casual, deep indigo without any distressed elements can be worn smartly, but very black jeans will always be the smartest.
When it comes to buying trend-led jean shapes, these can be injected as and when and are unlikely to form part of the building blocks of your capsule wardrobe. For these pieces, look to straight-to-market brands for cheaper options rather than investing in branded styles.
The types of jeans you need in a capsule wardrobe include: straight jeans, flared jeans, skinny jeans, ankle cropped jeans, kick flare jeans, dungarees.
---
The skirts you need in a capsule wardrobe
Having a selection of skirts in your capsule wardrobe will help you to maximize your tops. Essentially, building a capsule wardrobe is all about getting good basics together that you can mix and match as this increases the number of possible outfits you can create.
A bit like with jeans, you want to make sure you've got your basics covered, but after that, you can look for more trend-led iterations to mix up your wardrobe.
Opting for neutral block colors will always be more versatile, but if you love color and print, you should certainly add these into your building blocks too. And of course, whenever looking to purchase new items, make sure they go with at least three existing pieces in your wardrobe.
The types of skirts you need in a capsule wardrobe include: Leather skirt, denim skirt, slip skirt, pleated skirt, tulle skirt, maxi skirt, pencil skirt, knitted skirt, midi skirt.
---
The trousers you need in a capsule wardrobe
Curating the best trousers for your capsule wardrobe is not too dissimilar to sourcing the right jeans. You'll want a selection of styles that work for different occasions and pair them with the existing separates in your wardrobe. The exact cuts you opt for will depend on your body type, but when looking to gather a selection of building blocks for your wardrobe, there are a few key shapes and styles that are useful to have. When you find a great fitting pair of trousers, it's a good idea to get a couple of pairs, as brands change styles regularly and you won't want to be left disappointed. Opt for more neutral hues that will work with lots of items, injecting color and trend-led styles as and when.
The types of trousers you need in a capsule wardrobe include: Tailored trousers, tuxedo trousers, leather leggings, wide leg trousers, cargo trousers, pajama trousers (not for sleeping in).
---
The dresses you need in a capsule wardrobe
Dresses are the simplest way to feel put together. While a wardrobe of separates requires some styling, the best dresses and flattering jumpsuits are a full good-to-go outfit - just add shoes and jewelry. When it comes to building your capsule wardrobe of dresses, consider your body type and the shapes that suit you. If you're looking for dresses to highlight an hourglass shape, look for fit and flare or belted silhouettes. Want stylish dresses to hide a tummy? High-waisted styles or ruched iterations will look fantastic. Learn how to wear a wrap dress - to nail one of the most universally flattering fits, while the best shirt dresses always look smart. You might also want to consider the best shapewear under a dress to help sculpt and smooth your silhouette.
The types of dresses you need in a capsule wardrobe include: Shirt dress, midi dress, little black dress, slip dress, knitted dress, leopard dress.
---
The jackets you need in a capsule wardrobe
There are three key jacket shapes you should consider for your capsule wardrobe. All three can be worn in warmer months as outerwear without a coat on top, but in cooler months don't be afraid to wear them instead of a cardigan for extra versatility. When purchasing a jacket it's good to think about how you will wear them. Traditionally bikers, denim jackets and blazers are often left undone, so don't worry too much about being able to fully do them up. The best way to judge the fit is how it feels across your back, shoulders and arms. You want the jacket sleeve heads to sit correctly on your shoulders and you want to be able to freely move your arms. A jacket that is too tight will be uncomfortable and might also rip.
The types of jackets you need in a capsule wardrobe include: Leather jacket, denim jacket, blazer.
(opens in new tab)
All Saints Leather Jacket
RRP: $400 / £319 | All Saints is known for making some of the best leather jackets. Leather is one of those items that looks better with age, so don't be afraid to get your wear out of it. Read our All Saints leather jacket review if you're considering investing.
(opens in new tab)
Levi's Denim Trucker Jacket
RRP: $100 / £100 | You can't talk about the best denim jackets without referencing Levi's. Available in multiple washes, it adds an edge to any dress or simply act as a cardigan on a cool evening. Read our guide on how to style a denim jacket for full styling tips.
(opens in new tab)
Ted Baker Oversized Blazer
RRP: $205 / £295 | The power of a good blazer is unrivalled. Adding instant polish to any look, it can smarten up jeans, or a great dress, rendering most items office ready. While black is the obvious choice, don't discount a lighter and brighter choice.
---
The outerwear pieces your need in a capsule wardrobe
When it comes to the best coats for your capsule wardrobe, there are a few wardrobe essential styles that will stand the test of time. A good camel coat in a cozy wool will be a piece you can turn to as soon as the winter chill hits and fall outfit ideas take center stage. Wool coats are the perfect way to sharpen up any look, as they will instantly make an outfit look smarter, from your best jeans to a tailored outfit. Puffer coats are definitely for more casual moments, but the best puffers offer unrivaled warmth, giving you ultimate protection against the elements. Meanwhile, trench coats offer fantastic weather protection and the smartest iterations are a straight swap for your best-tailored wool coat as soon as the sun starts to shine. These three key styles will take you through the year with ease.
The types of outerwear you need in a capsule wardrobe include: Trench coat, wool coat, puffer coat.
(opens in new tab)
Burberry Long Length Trench
RRP: $2,250 / £1,650 | A classic trench coat is a must-have piece. And while a Burberry trench coat is the iconic piece, there are plenty of budget-friendly options across the market. Look after your trench and in return it will save you on drizzly days.
(opens in new tab)
Reformation Middlefield Coat
RRP: $398 / £448 | A smart, belted coat is ideal for fall and winter office outfits. We love the light check pattern that will add interest to neutral outfits, without being overwhelming. Throw this coat over anything to instantly dress up any look.
(opens in new tab)
Hobbs Leopard Puffer Coat
RRP: $340 / £169 | A puffer coat is one of the best winter coat styles and while it once was seen as a trend-led piece, it has now secured a permanent place in our capsule wardrobes. Brighten up your winter wardrobe with a bright hue or bold print.
---
The shoes you need in a capsule wardrobe
Editing shoes for your capsule wardrobe is no easy task, particularly if this particular shoe quote hits a little too close to home: "The average woman falls in love seven times a year. Only six are with shoes." - Kenneth Cole
As with clothing, there is no set number of items you should own when it comes to shoes but do really think about the space you have and the type of lifestyle you lead. If you're someone who lives in comfortable flats, as much as you might love the best designer heels, they may not be the wisest capsule wardrobe investment. When it comes to which shoes to actually purchase, make sure to opt for quality footwear that fits well.
The types of outerwear you need in a capsule wardrobe include: Ankle or Chelsea boots, knee-high boots, white trainers, evening shoes, strappy sandals.
The bags you need in a capsule wardrobe
As with shoes, if bags are your way of injecting personality into your look, don't feel you need to be confined to just a couple of items, however there are some key styles that should be in your capsule wardrobe, both for their timeless design and their practicality.
The types of bags you need in a capsule wardrobe include: Crossbody bag, tote bag, clutch or evening bag
(opens in new tab)
Mulberry Billie Crossbody Bag
RRP: $1195 / £950 | The best crossbody bags are extremely practical, but that doesn't mean they can't be stylish too. This cream iteration by British clothing brand Mulberry is chic and versatile and the cream hue offers an instant uplift to any look.
(opens in new tab)
Accessorize Black Tote Bag
RRP: $53 / £40 | The best tote bags ensure you can carry around all your essentials without compromising on style. This bag features an outer zip pocket and plenty of storage space to fit everything you need. Great for laptops and work commutes.
(opens in new tab)
Saint Laurent Monogram Clutch
RRP: $740 / £630 | If you're looking for an investment piece, then the best designer bags are worth a look. Choose neutral hues and timeless styles that will go with everything. This Saint Laurent clutch with metal hardware is a real style winner.
The jewelry you need in a capsule wardrobe
Jewelry is the speediest way of switching up your look. Dress any outfit up or down in a flash by swapping your sparkle. Often not considered a must-have in a capsule wardrobe, some simple, gold, silver and rose gold designs will add instant chic to the most casual of looks and make every outfit feel finished.
At the start of every season consult the latest trends - read all about the jewelry trends 2023 here - and buy into statement trend pieces via cost effective straight-to-market brands. Use these trend-led designs to update your wardrobe staple pieces to give them a refresh.
The types of jewelry you need in a capsule wardrobe include: Layered chains, stacking rings, hoop earrings.
This is a great time to think about eyewear too if you wear glasses, you can make sure that your look always feels fresh by tapping into the eyeglasses trends 2023.
(opens in new tab)
Monica Vinader Stacked Necklaces
RRP: $845 / £555 | We love the layered look when it comes to how to dress simple but stylish. Though these necklaces are expensive, you are getting four separate pieces that match harmoniously. You can shop pieces separately slowly building your stack.
(opens in new tab)
Daisy Jewellery Stacking Ring Set
RRP: $175 / £131 | While you might reference the iconic Coco Chanel quote "Before you leave the house, look in the mirror and take one thing off", right now, more is more. Stacking rings and layered chains are the looks to invest in for statement bling.
---
How to create a capsule wardrobe to suit your style - according to our fashion experts
We've pulled together some key items that should be included in your capsule wardrobe, depending on your style tribe. Remember, your capsule wardrobe should fit your aesthetic and lifestyle. It isn't about mathematical dressing or removing the fun, it's about making sure you have your basic building blocks and that whatever you buy truly deserves a spot in your closet.
How to build a capsule wardrobe for a jeans or trouser wearer
If you are someone who subscribes to the "jeans and a nice top" code of dressing, your capsule wardrobe should contain a selection of these pieces.
Jeans: Invest in a selection of jeans as the most important building block for your capsule wardrobe. You may wish to stick to one particular leg shape, but we suggest having three to four pairs of jeans in different washes, such as dark denim for dressing up and light washes for casual attire.
Trousers: You'll also need tailored and casual trousers. Unlike with jeans, this is slightly less formulaic. You'll want three to four tailored pairs of trousers, to cover you for dressier occasions, cigarette trousers and/or palazzo trousers for evening wear as well as casual trousers such as cotton straight-legged trousers, smart joggers or cargo pants.
Sweater/knitwear: Gather an edit of great knitwear to pair with your jeans. You'll want a selection of sweaters for evenings out (think embellishment) and cozy styles for laid-back looks. There is no real number on this, but do think about how much you actually need and will wear. If you know you'll revert to a couple of comfies and one or two for best, then only invest in pieces you truly love. Remember to fold knitwear, use mothballs for cashmere and shave bobbles off to keep your jumpers looking fresh.
Blazer: If you're wedded to your jeans whatever the occasion, then having a great tailored blazer will ensure you can sharpen up your look in an instant. If you have a pear-shaped body, look for a blazer with great tailoring through the waist.
Tops/Blouses/Shirts: As with your knitwear, this doesn't need to be extensive. The joy of jeans is that they go with nearly everything, so be selective about your tops. If you're looking for numbers: five work-appropriate shirts, three to five for dressier occasions and four casual tops for weekend looks. If you want more, remember there is no set number, just remember to wear items on rotation.
Stylist's tip...
"A good pair of jeans is a great basis for a capsule wardrobe and once you've found the perfect pair for your body shape, they can fit almost every aspect of a versatile wardrobe as they can easily be dressed up or down. For work opt for pairs in darker shades such as over-dyed black or indigo for a smart look that mimics more typical office-appropriate trousers. Team with a tailored silk blouse, stylish blazer and smart shoes or boots for a look that will instantly make you feel pulled together. For weekend outings, the same jeans can be dressed down with a t-shirt, jacket and trainers for a stylish off-duty look." - stylist and fashion editor, Antonia Kraskowski (opens in new tab).