The best designer bags worth investing in: These luxury handbags hold their value at resale too
We've rounded up the best designer bags by price, to help you find a luxury bag to fit your budget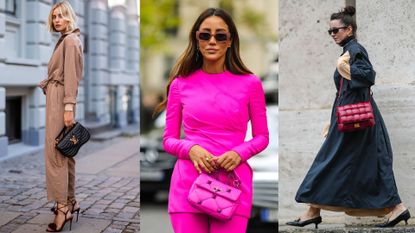 (Image credit: Getty Images)
The best designer bags are something you'll never regret investing in. Trends may come and go and while the sums can be vast, a great designer bag will be wearable for years to come and some may even increase in value too.
An investment purchase over an impulse one, the best designer bags can stretch into thousands, so it's wise to do your research. While there are some labels that hold their value better than others - take the best Chanel bags for example, unless your buying to later sell, your designer bag purchase will largely be down to aesthetics and occasion. While some of the best designer bags are fail safe classics - such as the Marmont - one of the best Gucci bags, designers use seasonal runway shows to preview their latest bags, with new shapes and elevated fabrications and embellishments - some of which will become future classics. If you're purchasing for investment or longevity, opt for neutral hues, or designs that have been on the market for a number of years, as these are often the most popular and savviest style choice.
From the latest handbag trends 2022 to classic silhouettes that the best in the business have been selling for seasons, there is a style for every taste. So, whether you've got your eye on a new to the market, fluffy Coach Pillow bag, want to go timeless with a retro Dior Saddle Bag, or a party ready McQueen Crossbody Bag, prepare to meet your new handbag hero. Here's everything you need to know about the best designer bags to invest in.
The best designer bags to buy now
This edit of the best designer bags is packed full of beautiful, solid investment pieces that won't go out of style. A mixture of new hero pieces that have excited style experts and iconic staple styles that have remained some of the most sought after pieces, these designer bags are ones that will stand the test of time and are synonymous with luxury and sartorial elegance. They are bags you can wear year in year out, and many are seasonless too, allowing you to have a better cost per wear potential.
While we have not rigorously tested each bag, our selection of the best designer bags does take into account the most popular styles from leading and well regarded accessory and fashion brands. Furthermore we have spoken to fashion editors who own a number of the bags in the list to get their honest opinion on their purchases.
When selecting the best designer bags we're focused on pieces that utilize high quality fabrications and hardware as well as taking into account the designer brand's reputation and the styles longevity and notoriety.