The best designer bags worth investing in: These luxury handbags hold their value at resale too
We've rounded up the best designer bags by price, to help you find a luxury bag to fit your budget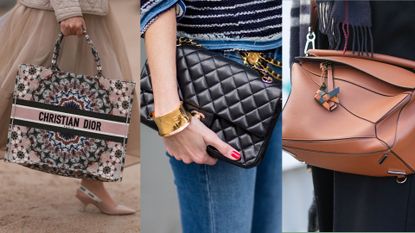 (Image credit: Getty Images)
Best designer bags {2003}: Jump Menu
Our top 10
1. Mulberry Bayswater in Oak NVT
2. Gucci Marmont Small Shoulder Bag
3. Prada Re-Nylon Logo Plaque Bag
4. Saint Laurent Lou Lou Toy Quilted
5. Bottega Veneta Cassette Shoulder Bag
6. Chanel 2.55 (Pre-Owned)
7. Dior Saddle Bag
8. Hermes Kelly Leather Bag (Pre-Owned)
9. Louis Vuitton Speedy Bandoulière 25 Bag
10. COACH Pillow Tabby 26 Leather Shoulder Bag
Investing in one of the best designer bags is a purchase you'll never regret. While each season ushers in new trends, the best designer bags remain wearable and timeless for years to come. And if you're looking for a designer bag that holds its value, then this list is the place to start.
Considered an investment buy over an impulse purchase, the best designer bags can set you back thousands, so doing your research is a must. The autumn/winter handbag trends 2023, have ushered in new styles, and although some of these will eventually become cult classic status, if want the smartest of investment pieces, opt for a timeless buy that will retain its value at resell, and there are certain fashion labels that you can always rely on. From the best Chanel bags to the best Gucci bags - we're looking at you Marmont - unless you're buying to later sell, your designer bag purchase will largely be down to aesthetics and occasion.
Designers use seasonal runway shows to preview their latest bags, with new shapes and elevated fabrications and embellishments, but if you're purchasing for investment or longevity, opt for neutral hues, or designs that have been on the market for a number of years, as these are often the most popular and savviest style choice. From the latest looks to classic silhouettes that the best in the business have been selling for seasons, making for some of the best Quiet Luxury handbags, we guarantee there is a designer bag for every taste. So, whether you've got your eye on a relatively new to the market, puffy Coach Pillow bag, want to go timeless with a retro Dior Saddle Bag, or a party-ready McQueen clutch, prepare to meet your new handbag hero. Here's everything you need to know about the best designer bags to invest in.
The quick list
With literally dozens of designer bags to choose from, we've whittled down six designs that tick all the boxes. Designs with heritage behind them, many of these designer bags are instantly recognisable making them investible pieces of arm candy.
The best designer bags to buy now
This edit of the best designer bags is packed full of beautiful, solid investment pieces that won't go out of style. A mixture of new hero pieces that have excited fashion experts and staples that have remained some of the most sought after handbags on the market, these designer bags are ones that will stand the test of time and are synonymous with luxury and sartorial elegance. They are bags you can wear year in year out, and many are seasonless too, allowing your designer bag purchase to have a better cost per wear potential.
While we have not rigorously tested each bag, our selection of the best designer bags does take into account the most popular styles from leading and well regarded accessory and fashion brands. Furthermore we have spoken to fashion editors who own a number of the bags in the list to get their honest opinion on their purchases, and we've kept our eyes on market forces, seeing which bags increase in value and which bags are popular on rental and resale websites.
When selecting the best designer bags we're focused on pieces that utilise high quality fabrications and hardware as well as taking into account the designer brand's reputation and the styles longevity and notoriety.
If you're debating whether to invest in a designer bag or not, it's important to remember that designer bag prices, particularly of classic styles tend to go up every season, meaning that the most staple of designer bags naturally increase in price and value year on year. Nearly at the end of 2023, we expect to see some bags increase in price, and have already begun to see slight up tick in costs on some of the best designer bags. This means you'll want to invest in the best designer bags sooner rather than later, but the good news is that the constant increase in price year on year will help your original purchase hold its value.
Image 1 of 2
1. PRADA Re-Nylon Re-Edition 2000 mini-bag
Specifications
RRP: £920 / $1,350
Material: Nylon
Reasons to buy
+
Sustainable
+
Retro design
Y2K trends are back with a bang and with that comes plenty of nostalgic designs reinvented for the modern-day, including this iconic silhouette from Italian clothing brand Prada. Brought to fame in the early '00s, this updated design is made from Re-Nylon, produced from recycled, purified plastic trash collected from the oceans, fishing nets, and textile waste fibers.
This bag made its debut last year to much fanfare and this re-worked silhouette shows no sign of slowing down in terms of popularity and has all the hallmarks of becoming a future classic, making it a designer bag to invest in. Available in eight different colourways, from timeless neutrals to trend-led yellow, we can see this becoming a bag that will hold its value in years to come.
It's lightweight, durable, and has a vintage feel to it - thanks to the archive design aesthetic. As the bag is made from recycled materials, it's also a great choice if you're not keen on buying leather products, but still want to have a high-end designer handbag. Due to the fact it's not a leather design, the bag is considerably lower cost than most Prada handbags, making it one of the best designer bags under £1,000, so if this is the designer bag brand you want, this is a strong and iconic piece to start your collection with.
Decorated with the signature enamelled metal triangle logo there are plenty of dreamy shades to choose from and for this season a real emphasis on neutral and pastel shades - which will go with pretty much any outfit. Due to the re-nylon fabric it might not have the most polished of finishes, but its mini stature does make it ideal for those days when you just want the absolute essentials to hand.
---
Image 1 of 2
2. MULBERRY Bayswater
Specifications
RRP: £1,350 / $1,650
Material: Leather
Reasons to buy
+
Iconic bag
+
Roomie design
Reasons to avoid
-
Large design that can't be carried crossbody
British clothing brand, Mulberry creates high quality, leather brands, made in England at its factory in Somerset. The iconic Bayswater launched in 2003 and since then has become one of the brand's best selling and most loved designs. One of the best designer tote bags, the silhouette itself has been tweaked and altered over the years but it has always remained a chic and stylish, classic, everyday bag that will polish off any outfit. A cross between a satchel and a tote, this bag has a naturally smart finish and comes in numerous colours and finishes reflecting the fashion colour trends 2023.
Available in 13 hues, tan is a great investment choice thanks to its neutral, go-with-everything color that works all year through. With a width of 36cm, it's just over 14 inches, meaning it will fit a small laptop or tablet, alongside other daily essential - making it ideal as part of your work outfits. With a secure postman's lock, a signature design of the brand, it also has two slip pockets, a main compartment and an inner zipped pocket too. The four base feet will stop the bottom from getting too worn or scratched. A shoulder bag design, this isn't one for those who demand a totally hands-free finish, but it is one of the most practical and hardwearing designer bags around.
"I'm a big fan of Mulberry handbags in general as I find them really hardwearing. The softer leather iterations in particular can take everything my day throws at it and wear well. There are so many iconic Mulberry bags, that it's hard to pick just one. However if you want a smaller crossbody, I love my Darley for everyday, on-the-go ease and style in one," says woman&home fashion editor, Rivkie Baum
With over fifteen years' experience, Rivkie is an accomplished fashion editor, writer and stylist. Covering international fashion weeks, and styling photoshoots all over the world, Rivkie loves translating the trends in an accessible way to make fashion available for all budgets.
---
Image 1 of 2
3. LOEWE LARGE BASKET BAG IN PALM LEAF AND CALFSKIN
Specifications
RRP: £475 / $690
Material: Palm leaf/Calf
Reasons to avoid
-
Could be seen as too summery to wear in winter, limiting opportunities to use it
As far as the best beach bags go, there's nothing more coveted - and copied - than this Loewe design, which is a constant sell-out every season and supreme when it comes to jetting off to sunnier climes. One of the best affordable designer bags - clocking in at under £500, you may have to hibernate this design between early September and May, but there are few raffia designs that can beat it. The perfect partner to your best midi dress, a rattan or straw bag is a summer icon and with the added Loewe branding, this is the summer designer bag to invest in.
Quite the style essential and whether you opt for this beauty as your everyday tote bag, or reserve it for a beach vacation, you're guaranteed to rely on this beauty every time the sun rears its head. With smart, high-end tan leather trim, this designer bag is a step towards cottagecore and boho trends, with its yesteryear basket silhouette, made modern through the engraved Loewe leather panelling.
One of the best Spanish clothing brands, Loewe might not be the traditional brand you think of when considering the best designer bags, but they are one of the most innovative labels on the market, garnering quite a cult following amongst fashion fans.
More affordable than many of the best designer bag brands, if you're looking for one of the best luxury bags to start your collection, this now classic design is under the £500 / $690 mark, making it one worth considering.
---
Image 1 of 2
4. Dior Saddle Bag
Specifications
RRP: From £3,450 / $4,200
Material: Sheep, goat or calfskin depending on design
Reasons to buy
+
Purses offer a more accessible price point
+
Plenty of nostalgia
Reasons to avoid
-
Has to be carried by hand or shoulder
If you want to learn how to dress like Carrie Bradshaw, then you should note that the Dior Saddle Bag was one of Carrie's favourites. Coveted by all of us, the Dior Saddle Bag was the 'It' bag for years, but despite its popularity, the brand eventually ceased production of the shape causing resale demand to rise.
Fast-forward to 2018 when Creative Director Maria Grazia Chiuri sent a re-imagined version of this classic down the runway, and the Saddle Bag 2.0 was born. The beautifully curved shape might have remained the same, but this time it's not just about canvas and embroidery, but shiny goat leather too, all complete with the iconic stirrup 'D' closure.
With a top grab handle and a shoulder strap, this bag has a highly elegant finish, particularly in black leather and will of course be wearable with almost anything. While the micro version (which starts from just over £1,950 / $2,000) makes for a great evening piece, the larger design (from £3,250 / $4,000) is a smart bag for everyday, although we'd understand if you'd want to keep it for special occasions.
This design is available in seven colourways, covering everything from yellow and khaki to neutral white, black and navy tones. One of the best French clothing brands, Dior is iconic and this timeless piece is a designer bag that can certainly be filed under investment piece.
The best designer card wallets and purses from Dior offer a more accessible price point if you're looking for a place to start. It's also worth checking out resale sites, many of who will carry the original Saddle Bag designs for dedicated collectors.
---
Image 1 of 2
5. GUCCI JACKIE 1961 SMALL SHOULDER BAG
Specifications
RRP: £2,220 / $2,950
Material: Leather
Reasons to buy
+
Instantly recognisable
+
Range of colours
Reasons to avoid
-
Not as secure as only has the central closure, leaving sides open
The Jackie has been one of Gucci's hero bags for decades. Named after Jackie Kennedy in the sixties, it was reintroduced for Autumn Winter 2020 and has been top of its game ever since, highlighting as a designer bag worthy of investment.
It has a curved half-moon shape and buckle closure and features an additional shoulder strap so you can wear it crossbody or carry by the top handle. Perfect if you're after something slightly bigger than the Marmont, it's available in five shades, from white to a deep red, emerald green and both black patent and grain leather.
With gold hardware and a striking piston closure this bag dances the line between statement and discreet. Unlike many of Gucci's stylish incarnations, the Jackie is only obviously Gucci if you know about the best designer bags, otherwise, it's simply a chic everyday piece.
The bag is unlined and has two interior pockets, one open and one with a zip closure, for easy interior organisation. A beautifully crafted bag, focusing on clean, classic design and unfussy lines, it marries form and function without feeling trend heavy.
---
Image 1 of 2
6. Loewe Small Puzzle Bag
Specifications
RRP: £2,800 / $3,250
Material: Calfskin
Reasons to buy
+
Folds flat
+
Can be worn in 4 different ways
Reasons to avoid
-
Opening can be hard to get into
Relatively young by iconic bag standards, Loewe's gorgeously geometric Puzzle Bag was dreamt up by Creative Director Jonathan Anderson in 2014. Proving early on that his appointment was a very good move by the company, in fact, the Puzzle bag was actually the very first piece he designed. Not only can it be worn in an impressive four different ways, from shoulder bag to clutch, but it also folds completely flat for easy storage. Nearly all Puzzles are made from buttery-soft calfskin, but the grain can vary from style to style.
A compact design the Puzzle bag in small can hold all mobile phone sizes (when did they get so big again?), sunglasses and a large wallet - so not bags of space but enough for the essentials. It has one exterior zip pock and an interior slip pocket to help you keep your items accessible, as well as an overall secure zip fastening to the main compartment.
The bag, like many of the classics has seen some recent style updates too and you can now buy additional monogrammed crossbody straps baring LOEWE written on repeat in three different colourways.
Easy to get your hands on, buy direct from Loewe or through several high end retail partners. Prices start at £1,700 for a mini and climb to £2,600 for the larger, classic design.
---
Image 1 of 2
7. BOTTEGA VENETA JODIE MINI KNOTTED INTRECCIATO LEATHER TOTE
Specifications
RRP: £1,970 / $2,650
Materials: Lambskin and Calfskin Leather
Reasons to buy
+
Lots of colour and sizes
+
Modern design
Reasons to avoid
-
Not a structured bag, quite soft
One of two coveted Bottega Veneta bags on this list, the Jodie has been everywhere since its launch in 2020, and the instantly recognisable bag has triggered many a replica from straight to market brands.
Deserving a spot on the list - because you know a bag is a cult item when it inspires so many other bags, it's much slouchier than its more structured but equally as popular counterpart, the Cassette bag, but still uses the now Veneta synonymous woven structure. With an oversized knot to one size, it's more of a grab top handle bag or on the crook of your elbow rather than a shoulder bag.
And while the Jodie has reached peak cult status, the top handle structure also dips into one of the big autumn/winter fashion trends 2023 when it comes to handbag styles for the year ahead.
Available in a rainbow of hues and fabrications, when it comes to the Jodie mini there are at least 57 interpretations of the design, including woven (with 30 colour options) and directional faux fur iterations. We highly rate the mini silhouette for the perfect evening bag that still packs a punch. With a single compartment (with zip closure) - it's ideal for essentials only. If you're not dead set on the Jodie, you could try this look-a-like bag design from Anthropologie, almost identical to the Jodie, it costs just £78.
---
Image 1 of 2
8. Saint Laurent LouLou Toy Leather Crossbody Bag
Specifications
RRP: £1,665 / $1,835
Material: 100% Calfskin Leather
Reasons to buy
+
Easy crossbody style
+
Elegant and timeless
Reasons to avoid
-
May be too small to carry night out essentials
One of the best YSL bags, the LouLou Toy Leather Crossbody Bag is named after Yves Saint Laurent's muse Loulou de la Falaise. A design staple, this simple but impressive designer crossbody bag is universally loved and a favourite amongst the fashion crowd for its directional quilting, but equally timeless design. While the bag comes in numerous colours, it's the black with statement gold YSL monogram that really stands out for us and makes this bag suitable for all occasions, AM-PM.
With Saint Laurent's natural rock and roll appeal, this bag is guaranteed to add sartorial elegance with an edge to everything from your favourite LBD to a casual jeans, tee and leather jacket combo. Made from buttery-soft, 100% calfskin leather, the gold front metal hardware ensures everyone knows what excellent taste you have.
Despite its relatively small footprint this crossbody bag is packed full of practicality. Featuring two compartments, a zip pocket, three slip pockets and two card pockets, its small but mighty on the organisation front.
A long-term investment, this practical purchase promises to never go out of date and is still very much a sought after piece, should you ever choose to part ways.
---
Image 1 of 2
9. Chanel 2.55 Bag (Pre-Owned)
Specifications
RRP: From £8,474.93 / $4,400
Material: Leather or fabric, depending on the design
Reasons to buy
+
One of the most iconic bags
+
Holds its value
"The best things in life are free. The second-best things are very, very expensive." - is one of our favourite Coco Chanel quotes and feels very apt indeed when talking about Chanel's infamous 2.55 Flap Bag. The bag that spurned a thousand copies, it's easily one of the best designer bags ever made and one of the most instantly identifiable too.
Created by Gabrielle Chanel in February 1955, it stands out thanks to its simple yet effective rectangle shape and signature quilting. Black leather is the classic choice, while seasonal tweed or colour-pop options offer a more fashion-forward take. You can browse online via Chanel's website, but for the widest choice of sizes, colours, and fabrications, it's best to visit one of its boutiques - as Chanel does not retail online. Prices start at around $4,400 / £3,650 for a mini version and rise to in excess of $9,500 / £7,550 for a maxi version.
One of the most iconic designer bags in existence, the Chanel 2.55, well maintained will always have a good resale value, and with prices expected to continue to rise, the resell market is incredibly lucrative. If your dream is to own a Chanel 2.55, investing as soon as you can is our advice.
A luxury design house, Chanel doesn't take part in any of the best designer outlets either, so there is no opportunity for a discounted version we're afraid, if you're investing in a Chanel handbag, you'll have to go all in. And if you're thinking about a second-hand variety, its bags tend to hold their value or increase. If you are looking to purchase a vintage or second-hand design, make sure to purchase it from a reputable source.
---
Image 1 of 2
10. Hermes Kelly Leather Bag (Pre-Owned)
Specifications
RRP: From £25,982 (UK only)
Material: Leather
Reasons to buy
+
Timeless shape
+
Holds it value well
Reasons to avoid
-
Hard to get - waiting list, try second hand
It's almost impossible to put together a round-up of the best designer bags without including Hermés. The Birkin might be the A-list-approved bag that first springs to mind, but for real glamour, Kelly has our vote. First created by Robert Dumas, the son-in-law of Emile Hermés, the grandson of founder Thierry Hermés, it gained real notoriety when worn by Hollywood legend Grace Kelly. Rumour has it that the actress, and Princess of Monaco, used the bag to conceal her pregnancy in the late 1950s, and as a result, it was renamed in her honor.
Effortlessly elegant, the real beauty of Kelly is in its simplicity. It won't date with trends, so you can rest assured this is a bag you'll love to use for years to come. Unfortunately, getting your hands on a Hermés bag is not as easy as heading to the store. Not everyone who wants one is approved to buy one, and even if you do make it onto the coveted shortlist, you can still face a long wait. As a result, the resale market is booming, so buying second-hand might just be your best bet (make sure the bag has been authenticated by an expert). Exact prices are hard to come by, but depending on the leather you choose, a Kelly bag bought directly from Hermés will set you back upwards of £6,000.
---
Image 1 of 2
11. Gucci GG Marmont Small Leather Shoulder Bag
Specifications
RRP: £1,340 / $1,790
Material: 100% Leather Outer, 100% Microfibre lining
Reasons to buy
+
Everyday style
+
Compact and versatile
Reasons to avoid
-
May be too small for all of your everyday items
Gucci handbags have seen an increased demand over the past couple of years with a rise in sales and searches (especially after the release of House of Gucci), and the classic GG Marmont is one of the most sought-after styles.
Small but mighty, this compact crossbody camera bag is incredibly versatile. With a quilted finish, it features a chain and leather strap, as well as the brand's distinctive gold-tone logo plaque, making it instantly recognisable. It comes in 8 variations, including pillar box red and a floral print, but we think simple black is the way to go if you're looking for longevity.
One of the best crossbody bags on the market, the classic GG Marmont is a great style for everyday. Leaving you hands free, it has just enough space for the essentials and if you opt for a neutral hue it will pair effortlessly with work and evening outfits. The unmistakable double GG logo has been the source of design inspiration for numerous straight to market brands, but nothing comes close to the real deal.
Loved by style experts, fashion editor Antonia Kraskowski is rarely spotted without her trusty Marmont: "My Gucci GG Marmont matelassé mini bag is one of my most loved and used crossbody bags. Although tiny, it's surprisingly mighty when it comes to what you can fit in it plus it's essentially two bags in one. One side has the GG gold metal emblem and chevron design while the other has a more subtle stitched logo, perfect for those days when I want something a little more low key. While it might be an investment, it hasn't fallen apart despite my best efforts of wearing it daily and the price has only gone up, meaning that if I dare to part with it, the resale value will be around what it cost new a few years ago."
With over 15 years experience in the fashion industry, freelance fashion editor, Antonia Kraskowski has worked at Conde Nast, across titles including, Glamour, Vogue New Markets and Easy Living. Antonia later went on to serve as the Fashion Editor of Express Newspapers and Magazines for five years before embarking on a freelance career.
---
Image 1 of 2
12. Louis Vuitton Speedy Bandoulière 25 Bag
Specifications
RRP: £1,420 / $1,820
Material: Leather
Reasons to buy
+
Detachable strap
+
Personalisation options
Reasons to avoid
-
Shape can slouch during use
Originally created for travelers in the 1930s, Louis Vuitton Speedy is one of the best Louis Vuitton bags and remains a sought-after purchase for all those after a timeless design from the French clothing brand.
Elegant yet sporty, the almost bowling bag shape means it's roomy enough for all your essentials, while the signature rolled leather handles ensure maximum comfort. The little details count, too, like the luxe engraved padlock, adding that finishing touch. If you're not one for traveling light, opt for a larger size, such as the Louis Vuitton Speedy 40 which will make one of the best weekend bags.
Take advantage of the ergonomic design, as the Speedy comes with a crossbody strap for easy wear - making it a great bag when deciding what to wear on a plane too. While the best designer bags still have a level of exclusivity, the Speedy benefits from the fact that a number of styles can be personalized with colored stripes and your initials via Louis Vuitton's online store or in its boutiques. This means that your designer bag can be unique to you. Prices for the Speedy collection - which is constantly being refreshed with new colours each season, range from £1,470 for the Speedy 30 Bag to £1,510 for the 35.
A sportier feel, this is definitely a day bag, wearable for both work and casual occasions. Instantly recognizable by the LV monogram, it's a great piece if you like to make a statement.
New for 2023, try the Speedy Bandoulière 25 bag that is part of the second Louis Vuitton x Yayoi Kusama collection. The Japanese artist is known for her colorful array of dots and this has been used to add bursts of mood boosting brightness to the classic Speedy 25, as well as form part of an installation at designer store Harrods, in Knightsbridge in the UK. And while the designs might be a twist on the classics we have seen unusual Louis Vuitton bags hold their value at resale.
---
Image 1 of 2
13. Jacquemus Le Chiquito Noeud leather shoulder bag
Specifications
RRP: £675 / $745
Materials: Cow Leather
Reasons to buy
+
Cult buy
+
Great price and lots of colours
Jacquemus is a master at creating sell-out, cult buys, but none have been quite as successful and more invested in than the tiny Le Chiquito bags. Never in stock for long, this is one style that literally flies off the shelves. Starter of the tiny handbag trend, you can just about squeeze your essentials into the Le Chiquito as long as you plan to carry your phone for the rest of the evening. Very much an iconic designer buy for the Instagram and TikTok generation, Jacquemus is a master of scale - having previously bestowed oversized totes and huge floppy hats on the world of fashion too.
The Le Chiquito comes in in a selection of ever rotating colourways, including WGSN Colour of the Year 2023, 'Digital Lavender', and with a mid range price point for a designer brand, Jacquemus hits that sweet spot where dedicated fans won't just buy one. A great first designer bag buy, it is wearable on the shoulder, crossbody or carried by the statement, curled top handle. This bag is very much of the here and now, where its future goes, only time will tell, as it is still pretty new to the market. Ideal as an evening bag, there are larger versions of the style, but it's the micro version that has the biggest cult following.
---
Image 1 of 2
14. Chloé Marcie Medium Saddle Bag
Specifications
RRP: £1,490 / $1,890
Material: Suede and calfskin leather
Reasons to buy
+
'70s design
+
Compact and practical
Reasons to avoid
-
Rounded bottom won't stand flat
Taking the humble saddlebag and transforming it into a cult buy is no mean feat but fashion house Chloé nailed it with this beauty. Rivalling Dior for the most recognisable saddle bag, the Marcie is the perfect embodiment of what is boho style and ideal for a boho capsule wardrobe. With a cool, laidback, '70s bohemian vibe, we love the statement stitching and chic tassel finish. The brass hardware and subtle branding is ideal for those who want a luxe bag that doesn't feel 'too showy' or heavily monogrammed.
Wearable crossbody or as a shoulder bag, it's crafted from a sumptuous combo of suede and calfskin leather. The medium size is ideal for every day, with plenty of room for essentials, there are however mini iterations, which give you the classic Marcie shape at a fraction of the size and cost. Available in five neutral colourways, this is a bag that will last for years to come
More of an everyday piece, we wouldn't recommend this for an evening look as it has a much more practical and on-the-go feel to it and will instantly elevate your favourite jeans or pretty, boho, long skirt outfits.
---
15. Dolce & Gabbana Medium Sicily bag in Dauphine calfskin
Specifications
RRP: £1,500 / $2,095
Sizes: 100% Calfskin leather, Fabric Lining
Reasons to buy
+
Elegant
+
Timeless design
+
Chic colourway
Reasons to avoid
-
Not as instantly recognisable as other designs
Dolce & Gabbana's Sicily remains consistently popular for its classic ladylike silhouette and elegant aesthetic. Its structured shape makes it smart enough to pass off as an evening bag, yet practical for the daytime too.
Available in an array of colours with everything from sunshine yellow to a gorgeous forest green - as well as a host of neutrals. The classic, almost vintage like aesthetic of this bag means it won't go out of style, but for a versatile buy away from black opt for the chic and equally timeless red hue instead. It will go with everything but it will feel fresh and different too.
Featuring a front flap with a hidden press-stud fastening, it has a branded plate on the front for that luxe designer finish. The top handle is adjustable for a comfortable carry and their are inner pockets with branded zippers and a cell phone holder - so you can keep everything tidy inside your bag too. The metal feet on the base will stop scratching on the base of the bag, making it more robust than many designer bag choices. Adding a feminine feel to tailored outfits, it's an ideal choice for formal occasions such as what to wear to a job interview - pairing well with blazers and the best shirt dresses. Alternatively opt for brighter and bolder hues for a great wedding guest bag.
---
Image 1 of 2
16. Balenciaga Classic City Small Black Leather Top Handle Bag
Specifications
RRP: From £1,390 / $1,950
Material: Leather
Reasons to buy
+
Top handle and shoulder strap
+
Lots of different variations
The Balenciaga Classic City bag was a must-have in the early noughties. Worn by everyone from Paris Hilton to the Olsen twins, it's still a coveted style today thanks to its versatility and timeless design and of course, the return of a noughties nostalgia. It has come in many variations over the years, from hot pink to graffiti print for a real statement-maker but the simple black still remains top of its game.
Featuring two top handles as well as a crossbody strap, buckle-embellished trims, front zip-fastening compartment and metal hardware with the brand's logo, this classic black iteration has a glossy finish for a smart take that still taps into Balenciaga's rock and roll aesthetic - it's high fashion with an edge.
A great everyday bag, this might not take you to a black tie event, but it will take you basically anywhere else. It's only downside is its relatively small size, as its design makes it appear chunkier and more robust.
---
Image 1 of 2
17. Bottega Veneta Cassette Bag
Specifications
RRP: £1,800 / $2,500
Material: Lamb or calfskin depending on design
Reasons to buy
+
Easy to source
+
Favourite amongst fashion editors and celebrities
Reasons to avoid
-
Padded version not too spacious
Intricately woven from either high-quality leather or suede, Bottega Veneta's cult Cassette Bag comes in a range of incarnations. From mini to large in size, the statement style is easy to dress up or down.
Keep it simple with the slim and structured original, beautifully finished with a magnetic clasp closure and narrow shoulder strap. Or if you prefer a more statement look, try the pillowy, puffy Padded Cassette or the lavish Chain option - all of which have been spotted slung over the arms of fashion editors in all the major style cities.
The colour range is vast, too, with a rainbow array of shades - from dopamine dressing brights to muted neutrals and classic black, this bag is all about the style and craftsmanship over the colour as that's what makes it utterly distinctly Bottega Veneta. While this bag hasn't been around for super long, it