Best Gucci bags to invest in - including the iconic Horsebit 1955, Jackie 1961 and GG Marmont
Timeless, classics, the best Gucci bags are instantly recognizable. We ask fashion experts to reveal their favorites from the Italian fashion house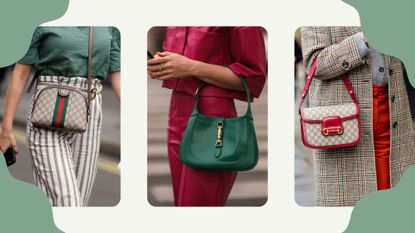 (Image credit: Getty)
Trends come and go but a designer handbag is a life-long investment, and the best Gucci bags are some of the most iconic on the market. From the failsafe Jackie shoulder bag, to the vibrant Dionysus evening clutch, there's a Gucci bag for every occasion.
Beautifully designed, the best Gucci bags hold their value, making them some of the best designer handbags to invest in. Having seen a huge resurgence in popularity in recent years, thanks both to some stellar runway collections and the film 'House of Gucci', the Italian clothing brand is in demand right now. In fact, according to Wethrift (opens in new tab), Google searches for vintage Gucci increased by 92% the week of the film's release, proving Gucci is more popular than ever. "This is a very exciting time to be buying into the Gucci brand. It is arguably in one of the best positions to stand the test of time, under the creative direction of Alessandro Michele, we are seeing lots of visionary activities," explains Sacha Newall, Founder, and CEO of MyWardrobeHQ (opens in new tab).
With some of the best crossbody bags and best tote bags, a Gucci bag is as instantly recognizable as the best Louis Vuitton bags, with bold logos, punchy hues, and dazzling embellishments. But while there are plenty of statement styles, there are also more pared-back iterations too, think neutral hues and buttery-leather fabrics that will make a strong addition to any season. From the famous Jackie 1961 to the GG Marmont, Gucci bags ooze sophistication and will instantly elevate any look whether you're going on a dinner date or attending an important meeting.
The best Gucci bags as chosen by fashion experts
When it comes to Italian clothing brands, Gucci is one of the most recognized in the business. The brand's iconic GG logo has been a source of inspiration to many straight-to-market brands, but nothing is quite like the real thing. If you love the timelessness of the best Chanel bags then you'll understand why the Gucci best sellers have become so loved. Wearable in any season and looks that will never go out of style, we've rounded up the star styles to invest in.
1. Horsebit 1955
Gucci Horsebit 1955
Reasons to buy
+
Vintage aesthetic
+
Lots of variations
Defined by the equestrian double ring and bar, the Horsebit 1955 takes inspiration from the Gucci archives with the same lines and forms from over six decades ago. It comes in many different designs from simple leather versions to bolder printed designs. The shoulder bag variation is the most classic with an elegant flap, metal hardware, and an adjustable strap to make it fit crossbody too so you can wear it day in, day out, from teaming it with your best winter coat to a lightweight denim jacket. The line also features totes and bucket bags, all with the same recognizable metal hardware.
Fashion editor's picks...
(opens in new tab)
Gucci Horsebit 1955 Shoulder Bag
RRP: $3,250 / £2,430 | For utmost versatility opt for the simple black leather design that will work seamlessly with any outfit that's thrown at it. Cute and classic, it can be worn crossbody and has a smooth suede-like lining for a high-end finish.
(opens in new tab)
Gucci Horsebit 1955 Mini Top Handle Bag
RRP: $2,250 / £1,580 | Switch up from the classic shoulder silhouette and go for this top handle design for a ladylike finish on the style. The GG signature monogram canvas ensures that everyone will know you've got one of the best Gucci bags.
2. Jackie 1961
Gucci Jackie 1961
Reasons to buy
+
Can be worn multiple ways
+
Retro and ladylike design
The Jackie is another retro design this time taken from the sixties. Originally named after Jackie Kennedy, it was reintroduced for Fall Winter 2020 and has become quite the cult hit. It still has its signature curved half-moon shape and buckle closure but it now includes an additional detachable shoulder strap so you can wear it multiple ways - from top handle to crossbody. There are also fresh new colors and fabrics -from sweet pastel hues to winter corduroy. And if you need more convincing, Harry Styles has one.
Fashion editor's picks...
(opens in new tab)
Gucci Jackie 1961 Small Shoulder Bag
RRP: $2,950 / £2,220 | While white might feel tricky to wear - or a color only for summer, you can use this beauty all year. With two interior pockets - one open and one zipped - for valuables. Team with neutral hues for a tonal look.
(opens in new tab)
Gucci Jackie 1961 Mini Shoulder Bag
RRP: $2,400 / £1,770 | This mini version in a sugary sweet pink shade will lift any look and plays nicely into solving the what is Barbiecore trend this season. The more compact size makes it a decent day-to-night choice. Wear it with jeans and a sweater.
3. GG Marmont
Gucci GG Marmont
Reasons to buy
+
Distintive GG symbol
+
Extremely versatile
Once again it's the hardware that defines the GG Marmont with its distinctive '70s-inspired GG monogram on the front. Crafted from soft matelassé leather, the line comes in many shapes and sizes from mini crossbody bags to carry-all totes, with the shoulder bag being the most coveted in this category. One of the best Gucci bags, the GG Marmont is effortlessly versatile. Easily wearable in the day with jeans and your best cashmere sweater, this bag can also work for both the evening and the office, such is its fashion currency.
Stick with neutral hues if you want to keep it classic or make more of a statement in pillar box reds and monogram prints.
Fashion editor's picks...
(opens in new tab)
GG Marmont Small Matelassé Shoulder Bag in Black Leather
RRP: $1,650 / £1,250 | Loved by fashion editors and stylists, this compact camera style bag is an everyday essential and we love its distinctive designer stamp. Guaranteed to never go out of style, you won't regret investing in this wardrobe essential.
(opens in new tab)
GG Marmont Small Shoulder Bag in Original GG Canvas
RRP: $1,300 / £1,020 | Give the classic camera bag silhouette that infamous Gucci makeover with the GG logo design. You can even personalize it with your initials for that extra unique touch. Undeniably designer, we also love the slight vintage feel.
(opens in new tab)
GG Marmont Mini Shoulder Bag in Forest Green Leather
RRP: $2,350 / £1,700 | For a slightly more unusual take on proceedings, try this rich forest green hue - a stylish switch from black and tan but just as versatile. This has a flap and spring closure and a sliding chain strap for multiple ways to wear.
4. Dionysus
Gucci Dionysus
Reasons to buy
+
Bright and bold colors
+
Smart and structured silhouette
The tiger head clasp that adorns this design takes inspiration from the Greek God Dionysus who according to Greek mythology crossed the river Tigris on a tiger sent to him by Zeus. The structured design will add instant polish to any look from your best jeans to your Christmas party outfit. As part of the Gucci Beloved line - a collection of classic designs revamped by Alessandro Michele for a more contemporary take, the Dionysus now comes in an array of iterations, from Crayola colors to the brand's signature monogram print.
Fashion editor's picks...
(opens in new tab)
Gucci Dionysus Small GG Shoulder Bag
RRP: $2,950 / £2,130 | This chic navy hue makes such a refreshing change from classic black. With a boxy structure, it has a smart aesthetic that you can take from AM to PM with ease. While navy seems a bit of a curve ball, it's just as versatile as black.
(opens in new tab)
Gucci Dionysus Leather Super Mini Bag
RRP: $1,100 / £840 | The metallic hue gives this a party-ready finish. Big enough for the essentials - credit card, lippy, this bag features the distinctive tiger head closure and chain shoulder strap. Ideal for what to wear to a wedding or a special occasion.
5. Diana
Gucci Diana
Reasons to buy
+
Iconic bamboo handle
+
Roomy size
Another nod to nostalgia is the Diana bag reinvented by Alessandro Michele from the original 1991 design, which was popularized and then named after Diana, Princess of Wales. Defined by the bamboo handle, the new design features vibrant neon bands - a fun reference to the bands used to keep the handles in shape. In a structured tote design, it also features a longer strap for ease, so you can carry it crossbody too. largely available in easy-to-wear neutral hues, as well as a more zingy green to jazz up your camel coat.
Fashion editor's picks...
(opens in new tab)
RRP: $8,600 / £7,055 | With a raffia finish and tote silhouette, this would make a stylish summer bag, ideal for what to wear on a plane. With two zip compartments, the brown leather trim keeps it polished so you can wear it in the city or by the coast.
(opens in new tab)
Gucci Diana Mini Tote Bag
RRP: $3,300 / £2,470 | Tap into the fashion trend 2022 for dopamine dressing and add a splash of color to your look with this red design. Wearable all year, the mini size is a good day-to-night bag, while the longer strap allows you to carry crossbody.
(opens in new tab)
Gucci Diana Python Clutch
RRP: $4,800 / £3,938 | A step away from the Diana bag's classic top handle, but still with the bamboo detail, this fierce snake print clutch will up the ante on your party looks - wear with an LBD. There's a delicate chain strap so you can wear it on the shoulder.
6. Ophidia
Gucci Ophidia
Reasons to buy
+
Roomy totes
+
Inlay web detail
The Ophidia made its debut in the Cruise 2018 catwalk and features the iconic inlay Web detail for a pop of color and a shiny GG Marmont tab for that sought-after designer stamp. While these remain consistent through the line, the shapes and silhouettes are ever-evolving - from some of the best backpacks for working women to roomy bucket bags to a more classic crossbody style, the Ophidia is the look that can adapt to suit your needs.
Fashion editor's picks...
(opens in new tab)
Gucci Ophidia GG Small Backpack
RRP: $1,980 / £1,625 | Make your daily commute extra stylish with this Gucci backpack. Crafted in GG Supreme canvas with a textured leather trim it's the epitome of sports luxe. Wear with your best blazer and tailored trousers for a cool, high-low look.
(opens in new tab)
Gucci Ophidia GG Medium Tote in Beige
RRP: $1,600 / £1,210 | Giving the classic tote a fashion-forward makeover, this design has a magnetic snap closure for security and smart gold-tone hardware, plus all the distinctive Ophidia features - such as the Web inlay and GG logo canvas print.
(opens in new tab)
Gucci Ophidia Mini GG Bucket Bag
RRP: $1,400 / £1,140 | One of the biggest handbag trends 2022, a bucket bag is well worth having in your handbag arsenal. Surprisingly roomy without being bulky, they have a cool, laidback, and slightly sporty aesthetic and a Gucci one is extra plush.
7. Sylvie
Gucci Sylvie
Reasons to buy
+
Smart, minimalist structure
+
Archival design
The Sylvie bag dates back to 1969, created during a monumental time in history, coinciding with astronauts' first landing on the moon. Sylvie is a sleek and pared-back design, defined by its distinctive gold-toned chain and buckle closure. Perfect if you're after something a bit more minimalist, you can snap it up in a boxy silhouette epitomizing ladylike styles of the '60s and '70s or a softer shoulder bag design.
Fashion editor's picks...
(opens in new tab)
Gucci Sylvie 1969 Patent Leather Top Handle Bag
RRP: $3,200 / £2,400 | True to the archival design, this iteration is an instant classic that is sure to work with your wardrobe. With a detachable chain strap and a top handle so you can wear it multiple ways. We love the gold/black contrast.
(opens in new tab)
Gucci Sylvie 1969 Lizard Small Shoulder Bag
RRP: $7,500 / £6,155 | A softer silhouette, the strap can be adjusted to be carried crossbody or on the shoulder. Featuring the signature chain and buckle fastening, it has a flap closure and a zipped inner pocket too for added security when out.
(opens in new tab)
Gucci White Embroidered Sylvie Small Shoulder Bag
RRP: $3,100 / £2,160 | Make more of a style statement with your arm candy and opt for this standout floral and bow design. It has a chunkier chain detail and features an embroidered bloom design on white leather for an eye-catching finish.
8. Padlock
Gucci Padlock
Reasons to buy
+
Lots of different prints and colors
+
Structured silhouette
The clue is in the name with this timeless design. Known for its distinctive key lock closure with a detachable leather key case, it has a structured silhouette and features the GG logo canvas. Whilst the padlock design gives a nod to the archives, it comes in a variety of styles and prints from small shoulder bags to larger totes, with fruit and veg prints giving it a playful update for the season ahead. Borrowing elements from some of the other best Gucci bags, we love the use of bamboo handles and chain detailing for a fusion of some of our favorite styles.
Fashion editor's picks...
(opens in new tab)
Gucci Padlock Mini Bag in White Leather
RRP: $1,300 / £935 | Giving the Horsebit a run for its money, this is fast-becoming one of the most sought-after styles. Neat and compact with the distinctive GG logo canvas, the burnt orange detail adds a pop of color to the neutral design.
(opens in new tab)
Gucci Padlock Medium GG Shoulder Bag
RRP: $2,390 / £1,750 | A practical and chic design, this bag is roomier than most in the Padlock line. The GG Supreme canvas material has a low environmental impact with soft brown leather detail for a luxe finish. Pair with everyday office outfits.
(opens in new tab)
Gucci Padlock Small Berry-Print Shoulder Bag
RRP: $2,300 / £1,964 | A new season design, this version features a quirky fruit print on the signature GG canvas. There's a handy patch pocket at the back and plush satin lining too. Bring out the color and team with the best pink dresses.
9. Blondie
Gucci Blondie
Reasons to buy
+
Newest design
+
Elegant and refined
The newest addition to the Gucci family, the Blondie is already gaining momentum, spotted on the likes of Dakota Johnson and Elle Fanning. Inspired by archival 1970s designs, its most distinguishable feature is the interlocking G hardware. With a selection of silhouettes that can be worn crossbody, on the shoulder or as the now much-coveted belt bag. The Blondie will easily become your new everyday staple.
Fashion editor's picks...
(opens in new tab)
Gucci Blondie Medium Bag in Deep Red Suede
RRP: $3,980 / £2,620 | The rich red suede is giving us all the Fall-feels, making us ready to embrace the Fall 2022 fashion trends. This medium-sized silhouette is pleasantly roomy and the simple interlock design is versatile and timeless.
(opens in new tab)
Gucci Blondie Belt Bag in Black Leather
RRP: $1,900 / £1,560 | Gucci belt bags will add a fun, retro twist to your look and they're super versatile too - wear as one of the best designer belts, belt bag, crossbody or carry as a pouch. Keep it classic and highly wearable with this black iteration.
(opens in new tab)
Gucci Blondie Shoulder Bag in White Leather
RRP: $3,600 / £2,340 | This white leather design looks effortlessly elegant and refined. One you can reach for this time and time again, making it well worth the splurge. Team with other neutrals and finish with a pair of the best white trainers.
Are Gucci bags a good investment?
Yes, much like other big-name designer bag brands, Gucci bags are a worthy investment. If you take good care of your handbag - our handbag clinic review will help you with that, then your Gucci bag could potentially increase in value if you can ever bring yourself to part with it. Learning the basic principles of how to sell clothes online will help with reselling for the best price.
"The Gucci Marmont has definitely been the breakout star in the last few years and we've seen a huge appetite for these on the preowned market – mostly for their smaller size with the zip, rather than the flap. I bought a Marmont back in 2017 for around £650 and the same edition is now worth over £1,000, says Charlotte Staerck, CEO & Co-Founder, Handbag Clinic (opens in new tab)
Thanks to films like The House of Gucci, we're having a huge nostalgia trip at the moment so vintage designer handbags are becoming incredibly sought-after.
"There's been a big emphasis on nostalgia pieces in recent years, hence we've seen the revival of the Dior Saddlebag and Prada's Re-Edition Nylon bags - and Gucci has followed suit by bringing back their vintage bags with the iconic Horsebit from 1955 and the Jackie, from 1961," explains Charlotte.
While we're big fans of the latest handbag trends, it's best to stick to classic styles if you want your Gucci bag to stand the test of time. Not only will you get plenty of wear out of it yourself but if you keep it in pristine condition, it will remain a valuable wardrobe piece if you choose to sell it.
"The Jackie has been a hero Gucci item for years but, after being relaunched with a bit of a makeover in their AW20 collection, it very quickly hit cult status. This works so well for the preowned market given lots of the originals are still in circulation. Demand on the preowned market usually hots up just after an item has started its incline to popularity. So it's pretty instantaneous," says Charlotte.
"The other key Gucci must-have is the Dionysus. I would recommend picking one up in the small or mini size in either the classic GG supreme or black leather - these styles really hold their value so make the best investments."