How to sell clothes online—everything you need to know about selling your old clothes
The expert guide on how to sell clothes online and make money from your closet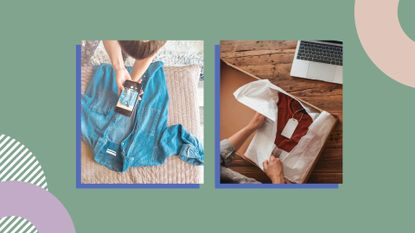 (Image credit: Getty Images / Future)
woman&home newsletter
Sign up to our free daily email for the latest royal and entertainment news, interesting opinion, expert advice on styling and beauty trends, and no-nonsense guides to the health and wellness questions you want answered.
Thank you for signing up to . You will receive a verification email shortly.
There was a problem. Please refresh the page and try again.
Have you taken the plunge and cleared out your closet recently? With the cost of living increasing, selling clothes online can be a great way to generate some extra cash. If you're getting ready to sell clothes online, this guide will help you turn your annual clear out into a money spinner with ease.
Start by looking at everything in your closet for the season and assess what you actually have. Work out what you need and don't need, what garments still make you happy and which you're really never going to wear again. Decluttering is the first set-to working out what your wardrobe essentials are and creating your capsule wardrobe. From your discards, sort out those that are in good condition.
If you've only just started to consider how to sell clothes online, you're not alone. The 2021 thredUP resale report (opens in new tab) found that 76% of people who have never resold clothing are now open to trying it and it's predicted that the resale market will be bigger than fast fashion by 2029.
How to sell clothes online
The hardest part, as with so many tasks, is getting started and Nina Leibenfrost, founder of Ida—a new second-hand clothes selling platform—has a tip for those starting out.
"The main tip for beginners would be to approach reselling as a decluttering exercise. See it as the perfect opportunity to go through your closet, ask yourself what you still use and like (be honest and harsh with yourself.) The stuff that no longer gives you pleasure like it once did should be sold. When you resell you can then continue to update your style and closet with a good conscience."
The best platforms to sell clothes online
1. Depop
Best for cult brands and vintage clothes
Specifications
Available: Worldwide
Commission taken by platform: 10% of sale
Platforms: Mobile app and website
Reasons to buy
+
Can build a community of potential buyers
+
Great for selling Instagram-loved brands
+
Free and easy to use app
Reasons to avoid
-
Best used as a social app
Depop is predominantly aimed at the Millennials and Gen Z-ers, but it's easy-to-use interface and simple uploading steps have seen it become one of the most popular resale sites, boasting over two million users in 2020. Even celebrities like singer Lily Allen, actor Maisie Williams, and model Dita Von Teese sell clothes online using Depop.
Best for: Finding vintage one-offs and tracking down items that may have sold out.
How to use it: Sign up and create your account with a bio and picture—people buy from people so make it friendly and approachable. Upload pictures of your item and make sure you fill in all the details making sure to be as descriptive as possible. Once you've listed, share on your social media platforms—the more potential buyers who see it, the more likely you are to make that sale.
Costs: The app is free to download and list an item but Depop will take 10% commission of any items sold. How much you sell your items for is up to, and be prepared for people to haggle with you. P&P is also in your hands, so you decide the price and are responsible for posting it.
Expert tip: "Taking good pictures of the items is everything. Style the pieces how you have worn them or would suggest wearing them. Depop works like Instagram—you want to inspire people's outfit so they buy the item for sale and recreate the look!" says regular seller Abby Worrallo (opens in new tab)(found on Depop @abbeyworrallo94 (opens in new tab)).
Start selling at: depop.com (opens in new tab)
---
2. Vestiaire Collective
Best for selling designer clothes
Specifications
Available: Worldwide
Commission taken by platform: 15-25% of the selling price
Platforms: Mobile app and website
Reasons to buy
+
Great destination to sell vintage designer pieces
+
The platform checks authentication of all products
+
Easy to upload items on the app
A fashion insider's best-kept secret for those designer buys that not everyone will have, Vestiaire Collective is the global marketplace where you can sell, and discover pre-loved designer treasures. From Saint Laurent runway looks to vintage Fendi bags, anything can be listed as long as it's 100% authentic. It's a highly reputable site, which is why so many sellers head here.
Best for: Selling pre-loved and vintage, luxury, designer clothes and accessories.
How to use it: Download the app, create your account and in less than 60 seconds you can list your old clothes. Fill out the form, describe your item and upload clear, high-quality images. When you sell your item, you can post it for free to Vestiaire Collective who will check its authenticity and then send it to the buyer for you.
Costs: The app is free to download and list an item, once it's sold Vestiaire Collective will take between 15-25% of the selling price. You decide the price it's listed at but it's a good idea to check the site for other similar items already on there, along with considering the condition and original RRP.
Expert tip: "I love Vestiaire Collective because there is a respect for the garment itself—it is not only for people on a price hunt. And when you sell a piece, you'll get the excitement of letting it go to someone else who will love it." says Laura Roso Vidrequin, (opens in new tab) seller and founder of kidswear resale site Kids O'clock.
Start selling at: vestiairecollective.com (opens in new tab)
---
3. Ida
Best for selling mid-priced clothes
Specifications
Available: Worldwide
Commission taken by platform: Up to 35% of sale
Platforms: Website
Reasons to buy
+
Great for selling cult labels
+
The platform lists everything for you
+
Great pictures will be taken of your items for you
Reasons to avoid
-
Items have to be checked by platform first
Bridging the gap between pre-loved, vintage and luxury pieces, Ida is the newly-launched site that helps you to sell your unwanted items from mid-market brands. Focusing on labels that retail between £100-£800, it's all about the cult labels that kick up a storm on Instagram. The easy-to-use marketplace does all the usual listing parts for you, so you just have to sit back and wait to make money.
Best for: Including some of the best sustainable brands such as Stella McCartney, Ida also sells mid-market fashion brands: Ganni, Rixo, Acne Studios, Isabel Marant and Nanushka.
How to use: Cutting out all the fiddly parts of selling online, the Ida team does all the hard work for you. All sellers have to do is show what they have (with photos via WhatsApp or over a video call), and once it has been approved, they can organize a free collection of the items. Ida will then sort the pictures, price (agreed with you), communicate with all potential buyers and seal the deal. They'll even post it out for you and then you can choose to take payment or credit to use on-site.
Pricing: It's free to use the site and once your item is sold, you'll get to keep up to 65% of the fee. For anything that resells over £65, sellers keep 65% (Ida takes 35%), and for resale prices under £65 sellers keep 35% (Ida takes 65%).
Expert tip: "We try to keep the site seasonal, so think about what people will be buying at the time when you show us what you have. This way, you're more likely to sell it quicker." says Nina Leibenfrost, Ida founder.
Start selling at: idayourbrand.com (opens in new tab)
---
4. Vinted
Best for selling cheaper clothes
Specifications
Available: Worldwide
Commission taken by platform: 0%
Platforms: Mobile app and website
Reasons to buy
+
Perfect for selling a lot at once
+
Takes just 60 seconds to upload an item
+
You get to keep 100% of sales made
Reasons to avoid
-
Buyers are looking for a bargain
With 45 million members worldwide, Vinted is basically a virtual car boot. With so many eyes on the prize, you can guarantee interest in what you've got on offer. There are no limitations on brands, so you can have a wardrobe clear out and get rid of everything from high-street pieces to designer items. However, as this isn't a specialist destination for designer clothes, you might not get as much money for those high-end pieces, so best to use this app to sell the clothes you aren't too worried about making a lot of money off.
Best for: Selling high-street pieces in a hurry.
How to use: Download the app, upload pictures (try flat-lay shots or hanging pieces up), write a description and set a price for the piece you're selling. Unsure on how to price your clothes? You can easily search by brand or item to look at what other members have listed pieces at as a guide. Once it's sold, package up, fix the pre-paid label and post. Simple.
Pricing: The site is completely free to use. From downloading the app to listing and even selling, you get 100% of what you make. Vinted makes the commission from buyers instead of sellers so it's a great platform to make as much money as you can.
Expert tip: Seller Ana Vitorino (opens in new tab)has two top tips for using Vinted. "Firstly, keep the back and forth with prospective buyers to a minimum by uploading pictures of care labels which give all the information you need to know about materials and washing instructions. I also like to source the original model picture of the item I'm selling from the retailer's website or Google image. These are usually quite easy to find and will make items more attractive to prospective buyers, as opposed to just having those lackluster pictures of an item drooping on a hanger."
Start selling at: vinted.com (opens in new tab)
---
5. eBay
Best for selling popular clothing brands
Specifications
Available: Worldwide
Commission taken by platform: 10% of sale
Platforms: Mobile app and website
Reasons to buy
+
Thousands of potential buyers
+
Can scan items with barcodes to automatically upload details
+
Can add bidding starting price or a set price
Reasons to avoid
-
Unbranded items don't sell for much money
Globally trusted, eBay is one of the most common ways to sell clothes—and everything else—online. The community-based site uses feedback to give buyers and sellers good ratings so you can feel confident that you've found a trustworthy buyer for your pieces who will pay. It's also great if you want to sell to people who can collect locally and avoid P&P costs. The auction function means you can list items without a set price and wait for bids to come in. This is particularly useful if you have something you're unsure of how to value, or cult pieces you think could go above asking price.
Best for: Selling items from easily-searchable popular brands.
How to use: Create an account and either use the site or the app to upload what you have to sell. If it has a tag you can scan the barcode to auto-fill most of the information needed. Or, you can search eBay's database and similar items may pop up to do this. Choose a category your piece fits into, upload multiple images and either set to auction or a 'buy now' price. Once sold, the buyer will pay you and then it's time to post.
Pricing: eBay takes a 10% cut of any item you sell and the buyer usually pays for postage. If they pay for the item via PayPal, expect for the service to also take a 2.9% fee to use it.
Expert tip: "Always take a picture of you wearing the clothes if possible, you'll only end up with people asking for them if you post flat lays or hanger shots. People will always ask if something runs small or large, so add measurements just in case. You can also search items by 'sold' under the filters tab to check pricing before you list something." says seller Christen Garner. (opens in new tab)
Start selling at: ebay.com (opens in new tab)
---
6. Farly
Best for selling photogenic clothes
Specifications
Available: UK
Commission taken by platform: 10% of sale
Platforms: Website
Reasons to buy
+
Can be creative with selling your items
+
Interact with buyers and sellers
+
Try out a fresh new way to sell your old clothes
Reasons to avoid
-
Items have to be aesthetically pleasing to sell
A bit like Pinterest, but with virtual shop windows instead of boards, this new platform is made for sellers that want to show off their used clothes in the best way possible. With carefully curated edits that are aesthetically pleasing, it gives creatives the space to be inspiring and be inspired by other user's 'windows' to see how best to sell their items.
Best for: Sellers who are looking for fresh and exciting ways to sell their clothes and interact with other sellers, designers and buyers.
How to use: Once you sign up on site, you can upload images and descriptions of the items you want to add to your own virtual shop windows. Other users can then directly message you with any questions and check-out to buy.
Pricing: It's free to create your virtual windows, but Farly takes 15% commission of any item sold on the site.
Expert tip: "To make sure items stand out from others, it's really important to take a good photo. I recommend offering more than one image of each item to give users an overview of what the item looks like (front/back, special features). Emphasize detail with close-up images and use a plain background that allows potential buyers to focus entirely on the item." says Farleigh Hungerford, founder of Farly.
Start selling at: farly.co (opens in new tab)
---
7. Cudoni
Best for VIP service
Specifications
Available: UK
Commission taken by platform: up to 30% of the sales price
Platforms: Website
Reasons to buy
+
They take care of everything
+
Free collections of items
+
Free return of your item if you're unhappy with valuation
Here to make re-selling high-end luxury goods a cinch, Cudoni takes care of the hard work for you. Offering a free home collection service, a Cudoni expert authenticates and values your items. You're given the opportunity to accept or reject the valuation and on some occasions, Cudoni will buy the item outright from you too, making it even easier to sell your luxury items quickly. They handle absolutely everything, including creating aspirational and luxury photography to suit your item. They sort out the postage and then you can either collect your earnings or donate to a charity of your choice.
Best for: Sellers who have high-end, luxury pieces.
How to use: They literally take care of everything, just fill in the online form.
Pricing: Once your item has been collected and valued by a Cudoni expert, they will send you a valuation. You can either choose to accept the valuation or reject and have the item returned to you free of charge. You can make up to 70% of the sales price.
Expert tip: "People will always search for brands when buying online so make sure you put the designer name first when listing your item. Designers such as Gucci, Chanel and Louis Vuitton always sell well and their value often increases over time so they're good investment pieces too. Hold on to classic items such as handbags as vintage designs tend to get more popular over time so you may regret letting go of these!" Charlie Bell, Deputy Fashion Editor, woman&home
Start selling at: cudoni.com (opens in new tab)
---
8. Rebelle
Best for shopping influencer's closets
Specifications
Available: UK, France, Italy, Germany, Netherlands
Commission taken by platform: Price dependent
Platforms: Mobile app and website
Reasons to buy
+
Easily shoppable website
+
Self-service or concierge service available
Reasons to avoid
-
Can be quite high commission
Rebelle operates in the UK, Germany, France, Italy and the Netherlands giving it a little bit more of a European flavor than some other resale sites. With a mix of luxury clothing, second-hand designer bags and vintage, hard-to-find accessories, everything at Rebelle is authenticated prior to being sold, so you can sell and shop with peace of mind. Branded items start from around £25 but the price you'll get for any clothes sold on-site will of course depend on what they are and their label.
Best for: Designer labels and shopping big European influencer wardrobes.
How to use: There are two options for selling: The self-service option means you do all the photography, description and upload. It is cheaper to use this option and you keep more of the selling price. Once it is sold, you send the item to Rebelle for authentication and they then send it on to its final destination. The concierge service, for those short on time, does add an extra fee, reducing your profit margin, but it also means that Rebelle takes care of everything, making selling your clothes online, that little bit easier.
Pricing: Depends heavily on the final retail value of your item. The more expensive the piece, the less you pay in commission, but there is a €20 flat fee for the first €40 of your selling price, with the percentage commission, added after that. There is also a flat rate added for those using the concierge service.
Expert tip: When it comes to price, "be realistic when it comes to pricing items", says fashion stylist Antonia Kraskowski. "Always list at a price you're happy to see it go for and check what others are selling similar items for too".
Start selling at: rebelle.com (opens in new tab)
---
9. Vide Dressing
Specifications
Available: US, UK, France, Italy, Germany, Belgium, Switzerland
Commission taken by platform: Nothing up to €150, 15% above that
Platforms: Mobile app and website
Reasons to buy
+
Guarantees authenticity
+
Has a huge brand mix
Reasons to avoid
-
Offers a returns service, great for shoppers, less great for sellers
Want to sell your clothes online from the comfort of your own home? Vide Dressing makes the process of selling and buying second-hand clothing a cinch. With everything on the site from Zara to Prada, there isn't much missing from this fashion resale site. Formed in 2009, Vide Dressing leaves most of the process up to you. As you take the photos and upload the information yourself, allowing you to create your own mini shop on the site to sell your wares. Once your item is sold, they hold the money for you in your Vide wallet and you can either transfer it to your account or spend it on site. The only second-hand fashion platform that offers returns, this is great for buyers, although can be tricky for sellers.
Best for: Flexibility. While it's not great news for sellers that items can be returned. If you're looking to buy second-hand clothes online, as well as sell your old clothes online. Then Vide Dressing offers buyers the options for returns, which in the long run, you might benefit from. It's also got a great global reach.
How to use: Download the app or use the website platform. Simply snap and upload the clothes you want to sell from the comfort of your own home and you could start earning money straight away. Once you've sold your first item, you have four days to confirm the sale and 72 hours to then send the item out.
Pricing: Up to €150, there is absolutely no commission. After that Vide Dressing takes flat 15% commission, but never more than €300, which is a pretty amazing deal.
Expert tip: "My top tip for selling clothes is prepare, prepare, prepare! Make sure your clothes are ironed or steamed and looking their best before you take photos. When it comes to taking photos, try to shoot your items in natural light against a neutral background. Take clear front, back photos plus shots of any key details. If your items have tags on them, make sure they're also visible." says Antonia.
Start selling at: videdressing.co.uk (opens in new tab)
---
Top tips for how to sell your clothes online from our experts
Make sure you're transparent about what you're selling: If the item has any faults or marks, be honest about it. It'll save you time dealing with any complaints.
Always post on time: If you've outlined when you'll send the item or when the buyer will receive it, stick to this. Unless, of course, it can't be helped due to delays.
Take good pictures: No one is going to buy something they can't see properly, so check that lighting is bright and clear, your background is plain and details are captured. If your item still fits you, it's best to show the item on potential buyers may want to see how it looks IRL. If not, make sure it is nicely hung on a clothes hanger crease-free if possible. Also, upload as many images as you're allowed – the more images the more likely your piece will sell.
Communicate: Be quick at replying to questions or potential buyers, if you waste their time you may lose a potential sale.
Be as detailed as possible: Think of all the questions you may get asked e.g. size, fit, material, if it's coming from a smoke and pet-free home, and answer them all in the description. It'll save you time in the long run.
Check similar products: Unsure of how much your item is worth? Search the platform you choose to sell on for similar pieces to see how much other sellers have listed them for. Sites such as eBay allow you to filter by 'sold' items so you can see how much similar items have sold for.
Do seasonal sales: Think about what people may be buying at particular times of the year. For example, you're more likely to sell sweaters in pre-fall and sunglasses before or during summer.
Know your brands: Make sure you know what you're selling and how much its original price would be. Knowing your labels can help determine which platform to sell items on and high-end/luxury pieces that retain their value are likely to sell better than unknown of less-er known labels, for example, an iconic piece like a Burberry trench coat, will always be in demand as it is a classic. If you have lower price point pieces to get rid of, Gumtree and Preloved are good places to try out.
Research what you can and can't sell: Each platform is different, so make sure you check which type of products are listed. For items such as lingerie or swimwear, this is best to only sell if new due to hygiene reasons. Instead, donate to a clothes bank which will responsibly recycle these as a textile.
Package your pieces correctly: There's nothing worse than buying something online secondhand for it to turn up damaged. Make sure you use protective packaging and opt for biodegradable or recyclable iterations if possible. The buyer will mostly pay for P&P but this can be discussed with your potential buyer, but make sure you check the weight and size of your package and find out the price it will be online so you don't lose money having to cover these extra costs.
Check the commission costs: To make the most money from selling your old clothes, it's best to check how much commission each platform will take from each sale you make before listing items.
What to consider when choosing a platform to sell your clothes online
There are great resell opportunities at all prices points, but choosing the right platform is key to your success. You want to make sure you do a really deep dive into the platform and see what other brands and price points are selling on the site to make sure it matches the clothes you have to sell.
If you're looking to sell any of the best designer bags, such as any of the best Gucci bags you want to make sure you select a platform that deals in luxury goods. Shoppers are often nervous about buying second-hand designer items online, but many of the luxury platforms offer an authenticity service and a number will do the hard work of selling it for you too. It's a win/win all round.
Before putting your item online, have a look at the competition on the website. Make sure you're priced competitively but also see how people have described and listed their items. Take time over your listing, "when you're listing items always proofread! Misspelling a brand will mean fewer people see it", Antonia advises.
Whatever you're selling, it should always be in a good condition and any faults, stated in the copy. If you have a gorgeous designer bag that's looking the worse for wear, get it fixed up before selling. Check out this Handbag Clinic review for more tips on repairing damaged designer accessories.
Why should you sell clothes online?
Selling clothes online has certainly grown in popularity, but if you're still wondering if it's worth selling clothes online, then here are a few reasons why you should embrace it.
Earn money
The most obvious answer is that it's good for your bank balance. Selling the clothes you no longer want for money means you can fund other aspects of your life. Whether you really want to buy new clothes for the season ahead or want to save up for a holiday, or simply have a little extra to cover bills, selling clothes online has become a fun, fast and satisfying way of earning a bit of extra cash.
It's good for the environment
The fewer clothes that end up in landfills the better. Reselling your clothes online extends their lifecycle and means someone else can benefit from things you no longer want or need. Shopping sustainably as a plus-size woman can be difficult, but with the growing use of resell apps and platforms, this is definitely getting easier. Essentially, the more people buy and resell clothes, the less we consume.
Gain more space
Got a crammed closet? Can't see what you've got to wear? Then clearing some out and selling it online, is a great decluttering exercise, you'll feel better for it and you'll gain some valuable space for storing clothes you do love. You'll be able to see what you have and get more wear out of existing items.
Donate to charity
A number of platforms, such as eBay and Cudoni have made it super easy to directly donate to charity from any of your clothing sales. So why not organize a fundraiser with some friends and help clear your wardrobe at the same time.
Harriet Davey is a freelance fashion editor, writing and styling for titles including Vogue, Stylist, Grazia, Who What Wear, and woman&home. With over 10 years of experience in the industry, Harriet has a love for shopping but also a newfound interest in trying to be more sustainable. With a love for Scandi brands and an eye for key designer pieces to mix in with high street hero buys, Harriet specialises in shopping stories and buying guides that'll make you feel excited about updating your wardrobe.