How to measure bra size for the perfect fit every time
Want to learn how to measure bra size at home? Our expert-approved guide will get you up to speed in no time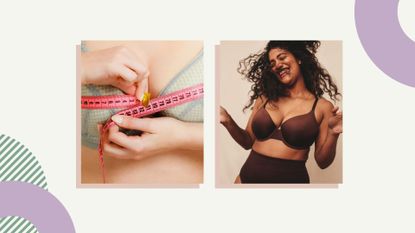 (Image credit: Getty Images)
Want to know how to measure bra size at home to get the perfect fit? Follow this expert, four-step guide to work out what size you need.
Proper fitting bras are an investment and should be high up on your priority list as they are responsible for ensuring your clothes fit properly - after all, laying the right foundations is important which is why the best bras can make or break an outfit. While you can engage the help of a professional fitter (and where possible this is always a great idea), you can also learn how to measure bra size yourself, at home - and it's surprisingly easy.
According to a survey by lingerie brand Nudea 50% of women hadn't been measured for a bra fitting in over 5 years (you're supposed to get measured every 6 months - yes really). And of the surveyed 600 women, 79% were wearing both the wrong cup and band size. If you're shrinking in your seat, thinking this story sounds all too familiar, then it's time to take action.
Wearing the correct bra size will not only boost your bust and your confidence, but it will also ensure your bra isn't uncomfortably digging in too. What's the point in investing in the best strapless bra or the best push up bra if it doesn't fit properly?
We've chatted to the best in the bra-fitting business to find out how to accurately measure bra size at home.
How to measure bra size at home - two methods
There are two tried-and-tested methods for measuring your bra size at home - both requiring a tape measure.
The first is the traditional method, favored by high-end and straight-to-market stores alike, and involves measuring your back and bust when you're standing up.
Alternatively, there's the 'Boob or Bust' method, which has gained popularity in recent years. Using four measurements and a clever computer algorithm, one of its appeals is how easy it is to follow from home, and it's a great one to choose if you find it tricky to get to the shops.
We explain both methods below.
The traditional method
Selling some of the best bras for large busts, Rigby & Peller was established in 1939, so what they don't know about bras isn't really worth knowing. With a long heritage as one of the best bra brands, it's no surprise that they sit on the traditional side of the fence when it comes to measuring bra size.
To follow Rigby & Peller's tried-and-tested at-home method, all you need is a tape measure and a spare 10 minutes.
First measure the underband: (where the wire of your bra normally sits) straight around, as tight as possible.
Calculate your back size: with a simple formula:
If your measurement is an even number, add four (ie 32 + 4 + 36)
And if it's odd, add five (ie 33 + 5 = 38).
This gives you your back size.
Measure the fullest part of your boobs: to get your cup size. Make a note of that number.
Count up to this number from your back number: to calculate your cup size. For example:


Swipe to scroll horizontally
| | | |
| --- | --- | --- |
| Back measurement: | Boob measurement: | Bra size: |
| 36 | 36 | 36A |
| 36 | 37 | 36B |
| 36 | 38 | 36C |
| 36 | 39 | 36D |
| 36 | 40 | 36DD |
| 36 | 41 | 36E |
| 36 | 42 | 36F |
| 36 | 43 | 36FF |
| 36 | 44 | 36G |
The Boob or Bust method
If you'd prefer not to do your own calculations, you can put your bra size in the hands of Boob or Bust's online tool. A highly popular method for those looking for how to measure bra size at home, this takes care of all the hard work for you.
To begin with, you need to take four measurements using a flexible tape measure. They are:
Tight: With your bra off, measure under the bust as tight as you can go.
Snug: With your bra off, measure under the bust again, but this time leave a gap big enough to fit two fingers beneath the tape.
Standing: With your bra off, standing up, measure around the fullest point of your bust. Take care not to squish or squash your boobs at this point.
Leaning: Similarly to standing, repeat the process again, but this time while leaning over with your breasts dangling downwards at a 90° angle.
Once you have jotted down all your measurements in inches, you can input them into the Boob or Bust calculator. And if you're skeptical, in its recent survey, 79% of women said they felt their bras selected with the Boob or Bust calculator fitted better.
They also ask for your dress size, as well as whether you are pregnant, breastfeeding and over 18, as all of these factors can impact your size.
How to measure bra size if one breast is bigger than the other
"Most ladies have one boob that's larger than the other and we would always recommend fitting to the bigger size," says explains Laura Franklin, customer services manager at Bravissimo.
"You never want one to be squished," adds Katie Weir, 'bra whisperer' at Curvy Kate. "And you can always tighten the strap on the smaller side to fit the cup. If there's a considerable difference, and it's affecting your confidence, then consider adding a fillet. Balcony and stretch-cup bras are best for balancing an uneven bust with minimal gaping."
The advice to size up stands across all bra types - whether it's one of the best bras for small busts, or one of the best minimizer bras.
If you do have quite a discrepancy, you could always look into having a custom bra made, but for most people you should be able to balance it with sizing.
How to measure bra size without a measuring tape
But don't fret if you don't have a tape measure - not all bra fitters are fans of using tape measures. And Katie of Curvy Kate believes, particularly with bigger boobs that using a tape measure can cause inaccuracies and suggests that virtual fittings - something that largely emerged because of the pandemic is a better option.
"Drop the measuring tape, it can be very tempting to use a measuring tape to get your bra size from home BUT this can be an unreliable way to get the correct size. The reason being everyone has a different tension on the tape and the bigger the boobs, the harder to wrap around!"
"Many lingerie retailers including Curvy Kate now offer professional bra fitting help from the comfort of your own home with virtual bra fitting appointments via Zoom and Bra Fit Quizzes which take minutes to find a more accurate bra size than your measure tape."
So what's involved?
"Virtual bra fittings require you to wear your best fitting bra (no matter how terrible it is, but underwired is preferred), the virtual bra fitter will then walk you through the steps to help you identify the best fit and recommend bra shapes and styles to suit you but to also ones which you want to wear. Curvy Kate also offers follow up appointments so that you can try on your new bras to check the fit."
A number of retailers now offer virtual fitting appointments to help customers find the right size and fit.
Best virtual bra fitting services to try
When in my cycle should I measure bra size?
Your bra sizing changes throughout your cycle, so this is a valid concern. Most of us will notice an increase in boob size as we approach our period. While it's nothing to worry about (it's just caused by fluctuating hormones), it could give you an inaccurate measurement when it comes to bra fitting.
"Somewhere in the middle of your cycle is normally a good time to find your usual size," advises Laura. "If you notice a dramatic increase in cup size in the week before your period, it might be worth investing in a bigger bra just for that time of the month. Or, stock up on styles with stretchy lace for days when you need a little more room."
We'd advise sticking to your usual size for the majority of your cycle but getting in some non-wired comfortable bras or even some of the best bralettes for the days when your boobs are a little bigger. When it comes to best sports bras though, it's essential to have the right support for exercising.
How often should you measure bra size?
As a general rule, aim to have an in-store bra fitting or to measure your bust at home every six months. If you have lost or gained weight, or your bras have become uncomfortable, you can always do this more regularly. You should also be regularly washing your bras, but how you wash your bras will, in the long term, have an impact on how they fit, too, so make sure to follow the care instructions carefully.
If you prefer not to do this yourself, the service is offered free of charge in many stores, from bra specialists to retail and department stores including M&S, Boux Avenue and John Lewis, and online through Bravissimo, Curvy Kate and Panache. So, there really is no excuse!
Is it a big deal if my bra doesn't fit properly?
In a nutshell? Yes. Wearing the wrong size bra or an ill-fitting bra will not only be uncomfortable for you, but will also make for a strange or distorted shape under your clothes. And an ill-fitting bra can dig into your shoulders, leave bruising or chafe your skin.
While we're all familiar with the feeling of whipping a bra off at the end of the day, comfortable, well-fitting bras shouldn't actually hurt you.
"If a bra doesn't fit and support you well, you may notice the back band is riding up your back - a sign that the back size is too big for you," explains Laura. "Most of the bra's support comes from the back band, so if this is too big, then the weight of your boobs can pull the bra down at the front and up at the back. You also don't want any 'back cleavage' as this suggests a sizing problem. If this an issue for you, it may also be worth looking at some of the best bras for back fat.
"You may also notice that the wires in between your boobs are sticking out. This indicates that the cups could be too small and your boobs are pushing the wires away from your body. It could also be that the back band isn't tight enough to pull the wires in close to you.
"Another sign of a badly fitting bra is that the wires under your arms are pressing on your breast tissue. This normally means the cup is too small and the wires are not encasing all of your boobs. If the wires are digging in under your arm or are too high, this could be that it is too big in the cup or the simply wrong style for you."
How do I know if my bra fits properly?
During an in-person or online bra fitting appointment, the fitter will work through a checklist to make sure your bra offers maximum support, without compromising on comfort.
It's also important to note that "new bras will give a bit after their first wash" says Lois Siciliano (opens in new tab), Pour Moi (opens in new tab) Lingerie Technologist.
So when you're trying on new bras, make sure to "move about, sit down and try on clothes. Making sure that your bra is comfortable. (and) Always wear it on the loosest of the fastenings, this way over the lifetime of a bra when the elastic becomes less strong, you can fasten tighter to allow for this".
When analyzing the fit of a bra, there are four key things you need to note:
1. Two-finger tension on the back band
"Always check your band," says Katie. "If you feel that you aren't getting a gentle hug from your band, it probably means that it isn't firm enough and you should go down a back size. Remember, at least 80% of your bra support should come from the band."
"If you're not sure how snug it should feel, pop two fingers behind the hook and eye when the bra is on the loosest hook. If you can pull the back band on a new bra back further than an inch, your band is too big." continues Katie.
And remember to start off on the right footing by hooking your bra on the loosest hook.
"Your back band should sit horizontally around your body without riding up or digging in," adds Laura. "We recommend fastening a new bra on its roomiest hooks, so you can tighten it if it stretches over time with wash and wear."
2. Comfortably placed under-wiring
"The underwires in your bra should sit flat on your ribcage (not your boob!) all the way round to your armpits," says Laura. "The wires between your boobs should lie flat against your chest without digging in, rubbing or poking out."
Bras are, despite popular believe, not made to be uncomfortable and you know you've found a winning style when you forget you're wearing one.
If you find underwired bras uncomfortable, it could also be down to style. Try plunge over balconette, as the wire finishes much lower down the cup. Pretty, wire-free triangle bras and the best bralettes are a good choice, too - although if you have a larger bust, make sure they're offering good enough lift and support. If you're on the fence about bralettes, read our guide on bras vs bralettes to help you decide what the right style for you is.
3. Boobs are fully encapsulated in the bra cup
You've probably never even considered 'how you put your bra on,' but it can make a real difference to the fit.
"When you put on a bra, hold the underwires and jiggle your bust gently so the breast tissue fills the cups," advises Kate.
"The 'Scoop and Swoop' is up next. First, take your hand and place it on the opposite breast. Reach around all of the breast tissue and lift the bust to ensure the breast is fully enclosed in the bra. Your cups shouldn't be half-full, nor half-empty, instead, they should fit flush to your chest with no gaping or spillage."
This will ensure you can work out exactly what size you are but also give you a smoother and more flattering finish. If you've been in the wrong bra size, you'll instantly notice how differently your clothes fit with a well-fitting bra.
"If you're bulging out of your bra or your cups are wrinkling, it's likely you need a different cup size," says Laura.
4. Strap sliders sit in the middle of your back
Much like the backstrap, the shoulder straps of your bra should be snug enough to feel supportive, but not so much that they're restricting your movement or digging into your shoulders. Your straps contribute to the uplift, but the majority of support remember, still comes from the underband.
"Straps are there to give your bust a little oomph, but not to totally lift up your boobs," says Kate. Aim to have the strap sliders sit in the middle of your back - any higher and you'll create too much tension; lower and you'll be missing out on support. You should be able to comfortably fit two fingers, which will be around an inch in length combined, under the strap."
"Make sure your straps aren't digging in and working too hard." says Lois. "Adjusting the straps will help with the lifetime of the bra and any hormonal changes."
Are you putting your bra on correctly?
You may have been putting your bra on wrong your entire life!
Lean forward and hold your bra under your breast to drop into your cup before fastening it. This gets the bra correctly positioned from the root of your breast. Then shape each breast into each cup to sit in the correct position - as mentioned above with the 'scoop and swoop method'.
Then adjust the straps individually. Lots of people have different height of shoulders so they may not need to be adjusted the same or sit in the same position. The perfect position is when you can just put two fingers under the strap when adjusted.
Does your bra size change from brand to brand?
While bra fitting is definitely a science, like with many items in your wardrobe, might find you're not exactly the same size at each brand and retailer. This means it's important to run through the steps of how to measure bra size and correct fit each time you buy a new bra. Following the fit steps with each new purchase will ensure you don't end up with bras languishing in your wardrobe, too uncomfortable to wear.
But why do bras differ from store to store?
"Depending on fabrics, grades, patterns and colors - just like jeans, sizes can vary between bras but also brands. As this can be quite frustrating for customers, retailers like Curvy Kate usually do put 'fit tips' against a product on its site if the size varies from perhaps a best-selling collection."
So if you're shopping for bras online, make sure to read all product descriptions and fit advice for that particular style, as well as customer comments that maybe on the page.
"When it comes to bra sizes varying between brands, if you opt for a professional bra fitting, you can visit multi-brand retailers like Bravissimo which give you a choice of brands and you can then try a few on to feel the difference. In general, fuller bust brands shouldn't fit that differently as they use similar patterns and design innovation, however, you may have to sister size here and there but it shouldn't be any more than that. Sister size means keeping the same cup capacity by going up or down a band or cup for example 28H, 30GG and 32G are all sister sizes."
"(I find) that customers may say much bigger differences in sizes when buying from retailers which do not specialize in lingerie, so my best advice would be to always shop from dedicated lingerie retailers, brands or boutiques for consistency."
Jess Beech is an experienced fashion and beauty editor, with more than eight years experience in the publishing industry. She has written for woman&home, GoodtoKnow, Now, Woman, Woman's Weekly, Woman's Own and Chat, and is a former Deputy Fashion & Beauty Editor at Future PLC. A beauty obsessive, Jess has tried everything from cryotherapy to chemical peels (minus the Samantha in Sex and The City-worthy redness) and interviewed experts including Jo Malone and Trinny Woodall.