How to measure bra size for the perfect fit every time
Want to learn how to measure bra size? Our expert-approved advice will get you up to speed in no time.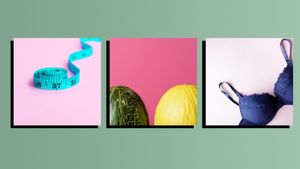 (Image credit: Future | Getty)
Learn how to measure bra size quickly and easily with our no-nonsense guide.
When it comes to finding our most accurate bra size, it's no wonder that some women insist on calling in the professionals. But according to stats, many of us are still getting it wrong—with an estimated 8 out of 10 British women wearing the wrong bra size. So it's not entirely surprising to also learn that 50% of us haven't been for a proper bra fitting in several years.
You're not condemned to wearing an ill-fitting bra if you can't make it to an in-person fitting though. Because yes, you can learn how to measure bra size yourself. And no, it doesn't have to be complicated.
We've chatted to the best in the bra-fitting business to find out how to accurately measure bra size at home, so you can find the best bra (opens in new tab) for you.
Bras that fit like a glove, here we come...
How to measure bra size—two methods
There are two methods for measuring bra size.
Outside of experienced bra fitters who can calculate your size at a mere glance, there are two tried-and-tested answers to the how to measure bra size question.
The first is the traditional method, favored by high-end and high-street stores alike, and involves measuring your back and bust when you're standing up.
Alternatively, there's the 'Boob or Bust' method, which has gained popularity in recent years. Using four measurements and a clever computer algorithm, one of its appeals is how easy it is to follow from home—something that's especially handy if you are pregnant, breastfeeding or find it tricky to get to the shops.
The traditional method
Established in 1939, what Rigby & Peller doesn't know about bras just isn't worth knowing. And it's no surprise that they sit on the traditional side of the fence when it comes to measuring bra size.
To follow their tried-and-tested at-home method, all you need is a tape measure and a spare 10 minutes.
First measure the underband (where the wire of your bra normally sits) straight around, as tight as possible.
Calculate your back size with a simple formula:
If your measurement is an even number, add four (ie 32 + 4 + 36)
And if it's odd, add five (ie 33 + 5 = 38).
This gives you your back size.
Measure the fullest part of your boobs to get your cup size. Make a note of that number.
Count up to this number from your back number to calculate your cup size. For example:


| | | |
| --- | --- | --- |
| Back measurement: | Boob measurement: | Bra size: |
| 36 | 36 | 36A |
| 36 | 37 | 36B |
| 36 | 38 | 36C |
| 36 | 39 | 36D |
| 36 | 40 | 36DD |
| 36 | 41 | 36E |
| 36 | 42 | 36F |
| 36 | 43 | 36FF |
| 36 | 44 | 36G |
The Boob or Bust method
If you'd prefer not to do your own calculations, you can put your bra size in the hands of Boob or Bust's online tool.
To begin with, you need to take four measurements using a flexible tape measure. They are:
Tight: With your bra off, measure under the bust as tight as you can go.
Snug: With your bra off, measure under the bust again, but this time leave a gap big enough to fit two fingers beneath the tape.
Standing: With your bra off, standing up, measure around the fullest point of your bust. Take care not to squish or squash your boobs at this point.
Leaning: Similarly to standing, repeat the process again, but this time while leaning over with your breasts dangling downwards at a 90° angle.
Once you have jotted down all your measurements in inches, you can input them into the Boob or Bust calculator.
They also ask for your dress size, as well as whether you are pregnant, breastfeeding and over 18, as all of these factors can impact your size.
How to measure bra size if you have one boob bigger than the other
One boob bigger than the other? No problem!
"Most ladies have one boob that's larger than the other and we would always recommend fitting to the bigger size," says explains Laura Franklin, customer services manager at Bravissimo.
"You never want one to be squished," adds Katie Weir, 'bra whisperer' at Curvy Kate, one of the best bra brands for bigger busts. "And you can always tighten the strap on the smaller side to fit the cup. If there's a considerable difference, and it's affecting your confidence, then consider adding a fillet. Balcony and stretch-cup bras are best for balancing an uneven bust with minimal gaping."
If you do have quite a discrepancy though, you could always look into having a custom bra made, but for most people you should be able to balance it with sizing.
When in my cycle should I measure bra size?
Your bra sizing changes throughout your cycle, so this is a valid concern. Most of us will notice an increase in boob size as we approach our period. While it's nothing to worry about (it's just caused by fluctuating hormones), it could give you an inaccurate measurement when it comes to bra fitting, especially if you're used to wearing bras for large busts.
"Somewhere in the middle of your cycle is normally a good time to find your usual size," advises Laura. "If you notice a dramatic increase in cup size in the week before your period, it might be worth investing in a bigger bra just for that time of the month. Or, stock up on styles with stretchy lace for days when you need a little more room."
We'd advise sticking to your usual size for the majority of your cycle but getting in some non-wired comfortable bras or even some of the best bralettes for the days when your boobs are little bigger. When it comes to best sports bras though, trying on is essential, as it's important to have the right support for exercising.
How often should you measure bra size?
As a general rule, aim to have an in-store bra fitting or to measure your bust at home every six months. If you have lost or gained weight, or your bras have become uncomfortable, you can always do this more regularly. How you wash your bras (opens in new tab) will have an impact on how they fit, too.
If you prefer not to do this yourself, the service is offered free of charge in many stores, including M&S, Boux Avenue and John Lewis, and online through Bravissimo, Curvy Kate and Panache. So, there really is no excuse!
Best virtual bra fitting services to try
Is it a big deal if my bra doesn't fit?
An ill-fitting bra not only has the potential to create a strange shape under your clothes, but can leave you with chafing, shoulder indents and even a bruised bust from digging wires.
"If a bra doesn't fit and support you well, you may notice the back band is riding up your back – a sign that the back size is too big for you," explains Laura. "Most of the bra's support comes from the back band, so if this is too big, then the weight of your boobs can pull the bra down at the front and up at the back.
"You may also notice that the wires in between your boobs are sticking out. This indicates that the cups could be too small and your boobs are pushing the wires away from your body. It could also be that the back band isn't tight enough to pull the wires in close to you.
"Another sign of a badly fitting bra is that the wires under your arms are pressing on your breast tissue. This normally means the cup is too small and the wires are not encasing all of your boobs. If the wires are digging in under your arm or are too high, this could be that it is too big in the cup or the simply wrong style for you."
How do I know if my bra fits?
During an in-person or online bra fitting appointment, the fitter will work through a checklist to make sure your bra offers maximum support, without compromising on comfort.
So, what are they looking for? There are four key things you need in a well-fitting bra:
1. Two-finger tension on the back band
"Always check your band," says Katie. "If you feel that you aren't getting a gentle hug from your band, it probably means that it isn't firm enough and you should go down a back size. Remember, at least 80% of your bra support should come from the band.
"If you're not sure how snug it should feel, pop two fingers behind the hook and eye when the bra is on the loosest hook. If you can pull the back band on a new bra back further than an inch, your band is too big."
"Your back band should sit horizontally around your body without riding up or digging in," adds Laura. "We recommend fastening a new bra on its roomiest hooks, so you can tighten it if it stretches over time with wash and wear."
2. Comfortably placed under-wiring
"The underwires in your bra should sit flat on your ribcage (not your boob!) all the way round to your armpits," says Laura. "The wires between your boobs should lie flat against your chest without digging in, rubbing or poking out."
If you find underwired bras uncomfortable, it could also be down to style. Try plunge over balconette, as the wire finishes much lower down the cup. Pretty, wire-free triangle bras and bralettes are a good choice, too.
3. Boobs are fully encapsulated in the bra cup
How you put your bra on can make a real difference to the fit.
"When you put on a bra, hold the underwires and jiggle your bust gently so the breast tissue fills the cups," advises Kate.
"The 'Scoop and Swoop' is up next. First, take your hand and place it on the opposite breast. Reach around all of the breast tissue and lift the bust to ensure the breast is fully enclosed in the bra.
"Your cups shouldn't be half-full, nor half-empty—instead, they should fit flush to your chest with no gaping or spillage."
"If you're bulging out of your bra or your cups are wrinkling, it's likely you need a different cup size," says Laura.
4. Strap sliders sit in the middle of your back
Much like the backstrap, the shoulder straps of your bra should be snug enough to feel supportive, but not so much that they're restricting your movement.
"Straps are there to give your bust a little oomph, but not to totally lift up your boobs," says Kate. Aim to have the strap sliders sit in the middle of your back—any higher and you'll create too much tension; lower and you'll be missing out on support.
"You should be able to comfortably fit two fingers, which will be around an inch in length combined, under the strap."
Are you putting your bra on correctly?
You may have been putting your bra on wrong your entire life!
Lean forward and hold your bra under your breast to drop into your cup become fastening it. This gets the bra correctly positioned from the root of your breast. Then shape each breast into each cup to sit in the correct position.
Then adjust the straps individually. Some people have different height of shoulders so they may not need to be adjusted the same. The perfect position is when you can just put two fingers under the strap when adjusted.
Jess Beech is an experienced fashion and beauty editor, with more than eight years experience in the publishing industry. She has written for woman&home, GoodtoKnow, Now, Woman, Woman's Weekly, Woman's Own and Chat, and is a former Deputy Fashion & Beauty Editor at Future PLC. A beauty obsessive, Jess has tried everything from cryotherapy to chemical peels (minus the Samantha in Sex and The City-worthy redness) and interviewed experts including Jo Malone and Trinny Woodall.