The best bras to support, lift and shape your bust - plus expert advice on sizing and maintenance
We've rounded up the best bras for every cup size, body type, and budget for your most comfortable fit yet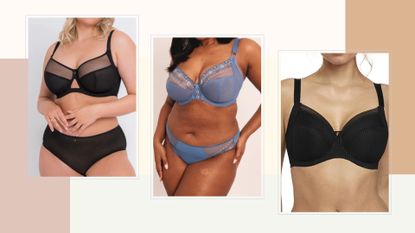 (Image credit: Curvy Kate, Elomi (Bravissimo), Fantasie (Amazon))
Possibly the most important thing in your closet, the best bras are there to ensure you get maximum uplift and support. Getting your foundations right ensures your clothes will sit on your body correctly, redefining your silhouette.
Finding the best bras can take some work and the bra you'll need will differ from outfit to outfit. Giving a helping hand in lifting and shaping your bust line, you should think about the overall shape you're looking to create before selecting the best bra for the job. For a more hourglass shape you might want to try the best push-up bras, or a plunge bra for fuller cleavage, while a t-shirt bra will give you a smooth shape under a top. This does mean however that you may need to invest in various types of bras from several categories.
We've tested dozens of bra styles, from the bras that deliver the best lift and shape for everyday to specialist bra solutions and more, in order to pick the best bras. When testing we looked at the quality of the material, design, support, and arguably the most important factor - comfort. We also took into consideration different body types, cup preferences, and budgets. The bras that made our list were a joy to wear - no falling straps, no wires digging into the ribcage, or gaping cups. Just great fit, lift, and style.
In order to identify the best bras, we have tried on multiple bras from numerous brands across style categories. For each section, we have picked a 'best' and two runners-up to give you a choice of style, budget and - where possible - we've tried to ensure that those that need the best bras for large busts and those that require the best bras for small busts are catered for in each category, so you can get the fit that's right for you.
These bras have all been tested within the last 6 months, and the page will be updated every 3 months to keep an up-to-date list of best bras available in 2023
The best bras as chosen by our experts
Why you can trust Woman & Home Our expert reviewers spend hours testing and comparing products and services so you can choose the best for you. Find out more about how we test.
Best balcony bra
A balcony bra, also sometimes referred to as a balconette bra, is a flattering choice for boobs of all shapes and sizes. One of the most common bras, you're likely to already have one tucked away in your lingerie drawer. Balcony bras have wide-set straps and half-moon-shaped wiring at the base of the cups which supports your breasts from beneath and lifts them upwards. They create a full, rounded shape, and are available with or without wiring and padding. The shape of the cups means balcony bras provide less coverage than a full cup style, making them the perfect partner to tops or dresses with a lower neckline, whilst remaining some of the best bras for lift and side support.
1. Curvy Kate Victory Balcony Bra
The best balcony bra for large busts
Specifications
Sizes: 30D-44KK
Best suited to: Big boobs
Wired: Yes
Padded: Yes
RRP: £33 / $62
Number of colours : 9
Reasons to buy
+
A great everyday bra
+
Double layered mesh lower cup for amazing support
+
Changes from two to three hooks from an F cup
Reasons to avoid
-
Bridge may be visible with some necklines
The Curvy Kate Victory Balcony Bra offers a firm, natural finish, minus padding - a thoughtful inclusion for bigger busts that warrant non-restrictive wiggle room. The cups have a smooth shape that will work underneath dresses and t-shirts alike.
Fit: Like most balcony bras, this classic style is designed with the cup cut horizontally, which hoists the breasts upwards, rather than inwards, making it one of the best bras for lift and shape. What you get is a natural lift, over deep, plunging cleavage, enhanced by a four-part seamed cup and sturdy underwire.
Quality of Materials: Made with quality mesh material it feels sleek and flirty and great against the skin. You can tell that Curvy Kate is one of the best bra brands, as the bra features strong stitching.
Style: Having made a name for itself fashioning up the big busted bra market, the Victory bra wins in the style stakes too. Utterly functional for every day, the cut-out detail across the breastbone adds a stylish and sexy twist. The small V hardware between the cups is a nice addition too.
---
2. Freya Idol Moulded Balcony Bra in Black Self-Stripe
The best classic balcony bra
Specifications
Sizes: 28-38 D-HH
Best suited to: Big boobs
Wired: Yes
Padded: Yes
RRP: £39 / $68
Number of colours : 5
Reasons to buy
+
Up to a HH cup
+
Timeless everyday style
+
Good nipple coverage
Reasons to avoid
-
No fun colour or print ways
A best seller, this seamless bra is ideal for wearing under close-fitting fabrics, thanks to the smooth moulded up and seam free finish. Ideal for everyday, this bra gives great lift and shape to fuller busts.
Fit: A great choice for bigger busts, this full-coverage bra offers an impressive lift. With a two hook and eye back up to a GG cup and a deeper underband, for extra support, with three hook and eye for H and HH cups
Quality of Materials: The soft fabric feels really premium. The smooth finish and minimal seam detailing makes it ideal for wearing under t-shirts, with the moulded cup giving additional nipple coverage.
Style: The self-stripe detail adds a lovely finishing touch to this everyday basic, and the minimalistic style is ideal for its role in your bra wardrobe. Available in five neutral hues for maximum versatility.
Best padded bras
A padded bra is any bra that features padding on the cups. The extent of the padding can vary from bra to bra, and padded bras are available in a wide range of shapes. There are many benefits to a padded bra and a number of reasons why you might opt for one. A lightly padded bra will ensure your nipples aren't visible and create a smooth, symmetrical shape beneath clothes. A bra with more padding will give your bust a boost, making your boobs appear bigger than they are. You may want to wear a padded bra every day, or only wear one to fill a particular top. The padding can add extra warmth, so you may want to avoid a heavily padded bra in warmer months, but in the winter it can help keep you cosy.
3. Pour Moi Flora Lightly Padded Underwired Bra
Best for light padding
Specifications
Sizes: 32A-38F
Best suited to: Bigger busts - up to an F cup
Wired: Yes
Padded: Yes
Machine washable: Yes
RRP: £24 / $48
Number of colours : 9
Reasons to buy
+
Trend and neutral colourways
+
Light level padding for smaller boost
+
Great price point
For those wanting light padding, for a little extra shape and fullness, without hugely altering your original silhouette, the Flora bra from Pour Moi is an excellent choice. Available in a whopping nine colours, both a mix of neutrals and directional hues, this could easily become your everyday bra with an added hint of luxe, thanks to the lace. Don't forget the matching briefs too.
Fit: With the look and lift of a balconette bra but the support of a full-cup, this bra is sturdy, comfortable but still attractive.
Quality of Materials: This bra has a light layer of padding for subtle shaping that covers nipples and creates symmetry.
Style: Available in seasonal shades as well as everyday classic black and white.
---
Best padded bra for mid sizes
Specifications
Sizes: 30A-40E
Best suited to: Small to mid-size busts
Wired: Yes
Padded: Yes
Machine washable: Yes
RRP: $51.99 / £29.50
Number of colors : 7
Reasons to buy
+
Comfortable to wear
+
Made from quality fabrics
+
Attractive design
Reasons to avoid
-
Only goes up to an E cup
If you're looking for a fancy bra at an affordable price point, the Rosie for Autograph range ticks all the boxes. British clothing brand M&S is well-loved for its lingerie department and is well known for making some of the best bras. A failsafe option, the signature shapes remain pretty much the same year after year, updated with new colourways and this padded bra shape is a recurring favourite.
Fit: We found that the Silk & Lace Underwired Full Cup Bra provided plenty of coverage and lots of support. The light padding and underwiring worked together to lift and boost the bust, while the luxe silk straps kept the fit comfortable.
Quality of materials: The smooth, lace-free cup felt sexy and sultry but utterly practical too, and as you might expect from M&S the fabric was of excellent quality, feeling soft and luxurious without breaking the bank.
Style: The sleek finish means this padded bra works well under t-shirts and other close-fitting fabrics too. The neutral hue also ensures you can team it with any of your best underwear pieces too.
---
5. Wonderbra Refined Glamour Full Effect Push-up Bra
Best padded bra - ideal for smaller cup sizes
Specifications
Sizes: Sizes: 30A-38D
Best suited to: Smaller busts
Wired: Yes
Padded: Yes
Machine washable: Yes
RRP: £39 / $52
Number of colours : 1
Reasons to buy
+
Attractive design
+
Slim straps
Reasons to avoid
-
Slim back straps - doesn't smooth the back area
Wonderbra's reputation proceeds it, and this simple lacy style cups the bust line to offer a defined shape. Offering a deep plunge, it is ideally suited to small busts, as it is only available up to a D cup, making its main aim to increase smaller chests.
Fit: Far comfier than it looks, this one is ideal for smaller busts, creating cleavage for a deep plunge shape.
Quality of Materials: Stunning ornate lace fabric, it has adjustable straps that can convert to a criss-cross, making it a versatile choice.
Style: This is a bra to show off, so allow it to peek through under a tailored blazer or a sheer blouse.
Best full-cup bras
Full cup bras offer the most coverage. They essentially cover the full breast for maximum support and minimum jiggle, making it an ideal style if you're looking for a bra that will make you feel really secure. As a full cup bra offers the most coverage, you will also have a reduced cleavage in this style. A bra that works for all shapes and sizes, full cups are particularly popular for larger busts, as smaller busts may find that fabric can gape. Finishing fairly high across the bust line, you'll want to avoid this style under lower neckline tops and dresses.
6. Fantasie Fusion Full Cup Side Support Bra
Best full cup bra for side support
Specifications
Sizes: 30D-40GG
Best suited to: Bigger busts
Wired: Yes
Padded: No
RRP: £35 / $58
Number of colours: 12
Reasons to buy
+
Great for lift and shape of larger busts
+
Lots of colourways
+
Large cup sizes
Reasons to avoid
-
Not particularly fashion forward
Delivering a smooth silhouette under clothing, this is the ultimate everyday bra for large busts. With 12 colour options, there is one for every look, but it's Fantasie's years of expertise in lingerie crafting that really come through here, for supreme lift and shape.
Fit: Three-part cups that combat spillage and bounce, meaning boobs feel lifted and supported. A padded-back hook-and-eye fastening ensures an extra layer of comfort.
Quality of materials: The fabric is so lightweight you could almost forget you're wearing it.
Style: A simple design available in basics, plus a seasonal hue.
---
7. Panache Clara Full Cup Sports Bra
Best full-cup bra for large busts
Specifications
Sizes: 30D-40J
Best suited to: All boobs
Wired: Yes
Padded: No
RRP: £36 / $71
Number of colors: 8
Reasons to buy
+
Gorgeous design
+
Super comfortable to wear
+
Up to a J cup
A full cup bra is often seen as substance over style, but this Panache design delivers both in droves. Available up to a J cup this is a fantastic everyday option for those with a bigger bust.
Fit: Using a two-part cup to create a beautifully rounded shape, without any padding. The stretch fabric helps to encapsulate each breast, essentially hugging it into shape, offering supreme coverage and jiggle-free support.
Quality of materials: Made from super-soft silk and trimmed with delicate stretch lace, the Panache Clara bra does the job and looks gorgeous whilst doing so too. It holds it shape for supreme support, but the additional stretch means it moves with you throughout the day.
Style: Already making some of the best sports bras, Panache know how to keep a bustline in check and we love that this bra comes in lots of colours and trim combos.
---
8. M&S Collection Cotton & Lace Non-Wired Full Cup Bralette A-E
Best non-wired, full-cup bra
Specifications
Sizes: 32A-42E
Best suited to: All boobs
Wired: No
Padded: Yes
RRP: £63 / $38.99
Number of colours: 5
Reasons to buy
+
Lots of nice colours
+
Good range of sizes
+
Wire free
Reasons to avoid
-
Low slim back - not great for smoothing backs
M&S is well known for affordable, well crafted underwear and this non-wired bra is a prime example of the brand's expertise. Super soft, lightly padded, the deep V-neck creates a sculpting shape that's ideal under V-neck or round necklines.
Fit: Comfortable and natural lift and fit. Unwired, this soft three-pack is a practical option with pretty added detailing, although the bras don't offer the best support and lift we've seen.
Quality of materials: Quality fabric, with 46% cotton for breathability.
Style: Despite being a bargain, it has really pretty, added lace detailing.
Best plunge bras
Plunge bras are cut low at the front, making them easy to disguise beneath sweeping or V-necklines. The cups are angled, pushing your boobs upwards and towards each other. This will create cleavage and provide lift, especially for those with smaller busts. Plunge bras can be padded or non-padded, and wired or non-wired. These choices are up to you and will depend on personal taste and the size and shape of your bust.
9. Elomi Matilda Plunge Bra
Best plunge bra for large busts
Specifications
Sizes: 32DD-46GG
Best suited to: Big boobs
Wired: Yes
Padded: No
RRP: £42 / $69
Number of colours : 5