The best bras to support, lift and shape your bust—plus expert advice on sizing and maintenance
We've rounded up the best bras for every cup size, body type, and budget for your most comfortable fit yet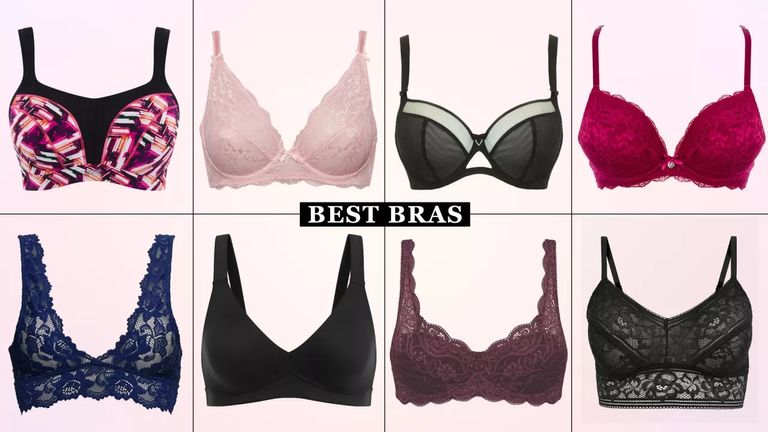 (Image credit: Future)
Looking for the best bras that deliver on support, lift, and style? We've got you (and your boobs) covered when it comes to finding the perfect bra, whether it's a sports bra, plunge bra, bralette, or full cup you're looking for.
Shopping for a great bra can require some trial and error—from examining measurements to sifting through thousands of styles. To help you find the perfect fit, we've tested and hand-picked the best bras across styles, from t-shirt to push-up bras. Our curation caters to a wide spectrum of cup sizes, body types, and budgets, so there's something for everyone, taking into consideration what makes a truly great bra, including quality of material, design, support, and—arguably the most important factor—comfort. The bras that made our list were a joy to wear—no falling straps, wires digging into the ribcage, and gaping cups here. In addition to our list of the best bras in 2021, we've also got detailed guides on the best strapless bras, best sports bras, and the most comfortable bras.
How we chose the best bras
There's no universally held standard of 'the best bra'—everybody has a different idea of how a good bra should fit, flatter and support. But there are some common qualities we firmly believe all of the best bras should share:
Fit—when it comes to bras, fit is everything. If you're finding that your current bras aren't doing what they need to, then it's definitely time for a new one. With our guide to how to measure bra size in mind, we wore the bras through work and weekend, to really test their fit, support, and wearability.
Quality of the materials—if cared for properly, the best bras should also prove excellent value for wear. This is why we rigorously tested the quality of their materials, their washability (following expert guidance on how to wash bras, of course), and longevity, to see if they really step up to the plate.
Style—who said supportive bras had to be boring? From pretty lace balcony bras to wow-worthy push-up bras, we tried them all—to help you find the bras that will make your boobs look amazing, both in and out of clothes.
As a result, we're 100% confident that these are the best bras worth parting with your hard-earned cash for.
The best bras as chosen by our experts
Best balcony bras
A balcony bra, also sometimes referred to as a balconette bra, is a flattering choice for all boobs of all shapes and sizes. Balcony bras have wide-set straps and half-moon-shaped wiring at the base of the cups which supports your breasts from beneath and lifts them upwards. They create a full, rounded shape, and are available with or without wiring and padding. The shape of the cups means balcony bras provide less coverage than a full cup style, making them the perfect partner to tops or dresses with a lower neckline.
---
Best padded bras
A padded bra is any bra that features padding on the cups. The extent of the padding can vary from bra to bra, and padded bras are available in a wide range of shapes. There are many benefits to a padded bra, and a number of reasons why you might opt for one. A lightly padded bra will ensure your nipples aren't visible and create a smooth, symmetrical shape beneath clothes. A bra with more padding will give your bust a boost, making your boobs appear bigger than they are. You may want to wear a padded bra every day, or only wear one to fill a particular top.
---
Best push-up bras
Want to give your bust some extra oomph? A push-up bra may be the style for you. A push-up bra differs from a padded bra in that the bulk of the padding tends to sit in a 'C' shape around the outer edge of the cups. This pushes your breasts upwards and inwards, creating impressive cleavage and the illusion of a bigger bust. It is possible to increase the size of your boobs by more than one cup size when wearing a push-up bra. Most push-up bras are low at the front and similar in shape to a plunge bra.
---
Best strapless bras
A strapless bra is, as you might have guessed by the name, a bra that's free from straps. More of an occasion piece than an everyday essential, it'll go undetected beneath tops with either no straps, or narrow spaghetti ones. As the bulk of the support is coming from either underwiring or the backband, instead of the straps, strapless bras can be uncomfortable to wear for prolonged periods of time - especially if you've been blessed with a bigger bust. That being said, resist the urge to size up. Wearing your strapless bra too loose will mean it's more likely to move around, increasing the risk of a wardrobe malfunction.
---
Best plunge bras
Plunge bras are cut low at the front, making them easy to disguise beneath sweeping or V-necklines. The cups are angled, pushing your boobs upwards and towards each other. This will create cleavage and provide lift, especially for those with smaller busts. Plunge bras can be padded or non-padded, and wired or non-wired. These choices are up to you, and will depend on the size and shape of your bust.
---
Best multi-way bras
A multi-way bra is a bra that can be worn in a variety of different ways by adjusting or removing the straps. They're super versatile and an incredibly handy style to have in your underwear drawer. Use yours to create a solution to almost any wardrobe dilemma. They can be worn to disguise straps beneath a top with a narrow back, a halter neck or an asymmetric neckline. A multi-way bra can also be worn as a strapless bra, or with the straps straight, à la your standard bra. Multi-way bras are suitable for all bra sizes, although those with a larger bust may find the typically narrow straps dig in a little.
---
Best bralettes
Bralettes are a type of bra, but have become so popular in recent years that they've become a category in their own right. Interpretations can vary from brand to brand but a bralette tends to refer to a lightweight bra that's free from wiring. Shapes can range from a high-coverage crop top to a barely-there triangle shape. In most cases, bralettes are made from feminine fabrics such as lace or silk. If you have a smaller bust, a bralette should provide enough support for all-day wear. But if you have a bigger bust, you might find that it's not giving you enough lift and hold to keep you comfortable. If that sounds like you, save your bralette for days for slow-paced days and at-home wear.
---
Best sports bras
Sports bras have been specially designed to wear when exercising. They offer support to your bust through two key methods—compression and encapsulation. Compression works by holding your breasts close to your chest, while encapsulation provides support by encasing your bust in two separate cups. A sports bra can use one, or both of these methods to reduce movement and bounce. The level of support your sports bra offers will depend on the type of exercise it was designed for. Low impact sports bras tend to have narrower straps, less padding, and lower coverage and are suitable for activities such as Pilates and yoga. High impact sports bras tend to have thick, padded straps, a racerback, and high coverage. Wear yours when running, trampolining, or taking part in a sweaty HIIT class. Medium impact sits between the two and can be used for aerobic exercise classes, cycling, and long walks.
---
Best t-shirt bras
A t-shirt bra is a brilliant choice for every day. The exact shape of a t-shirt bra can vary slightly, but all feature molded cups, which create nice smooth lines beneath your clothes —even form-fitting ones. They're a good choice if your boobs are different sizes (don't worry - almost everyone has one that's bigger than the other) as the molded cups will create the illusion of a more even shape. To max out your cost per wear, and ensure your new t-shirt bra does undetected beneath your clothes, choose one in black, white, or nude.
---
Best non-wired bras
Non-wired bras are any bra that is free from underwiring. They can come in a variety of different shapes, from plunge through to balcony, and can be padded or non-padded. Non-wired bras tend to be a more popular choice for those with smaller, perkier busts, which don't need the support of underwiring. Those with bigger busts may find that a non-wired bra is a more comfortable choice, as wiring can have the potential to dig in. You may even want to wear a wired bra during the day and switch to a non-wired one for lounging and sleeping.
---
Best full cup bras
Out of all the different styles of bra available, full cup bras offer the most coverage. They provide plenty of support for minimum jiggle and will ensure you feel really secure. A full cup bra will also reduce cleavage. A full cup bra can be worn by busts of all shapes and sizes, although those with less fullness at the top of the breast may find they gape. Due to the extra fabric, full cup bras can be more visible beneath clothes with lower necklines.
---
---
How do I know if a bra fits properly?
So you've found the best bra, but you're still unsure about how a bra should fit. We totally get it – finding a bra that fits like a glove is no easy feat. But according to Priya Downes, CEO and co-founder of fit first lingerie brand Nudea, there are a number of tell-tale signs that will indicate whether or not your bra fits as it should.
---
Your bust is bulging out of cups and is showing through your top—giving the double boob effect.
The center front of the bra is not sitting against your sternum and is lifting away
The cups are now empty and wrinkling.
The underband is riding up at the back, and you have to tighten the straps.
A previously comfortable bra is now uncomfortable.
But it's also important to remember that the size of your boobs is likely to fluctuate throughout the month. While knowing how to measure bra size is extremely important (especially during lockdown) it's also important to take into consideration when you should measure your bra size.
"We wear bras every day of the month, so it's good to always be well fitted," says Priya. "At the time of lowest hormonal activity, about seven days into the cycle, the breast will be at its lowest size, as well as on the last day of the cycle. It would be ideal to measure at both times."
Though she adds, "Usually one or two bigger bras for your biggest days will do, but we should also make sure that your smaller size is suitable for every day."
Top tips for buying a bra online
We're firm believers that every good fashion look starts with the basics, and a good bra is non-negotiable. Even the most well-thought-through capsule wardrobe wouldn't be effective without a well-stocked bra drawer to go with it.
Here's how to make sure you get it right the first time around when shopping online:
Book an online fit consultation—no, it's not the same as an in-person fitting, but virtual bra fittings can go a long way in helping you find the best fit—and subsequently the best bra—for you.
Put your new bra through its paces—"When you finally get your bra, make sure you try adjusting the straps and jiggling your boobs," says Carlotta Ghigi, Nudea's in-house bra technologist and expert fitter. "As you're putting the bra on, lean forward and 'jiggle' your boobs into the cups to get the best fit. This can be a real game-changer for some who've been wearing ill-fitting bras for years," she advises.
Ensure hassle-free returns—"It's an oft-quoted statistic that 80% of British women are wearing the wrong bra size, but self-measurement is just one step in finding your fit," says Ghigi. "So it makes sense to ensure that returning items is as easy as possible."
When should I replace my bra?
As with a pair of the best jeans, you probably have a few favorite bras in your underwear drawer that you turn to again and again. But when your bra no longer feels supportive—whether that's because your bra has lost its stretch, its fabric is wearing thin from over-washing, or your size has changed—it's time to seek out a replacement. But proper care of a bra can prolong its life.
Here are a few tips for making your favorite bra go the distance:
Machine wash your bra in a garment bag—and on a delicate cycle—to keep it from getting twisted among your other clothes.
Line your bras up in your underwear drawer like they do in shops. Folding your bra one cup inside the other can shift the padding and compromise its shape.
Invest in a special detergent, like the Nudea Bra & Briefs Detergent and Softener Duo, to keep your bra in mint condition for as long as possible.
Jess Beech is an experienced fashion and beauty editor, with more than eight years experience in the publishing industry. She has written for woman&home, GoodtoKnow, Now, Woman, Woman's Weekly, Woman's Own and Chat, and is currently Deputy Fashion & Beauty Editor at Future PLC.
She caught the magazine bug during a stint as Fashion Editor of her university newspaper alongside her English degree, and hasn't looked back since. As for the fashion bug, that came as part and parcel of growing up in the 90s, but the less said about that the better!
Jess' average day in the office is spent researching the latest fashion trends, chatting to industry tastemakers and scouring the internet to bring you this season's must-buy pieces - as well as advice on how to wear them. Weekends are equally fashion-focused, and Jess has been known to visit no less than five Zara stores in a single day in search of the perfect occasion dress.
The only thing that comes close to a buzz of finally tracking down that much-coveted dress is the joy of discovering a new beauty wonder product or hero ingredient. A beauty obsessive, Jess has tried everything from cryotherapy to chemical peels (minus the Samantha in Sex and The City-worthy redness) and interviewed experts including Jo Malone and Trinny Woodall.