How a bra should fit - tips and tricks for comfortable, niggle-free wear
Wondering how a bra should fit? Here are our top tips and tricks for getting an expert fit at home.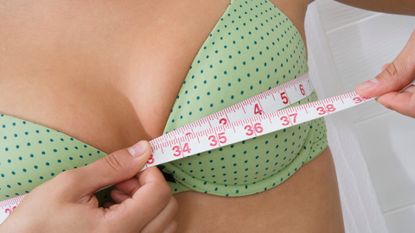 (Image credit: Getty)
It almost goes without saying, but the best bras are ones that fit properly. The kind that don't dig in around your ribs or leave you with deep grooves on your shoulders by 5pm. With that in mind, we've put together a guide to how a bra should fit - with a little help from some trusted experts.
How a bra should fit
When figuring out how a bra should fit, it's best to start with a quick look through your bra drawer.
Chances are, you're holding on to a fair amount of bras that fundamentally aren't fitting you as they should. In fact, as of 2019, a whopping 90% of UK women aren't wearing the right bra size, according to a study by Nudea. Across the pond in the US, women face the same problem, with about 80% of women estimated to be buying the wrong bra size.
So how do we know whether or not our bra fits correctly? There are some key signs to look out for.
"If a bra fits you well, the backband will sit horizontally around your body which will offer a good level of support," says Laura Franklin, Customer Services Manager at Bravissimo. "The wires in between your boobs will be flat against your chest, and the wires beneath your arms will sit on your ribcage and all the way round to your underarms." Wires should never, ever, sit on your breast tissue.
Two of the most common causes of an ill-fitting bra are a backband that's too big, and a cup that's too small. Learning how to measure bra size, and remembering that bra sizing can change throughout your cycle should help you avoid a bra-based blunder.
How do you know if your bra is too big?
"Tell-tale signs are gaps across the tops of the cup, shoulder straps slipping off and the band rising between the shoulders and at the back," explains bra fitting expert Sarah Connelly.
How a bra should fit is dependent on two factors, as bra sizing works in two parts - the back band e.g. 34, and the cup size, e.g. C. If you're experiencing problems with sliding shoulders or your boobs escaping from the bottom of your bra, you'll likely need to size down on the band. Or, if the back band is staying firmly in place (Sarah recommends there's "just enough space to run a finger under and no more") but the cups are creasing or wrinkling, then size down there instead.
How do you know if your bra is too small?
If your bra is too small, "your wires may be digging into your breast tissue or armpit causing discomfort,' explains Laura. " You may also notice the cups aren't fitting as they should be, resulting in your boobs spilling out of the bra." As for the back band, a fit so tight it restricts your movement or excessive bulging around the sides are both clear-cut signs you need to size up.
How can you make your bras fit properly?
Firstly, remember that just as you might not be the same dress size in all shops, bra sizes can vary by retailer too. And in some cases, even by style within the same store. If you think there's room for improvement on fit, then try a couple of sizes on either side of your regular one. Even once you've found as close to a perfect fit as possible, there are still tweaks that can be made for maximum comfort, support and lift.
"We recommend fastening a new bra on its loosest hook so that you can tighten it as it stretches over time as you wear and wash it; so if your bra is feeling looser than it first did around your back, try it on a tighter hook," says Laura. "Sometimes your bra straps can fall down or dig in and all it takes is a slight adjustment to make them feel more comfortable. It is also worth checking that your boobs are fully enclosed into the cups - we find a scoop, wiggle and jiggle does the trick!"
How a bra should fit if you have one boob bigger than the other
The good news is that nearly everyone has one boob that's bigger than the other - and it's normally the left. The bad news is that not all bras are designed to cater for these differences.
"For some women, the difference can be more significant, so always fit to the bigger size and choose a style that accommodates the differences," advises Sarah. T-shirt bras with moulded cups are best for this, creating a smooth, symmetrical shape. You could even look out for a bra with removable padding and only keep it in one cup to help even things up.
The prettiest bras worth investing in now
Are you now feeling like something of an expert in the area of how a bra should fit? Good, because we've rounded up the prettiest bras to flex your new-found fitting skills on.
Rosie Silk & Lace Animal Print Longline Bustier
When it comes to luxe lingerie that doesn't break the bank, Rosie at Marks & Spencer gets our vote every single time. This non-padded longline bustier bra offers plenty of lift and support while staying steadfastly glamorous.
Figleaves Pimlico Non Pad Underwired Sheer Balcony Br
Specifications
RRP: £22.40 | $43.20
Sizes: 32B – 38I
Balcony bras are a great option for larger and smaller busts alike because they're cut to lift cleavage upwards rather than inwards. Figleaves's non-padded Pimlico bra is a special occasion bra with impact. With sheer paneling and pretty binding, it'll give you that all-important added lift while keeping your cleavage secure and supported.
Wonderbra Triangle Push Up Bra
We love the soft cleavage-enhancing shape of Wonderbra's Triangle push-up bra. A wear-everywhere and love forever pick, it might look like a special occasion bra, but this one's supportive enough for everyday wear, too.
Kate is a freelance contributor to woman&home, covering everything she loves most: fashion, fiction, and fancy face cream. If she's not working, she's probably reading, feeding her online shopping addiction, or judging the taste level of celebrity houses (10/10 for Dakota Johnson, 2/10 for Tan France).

She graduated from Central Saint Martins in 2020 with a BA in fashion journalism, and her byline has also appeared in British Vogue, The Times, and Marie Claire.