Bras vs bralettes: Which style is most comfortable, and which is best for your boobs?
It's bras vs bralettes in the battle of the lingerie drawer...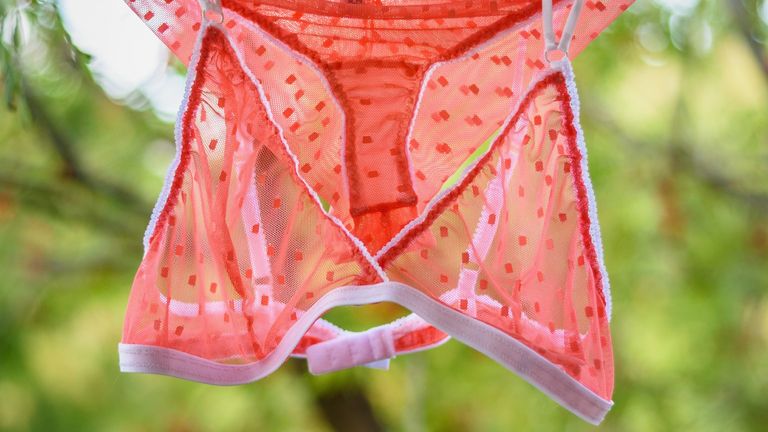 A topic for the fashion and comfort conscious, bras vs bralettes is becoming an increasingly popular debate.
Bralette sales might have boomed in recent years, but before you abandon your best bras and bulk buy their comfy counter-part instead, let us assure you there's probably a place for both in your underwear drawer.
We've weighed up the pros and cons of bras vs bralettes to help you pick the most appropriate and comfortable solution for your wardrobe.
What is a bralette?
Bralettes are soft, unstructured bras that tend to be free from niggling wires and, in most cases, padding. Much like with non-wired comfortable bras, the key selling point of a bralette might be their comfort factor, but that doesn't mean they don't look good too.
Just like normal bras, the best bralettes come in plenty of different styles, from wispy, lacy triangle styles to sports-inspired jersey crop tops.
And because they look less functional than your average bra, It's actually fashionable to reveal a flash of bralette (if you're feeling brave, of course!). Layer yours beneath a semi-sheer shirt or let a pretty strap peek out from beneath a cami.
Bras vs bralettes: What is the difference?
The main difference between a bra and a bralette is that bralettes are softer, more lightweight and are usually made without wiring. As a result, they give lighter support than a regular bra.
However, it's worth pointing out that due to the increasing popularity of bralettes, many of the best bra brands are now creating them with wiring, so that those who love the look but need more structure from their lingerie can also indulge.
Who suits bralettes?
As a general rule, smaller boobs tend to need less support to keep them feeling comfy and looking perky, so they tend to suit bralettes better, whereas those who are trying to tackle saggy boobs might struggle with them a bit. For this reason, bralettes are very suitable for smaller busts and have become especially popular at the lower end of bra sizing - especially if you're one who usually goes braless and you just want a bit of support. But if you're big-breasted and feeling left out, fear not: we've highlighted the best bras for large busts that belong in your boudoir ASAP.
Are bralettes suitable for big boobs?
It's a common misconception that the flimsy shape of most bralettes makes them unsuitable for those blessed with a bigger bust, but really it's just about choosing the right shape and style and making sure you know how to measure your bra size so that it fits well.
"Bralettes are supportive enough for big boobs – in fact, lots of our customers tell us how comfortable, supported and secure they feel in non-wired bras and bralettes," says Paula Skarratt, technical manager at Bravissimo.
"While they won't offer the same level of support as a structured wired bra, brands like Bravissimo offer bralettes especially designed to support big boobs and provide the coverage you need. This gives our customers the option to shop styles they love without compromising on support."
Bras vs bralettes – which is right for my boobs?
There is no right or wrong answer to this question, as ultimately it boils down to personal preference.
"There's no specific benefit for a bra over a bralette or visa versa," says Paula. "It's all down to personal choice, the level of support you're after and what styles you prefer. Choose between the two based on what best fits your lifestyle and keeps you feeling confident and uplifted."
If you like the support that underwiring offers, you might want to opt for a traditional bra for daytime and reserve bralettes for cosy at-home wear, but if you're comfortable with less structure, then a bralette could be the perfect type of bra for general day-to-day wear.
How to pick a bra or bralette that supports your boobs
Whether you're opting for a bra or a bralette, the basic support system remains the same. You want to consider two things:
1. The underband
"The key to a supportive bra or bralette is the underband," says Paula. "It should be firm but comfortable, and lie horizontally across your body."
Busting a common fashion myth, Paula says you don't need a wide underband for a suitable level of support (hello, slinky styles) but, instead, it's more about the quality of the elastic.
Still prefer the reassurance of a more substantial underband? You're in luck. There are plenty of really pretty long-line bras and bralettes available on the high street and beyond.
2. The straps
The straps are important, too. "Remember, they're there to hold the cups in place, not to support the weight of your bust," explains Paula.
"Straps can come in a variety of widths to suit the styling of the bra and help them to work well under different outfits. The clever construction of the elastic will stop the straps from curling and cutting into the shoulders." Added padding along the straps will help avoid digging in, too, as will soft fabrics like silk.
Once you've decided what type of style you want to go for, we have plenty of bra and bralette recommendations to choose from, but we've listed some of our favorites below:
Jess Beech is an experienced fashion and beauty editor, with more than eight years experience in the publishing industry. She has written for woman&home, GoodtoKnow, Now, Woman, Woman's Weekly, Woman's Own and Chat, and is currently Deputy Fashion & Beauty Editor at Future PLC.
She caught the magazine bug during a stint as Fashion Editor of her university newspaper alongside her English degree, and hasn't looked back since. As for the fashion bug, that came as part and parcel of growing up in the 90s, but the less said about that the better!
Jess' average day in the office is spent researching the latest fashion trends, chatting to industry tastemakers and scouring the internet to bring you this season's must-buy pieces - as well as advice on how to wear them. Weekends are equally fashion-focused, and Jess has been known to visit no less than five Zara stores in a single day in search of the perfect occasion dress.
The only thing that comes close to a buzz of finally tracking down that much-coveted dress is the joy of discovering a new beauty wonder product or hero ingredient. A beauty obsessive, Jess has tried everything from cryotherapy to chemical peels (minus the Samantha in Sex and The City-worthy redness) and interviewed experts including Jo Malone and Trinny Woodall.