Bras vs bralettes: Which style is most comfortable, and which is best for your boobs?
It's bras vs bralettes in the battle of the lingerie drawer...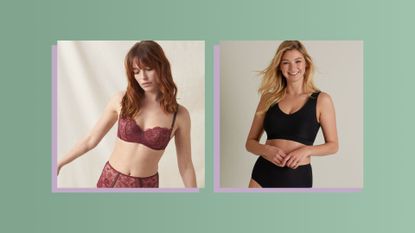 (Image credit: Maison Lejaby / Bravissimo / Future)
A topic for the fashion and comfort conscious, bras vs bralettes is becoming an increasingly popular debate.
Bralette sales might have boomed in recent years, but before you abandon your best bras and bulk buy their comfy counter-part instead, let us assure you there's probably a place for both in your underwear drawer.
We've weighed up the pros and cons of bras vs bralettes to help you pick the most appropriate and comfortable solution for your wardrobe.
Bras vs bralettes: What is the difference?
The main difference between a bra and a bralette is that bralettes are softer, more lightweight and are usually made without wiring. As a result, they give lighter support than a regular bra.
However, it's worth pointing out that due to the increasing popularity of bralettes, many of the best bra brands are now creating them with wiring, so that those who love the look but need more structure from their lingerie can also indulge.
How to pick a bra or bralette that supports your boobs
Whether you're opting for a bra or a bralette, the basic support system remains the same. You want to consider two things:
1. The underband
"The key to a supportive bra or bralette is the underband," says Paula Skarratt, technical manager at Bravissimo.
"It should be firm but comfortable, and lie horizontally across your body."
Busting a common fashion myth, Paula says you don't need a wide underband for a suitable level of support (hello, slinky styles) but, instead, it's more about the quality of the elastic.
Still prefer the reassurance of a more substantial underband? You're in luck. There are plenty of really pretty long-line bras and bralettes available on the high street and beyond.
2. The straps
The straps are important, too. "Remember, they're there to hold the cups in place, not to support the weight of your bust," explains Paula.
"Straps can come in a variety of widths to suit the styling of the bra and help them to work well under different outfits. The clever construction of the elastic will stop the straps from curling and cutting into the shoulders." Added padding along the straps will help avoid digging in, too, as will soft fabrics like silk.
Once you've decided what type of style you want to go for, we have plenty of bra and bralette recommendations to choose from, but we've listed some of our favorites below:
Best bralettes for small busts
Best Bralettes for Large Busts
Best Bras for Small Busts
Best Bras for Large Busts
RRP: £31 (stocked internationally) | Sizes: 30-38 D-J | Panache bras really are a great fit for fuller busts. This full-coverage bra is great under t-shirts and more fitted clothing as it offers a sleek finish. Practical for every day but still attractive with this chic lace detailing.
Editor's Pick
Curvy Kate Luxe Strapless Bra
RRP: $77 / £36 | Sizes: 28-40 D-J | Gravity defying, this strapless bra really is amazing for larger busts. Of course bralettes are comfy, but when you're getting glammed up, or are opting for a shoulder baring look, then a strapless bra is a must-have style.
Elomi Morgan Haute Red Bra
RRP: £38 (international stockists) | Sizes: 32-46 DD-K | Another brilliant label for full busted women, Elomi has a wide range of lingerie up to a K cup. This attractive red bra is perfect for adding a little va-va-voom to your lingerie drawer and features stretch lace and cute bow detailing.
Fantasie Aurelia Half-Cup Bra
RRP: $79 / £48 | Sizes: 30-38 D-J | With stunning embroidery, the half-cup style allows for natural and flattering cleavage. With extra support across the back and special side shaping to push the bust line forward, this is a stunning and style bra for larger busts.
Pour Moi Plunge T-shirt Bra
RRP: $42 / £18| Sizes: 32-40 B-H | For a smooth bra that offers the comfort of a bralette but with more structure and shape, try a t-shirt bra. With a sleek finish they're great under tight-fitting fabrics, try one under any of your best v-neck t-shirts.
PrimaDonna Belgravia Triangel Bra
RRP: $162 / £118, at Rigby and Peller | Sizes: 34-38 C-G | With a retro style, this sensational longline bra with embroidered roses is real piece of artistry. Adding comfort to style there is a soft satin ribbon running under the bust line and cups for a beautiful finish.
What is a bralette?
Bralettes are soft, unstructured bras that tend to be free from niggling wires and, in most cases, padding. Much like with non-wired comfortable bras, the key selling point of a bralette might be their comfort factor, but that doesn't mean they don't look good too.
Just like normal bras, the best bralettes come in plenty of different styles, from wispy, lacy triangle styles to sports-inspired jersey crop tops.
And because they look less functional than your average bra, It's actually fashionable to reveal a flash of bralette (if you're feeling brave, of course!). Layer yours beneath a semi-sheer shirt or let a pretty strap peek out from beneath a cami.
Bras vs bralettes – which is right for my boobs?
There is no right or wrong answer to this question, as ultimately it boils down to personal preference.
"There's no specific benefit for a bra over a bralette or visa versa," says Paula. "It's all down to personal choice, the level of support you're after, and what styles you prefer. Choose between the two based on what best fits your lifestyle and keeps you feeling confident and uplifted."
If you like the support that underwiring offers, you might want to opt for a traditional bra for daytime and reserve bralettes for cozy at-home wear, but if you're comfortable with less structure, then a bralette could be the perfect type of bra for general day-to-day wear.
Who suits bralettes?
As a general rule, smaller boobs tend to need less support to keep them feeling comfy and looking perky, so they tend to suit bralettes better, whereas those who are trying to tackle saggy boobs might struggle with them a bit. For this reason, bralettes are very suitable for smaller busts and have become especially popular at the lower end of bra sizing - especially if you're one who usually goes braless and you just want a bit of support. But if you're big-breasted and feeling left out, fear not: we've highlighted the best bras for large busts that belong in your boudoir ASAP.
Are bralettes suitable for big boobs?
It's a common misconception that the flimsy shape of most bralettes makes them unsuitable for those blessed with a bigger bust, but really it's just about choosing the right shape and style and making sure you know how to measure your bra size so that it fits well.
"Bralettes are supportive enough for big boobs – in fact, lots of our customers tell us how comfortable, supported and secure they feel in non-wired bras and bralettes," says Paula.
"While they won't offer the same level of support as a structured wired bra, brands like Bravissimo offer bralettes especially designed to support big boobs and provide the coverage you need. This gives our customers the option to shop styles they love without compromising on support."
Sign up to our free daily email for the latest royal and entertainment news, interesting opinion, expert advice on styling and beauty trends, and no-nonsense guides to the health and wellness questions you want answered.