The best strapless bras for comfort, support and style
We've put the best strapless bras on the market to the test so the one you choose will never let you down–literally...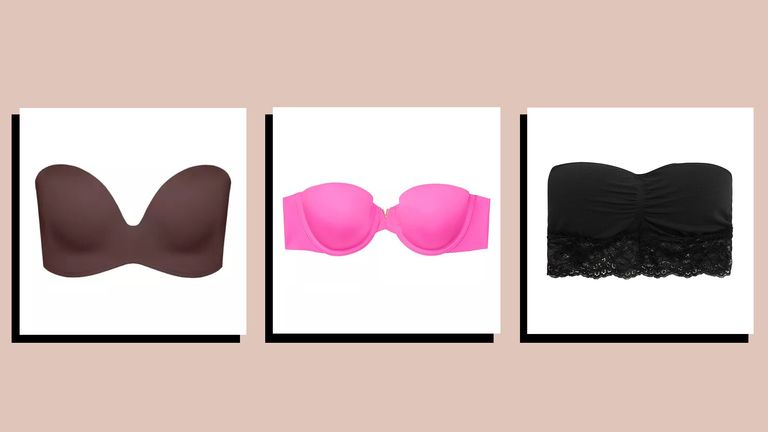 (Image credit: Future)
Trying to find the best strapless bras is no easy task—particularly if you've got a bigger bust. Not only does a strapless bra need to look great under clothes, but you also need it to stay firmly in place for the duration of the day or night. Since so many elements go into a quality strapless bra, we've rigorously tried and tested the best strapless bras to help you find only the best worth spending your money on.
The best strapless bras combine the golden triangle of lingerie: lift, support, and comfort. And while that might sound like some far-off lingerie fantasy, we promise they do exist—and that they're much more affordable than you'd think.
In recent years, high-end brands and our more affordable favorites alike have really stepped up to the plate when it comes to the best bras—offering an array of strapless options that not only look discreet under clothes but also offer a variety of other clever features like detachable straps, lifting mechanisms, supportive fabrics, and pillow-soft foam cups.
But in such a saturated market, how do you know that your strapless bra is less gimmick, more life-changing capsule wardrobe staple? To sort the diamonds from the duds, we tested countless strapless bras to help you find the ones that are really worth parting with your hard-earned cash for.
How we tested the best strapless bras
To help you make a more informed purchase, we've rounded up the best strapless bras, and considered fit, quality of materials, and design elements in our decision-making process. We've tested the best strapless bras from leading brands, including Wonderbra, Curvy Kate, and Victoria's Secret among other authorities in the space. We then assessed the pros and cons—all unique to different cup sizes.
The best strapless bras as reviewed by our experts
The best strapless push-up bra
Specifications
RRP: $54/£40
Sizes: 30D-38G
Best suited to: All boobs
Wired: Yes
Padded: Yes
Machine Washable: Yes
Reasons to buy
+Stays in place well+Creates impressive cleavage
Reasons to avoid
-Feels slightly restrictive-Comes up small on the band
Each cup of the Wonderbra Ultimate Strapless Bra looks roughly the same size as my head when I take the bra out of its packaging, which also makes this one of our best bras for large busts. But while Wonderbra's iconic strapless number may look pretty huge at first glance, the majority of the bra's extra bulk is in the band, making for a supportive and budge-free fit. The inside of this band, and under the bust, is peppered with tiny silicone dots to ensure it won't inch down during the day. It also has great lift if you're trying to tackle saggy boobs.
The Wonderbra Ultimate Strapless Bra's real selling point is its "hand-shaped system," which is molded into the cups, lifting and boosting your bust from the inside. While you can see the outline of this from inside the cups, no one would be any wiser from the outside. Full marks for lift and support, but it's not the most comfortable of bras if worn for a long stretch of time. However, those with bigger busts will appreciate this high level of spill-proof security.
See our full Wonderbra Ultimate Strapless Bra review
2. Curvy Kate Luxe Strapless Bra
The best strapless bra for DD+ boobs
Specifications
RRP: $50/£35
Sizes: 28D-40J
Best suited to: Bigger busts who favour a natural look
Wired: Yes
Padded: Yes
Machine Washable: No
Reasons to buy
+Fully Adjustable non-slip straps +Inside sling support +Changes from 2 to 3 hooks from an F cup
Reasons to avoid
- Bridge may be visible with some necklines
As one of the best strapless bras, the Curvy Kate Luxe Strapless bra is a joy to wear—the fit is perfect, and its silky satin feels luxurious against the skin. The cups have a smooth shape that will work underneath dresses and T-shirts alike.
Balconette bras are designed with the cup cut horizontally, which creates a lift upwards rather than inwards. This works well for a strapless style. The classic balconette style moves away from a deep cleavage towards a natural lift, with sturdy, adjustable straps, a three-part seamed cup, and light padding.
The brand has a great range for bigger busts sized D-KK, designed to lift and support with design features tailored specifically for bigger busts, such as extra hook-and-eye fastenings and more supportive straps.
3. Intimissimi Gioia Bandeau Bra
The best strapless bra for a small bust
Specifications
RRP: $49/£35
Sizes: 30C/32B-38B/36C
Best suited to: Smaller boobs
Wired: Yes
Padded: Yes
Machine washable: Yes
Reasons to buy
+The prettiest strapless bra we've ever seen +Great uplift and shape for small boobs
Reasons to avoid
-Perhaps too much padding for big boobs -Shallow cups
Admittedly, it doesn't have the greatest size selection—leaving this super-soft wireless bra strictly to those searching for the best bras for small busts. But if that's you, and you're looking for a supportive, wireless bra with some serious cleavage-boosting ability, then you're likely to love this one.
Intimissimi's Gioia super-padded underwired bandeau bra in smooth to the touch microfiber lifts and enhances cleavage without the uncomfortable rigid bits that can come with other wireless bras. (Read: no red welts from the underwire digging in, no awkward adjusting throughout the day.)
Available in a choice of five colors, do be warned that although sizing goes up to a D cup with this one, larger busts will likely find the heavy padding and shallow cups to be too low on the coverage front.
The best multiway strapless bra
Specifications
RRP: $54.50/£45
Sizes: 32A-38F
Best suited to: All boobs
Wired: Yes
Padded: No
Machine washable: Yes
Reasons to buy
+Firm but comfortable fit+Can be worn in five different ways
Reasons to avoid
-Doesn't offer a fully inclusive shade range -Sizing is a little confusing
Functional and sexy, The Victoria's Secret Lightly Lined Strapless Bra is the multiway solution to all your wardrobe dilemmas.
This multiway bra can be worn in five different ways, accommodating for strapless, asymmetric, and halter necklines, as well as traditional and racerbacks. If you're going to invest in just one bra, this will have you covered for any outfit. It's silky soft, with a raw edge along with the wings that create smooth, barely detectable lines, no matter how fitted your outfit may be.
This clever style also boasts patented non-slip bands and cups, using a sticky coating to gently adhere to the skin—cue a bra that will stay firmly in place, day and night.
See our full Victoria's Secret Lightly Lined Strapless Bra review
5. Boux Avenue Strapless Padded Plunge Bra
The best seamless strapless bra
Specifications
RRP: $38/£25
Sizes: 30A-38DD
Best suited to: All boobs
Wired: Yes
Padded: Yes
Machine washable: Yes
Reasons to buy
+Diverse nude shades+Soft material+Comes with attachable straps
Reasons to avoid
-May crease after a few wears-Digs in under the arms
It's refreshing to see so many different variations of the classic "nude" shade catering to different skin tones. Reviewers agree, with multiple shoppers praising Boux Avenue's inclusive approach to colors, happily expressing how it feels good to find a bra that works for their skin tone at a reasonable price.
The bra itself is super streamlined, with a minimal design, supportive waistband, and smooth, seamless cups—the plunge style results in a natural cleavage. We rate the simplicity of this failsafe strapless bra, which is so comfortable that you may just forget you're wearing it!
6. M&S Lace Bandeau Strapless Bra
The best bandeau strapless bra
Specifications
RRP: $17/£12.50
Sizes: S-XL
Best suited to: Smaller boobs (or bigger, if for sleeping or lounging)
Wired: No
Padded: Yes
Machine washable: Yes
Reasons to buy
+Easy pull on design+Doesn't stick out underneath garments+Removable straps
Reasons to avoid
-Not as durable-Better support for small busts-Runs small
I was initially a little reluctant to include this in the guide because, naturally, as a bandeau style it's more similar to the best bralettes and it's far less sturdy than other options. However, M&S has always been one of our best bra brands, so the double lining and light padding does offer something in the way of support in comparison to other bandeau styles. For a relaxed afternoon at home, this pretty bra did the job nicely, and I'd be tempted to wear it with a strappy summer dress and floppy hat on holiday, but when it comes to providing enough support day to day underneath my usual outfits, I'd say this is a no-go.
For those with smaller boobs, the light padding may provide enough support, but for those looking for a reliable strapless bra in anything above a C, I'd consider one of the other options in this guide.
7. Figleaves Smoothing Strapless Underwired Balcony Bra
The best budget strapless bra
Specifications
RRP: £26 (UK only)
Sizes: 30B-40GG
Best suited to: All boobs
Wired: Yes
Padded: Yes
Machine washable: No
Reasons to buy
+Second-skin fit+Versatile+No rubbing or bulging
Reasons to avoid
-Better support for smaller sizes-May roll over over clothes after long-time wear
This bra provides a fantastic, clean shape, with plenty of support—a winner if you're wearing a fitted shirt, dress, or T-shirt, making this one of the best t-shirt bras too. The cups are padded and full; there's no danger of spillage. I comfortably wore this bra all evening and, to be honest, forgot I even had it on. The material is soft and malleable, so the bra adjusts to your shape rather than the other way round.
This clever bra is also multiway, with handy detachable straps for that extra bit of support, if needed—and it's a steal compared with some of its multiway rivals on the high street.
How to choose the right strapless bra for you
Just because a bra is strapless doesn't mean it can't fall into the comfortable bras category.
Paula Skarratt, technical manager at Bravissimo, told woman&home, "You may want to experiment with a different size, as we hear from some of our customers that they like to go for a size smaller in the back and up one cup to keep it feeling super secure, but the most important thing is that the bra feels comfortable.
"When wearing a strapless bra, you want to make sure the backband is firm but comfortable. As there aren't any straps to keep you in place, the backband needs to be firm enough to keep you lifted, so you feel confident and amazing."
Look out for:
A firm supportive underband, as all the support is coming from here
Foam/molded cups with good coverage to fully encase the bust
Balcony-shaped neckline to avoid showing under clothing
Wide elastic on the underband with a silicone trim to give good support where minimum adjustment is needed
For bigger busts, look for a firm wire and strong supportive fabrics for maximum support
How do I keep my strapless bra from falling down?
There are a few different things you can do to help prevent your strapless bra from riding down. Some are factors to take into consideration when actually buying the bra and others are things you can do to help keep it secure when you're wearing it.
When buying a strapless bra:
Choose a high-quality product—a better quality fabric will keep its shape for a lot longer than a cheap or weaker fabric so will have less chance of riding down.
Pick the right size—it's always helpful to be fitted by a professional when buying a strapless as anything too big will be more likely to ride down but too small and it will leave you uncomfortable.
Look for rubber or silicone support—good strapless bras will usually feature a layer of rubber or silicone around the band to help keep it secure against skin while wearing.
When wearing a strapless bra:
Use adhesive tapes—if your bra is riding down, help keep it secure by using adhesive tapes across the underband and even on the cups to help hold it up.
Sew it onto your clothes—as a last resort, you could always sew your bra into a dress or top for a layer of support that will leave you feeling like you're not even wearing a bra.