Contact woman&home
Get in touch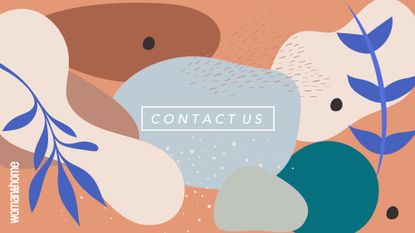 (Image credit: Future)
If you would like to get in touch with womanandhome.com or woman&home magazine, you can write to us, call us or email us.
How to email us
If you would like to email someone the email format is: firstname.surname@futurenet.com
How to call us
Our main switchboard number is 020 3148 5000
How to write to us
Our mailing address is:
Future PLC | 121-141 Westbourne Terrace | London | UK | W2 6JR
Who should I contact at womanandhome.com?
Rachael Martin | Editor, womanandhome.com
Anna Paul | Deputy Editor, womanandhome.com
Fiona McKim | Beauty Editor, womanandhome.com
Rivkie Baum | Fashion Editor, womanandhome.com
Grace Walsh | Health Editor, womanandhome.com
Tamara Kelly | Lifestyle Editor, womanandhome.com
Who should I contact at woman&home magazine?
Editorial contacts
Group editor-in-chief | Catherine Westwood
Editor, woman&home magazine | Miranda McMinn
Lifestyle director | Jayne Marsden
Fashion director | Paula Moore
Beauty director | Charley Williams-Howitt
Beauty director | Sarah Cooper-White
Features director | Jane Kemp
Health and fitness editor | Faye Smith
Food director | Elisa Roche
Commercial contacts
Affiliates director | Yas Davami
Advertising commercial publisher | Lucy Gugas
Our editorial approach
We take great pride in the quality of our content on womanandhome.com. We are impartial, thorough and accurate. We take care to speak to credible experts and examine the latest research findings. Our journalists endeavour to verify all stories being published. If you find an article that you think needs to be improved then please reach out to our Digital Editor, Rachael Martin, by emailing her at rachael.martin@futurenet.com.
About Future PLC
Womanandhome.com is part of Future PLC, the publishing house behind over 170 successful brands in specialist consumer and B2B sectors including: technology, gaming & entertainment, music, creative & photography, home interest, education and television. Every year at Future we attract millions of consumers to our brands' websites, magazines, events and social spaces.
Code of conduct
Womanandhome.com is a member of the Independent Press Standards Organisation (which regulates the UK's magazine and newspaper industry). We abide by the Editors' Code of Practice and are committed to upholding the highest standards of journalism.
If you think that we have not met those standards and want to make a complaint please contact us by calling 01225 442244 or writing to us at Future Publishing, Quay House, The Ambury, Bath, BA1 1UA, UK. If we are unable to resolve your complaint, or if you would like more information about IPSO or the Editors' Code, contact IPSO on 0300 123 2220 or visit www.ipso.co.uk.
Digital Editor - Woman & Home
An internationally published digital journalist and editor who specialises in SEO strategy and content production, Rachael has worked as a writer and editor for both news and lifestyle websites in the UK and abroad.
Rachael's published work covers a broad spectrum of topics and she has written about everything from the future of sustainable travel, to the impact of the coronavirus pandemic on the world we live in, to the psychology of colour.