What To Wear To A Festival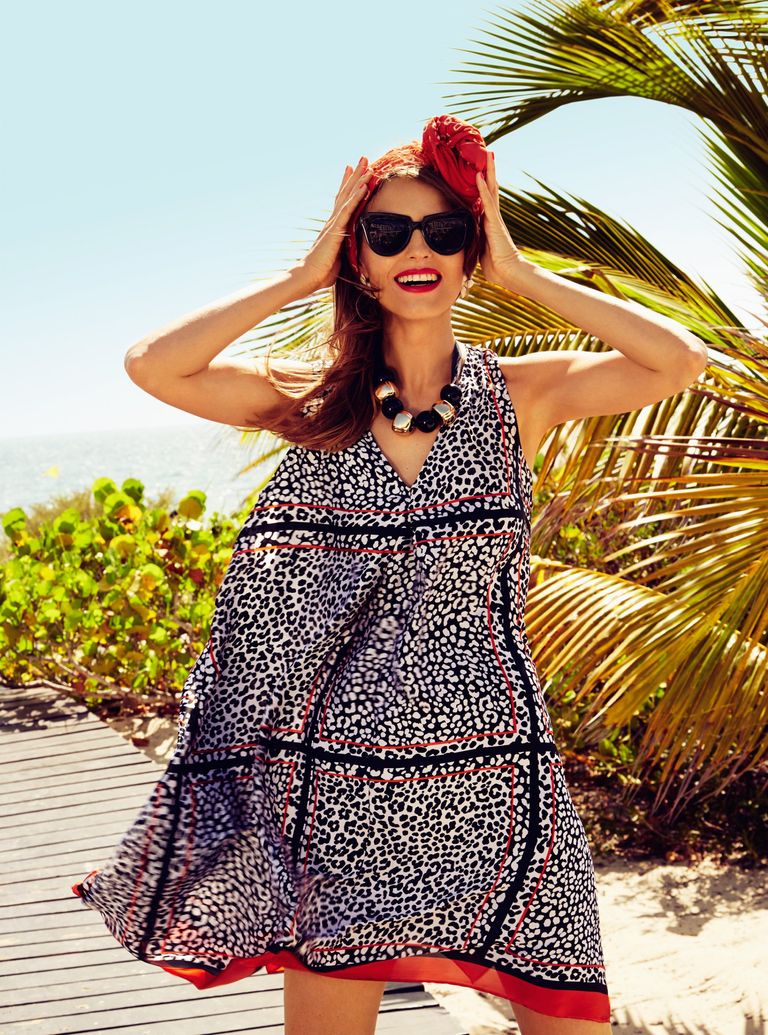 Looking forward to this year's festivals, but not sure what to wear? If the denim hotpants aren't for you, our fashion team have picked out some stylish solutions. Shop today...
Festival season is finally upon us - the time of year when it is perfectly acceptable to party non stop over a 3-4 day period with your nearest and dearest. With all this excitement to be had, the last thing any women should be worrying about is what they are going to be wearing.
The problem with festival fashion is that unless you're 22 and love walking around in a crop top and floral hair garland, dressing stylishly can be tricky.. Of course you want to have fun, but you don't want your entire body on show to do so. But then on the flip side you don't want to feel un-cool covered up head to toe and - quite frankly - feeling out of place. You need to instead meet in the middle - to find a cool medium where you are dressed in festival-themed attire and feel comfortable. Ladies, this is where we step in...
The trick to mastering a stylish festival look is to take the typical pieces, e.g. parka or wellies, and give them a more mature spin. The main thing to note for festival clothing is that you are probably going to get extremely hot, therefore you need to wear fabrics that breathe and don't cling to your body. Comfort is always key, especially on a long hot festival day.
From the stand-out accessory that will be more than useful to the on-trend fashion buys you'll feel fabulous in, have a browse through our gallery of must have festival items - and stand out from the crowd!
Tassel Bag, £19.99, H&M
Vamp up your accessories with an on trend tassel bag like this one from H&M. Wear crossed over your body for a carefree fashionista look. Suede is one of SS15s must have fabrics; give it an oomph with a bright hue.
Off the shoulder Blouse, £34, Topshop
Top up your tan with this off the shoulder paisley printed blouse from Topshop. The loose and flowy shape is great for anyone with a bit of a tummy, plus the long romantic sleeves will cover up your arms. No jewels required, this top makes a statement all on its own.
Mac, £55, Drystar
Lets face it, it?s probably going to rain, It?s all part of the experience we know, but make sure you?re prepared with a waterproof mac. Be different and avoid the normal khaki colours and opt for a fun print or colour. This metallic one from Drystar will certainly make you stand out from the crowd.
Crochet Cardigan, £46, Pins & Needles at Urban Outfiftters
Take a feminine approach to the festival boho trend with this cream crochet cardigan. Wear with some flared trousers and a delicate blouse. Plus - it's long line so it will balance out your figure and elongate your body.
Hat, £49, Jigsaw
From a token festival trilby to a fashionable fedora, a good summer hat is essential for not only warning off sunstroke, but looking cool. Wear this stylish panama hat with a flowing maxi for seventies look, or with dress down denim for a more relaxed vibe.
Shirtdress, £44.95, Gap
A loose fitted shirtdress like this one from Gap is the easy breezey piece you need when you?re on the move. Hitting just above the knee, wear on its on with your wellies, or layer over a roll neck if its gets chilly.
Backpack, £29.99, Zara
With its structured sides and in a hot hue, you can go hands free with this vibrant backpack from Zara. Be quirky by partnering with a pair of dunagrees. Not so daring? Keep is casual with a pair of jeans and a white tee, stylish and understated.
Blouse, £22.99, Lindex
Sailor breton meets bohemian with a tassel finish, can this top from Lindex jam-pack any more fashion favourites onto it? I think not. Plus with its mid v-neck and lightweight material, it is a total figure flatterer.
Wellies, £89, Jigsaw
If you?re going to a festival, then you?re going to need a good pair of wellies. But if you don?t want to embrace your inner farmer just yet, opt for some that, at first glance, could pass as pair of classic boots. Black, burgundy and browns are your safest bet for this mastermind disguise. We love this pair from Jigsaw - a zip up the back adds a stylish edge and makes them easier to get on and off than your average pair!
Jeans, £49, River Island
A good pair of jeans are essential basics that go with virtually anything. Keep them turned up to avoid muddy hems. Stay totally on trend and double up with a denim shirt and finish with a pair of aviators.
Light Knit, £45, Banana Republic
Fight the chill with a lightweight knit to pop on when you need it. Easy to pop into any bag, stand out from the crowd in a eye catching colour. We love this yellow one from Banana Republic.
Trainers, £95, Ted Baker
Keep comfortable in a pair of stand out trainers. The high shine panels make them water and most importantly mud resistant. We love Ted?s pretty floral print, which gives them a cute feminine edge.
Denim Jacket, £49, Asos
Slip on over over a jumpsuit, or button it up as a shirt, or even tie around your waist to break up a tunic dress - the possibilities are endless. Don?t get double, but triple duty out of your denim jacket at a festival. The bigger and more structured the better, we say.
Dress, £32, Warehouse
Relax to the max in this tribal print tunic from Warehouse. With a v-neck to flatter your bust and with the classic straight down tunic shape to smooth out your figure, this dress will be as unstoppable as you.
Boots, £105, Dr Martens
I know what you?re thinking: ?I am not a 1980s punk, why would I want some DMs?' But trust us when we say a hard capped boot is the best protection for your feat at a festival. Stick to basic colours that go with anything, like black, khaki or burgundy, that way they will see you through until winter
Troll Beads Floral Festival Bracelet, £43.00
No festival is complete without a little accessorising! We love Trollbeads, which are perfect if you like to collect charms. This leather bracelet adds a more bohemian edge for the perfect festival finishing touch.
Bumbag, £10, Boohoo.com
These handy bags are the perfect stress free accessory to keep your cash and cards safe while you?re dancing the night away. From colourful embroidery, to animal motifs and even chic monochrome, there is something for everyone.
Shorts, £16, Next
Want the freedom of a pair of shorts but without the cling factor? Well look no further because these lightweight flared shorts are your go to items to see you through a hot day. Team with classic festival attire, so wellies and a parka are a must.
Samantha Rnic is a fashion stylist and writer from Colchester. She has worked for titles such as Grazia, The Sun and Look magazine. She is currently studio bookings manager at Matches Fashion.