What to wear to a festival: All the style inspiration you need
Our guide on what to wear to a festival this summer will help you nail your festival style, whatever the weather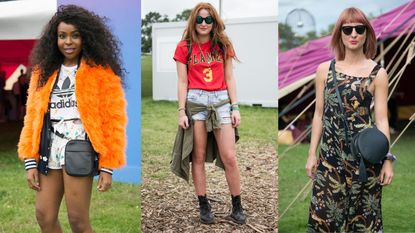 (Image credit: Getty Images)
With Glastonbury kicking off a season of summer music events, if you're wondering what to wear to a festival, don't worry, we've got you covered. From practical pieces, to statement styles, we've got the looks that will help you standout in the crowd.
Festival season is upon us and if you've been on the circuit for years, you'll probably have your festival wardrobe sorted. However if you're new to this type of music and culture event - some of which can last for around 4-5 days, then you might be wondering what to wear. Practicality is key and if you're planning on making a festival a regular part of your summer calendar, then developing a capsule wardrobe to see you through the season is a smart idea. To avoid overpacking, create an edit of wardrobe essentials such as denim shorts, the best denim jacket and a host of t-shirts, that can easily be mixed and matched throughout the festival, before adding statement, jazzier pieces to help your look standout from the crowd. This not only reflects the party-like atmosphere, but can help the rest of your group spot you in busy areas.
Similarly to working out what to wear to a concert. It's important to take into account the type of festival you will be attending. There are numerous festivals over the season, with the largest common denominator being that they're hosted outside. Some will be one day and will need slightly less outfit planning, while others can go on for nearly a week, meaning you'll need to really plot out your looks. One of the biggest things to remember, even at a single day festival, is that weather can be unpredictable, so easy layers are key for ensuring comfort and style. While you might be tempted to add your best designer heels, you will always be better off in comfortable flats for a day outside, soaking up the atmosphere to the max.
What to wear to a festival - according to fashion editors
If you're having a sartorial meltdown over what to wear to a festival this summer, start by taking stock of the festival you're attending. If your going to a multi-day festival such as Glastonbury, comfortable basics with some added style statements should be your go-to. Notoriously muddy, you'll need practical footwear, such as a pair of wellington boots, from British clothing brand, Hunter, and one of the best waterproof jackets to keep you dry in sudden downpours.
For day festivals, you can opt for more outlandish styles.. Dress up your look with an embellished jacket - such as one of the best leather jackets for a statement finish.
Heading to a festival with a bit more of chilled and folksy feel? Lean into the artistic nature of the day and investigate what is boho style? - opting for maxi dresses, macramé and the best crossbody bag to complete your look.
Style influencer and writer Hayley Stewart @curvesncurlsuk (opens in new tab) has got it sorted when it comes to festival fashion:
"I want my festival style to combine fabulousness with comfort. I always take my Doc Martins and pair them with floaty boho mini dresses and shorts. Throw in some sequins for extra fabulous. Add in some statement sunnies and biodegradable face glitter, and don't forget to pack layers. You'll want a rain coat or waterproof poncho and a jumper, it can get chilly at night."
1. Shorts to wear to a festival
When it comes to popular answers for what to wear to a festival, shorts, particularly denim shorts is often top of the list. Practical, hardwearing and versatile, a pair of denim shorts (or jeans) is a great basis for a festival outfit. Shorts are often chosen over jeans, as festivals are held in the summer months and you might find your regular denims too warm. However, it's always good to pack some jeans for overnight festivals, as it can get a little nippy. If you're worried about bum-grazing shorts, have no fear, we have a few options that limit the thigh flash.
(opens in new tab)
H&M Distressed Denim Shorts
RRP: $29.99 / £19.99 | With a distressed finish, this look answers what to wear to a festival with ease. Shorts will always come in handy, ideal for the summer, they make one of the best beach cover-ups too. If you've already got denim shorts, check out our how to distress jeans guide for how achieve this look.
(opens in new tab)
Simply Be Mom Jeans Shorts
RRP: £24 (UK only) | Slightly longer than your average denim shorts, if you love mom jeans, then these high-waisted, '90s style shorts are the one for you. From one of the best plus size clothing brands, Simply Be, these shorts feature a cute rolled-hem. They'll pair easily with everything from t-shirts to the best hoodies.
(opens in new tab)
Levi's Denim Short Overalls
RRP: $69.50 / £95 | Between shorts and a dress, overalls give easy, one stop dressing. In a light wash - ideal for warm weather, these short dungarees are great for festivals. The pockets are practical, while the fit offers added comfort. Style with tees and sweaters, depending on temperatures.
2. Tops to wear to a festival
When it comes to tops and t-shirts to wear to a festival, consider the music at the event. If you're going to watch your favorite act, then a relevant band t-shirt is perfectly acceptable at the event. If however you're seeing lots of acts and want to stay neutral, then opt for tops that are driven by the fashion trends 2022, instead of the artists performing.
If you're away for a few days, you'll want to pack t-shirts you aren't hugely attached to, or items that can easily be washed. With limited facilities at festivals, lots of time outside and the risk of mud, your items may not be as pristine as when you left, but as long as you've had a good time - that's all that matters. Stock up on easy to wear crew necks you can wear alone or layer underneath sweaters on chillier evenings. For a more party-ready outfit, opt for embellished t-shirts so that you can dance in style.
For a one day festival you will still want to keep layers fairly light. If this is your first time, you can also look at pictures from previous events to get a feel of the day and see how dressed up people are. If you want to get noticed however, embrace this season's dopamine dressing trend and wear bright color clothes to make an impact.
(opens in new tab)
River Island Graphic T-Shirt
RRP: $41 / £22 | While the best white t-shirts feel instantly summery, when you're wondering what to wear to a festival, it's wise to take stock or the practicalities of the day. Black t-shirts will disguise dirt and a bright and bold print will add a fun finish to your look.
(opens in new tab)
RRP: $149.95 / £109 | Festivals are synonymous with bohemian style, making fringe detailing particularly popular at these events. This fringed top will dance with you, giving your moves added wow factor. In a classic, neutral hue, it will team easily with denim shorts.
(opens in new tab)
RRP: $198 / £188 | While your best shirts might be reserved for work, when it comes to denim iterations, this standout piece offers numerous styling opportunities. With a boho feel, this tasseled and embroidered denim shirt is giving us some serious festival fever.
3. Jackets to wear to a festival
Jackets play an extremely important part in working out what to wear to a festival. With the potential for sudden downpours and the high and low temperatures of the day (or several days) to contend with, a good jacket can make or break your festival wardrobe. If you're keeping the rest of your look fairly neutral, you may want to utilize your jacket as the key piece to your look, opting for one of the latest fashion color trends 2022, or select an embellished design to keep your outfit directional. Styles with secure pockets, will also help you keep your personal items close.
Remember, just as the weather can get very wet, festivals are held in the summer, and do occasionally mean hot weather too. Opt for lightweight fabrics that you can either roll into a bag or tie around your waist if temperatures start to soar.
And whilst there is plenty of time to get up and dance and explore a festival, there is also plenty of time to sit around, so consider choosing a jacket you can throw on the ground and sit on too - in other words, go for style, but not high-ticket items.
RRP: $102 / £69 | Packing away into its own handy pouch, this rain poncho is ideal for the summer festival circuit. With loads of fashion colors and prints to choose from, this fun and fashionable brand has put ponchos and pac-a-macs back on the map - Hurrah!
(opens in new tab)
RRP: $89.90 / £59.99 | Hooded jackets offer obvious benefits to festival goers. This lightweight, relaxed fit design in a classic khaki hue is one you can pull out time and time again. Featuring a drawcord waist for added fit abilities, we love the double front fastening too.
(opens in new tab)
RRP: $60 / £35 | In a refreshing mint green hue, this sweet denim jacket can be worn similarly to a cardigan. A light and fitted layer, it's ideal for adding warmth, pairing easily over t-shirts. Due to the pastel hue it will also team easily with denim shorts and jeans.
4. Dresses to wear to a festival
Wearing a dress at a festival can be a little more hit or miss than when deciding what to wear to the races. If you're at a day festival, then a casual dress - maxi, midi or shorter shouldn't be an issue - although do consider whether you will need to sit on the grass - as you'll want the dress to give you the wiggle room to do so. When selecting a dress to wear to a festival, once again, music and feel of the individual festival should be considered.
Consider the denim trends 2022 and opt for a denim dress, that will feel relaxed, yet directional, or opt for easy to wear t-shirt dresses, casual A-line styles or trapeze silhouettes that offer a comfortable finish. The best dresses for a festival won't make you feel constricted. However, if you worry about thigh rub in the summer, but want to wear a dress, invest in the best anti-chafing shorts to slip underneath your frock. Not only will this protect your thighs, but it will put a stop to wardrobe malfunctions too.
Looking to pack as light as possible? Dresses with built-in bras offer lingerie and a dress in one, giving you added support, without the additional layer.
Finally, consider fabrication, cool cotton fabrics will be breathable on the warmest of festival days and will also dry quickly should you spill something on yourself. Remember you can always dress up your look with a fun jacket.
(opens in new tab)
RRP: $54.95 / £34.99 | An easy layering piece, this tank dress will become a firm favorite in your closet. Dress up with jackets or oversized shirts, or keep it simple and add a statement necklace. Whatever the occasion this summer, this dress is up to the sartorial task.
(opens in new tab)
RRP: $79.99 / £49.99 | Better suited to a day festival than a week long jaunt, this yellow dress with full skirt and cut out back will be joyous on a sunny day out. Just make sure to top up your suncream on a regular basis! Made of linen this dress is breathable too.
6. Bags to wear to a festival
Footwear is incredibly important when deciding what to wear to a festival. Days can be long, with lots of walking, so staying comfortable and maximizing your ability to dance and jump around is key. On top of that, festivals are held outdoors, so there is no accounting for the mix of terrains you will have to navigate.
While the best white trainers offer plenty of style appeal, if the weather before or during the festival gives any indication of rain, you're best off leaving your white sneakers for another occasion. Sneakers are a great choice for the day however and as they're at an all time high in terms of style points, they'll team well with whatever you choose to wear.
Want something a little hardier that can navigate muddy terrain and gravel footpaths? The best Chelsea boots - particularly a classic pair of Dr Martens, or a solid pair of wellington boots (you can get short, more summer appropriate lengths) should be on your festival style hit list.
RRP: $170 / £149 | A classic style, synonymous with music and some of the best bands and artists in the world, Dr Martens boots will never look out of place at a festival. Just make sure to wear them in prior to the event so that they are at their most comfortable.
(opens in new tab)
Superga Canvas White Sneakers
RRP: $73 / £60 | A favorite of the Duchess of Cambridge, Superga white canvas trainers are a classic. Pairing with everything from occasion dresses to a simple jeans outfit, they come in numerous colors too if you fancy expanding your collection.
(opens in new tab)
Hunter Short Wellington Boot
RRP: $110 / £90 | Wellies can feel a little clunky, so add a feminine twist with this sugary pink pair with subtle wedge detailing for a softer finish. The short style is ideal for warm but potentially wet and muddy festival weather. Remember to pack thick socks.
5. Bags to wear to a festival
Wondering what bag to wear to a festival? The simple answer is whatever style you choose, keep it hands free. The best backpacks, in a small size, could work well here as they will allow you to keep essentials on you without getting in the way. Although a rucksack can feel a little sweatier, particular on really hot days.
The best crossbody bags are likely to be your best bet, stick to a size that allows you to keep exactly what you need on you (and no more) as you want to keep it as light as possible. You can use carabiners onto jean and short waistbands for a small cool bottle or your fold-away poncho.
If you've paid attention to the handbag trends 2022, then you'll know that fanny packs or bumbags are still going strong. To keep this look directional, opt for a style that can be worn across the body, rather than around your waist.
(opens in new tab)
Eastpak The One Doubled Bag
RRP: $35 / £30 | With double front pockets, both with secure zip fastenings, and a main compartment, this bag offers plenty of space whilst remaining compact. The crossbody strap makes it easy to wear too.
(opens in new tab)
Hunter Packable Orange Belt Bag
RRP: $22 / £25 | The fanny pack or bum bag (depending on your location), reinvented for the modern age. This version is ideal for the items you want to keep close to you at all times, but it also folds down to practically nothing for easy storage and packing.
(opens in new tab)
Pangaia Lilac Mini Backpack
RRP: $125 / £95 | If you'd prefer a rucksack, opt for on-trend micro iterations, such as this lilac mini bag. With a one strap design, this small sized design has bags of style and personality. The on-trend lilac hue will team well with light blue denim outfits too.