What to wear in the heat: Outfit ideas for the hottest time of the year
Having a meltdown? Here's what to wear in the heat to keep you cool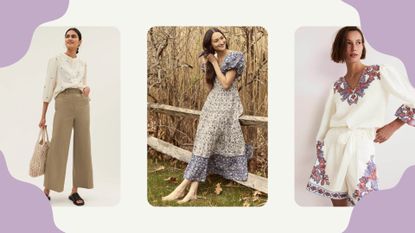 (Image credit: Future / M&S / Doen / Boden)
Ready to hit boiling point? If you're struggling with what to wear in the heat, you're not alone. With what will hopefully be a glorious summer ahead, we've got all the outfit and fabric inspiration you need.
A summer heat wave is something we look forward to every season, but as soon as it hits we realize that working out what to wear in the heat - other than a bikini - is a really tricky task. If you've managed to take the time off to sun yourself in your garden or are heading to the beach, then this is less of an issue, but if you're still at work, or have social engagements to attend, then putting together outfits that will keep you looking and feeling cool can cause a sartorial meltdown.
When selecting what to wear in the heat, there are two main areas to concern yourself with. The first is fabric choice - as not all fabrics are suitable for hot weather and the second is the silhouette of the garment, as some outfit shapes will help to keep you cooler than others.
What to wear in the heat: Fabric and silhouettes to choose
The first thing to remember is that in hot weather fabric choice is key. Natural fabrics such as cotton and linen are the most breathable, meaning they'll help to reduce sweatiness and allow air to pass through more easily to your skin, naturally keeping you cooler in climbing temperatures and should be top of your list during a heat wave.
You should also look for more relaxed shapes, looser fitting clothing will be airier and will help keep you cool, allowing any breeze to get to your skin.
What to wear in the heat: Outfit ideas
1. Dresses to wear in the heat
A great dress is always a go-to when thinking of what to wear in the heat. With a rapid rise in trapeze and A-line fits, a striking dress will make you look effortlessly put together, even when all you want to do is climb into your fridge.
As with every item in this piece, you'll want to look for cotton, linen or other natural fabrics (but not silk) to keep you breezy as temperatures soar. While black dresses might be your preference, in hot weather you're better off in lighter and brighter hues, as these absorb the sun less than black.
Relaxed fits will allow for air flow and stop you feeling trapped and clammy, with sleeves offering upper arm coverage. For the most stylish dresses to hide a tummy, look for designs that flare out over your lower torso - not only will they be most comfortable in the heat but they'll also flatter all body types.
If you're worried about thigh-rub as temperatures go up, we really do understand, but a dress will still be one of the coolest options. Try a pair of the best anti-chafing shorts (in a breathable fabric) under your dress to help protect your thighs without compromising on the rest of your outfit.
Boden Notch Neck Cotton Maxi Dress
RRP: $198 / £140 | British clothing brand, Boden, make great dresses that are ready to tackle any rise in temperatures. In a bright and sunny yellow hue, this floral frock can easily be dressed up for an occasion, or reworked for excellent summer office wear.
Farm Rio Macaw Flutter Sleeve Maxi Dress
RRP: $270 / £235 | Making some of the best dresses, Farm Rio is our dress brand crush. In 100% cotton, this amazing, tropical print is ideal for a heat wave and really reflects the weather with its eccentric Macaw print - we love the ruffled shoulders too.
Doen Simonetta Blue & White Print Dress
RRP: $298 (international shipping available) | Crafted in 100% organic cotton poplin, this beautiful prairie dress, is just one of many of the best midi dresses from Doen. The breathable fabric will keep you cool, while this figure-flattering fit won't compromise on style.
---
2. Tops to wear in the heat
Once again, cotton, linen and other natural fabrications are your warm weather heroes when it comes to tops. From the best t-shirts to great shirts - natural fabric iterations will offer greater breathability that you'll welcome in a heat wave.
When it comes to t-shirts, fitted designs (a little added jersey for contour is fine) will still be comfortable in the heat, but more relaxed silhouettes do give the opportunity for added airflow.
For the best shirts, cotton and linen styles will, as previously mentioned, help to keep you cool, and picking more oversized iterations will be more comfortable for a full day out and about. Particularly directional this season, thanks to the Coastal Grandmother trend, women are rediscovering the joy of simple, elegant pieces that are utterly timeless too. Sheer styles, such as silk-chiffon, are great for special occasions, adding elegance, without raising temperatures too high.
While silk is a natural fabric, when it comes to what to wear in hot weather, it's actually not always the best option. Silk marks easily, and degrades with heat and perspiration, meaning that sweat marks are likely to show and will leave a stain on the garment - and no one wants that.
RRP: $16.99 / £9.50 | A great basic to see you through the summer months, stock up on cotton t-shirts in a selection of neutral hues. These are great for styling with sunshine-ready trousers, shorts and pretty printed maxi skirts, a capsule wardrobe basic.
RRP: $120 / £85 | This striking linen top features an on-trend blouson sleeve, ensuring you minimize that sticky mid-afternoon feeling. Pair this paisley print top with its matching shorts, navy trousers or your fave jeans (on a cooler day) for maximum wear.
RRP: $99 / £59 | A white linen shirt will be your new BFF when it comes to deciding what to wear in the heat. A hot weather hero, this is a wardrobe essential for smartening up office attire - without melting. They also make for the best beach cover-ups on vacation.
---
3. Skirts to wear in the heat
Less isn't necessarily more when it comes to what to wear in the heat. So while wearing a mini skirt might feel like the ideal choice for climbing temperatures, you might actually be better off donning a maxi or midi skirt instead. The additional length offers extra coverage and shade (keeping you a little cooler in the process), while selecting more A-line or circular skirt shapes will help with maximize airflow, which will naturally help with beating the heat.
Skirts are of course more breezy than trousers, but wider silhouettes and breathable fabrics will still keep you cooler than say a synthetic slip skirt - although these aren't totally off the table if that's your preferred silhouette.
As with all of the best hot weather clothing, avoid synthetic fabrics and give a nod to popular summer trends and discover boho and cottagecore styling, as these looks deliver on easy-breezy outfits.
Free People Printed Maxi Skirt
Hush Neela Checked Midi Skirt
Forever That Girl Remme Ruffle Skirt Set
RRP: $190 / £160 | If you're wondering what to wear to a wedding in the heat, try this cotton skirt with oversized floral print. Offering a romantic finish, pair it with a chiffon white blouse, or silk camisole to complete the soft and feminine look.
---
4. Trousers & shorts to wear in the heat
While fabric is important here, you will also want to consider the weight of the fabric. Plenty of the best jeans are made from 100% cotton, but in a heatwave, denim is far too heavy, despite its fabric composition. Opt for lighter fabrics, in more relaxed fits in order to help increase airflow, and with the wide leg trouser being one of the major fashion trends 2022 there are plenty of flattering fits available too. When it comes to shorts, while Daisy Dukes might feel seasonally appropriate, looser, straighter cut Bermuda shorts will actually be more comfortable in hot weather.
If you're looking for summer outfits for work, opt for tailored trousers in neutral hues and natural fabrications. Swap skinny fits, for high-waisted, wide-leg styles for a torso lengthening look that will keep you feeling professional without overheating - team with silky t-shirts, or light cotton blouses.
Linen is a great fabric option for trousers, although be aware it creases pretty badly, particularly around the crotch area once you've sat down, so you may want to look for a linen-blend that will crease less dramatically - or wear a longer, tunic-style top over your trousers.
Elasticated waists are also more comfortable in hot weather as they're less constricting and give you that little bit more breathing room in sweltering heat.
M&S Linen Cotton Wide-Leg Trousers
RRP: $60.99 / £35 | A mix of two natural fabrics, this ankle-skimming, wide-leg design is a great option for what to wear in the heat. Wondering what to wear with wide leg pants? A strong choice for a vacation wardrobe, team with multiple tops and t-shirts.
Mango Navy Cotton Tailored Shorts
RRP: $29.99 / £17.99 | Get ready for summer in the city, with these tailored shorts from Spanish clothing brand, Mango. Ideal for a work outfit, or for sharpening up everyday, graphic tees, this bargain pair of shorts comes in three colorways.
H&M Linen Pull-On Drawcord Waist Joggers
RRP: $34.99 / £24.99 | Love stocking up on the best joggers? Traditional jogging bottoms are definitely too warm to wear in the heat, but this linen design will keep you cool, comfy and stylish. Available in six colors, that's summer sorted.
---
5. Shoes to wear in the heat
When it comes to shoes to wear in the heat, open-toe shoes or your best sandals are an obvious choice. Similarly with clothing, material still plays a role here, with natural cork and leather much better at regulating body temperature than vinyl or plastic designs, which can actually contribute to sweat build-up - making for a rather uncomfortable experience. If you want to wear closed-toe shoes or trainers, then look for trainers that have mesh panels to help with breathability, and make sure to opt for cotton socks as these will help with airflow.
Birkenstock Gizeh Patent Brown Leather Sandals
RRP: $160 / £125 | One of the most comfortable flats you can buy, these dark brown leather sandals feature the infamous anatomically shaped cork-latex footbed for a really supportive wear. With a patent finish these sandals are smart enough for the office.
Adidas Ultraboost Web DNA Running Shoe
RRP: $190 / £164.46 | The best white trainers are ideal for bright sunny weather and this mesh body design really delivers. A great hot weather shoe if you're always on the go, they're built for performance, with maximum energy return in every step.
Russell & Bromley Leather & Woven Espadrilles
RRP: £175 (UK only) | Need something with more polish? Giving a nod to the shoe trends 2022, these leather and woven wedges tap into the fisherman sandal aesthetic, with an interwoven front. The neutral color combo ensures they'll go with everything.
---
What not to wear in the heat
Avoid synthetic fabrics in a heatwave as they will trap air and make for a much hotter and sweatier environment. Synthetic fabrics do not allow air to easily pass through, meaning a potential build-up of perspiration - not something any of us want.
Tight fitting clothing will also stop air flowing through your clothes and reaching your skin, so where possible, avoid tailored clothes or anything too bodycon.
Is it better to wear shorts or pants in the heat
Shorts will expose more of your lower leg, giving greater opportunity for airflow. However, it is largely down to personal preference, as fabric and silhouette of both the pants and shorts play a key role in how cool or warm they are.
It is best to avoid tight fitting clothing and heavy or synthetic fabrics. While jeans are made from cotton, due to their weight, they are best avoided in hot weather. On that basis, while denim shorts are associated with the summer, they could end up being warmer than a pair of linen palazzo pants.
When choosing between shorts or pants, regardless of length, look for breezy, looser fits and light and breathable fabrics to stay as cool as possible.
Rivkie is a fashion editor, writer and stylist with over fifteen years' experience in the industry. Having studied design and pattern cutting at the London College of Fashion, Rivkie fell in love with styling and journalism, covering fashion weeks in London, Paris and New York.
Specialising in plus size fashion, Rivkie has long championed that style is for everyBODY and has been a regular talking head on a host of radio stations and television shows, pushing for greater representation for plus size women and fashion throughout her career.