Smart casual outfit ideas: 7 stylish looks that will navigate this tricky dress code
One of the hardest dress codes to decipher, these smart casual outfit ideas will help you nail this look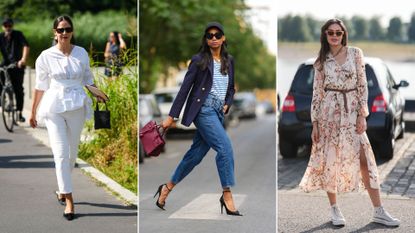 (Image credit: Getty Images)
Compiling smart casual outfit ideas is no easy task and the mere mention of the dress code 'smart casual' is enough to induce a sartorial meltdown for even the savviest of dressers. Not super formal and not casual enough for loungewear, getting the line just right takes some practice.
Thought to be a term coined in the mid-twenties, smart casual originally referred to men's clothing, suggesting suits of less heavy fabrics, in more unconventional colors, could be worn to certain events. However, since then, the term has encompassed all categories and is regularly bounded around for events of all kinds, leaving plenty of outfit anxiety. Celebrity stylist Natalie Robinson believes the term is too open and that's why it's often daunting to dress for those occasions that call for smart casual.
"Smart casual can be confusing as they are opposites - like chalk and cheese. The term smart casual is not specific, giving us free rein to experiment with contrasting styles. (Making it) challenging to balance casual and smart attire," she says.
Not only is it a dress code open to interpretation, but it also depends on what the invite is for. While jeans could work for a smart casual birthday party, they'd be a definite fashion no go if it was a wedding invite. And when it comes to smart casual outfits it's all about finding the perfect balance between being relaxed, yet still polished. The Oxford Dictionary defines it as "neat, conventional, yet relatively informal in style." But if in doubt, play it safe and wear something that wouldn't go amiss in an office.
7 smart casual outfit ideas to solve those sartorial meltdowns
If you're really stuck for inspiration and need some smart casual outfit ideas, we've compiled seven smart casual outfit ideas that will help you navigate this tricky dress code with ease.
1. Smart casual dress outfits
A failsafe option is without a doubt a midi or knee-length dress. The best midi dresses are those that are made from silk or viscose, rather than more casual cotton or denim fabrications. A favorite of Kate Middleton for smart casual invites, the wrap dress is a great choice for this dress code. How to style a wrap dress will depend on the occasion, but teaming with a pair of heels, sleek pumps or a smart pair of knee-high boots is a good start. Avoid mini-length dresses or anything too flesh-baring.
Styling tip: "Accessories make or break an outfit as well as enhance smart casual looks," says Natalie. "My three tips to make a dress casual-smart are to add a belt for a cinched waist, wear a leather jacket and add ankle boots."
(opens in new tab)
French Connection Wrap Dress
RRP: $103 / £85 | This minimalist wrap dress is definitely one for the wardrobe essentials list. The pared-back style makes it look expensive and it can be dressed up or down depending on occasion for added cost-per-wear. Flattering on all body types, it creates an hourglass silhouette, nipping you in at the waist.
(opens in new tab)
Iris & Ink Green Tie-Up Caged Sandals
RRP: $190 / £145 | The perfect heel height makes these sandals a must-have for every occasion. Easy to style up or down, they're a great option for AM to PM dressing. The caged look and ankle tie detail taps into the shoe trends 2022, while the green shade gives a nod to this season's must have Kermit-inspired hue, for parties and beyond.
(opens in new tab)
Johnny Loves Rosie Crossbody Bag
RRP: $63 / £50 | Made out of vegan leather, this crossbody bag is definitely green in more ways than one. A versatile bag, you can buy a variety of straps to switch up your look, so it can go with a variety of different outfits. A small structured bag is ideal for smart casual outfits, particularly if you can transform it into a clutch.
2. Smart Casual Jeans outfits
While jeans are a no go for super formal events such as what to wear to a wedding, denim can be worked into your smart casual outfit ideas under certain conditions.
"A popular way to achieve a smart casual look is to pair items of different formality levels," advises Natalie, who suggests making jeans smart casual appropriate by pairing them with with more tailored styles such as a blazer or a fitted shirt.
Looking polished will always help with the smart casual dress code so if you're choosing jeans, keep everything else fitted and formal. Think a nice top with a pair of jeans - a crisp white shirt or a pretty chiffon blouse with a Peter Pan collar will help keep this outfit on the smart side of casual.
It's also about the fit and the wash of your chosen jeans too. The best jeans for smart casual outfits will be in a darker blue denim or black and a more slim-fitting style – a straight leg or flared jean works well for smart casual. If you're wondering how to style baggy jeans for a more polished finish, go for a slightly slimmer leg style, rather than overly loose and keep the rest of the look tailored. One thing that is non-negotiable, however, is ripped jeans. While these work for informal events, for anything smart casual, leave distressed jeans in your wardrobe.
Styling tip: Choosing a darker denim not only makes the outfit smarter, but it also has amazing leg lengthening properties. If you're wondering how to style flared jeans for smart casual, choose a pair that are slightly longer than normal and team with high heels for legs that will go on for days.
RRP: $249.43 / £205 | Victoria Beckham knows the power of a wide-leg silhouette. Super stylish when worn long over a heel, they also help create an elongated silhouette, regardless of height. Not sure what to wear with wide leg pants? Keep the top half simple and tucked in for a clean look.
(opens in new tab)
Karen Millen Boucle Jacket
RRP: $324 / £189 | Boucle jackets are a classic, making them perfect for any smart casual occasion. Being cropped, this one will work particularly well with high waisted jeans or trousers as it nips you in, highlighting a waist. It's great if you're on the petite side as it won't swamp your figure.
(opens in new tab)
RRP: $65 / £40 | A camisole-style top is a layering essential. While they look great on their own when wondering what to wear in the heat, they offer added elegance under oversized shirts or blazers, especially when they have interesting details such as a scalloped neckline, or seam detailing.
3. Smart Casual Skirt outfits
If in doubt, a skirt is always a good choice as it can be dressed up or down depending on what you wear with it. The only styles to avoid for this dress code are anything too body con or super short, but aside from that, have fun mixing and matching styles and colors. If the event is on the more conservative side, however, stick to muted tones such as blacks, whites, navy, creams and beiges.
While a smart shirt or blouse tucked in always looks great, the same goes for a sweater, especially, when it's worn with a French tuck, where you just tuck the front in. So chic and laidback - and definitely smart casual. For a smart casual outfit you can also inject a denim skirt here in a dark wash, similarly to jeans you'll want a non distressed version that's a slim A-line design.
Styling tip: Heels aren't always necessary for a smart casual skirt outfit and in fact, this could be the perfect time to dig out your comfortable flats as ballet slippers, loafers, mules and brogues all work well with a midi-length skirt.
(opens in new tab)
Oasis Petite Bias Print Skirt
RRP: $36.33 / £30 | A pretty printed skirt is always good for any occasion that might come up whether, you've run out of brunch outfit ideas or need something cute for a date. Team with neutrals or pick out a color from the print and choose a top in that hue to match to really make the outfit sing.
(opens in new tab)
RRP: $49.99 / £29.99 | Cardigans aren't just for layering. Pretty, pastel fine knits, like this one from Mango, can also be worn buttoned up as a top. Perfect with jeans, trousers or a skirt, adding a white shirt underneath will also make this more office appropriate for double the wear.
(opens in new tab)
RRP: $165 / £130 | The best white trainers will work with any of your smart casual outfit ideas and this Veja pair mix sporty with smart. Beloved by many an eco-conscious celebrity, these sneakers are made from responsibly sourced leather and will go with everything in your wardrobe.
4. Smart Casual Blazer outfits
If your outfit needs an added dose of smart, throw a blazer over your dress - it literally puts the smart into smart casual! When it comes to how to style a blazer for this dress code, think of teaming less formal items with one, such as a pair of your best skinny jeans, a pleated midi skirt or even some tracksuit bottoms - yes, really. Blazers are also great for throwing on over a dress, especially if you're not sure how smart your outfit should be - it can always be removed if everyone else is dressed a lot more casually.
In fact, if you have a relatively casual dress code at work, keeping a tailored blazer on the back of your chair means you're ready for last minute meetings in a jiffy.
Styling tip: Match the color of your blazer to your accessories for a super chic finishing touch.
RRP: $58 / £38 | A black blazer is a perennial style favorite; however, a brown blazer offers a gentler, slightly less formal choice. This one in a soft twill is less structured, making it the perfect accompaniment for more fluid bottom halves, such as a floaty midi skirt or wide-legged cream trousers.
(opens in new tab)
RRP: $42.55 / £35 | Cream trousers always feel so luxe and are a great when it comes to smart casual outfit ideas. The peg leg cut of these Warehouse trousers mean they're also ideal for showing off shoes - from ankle boots to chic loafers. Slip some stain remover wipes into your bag for emergencies.
(opens in new tab)
RRP: $96 / £79 | Have we found one of the best tote bags around? We think so. It's roomy enough to carry your life around in, yet totally stylish. And everyone knows, leopard print is a neutral - right? So it will literally go with everything in your wardrobe, whatever the weather, that's a style win for us.
5. Smart Casual Blouse outfits
A pretty blouse has a more laidback feel than a tailored shirt, so works perfectly in most smart casual outfit ideas.
Choose the blouse first and then create the outfit around it. If your blouse is patterned, embellished or contains ruffles, make sure the bottom half is sleeker - such as a dark pair of jeans or color block culottes. A more minimal blouse can take more volume on the bottom half and would suit a full circle skirt or a wide legged pair of trousers.
Styling tip: Choose a monochrome palette for an easy-to-wear and chic smart casual outfit. A black chiffon blouse tucked into a white midi skirt feels fresh and modern and perfect for a smart casual dress code.
(opens in new tab)
RRP: $98 / £75 | Black isn't boring when it comes with cute details like this blouse. The ruffles and the square neck are bang on trend and the simple style and color means it will mix and match with everything in your wardrobe, giving everything a smart casual vibe.
(opens in new tab)
La Redoute Cropped Trouser
RRP: $46.09 / £38 | A wide-legged cropped trouser is a fashionista favorite and what's more, it's universally flattering, especially if you're on the petite side. Pair with pretty lace blouses or a smart knitted polo shirt, tucked into the waist to balance out proportions.
(opens in new tab)
Jigsaw Leather Ballet Pumps
RRP: £99 (UK only) | Every capsule wardrobe needs black ballet pumps. This pair elevate the traditional shape to something more modern. Made from soft leather, they're as comfy as they are stylish. The sort of shoe to slip into your bag for when you're tired of heels.
6. Smart Casual Jumpsuit outfits
Jumpsuits were made for this dress code - they're smart, yet laidback, and come in various styles to suit any occasion. When it comes to finding the most flattering jumpsuit for smart casual events, avoid anything too dressy or too casual - capes, boilersuits, those that bare too much flesh or tuxedo-style jumpsuits are out. While you can never go wrong with black or navy, a subtle pattern or bright color is a good choice and with the right accessories, such as a simple handbag or necklace, you're good to go.
Styling tip: Choosing a plain jumpsuit? Inject a touch of color with some bright heels or bag.
(opens in new tab)
Forever New Curve Jumpsuit
RRP: $156 / £90 | A one-stop outfit, a jumpsuit is the perfect choice for so many smart casual events. Choose a plain, muted shade like this one for endless styling possibilities - and if it needs to be smartened up, you've guessed it, throw a blazer over the top.
RRP: $150 / £125 | Add a touch of disco to any outfit with these gorgeous leather gold boots. Yes, black is more functional but you'll be surprised at how many things gold shoes go with - trust us, plus they'll add a touch of shimmer and shine to even the most conservative outfits.
(opens in new tab)
RRP: $40 / £33 | A simple outfit needs statement earrings and these ones by Hey Harper have the added benefit of being waterproof, which makes them the perfect for all your holiday outfit ideas too. Gold hoops are a jewelry box staple and we love the extra width of these.
7. Smart casual Co-ord outfits
While a full-on suit may be too formal for a smart casual dress code, a co-ord set just the right tone. As one of the many trends 2022 isn't giving up on, there are plenty of different styles to choose from, however, a co-ord skirt or trouser outfit is probably the safest option here. Look for subtle patterns and silky fabrics to give it a smarter edge.
And if you really do want to wear a suit, team with box white trainers and a fitted tee to dress it down a bit. Alternatively choose a sleeveless blazer to team with your trousers to make it feel less like business attire.
Styling tip: Natalie says this look can be elevated by a clever choice of accessories.
"Classic white trainers would add a casual element to a smart co-ord outfit," she explains. "If the latter is casual, on the other hand, you could incorporate a pair of open-back loafers, earrings and a clutch bag to create a smart-casual look."
(opens in new tab)
RRP: $47.90 / £32.99 | A loose fitting, laidback shirt that works well with the matching wide-legged trousers, it will also work hard with the rest of your wardrobe. Tuck into black trousers for work or throw on over a vest top and shorts for a chilled out holiday vibe.
(opens in new tab)
RRP: $47.90 / £32.99 | Pajama style trousers are not only the height of comfort, but also super stylish. Team with the matching shirt or your best white t-shirt for daytime chic. Dress them up for best with a one-shoulder bodysuit and heels for a true party vibe.
---
Are jeans out for smart casual?
According to Debretts (opens in new tab), the world-leading guide on etiquette, jeans can be smart casual, but only when the event or place you're heading to is seen as more laid back one. For example, jeans would be a real no-no at a smart casual wedding.
For stylist Natalie, it's all about the style.
"Dark wash boot-cut jeans look smart, whereas light wash cuffed boyfriend jeans are more relaxed," she says.
If in doubt, she advises, to ditch the jeans and choose trousers or a skirt instead!