Best thick yoga mats - stay comfortable and protect your joints while stretching with these picks
Woman&home's health team tested the best thick yoga mats, so you can enjoy getting zen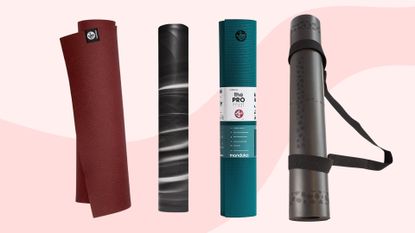 (Image credit: Manduka / Lululemon)
The best thick yoga mats will be just what you need if you love to flow but you're looking for some extra comfort for your joints. With additional grip, a more supportive design, and a heavier stabilizing weight, treating yourself to some extra cushioning will allow you to fully focus on getting zen.
But finding the right thick yoga mat is not always an easy feat. You need a non-slip mat with all the above qualities but you also don't want one that goes too far the other way - one that's too heavy, hard to store, or difficult to roll out. If your mat is set to become a permanent fixture in your home, you'll also want one that looks good, in a color to fit your scheme.
Whether you're a newbie yogi or have been practicing for years, we've scoured the selection of best yoga mats to bring you an edit of the best mats with extra padding, so whatever your goals are in yoga, you can achieve them all with additional support where needed.
The best thick yoga mats as tested by our experts
Why you can trust Woman & Home Our expert reviewers spend hours testing and comparing products and services so you can choose the best for you. Find out more about how we test.
1. Gaiam Premium Mandala 6mm Yoga Mat
Best overall thick yoga mat
Specifications
Material: PVC
Dimensions: 172cm x 61cm
Weight: 1.34kg
Thickness: 6mm
RRP: $35 / £29
Reasons to buy
+
Thicker than many other brands
+
Latex-free
+
Anti-slip
+
Huge range of colors available on Amazon
Reasons to avoid
-
Slight aroma at first but this fades
Looking for something both squishy and stylish? Our tester found the Gaiam really delivers on comfort when it comes to the brand's yoga mats generally, and this pick from its Premium range is no exception. Even during the sweaty yoga sessions, this mat stood the test of time and held out comfortable for a full hour's class, our tester said. "I started to sweat pretty early on in my cardio yoga class but I didn't struggle to stay on the mat and my hands weren't sliding everywhere like they normally are."
Producing quality and durable buys is the reason Gaiam have been a leading yoga brand for a quarter of a century, so it's a great choice for both beginners and more experienced yogis looking to take their practice to the next level.
"It's also nowhere near as expensive as some of the rubber varieties that I tested," she noted. "But it still offers great stability and grip thanks to the PVC material, which is also totally phthalate-free, so my whole family can use it."
Plus, if this bold, purple design isn't quite right for you, there are plenty of others in the range to choose from, including Citron Sundial (grey and yellow), Marrakesh (blue), and Metallic Sunset (dark red), all available from Amazon.
2. Manduka Pro Premium Yoga Mat 6mm
Best luxury thick yoga mat
Specifications
Material: Sustainable PVC
Dimensions: 180cm x 66cm
Weight: 3.4kg
Thickness: 6mm
RRP: $138 / £99
Reasons to buy
+
Extra-long choice available at some retailers
+
Plenty of color choice
+
Good grip without sticking to the mat
+
100% latex free
+
Lifetime guarantee
Reasons to avoid
-
Heavy
-
Needs to be broken in
Looking for a durable mat that will last, literally, a whole lifetime? Step forward, the Manduka Pro. It's called Pro for a reason: it's a serious piece of kit, with a serious price tag, which will really suit hardcore yogis and those looking to delve deeper into the practice.
Our tester has been practicing yoga for over 10 years and took this mat out for a spin three times, during one dynamic yinyasa class, a home stretching session, and a yin yoga class. She said, "It's so good because I found my grip got better every time I used the mat. Many other yoga mats have such an intense grip when you first use them that they stick to you, which is annoying when you need to move freely."
Coming in at $129, we think it's a great choice for those with a bigger budget - or anyone who finds the mat on a deal - as there's this mat also comes with a lifetime guarantee, meaning the company will totally replace it if you wear it out. But if you do find yourself looking for something of high quality at a lower price point, you can't go wrong with the Gaiam Premium Mandala 6mm yoga mat.
For something so expensive, our tester did find it slightly annoying that it needed breaking in at first but she said the recommended salt scrub wipe down before use definitely helped with this. She also said, "This mat is made with PVC, holds well to the floor, has no chemical smell, and as it's heavy, it doesn't curl up at the ends, another huge plus in my books."
3. Yogamatters Everyday Wellness Mat
Best thick yoga mat for protecting joints
Specifications
Material: TPE
Dimensions: 183cm x 61cm
Weight: 1.2g
Thickness: 8mm
RRP: $68 / £60
Reasons to buy
+
Thickest mat on our list
+
Reversible
+
Soft
Reasons to avoid
-
Doesn't always lie flat
-
Limited colour choice
Yogamatters is one of our favorite yoga brands at woman&home and our tester, who reviewed this mat for several weeks, agrees the Everyday Wellness mat is one of the best. At 8mm, it's the spongiest buy in our round-up of the best thick yoga mats but our tester said this didn't impact the quality of the mat during use.
"It's still stable enough that you're not bouncing around when trying to balance in class," said our tester, pointing out the difference between this one and some of the other ultra-thick yoga mats on the market. "You really do get value for money here too, I think. I loved the reversible design as I could choose which side to use depending on how I was feeling. One side had deeper grooves to stop it from sliding across a hard floor and the other was textured to make sure that hands and feet could grip."
Made from eco-friendly foam that's free from toxins and nasties as well. It's no wonder it's been specially designed for people who want extra support when doing a workout, or following a workout from one of the best stretching apps. If your joints are uncomfortable when pressing too hard against the floor, it's the optimum buy.
4. BalanceFrom GoYoga+ All-Purpose 1/2-Inch Extra Thick Yoga Mat
Best thick yoga mat to buy on Amazon
Specifications
Material: Foam
Dimensions: 180cm x 60cm
Weight: 0.9kg
Thickness: 12.7mm
RRP: $19.99 / £24
Reasons to buy
+
Extra thick
+
Lightweight
+
Comes with extra pad
+
Portable
+
Affordable
Looking for one of the best yoga mats to buy on Amazon? Former woman&home health editor and meditation practitioner Ciara McGinley recommends the BalanceFrom GoYoga+ All-Purpose 1/2-Inch Extra Thick Yoga Mat for those who want an extra-thick mat (12mm!) with next-day delivery.
As well as having an extra-thick construction from the padded-out foam material, making it a great choice for those who need maximum support around the joints during their practice, this pick of the best thick yoga mats comes with an additional pad that offers an extra 15mm of cushioning. It can also be used as a knee pad or to support your hands, wrists, or feet. Despite its thickness, this mat is still lightweight and portable, and it comes with a carry strap.
What's more, Ciara says, it's got a very reasonable, budget-friendly price tag. So really, it's no surprise it's gained thousands of five-star reviews on Amazon. The only downside is also the biggest win: due to its thickness, it may be a little unstable for balancing on. If you're planning to do HIIT workouts or anything where you'll need to balance and move, it may be better to opt for a slightly thinner mat like the Yogamatters Everyday Wellness Mat.
5. Kin Primal Yoga Mat
Best thick rubber yoga mat
Specifications
Material: Natural rubber
Dimensions: 177cm x 65cm
Weight: 2.5kg
Thickness: 4mm
RRP: $90 / £75
Reasons to buy
+
Feels thicker than it is
+
Patterned for better alignment
+
Good for balance
+
Best for strength training exercise
Reasons to avoid
-
Heavy
-
Regularly sells out
You might be wondering why a yoga mat that's only 4mm is included in a round-up of the best thick yoga mats but as this one, and a couple of our other mats have proven, they can be equally as comfortable. That's because, thanks to a clever air pocket layer, this premium yoga mat actually feels a lot thicker than it really is. In fact, our tester thought it felt at least 6mm thick thanks to the fibrous air pocket layer that sits under the closed-cell top layer. Along with being great for grip, this additional layer stops bacteria from being absorbed into the mat.
But because it's made from natural rubber, instead of being too foamy, this mat has a "harder" surface. While it won't be suitable for some, it's ideal for balancing poses like headstands and other strength training exercises.
Other benefits include a laser-etched animal print design, which has been positioned to help alignment. Yes, it's expensive, but this one does come with a choice of a free carry strap or yoga towel, making it much more affordable. Be warned, though - these regularly sell out, so you may have to pre-order to make sure you get one.
6. Lorna Jane Rising Moon Non Slip Yoga Mat
Best lightweight thick yoga mat
Specifications
Material: Polyurethane / natural rubber
Dimensions: 180cm x 66cm
Thickness: 5mm
RRP: $100
Reasons to buy
+
Very lightweight
+
No slipping about
+
Pretty design
This yoga mat from the cult Australian fitness-wear brand ticks so many boxes. At 5mm-thick, it feels lovely and cushioned but it's not so bouncy that you can't balance properly in tree pose.
"It's not super thick but it's definitely thicker than my other yoga mats," says our tester. "This makes it super lightweight as there's not any extra material to be carried around. I think it's a great pick if you're taking it on the move between home, office and studio like I am, for instance. I also loved that it's totally non-slip, which gave me so much confidence in class to move around."
What's more, the mat's design really sets it apart from other, plainer options. It comes in a beautiful pink shade, and also features pretty illustrations of a moon, stars, and flowers that will have you inhaling and exhaling as though you're out in nature. The teeny drawback is that its surface can mark easily, which is something to bear in mind for sweatier flows and if you keep the mat against other objects.
7. Lululemon Take Form Yoga Mat 5mm
Best stylish thick yoga mat
Specifications
Material: Natural rubber
Dimensions: 180cm x 66cm
Weight: 2.24kg
Thickness: 5mm
RRP: $138 / £118
Reasons to buy
+
Great grip
+
Comfy but supportive
+
Slick design
+
Large range of colors
Reasons to avoid
-
It's on the pricier side, depending on style
The popular Canadian brand started out with yoga apparel, so it makes sense that they'd know how to create a mat that is perfectly fit for function. Oh, and one that is stylish too, with seven different color options. It's also made from sustainably sourced natural rubber.
"Using this yoga mat was an absolute dream all round," said our tester, who also trialed out several of the other yoga mats in this guide. "It wasn't as thick as some others, so the same springy feeling isn't there but I still felt really supported on my ankles and wrists in class. It's a great mat for different activities as well. I also did a Pilates for strength training and found it really helped to protect my lower back."
While this thick yoga mat may not come cheap, that is really its only downside, she also notes. "And even then, I feel like I'm looking around for something to criticize. As soon as I started using it, I realized it's just really good value for money since it's also got a 3D-design pattern so you can move between poses without moving too far one way off the mat. This also gives the mat a great grip."
The 'Take Form' mat is 5mm thick, so if you're looking for something heavier than this, go for either the Manduka yoga mat or the Yogamatters Everyday Wellness Mat which are 6mm and 8mm respectively.
8. Jade Fusion yoga mat
Best thick yoga mat for comfort
Specifications
Material: Rubber
Dimensions: 188cm x 61cm
Weight: 3.5kg
Thickness: 8mm
RRP: $144 / £119
Reasons to buy
+
Super comfy
+
Extra long
+
Very grippy
If you're looking for the ultimate thickness, this yoga mat is the one to go for. "I found it made child's pose and shavasana so comfortable, I almost couldn't feel the ground underneath me," said our tester. "But it is quite bouncy when you're using it standing up so I found certain moves more of a challenge to do."
It's a small price to pay metaphorically (the mat comes in at over $100/£100) when your joints feel so supported though, she adds. However, if you are looking for something with a good amount of thickness and want to ensure you won't feel the bounce, the Gaiam Premium Mandala 6mm Yoga Mat could be a better choice.
If you're concerned about how eco-friendly your yoga mat is then this is also one to go for as the material is sourced from rubber trees, there's no PVC, EVA or other synthetic rubber in this mat.
"I also loved this mat as it's a bit longer than regular ones and although I'm not really tall, I do like the extra space," our tester added. "The heavy weight of it feels rather luxurious as well, however, this does mean it is more ideal for using at home rather than carrying about."
9. Yogamatters Sticky Yoga Mat
Best thick yoga mat for beginners
Specifications
Material: PVC
Dimensions : 183cm x 61cm
Weight: 1.4kg
Thickness: 4.5mm
RRP: $30 / £25
Reasons to buy
+
Very affordable
+
Lightweight
+
Range of colors available
If you're doing yoga for beginners then this yoga mat is the best one you can buy, in our tester's opinion, thanks to the affordable price tag ($27/£25) and versatility. It's available in a wide range of colors from Ocean Green and Flame Red to Navy Blue and Berry, and features a small Yogamatters logo.
"My knees felt protected as I did the class on the 4.5mm thick mat and I found it provided extra support and comfort for my ankles, feet, and back, even though it's not as thick as some other mats. Thanks to the PVC material though, it had an almost sticky-like feel which I found enhanced my grip and made sure the mat didn't slip on the wooden floors."
It's the perfect mat for beginners or anyone who wants a thicker mat on the cheaper end of the price spectrum without all the bells and whistles. If you want those, you should check out the Lululemon Take Form Yoga Mat 5mm which has a 3D design. "The only downside is that it doesn't offer excellent grip straight away and needs wearing in. The more you use this mat, the better it gets. I found this to be the perfect workout motivation to make yoga a part of my routine over winter," our tester said.
10. Yogamatters Reclaim Sticky Mat
Best thick mat for tall yogis
Specifications
Material: 50% PPW & Reclaimed PVC
Dimensions : 190cm x 60cm
Weight : 1.6kg
Thickness : 4mm
RRP: $34 / £30
Reasons to buy
+
Longer length
+
Made from reclaimed and recycled materials
+
More sustainable choice
Reasons to avoid
-
Takes time to wear in
-
Limited color options
You may have spotted that Yogamatters appears a couple of times our our round-up of the best thick yoga mats but that's because they're really that good. The Yogamatters Reclaim Sticky Yoga Mat is a new take on Yogamatter's bestselling Sticky Mat (above). This one is made from reclaimed or recycled materials that would otherwise have gone to waste, so if you're looking to invest more in sustainable living, this could be a good way forward as it's crafted from 50% post-production waste.
It's slightly thinner than the original Sticky Mat, at just 4mm thick, but our tester still felt it supported their joints during their yoga sessions. "I really appreciated the sticky-like feel for helping me to stay stable during my flow," she said. "It's also similar to the original mat in that the grip the Reclaim Sticky offers improves with use. I found it was a little slippery to start with and during sweaty practices."
Measuring at 190cm long, it's a great mat for taller yogis as well who need a little extra space. However, it's worth noting it's slightly narrower than some of the other options on our list.
While the Reclaim Sticky is only available in two colors (Atlantic Blue and Pacific Green), its eco-credentials, excellent grip after some use, extended length and affordable price tag ($32/£30) means it really does deserve its place in our edit of the best thick yoga mats.
11. Yogi Bare Wild Paws Yoga Mat
Best non-slip thick yoga mat
Specifications
Material: 100% natural PU rubber
Dimensions : 180cm x 66 cm
Weight: 2.5kg
Thickness : 4mm
RRP: $90 / £75
Reasons to buy
+
Luxury-feel
+
Nice design and colorways
+
Offers lots of grip
Reasons to avoid
-
Heavier than other options
-
Not suitable for other workouts
Not only does Yogi Bare's Wild Paws mat look great, it performs, too. "I loved the weighty, luxe-feel of this mat and the range of colorways and designs available," our tester said. "It's heavier than some of the other mats I tested for the round-up though, coming in at 2.5kg, so it's not as travel friendly but it will look great in your gym or yoga space," our tester revealed.
This thick yoga mat is made from 100% natural PU rubber - an eco-friendly, non-toxic rubber that's biodegradable and recyclable. It offered plenty of grip as our tester moved between poses and they liked the guides that were etched into the mat to support their alignment. At 4mm thick, it feels comfortable and durable - and it didn't need any breaking in before it was ready to use, which is always a plus, and a rare find on our list.
While it's not suitable for HIIT workouts, it's a great mat for yoga, Pilates for beginners, meditation, or stretching, and it will last you many years to come. The closed cell rubber is naturally resistant to bacteria and therefore easy to clean too. One small setback is that the surface can mark easily, which is worth noting if you plan to get your sweat on. The brand suggests cleaning the mat with lemon juice diluted in warm water.
How we tested the best thick yoga mats
Our expert testers put all the thick yoga mats in our guide through a rigorous process of multiple yoga sessions over a couple of weeks. These ranged from intense, cardio-based Vinyasa yoga classes to gentle stretching sessions in their living room. They also used the mats for everything from Pilates classes to HIIT workouts to see how they fared.
Although we tested these mats originally last year, we've reviewed them again this year and can confirm these are still the best thick yoga mats to buy in 2023.
To find the best thick yoga mats, our team of testers considered the following factors:
Thickness: Every yoga mat we tried had to be above 3mm in thickness, as the minimum required to be a thick yoga mat. Anything above 4mm was great and all yoga mats above 5mm were prioritized as specialist mats.
Grip: Was the mat non-slip? We noted whether each mat offered plenty of grip and support. After all, you don't want to be sliding around while trying to get into downward dog.
Design: Not only did we look at the designs and colorways on offer, we also evaluated the materials. We tested mats that were made from everything from natural rubber and man-made rubber to PVC.
Weight: A weighty mat will feel luxe and durable, and it could help with stability, but for those who want a yoga mat for on-the-go, a lightweight option is best. We considered a range of weights to highlight the best ones in each category.
Price: When testing we also considered the price. Quality yoga mats don't have to be expensive, and sometimes it's best to opt for a budget option if you're just starting out. Yoga should be an accessible activity for everyone, so as well as including luxury buys, we've included mats from across the market's price spectrum.
How many mm thick should a yoga mat be?
In general, a yoga mat should be 3mm thick, while thicker options are usually 5mm or above. Anything thinner than this and you risk not having adequate support for your back, feet, knees, and other parts of the body that come under pressure during the practice.
"Thicker mats provide extra cushioning for people with sensitive knee, ankle, and hip joints," says Jamie Kent, a Yoga Alliance-certified power yoga instructor. "They also support inversion poses, where sensitive neck muscles are sometimes weight-bearing, including postures such as headstand and shoulder stand."
Jamie, who is also the founder of Yoga Download, adds that they are also ideal for more passive yoga styles, such as yin yoga or restorative, where moves are often on the ground and are held for several minutes.
Ultimately, how thick your yoga mat should be is down to you and your practice. "There is no real ideal thickness for a yoga mat, it all depends on the person practising, style of yoga being practised and where the practice is taking place," Georgie Davies, a yoga teacher who teaches yinyasa yoga as well as gentler classes, tells us.
"For instance you may not need as much padding in the mat if you're practising at home on carpet compared to the wooden floor of a studio," says Georgie, who also created online yoga platform, Yogipod. "If the class you're taking explores a lot of postures on the hands and knees or if you have any conditions that make that uncomfortable then more padding would be ideal."
It's also worth noting that the extra padding of thicker mats may feel nice for certain poses, but you're less connected to the floor. This could impact your ability to balance or land correctly during higher energy movements.
"Thicker mats can make it harder to find balance in one legged postures such as Vrksasana (tree pose) or stability in standing postures due to the depth of padding underneath the foot," explains Georgie. "This can be mitigated though by moving balancing postures off the mat so that the padding is there when required and also creating more stability and strength in the ankles, feet and legs."
Faye M Smith is an award-winning journalist with over 15 years experience in the magazine industry. Her continued work in the area of natural health won her the coveted title of the Health Food Manufacturers' Association (HFMA) Journalist of the Year Award 2021. Currently Health Editor across several brands including woman&home, Woman and Woman's Own, Faye specialises in writing about mental health, the menopause, and sex and relationships.

With contributions from