Pilates for beginners—the different types, benefits and how to start at home or in a studio
The benefits of Pilates for beginners go far beyond core strengthening. The practice is great for your wellbeing, too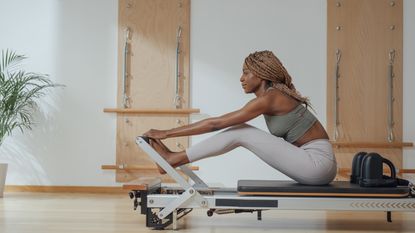 (Image credit: Getty Images)
If you've never tried it before, even Pilates for beginners can seem a little daunting, with the intimidating-looking equipment and the notion you need a strong core to get started.
In reality, Pilates is a low-impact exercise and a fun way to build strength and improve balance, posture and flexibility. Plus, with a focus on the breath and a better mind-body connection, the exercise will do wonders for your wellbeing, too. All you have to do to get involved with Pilates for beginners is roll out your yoga mat or sign up for a Pilates class at a studio.
While the practice has gained popularity in recent years at stylish boutique Pilates studios, it was originally developed in the 1920s by Joseph Pilates during his time working as a hospital attendant while interned during the First World War. As he worked he'd attach springs to hospital beds to support the rehabilitation of bed-bound patients.
Much of his early work is still seen in the modern versions of Pilates we see today. His makeshift exercise equipment at the hospital later inspired the Pilates Reformer, and the practice continues to focus on a combination of different strengthening exercises with an emphasis on the breath, the body and the mind.
What is Pilates?
"Pilates is a low-impact exercise method that strengthens and stabilizes the entire body while improving your flexibility and mobility. And the best part—anyone can do it," says Talia Williams, director of teacher training at East River Pilates. "Each movement can be easily modified or adapted to suit the needs of the individual," adds Pilates teacher Lotty Somers.
Pilates is for everyone, no matter their age, gender, body shape or fitness ability. Whether you're a regular runner looking for a class to take between runs or a total fitness newbie, Pilates for beginners is right for you.
If you're loyal to your yoga practice or have been weighing up yoga vs pilates, know that you can do both! Although they share many similarities, they are also quite different and complement each other perfectly. While yoga aids weight loss, hormone balance and better flexibility, Pilates promotes joint health, better posture, a strong pelvic floor and so much more.
Pilates is also great for runners and walkers who want to stretch out and tone up. Building strength will help you run or walk fast and for longer, while also reducing your risk of injury as you improve your posture and stability.
What are the benefits of Pilates for beginners?
There are so many benefits of Pilates for both your physical health and mental wellbeing. These include:
Build strength
Build endurance
Tone up
Improve posture
Develop better balance
Burn belly fat
Combat muscle loss
Move more freely
Reduce stress
Build confidence
Improve concentration
Create a better mind-body connection
If your health and fitness goals include any of these benefits, then Pilates is one of the best workouts for you. It might not be the first exercise that comes to mind when you consider how to lose belly fat but it's one of the best exercises for weight loss. Muscle loss is a natural part of aging, but you can build up your strength with Pilates as it combines aerobic exercises with resistance and balance training.
"It's a great way to mobilize our joints, so we're able to work them through a full range of motion and move freely without tension," Lotty adds. Not only is Pilates a core strengthening, toning exercise, but it's a stress-busting, confidence-boosting workout, too.
"The use of breath in Pilates can help reduce stress and leave us feeling instantly lighter, so it's a great way to boost our mood and improve our overall mental health and wellbeing," says Lotty.
"Plus, it's not just physical benefits that come from improved posture. When we feel able to stand tall and move without constraint, we tend to radiate more confidence," adds Lotty. The emphasis on breathing techniques, mindfulness and a balanced mind-body connection can also reduce anxiety and improve sleep and concentration.
"By learning new movements and motor patterns, we're also training our concentration and coordination, which can have a positive effect on our work and home life as well," Talia adds. And, overall this can improve your biological age.
Is Pilates a good workout?
In short, yes! There is much more to Pilates than stretching on a mat, so don't be fooled—it's a challenging, full-body workout. With a focus on activating targeted muscles, even the smallest of movements will have you feeling the burn and working your body in a whole new way.
"Some moves can be very challenging but it's not about being perfect and it's important to listen to your body and execute each movement to the best of your ability," Lotty adds. "We need to dispel the idea of needing to move in a certain way and remember that a little progress each day adds up to big results."
One of the lesser-known challenges of Pilates is staying present in the moment. "There's no way that you can let your brain wander to your afternoon work schedule or what you'll cook for dinner that night when you need to be focusing on your breath, movement and activation of those elusive core muscles," Talia says.
While being mindful as you move is difficult, it's one of the reasons many people love this workout. "It's truly an hour of 'me time', which is so important when looking after your physical and mental health," adds Talia.
What is the best type of Pilates for beginners?
When it comes to Pilates for beginners, there are lots of classes out there and the one that's right for you will depend on the type of workout you prefer, and your health and fitness goals. From the original Classical Pilates to the modernized Contemporary Pilates, and the at-home friendly Mat Pilates to the challenging Reformer Pilates workout, here are some of the key Pilates classes you can expect to find online and at a Pilates studio.
Classical Pilates
The original practice developed by Joseph Pilates involves a specific set of exercises carried out in a set way.
"A key distinction of Classical Pilates is they teach a posterior pelvic tilt for lumbo-pelvic stability, as well as a few other postural variations at the neck and shoulders," explains Talia. She recommends this type of Pilates for those who thrive on structure, routine and repetition in their workouts.
Contemporary Pilates
Inspired by the classical method, this type of Pilates uses new research to maximize movement, with more flexibility around the sequences and equipment used.
"If you're looking for Pilates for beginners or enjoy creative, dynamic workouts and variety, then Contemporary is worth a try," Talia adds. In her work as a physiotherapist, Talia teaches the contemporary method to support movement re-education and rehabilitation. "It's a fabulous movement technique that can be adapted to all people, regardless of their physical ability," Talia says.
Mat Pilates
Using your body weight on a yoga mat, mat Pilates focuses on core stability and is great for managing lower back pain.
"I would recommend beginners start with a mat Pilates class," says Lotty. "This should offer a slower pace and enable you to really tune into your own body and find the correct way to engage the right muscles in each exercise."
Reformer Pilates
This type of Pilates can be more challenging as it works to strengthen muscles and improve balance with the use of the spring-resistant Reformer machine.
"Reformer classes are a great way to keep things varied and challenge you in a new way," says Lotty. Talia adds, "One of the best advantages of working on a Reformer is that it's an incredibly versatile apparatus and has the unique ability to have spring tensions adjusted for each exercise and level of ability."
This will mean no matter your ability, the Reformer can be modified and the exercises tailored to suit you best, providing more support for newbies.
How to start practicing Pilates if you're a beginner
Join an online Pilates class
There are also lots of Pilates studios now offering live and on-demand virtual classes. You can learn the basics, try a new type of Pilates and get expert advice from the comfort of your own home. Just grab a mat and get started!
Try at-home Pilates workouts
YouTube is also packed with excellent 'Pilates for beginners' videos to kickstart your Pilates journey from the comfort of your own home.
A gentle mat Pilates workout is great for getting started. Learn some of the basic exercises, improve your balance and get a taste of what a full mat Pilates class has to offer in just 15 minutes.
This 30-minute full-body at-home mat Pilates workout will have you working up a sweat in no time. As well as a glorious post-workout glow, expect to feel the burn as you work your way through the sequence of Pilates exercises.
Once you've practiced Pilates at home or in a class, you can move to a more advanced mat Pilates workout. This 45-minute class is great for those turning to Pilates for weight loss. With slightly more complex exercises, you'll be engaging your whole body, burning fat and toning up as you move through the sequence.
What to wear for Pilates
As with any form of exercise, comfort is key. Lotty advises against wearing anything with zips that might dig into your skin during mat exercises.
"I would always recommend slightly tighter-fitting activewear too, as this can make you more aware of your form and alignment," Lotty adds. "You want to feel confident in what you're wearing as this will help you to stand tall and encourage better posture."
Finding the best leggings for you and a comfortable sports bra that will see you through all your workouts is essential for your fitness journey. Pilates socks can also provide support as you transition through the moves, particularly if you're working out at home or without a yoga mat. They should have non-slip silicone grips from toe to heel, and some even offer compression features for extra arch support.
What you need in your Pilates kit
The market is full of Pilates equipment, from yoga mats to at-home Reformer machines. But, when you're dipping your toe in Pilates for beginners, there are a few pieces worth investing in for taking your workout up a notch.
Pilates rings and resistance bands are great for mat Pilates workouts. They will help you add some weight to the moves and improve strength. Yoga blocks support and encourage proper alignment while weighted balls, resistance bars and gliders can all be used for extra resistance, so you'll definitely be feeling the burn.
You can also buy Reformer machines for some intense at-home workouts that can be folded and easily stored away post-Pilates.
Sign up to our free daily email for the latest royal and entertainment news, interesting opinion, expert advice on styling and beauty trends, and no-nonsense guides to the health and wellness questions you want answered.
Ciara is the former digital health editor at womanandhome.com and has covered all things health and wellbeing from fitness to sleep to relationships. She's always on the lookout for new health trends, innovative fitness gadgets and must-read wellness books.
Originally from Ireland, Ciara moved to London to study journalism. After graduation, Ciara started her career at Goodhousekeeping.com. Ciara qualified as a meditation teacher with the British School of Meditation in 2020, and outside of her day-to-day now runs her own meditation school called Finding Quiet. She is all about bettering that mind-body connection but believes wellness looks different to everyone.