The best resistance bands for strengthening, toning and stretching at home or in the gym
We tested out the best resistance bands on the market to find out which will take your workout to the next level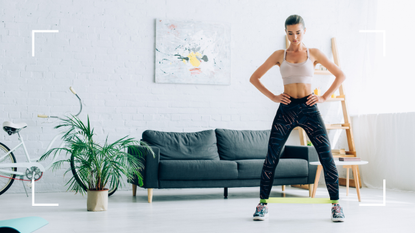 (Image credit: Getty Images)
Resistance bands are a great way to strengthen your whole body. Our guide to the best resistance bands factors in weight, length, material, and value for money so you can select the right brand for you that will elevate your workouts, at home or in the gym. Resistance bands can be used in low-impact workouts, with slow isometric movements to really target a particular muscle, or in high-intensity workouts to help burn multiple muscle groups.
Putting any type of resistance against your muscles puts them under tension, which helps to build stronger muscles over time. Unlike even the best dumbells, resistance bands allow you to add a strength-building element to your workout that's low impact and won't put too much pressure on joints. Plus, you can use the bands anywhere and anytime and they allow you to really nail your technique before moving onto free weights if you wish. While you might not see huge numbers on your fitness tracker during your resistance workouts (see our guide to the best fitness trackers if you're in the market for a new gadget), you'll still reap a lot of benefits as you push through the moves.
Strength training for women is so important, especially as we age. By doing resistance band workouts, you'll combat the natural loss of bone density, reduce the risk of injury and build muscle. From sports brands like GymShark and Sundried, and workout apps such as Beach Body and Freeletics, we've tried and tested top resistance brands to bring you this round-up of the best.
Do resistance bands build muscle?
"Resistance bands, like free weights, are very effective at strengthening muscle," says personal trainer Caroline Idiens (@carolinescircuits). "In fact, they might do so to an even greater extent, since with a band there is constant tension on the muscle through the entire movement of the exercise." She adds that since bands are versatile and easy to transport, they can be a great way to tone your body from pretty much anywhere.
How do they work? "Training your body using resistance will result in increased strength because your muscles must fight against the extra force," explains David Wiener, training specialist at fitness platform Freeletics. There's an extra strength training perk, notes personal trainer Aimee Victoria Long (aimeevictorialong.co.uk). "This is because they recruit the stabilizing muscles of the targeted area to provide extra intensity to whatever move you might be performing," she explains.
However, if you're thinking of parting ways with your kettlebells and dumbbells anytime soon, you should be aware that you'll need to ensure you're really challenging yourself with your resistance band. "You need to push your muscles to hypertrophy, which is when muscles get damaged or injured and the muscle fibers are broken down in order to rebuild stronger and bigger," adds Wiener. "This can be harder to achieve using bands, but is still entirely possible."
How we tested the best resistance bands
To test the bands included in our top picks, we performed multiple strength-based workouts for women (see our round-up of the best resistance band workouts for inspiration). The workouts included various glute, arm, leg, and core exercises to help us determine how well they performed.
When testing resistance bands we also considered:
Weight—bands come in a range of different resistance levels. If you're new to strength training, start with a light or medium band at around five to 10lbs.
Material—the best resistance bands should be made from stretchy material, such as latex or cotton mixed with elastane to help create the resistance element of the band. It's worth noting some latex bands can be uncomfortable on the skin, and rub your hands or legs while using them, especially when you start to sweat.
Length—depending on the type of exercise you're doing, you'll have to decide what type of band you want. Long loop resistance bands are best for full-body workouts, while short loop resistance bands are ideal for targeting glutes, quads, and triceps.
Price—you can purchase resistance bands relatively cheaply, but you will get what you pay for. Investing a little more will ensure you're getting durable bands made of high-quality material that will last many workouts to come.
The best resistance bands as chosen by our experts
1. GymShark Long Light Resistance Band
Best resistance band overall
Specifications
RRP: From $15/ £15
Weight variation : 4-35lbs
Type: Long loop
Material : 100% Latex
Region: US/UK
Reasons to buy
+
Great for beginners
+
Affordable
+
Non-slip material
Gymshark is known for its well-fitting gym leggings and making some of the best sports bras, but it also has some pretty great (and affordable) resistance bands, too. The brand has short loop and long loop bands, giving you lots of options for your at-home workouts.
We tried the Long Light Resistance Band and the premium fabric really stood out. The band was easy and comfortable to use when performing everything from banded squats to forward presses and seated rows. The silicone taping ensures this kit is non-slip but also lightweight enough to carry to the gym, too.
While it's great for beginners, the resistance range is quite small. As you build up your strength, you might need to move onto a higher resistance quickly and end up making another purchase.
2. Freeletics resistance band
Most affordable and versatile resistance band
Specifications
RRP: $23.63/£17.06
Weight variation: 20-60 lb
Type: Long loop
Material: Natural latex
Region: US/UK
Reasons to buy
+
Great for full-body workouts
+
Super affordable
+
Comes with a guide to exercises
Reasons to avoid
-
Material can be sensitive on hands
-
Light—medium band is relatively heavy
Freeletics started as a workout app before selling fitness accessories to accompany its library of workouts. The brand sells a huge selection of resistance bands, ranging in types, lengths, and weights—from 5-175lbs. We tested the purple light-medium band (20-60lbs) and loved it for leg exercises. For arm workouts, we found it worked best for double arm exercises rather than single-arm exercises like bicep curls.
The latex was rough on our hands after a sweaty HIIT treadmill workout but that was easily solved with a pair of workout gloves for extra protection. For total strength training newbies, we suggest the brand's very light or light band as the light-medium was still relatively heavy.
3. Beachbody Control Track
Best resistance bands kit
Specifications
RRP: $64.95/£64.94
Weight variation : 15-20lbs
Type: Long bands with handles
Material: Nylon
Region: US/UK
Reasons to buy
+
Good for a range of exercises
+
Comfortable to use
+
Includes two weight variations
Beachbody Control Track resistance bands feature handles, so you can do a huge range of exercises with this set—whether you hold both handles or use the strap to attach your bands to a door or wall mount to work a whole new angle.
It takes a little time to set these resistance bands up, especially if you're attaching them to a door and need to ensure they're secure. Once set up, it changed our workouts forever as we were able to alter the height and angle of our bands and activate new areas.
Including a lightweight and medium weight band, this kit is quite expensive but great for full-body workouts allowing you to do exercises you'd normally only be able to complete with gym equipment.
4. MyProtein Long Resistance Band
Best resistance bands for pull-ups
Specifications
RRP: $30/£23
Weight variation : 11-36kg
Type: Long loop bands
Material: Latex
Region: US/UK
Reasons to buy
+
Two-pack
+
Thick bands
+
Great for home and gym workouts
Reasons to avoid
-
Material rubs
-
Limited weight variation
If you're more experienced at resistance band workouts and looking for a challenge, the Myprotein Resistance Bands could be ideal for you. The latex-based bands are long loop and available in blue or grey.
Thicker than some of the other bands we tried, and with a resistance of 11kg-36kg, we felt secure while using this pick. They were great for adding weight to glute exercises, while also performing two arm exercises like pull-ups. However, we did find the weight range a little heavy for one-arm exercises (although this wouldn't be a problem for seasoned strength trainers)
Although soft to touch, the material did rub on our hands after a long workout. Bands come as a pair, with the same weight—which is great if you have a buddy for workout motivation, but a different weight variation would be much better value for money.
5. P.Volve Heavy Ankle Band
Best resistance bands for lower body workouts
Specifications
RRP: $19.99
Weight variations: Various available
Type: Short loop
Material: Latex, velcro, sponge
Region: US
Reasons to buy
+
Targeted muscle activation
+
Focuses on outer thighs and glutes
+
Fits securely
+
Lighter option available
Reasons to avoid
-
Needs more padding around ankles
A little different from traditional short loop resistance bands, the P.Volve Heavy Ankle Band is a must-have for lower body workouts. Available in Heavy and Light, these bands will give your glutes and thighs a high-intensity, low-impact workout.
To use, step into the circular ankle band and attach to your ankles using velcro. Extra weights can also be bought to add to the bands. Comfort-wise, the only downside to these resistance bands is the lack of cushioning around the ankles. We found the bands dug into our legs while working out so extra padding would have helped.
P.volve also has a streaming service that allows you to access workouts online or via the P.volve app. When purchasing the bands you can add a one-month or three-month subscription. If you do sigh-up to the streaming service (or one of these workout apps) with your new bands, be ready for a tough workout. We did one of the 40-minute arm and legs workouts and really worked up a sweat—ideal if you want a strength challenge.
6. Boux Sport resistance bands
Best resistance bands set
Specifications
RRP: £18
Weight variations : 98-150lbs
Type: Short loop
Material: Cotton
Region: UK
Reasons to buy
+
Range of resistance—great for beginners
+
Non-slip material
+
Colorful set
Reasons to avoid
-
Bands are a heavier range than others
Bright, bold and easy-to-use, we love Boux Avenue's set of three resistance bands. As part of the Boux Sport collection, the affordable bands come in green, to indicate the lightweight, pink for a medium weight and purple for the heavier weight. Made with non-slip cotton material, they felt comfortable against our skin even when stretched.
We found the light band easy to use for arm exercises such as tricep pulldowns and shoulder squeezes, but the two other bands were too heavy for arm exercises. We found the medium-weighted band was perfect for squats and glute kickbacks, but we could barely move the heavier band—so possibly one for the more experienced. We'd love to see a better selection of weights in the resistance bands—especially for those who are new to fitness. However, at just under £18 we're impressed!
7. Sundried resistance band
Best non-slip resistance band
Specifications
RRP: £7
Weight variation : 2-12kg
Type: Short loop
Material: Fabric
Region: UK
Reasons to buy
+
Comfortable material
+
Best for lower body exercises
+
Durable non-slip material
Reasons to avoid
-
Only one weight
-
Only one thickness
You won't have to worry about the Sundried Resistance Band slipping down your legs as you work up a sweat, or snapping mid-workout. The fabric material is comfortable on the skin, durable, and non-slip. It doesn't cause chafing after a few reps—and we used them doing everything from kickbacks and donkey kicks to side steps and fire hydrants. While learning how to lift weights has many positives, this is a great alternative to tone up.
With a weight variation of 2kg-12kg, the more resistance you put on the bands the heavier they feel. We would love to see more weight options available for this band, to suit beginners and the more experienced. However, for a quality non-slip resistance band for lower body workouts, you can't go wrong with this pick.
8. Enertor resistance bands
Most affordable resistance band kit
Specifications
RRP: £12.99
Weight variations: 5-40lbs
Type: Short loop
Material: Natural latex
Region: UK
Reasons to buy
+
Great value for money
+
Good weight variation
+
Comes with instructions for workouts
+
Includes storage bag
Reasons to avoid
-
Thin material which might not suit some people
The Enertor resistance bands come in a small black bag, with an instruction booklet that explains some of the exercises you can do with the bands. The five resistance bands are different colors to indicate different weights and range from x-light (5-10lbs) to x-heavy (35-40)—giving you a great selection of weights for different workouts at a super affordable price.
Unlike some other latex-based bands out there, we found the material of these bands smooth and didn't pinch the skin. We performed some arm exercises with the bands, including an overhead press and reverse flys— and we loved how easy they were to switch up if the weight wasn't quite right.
Although small and thin, we think these bands are perfect for avid travelers who still want to work out while away from home. You can easily keep up your at-home workouts with this set while abroad.
---
w&h thanks personal trainer Caroline Idiens (@carolinescircuits (opens in new tab), carolinescircuits.com (opens in new tab)), personal trainer David Wiener (training specialist at Freeletics (opens in new tab)) and personal trainer Aimee Victoria Long (aimeevictorialong.co.uk (opens in new tab)) for their time and expertise.