The best fitness trackers for women to help you monitor your health, fitness and sleep
Our round-up of the best fitness trackers for women has something for every fitness goal and budget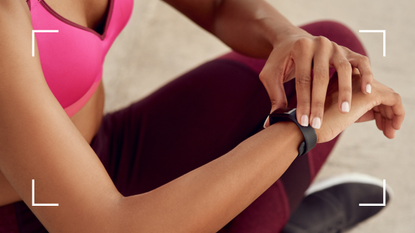 (Image credit: Getty Images)
woman&home newsletter
Sign up to our free daily email for the latest royal and entertainment news, interesting opinion, expert advice on styling and beauty trends, and no-nonsense guides to the health and wellness questions you want answered.
Thank you for signing up to . You will receive a verification email shortly.
There was a problem. Please refresh the page and try again.
The best fitness trackers for women can be game-changing when it comes to your health. Our experts put fitness watches to the test to bring you a round-up of the best.
Whether you're want to track how many steps you do every day, kickstart your fitness journey or just monitor your health in general, it's important to choose a fitness tracker that has all the features to suit your needs. Armed with a fitness tracker and the best women's walking shoes, there's no stopping you on your journey to creating and maintaining a healthy lifestyle.
To find the right option for you, you'll first need to consider what you want to get out of your fitness tracker. If you're a keen walker you might be in search of a tracker that can tally up your steps and distance. For the runners among us, a tracker that offers more insight into technique could be a worthy investment. And, for those who want an overall picture of their health and wellbeing, a fitness watch that tracks workouts and sleep, and encourages mindful moments every day, could be the one for you.
To help you with your search, we put some of the best fitness trackers for women on the market to the test. After a lengthy testing process, we determined the Fitbit Versa 3 to not only be one of the best Fitbits but the overall best fitness tracker. We also highly rated the Apple Watch Series 5 as the best premium option, but our top pick for the best budget fitness tracker may come as a surprise...
Are fitness trackers worth it?
Why you can trust Woman & Home Our expert reviewers spend hours testing and comparing products and services so you can choose the best for you. Find out more about how we test.
"Fitness trackers have many benefits and can be incredibly useful," says David Wiener, training specialist at fitness platform Freeletics. "Typically, devices collect daily data and convert it into features like how many steps a day you've done, as well as calories burned and sleep quality. "Some research shows that by keeping track of your day-to-day activities, you can significantly improve your health." Indeed, from a fitness perspective, he notes that monitoring progress can be motivating for achieving goals, and also help you understand whether you are working out in the right zone to meet them.
However, it is very individual whether they will work for you. "It entirely depends on what you are going to use it for," says personal trainer Caroline Idiens (@carolinescircuits). "Some advanced versions now offer a whole health analysis—so if it's to aid you in leading a healthier lifestyle, by measuring your heart rate, blood pressure or body fat, then that's great." However, she points out some downsides too—including that the better trackers are a bit more costly, and that some can be a little complicated to use and come with a short battery life. There's also the question of accuracy. Personal trainer Aimee Victoria Long (aimeevictorialong.co.uk) warns that the data they produce should be taken as a guide, not gospel. "Some are obviously more in-depth and reliable than others," she explains. "But if you're simply using them to count calories, then take the reading with a pinch of salt—many overestimate theactual energy burned."
Can fitness trackers monitor blood pressure?
Yes and no. "They can be brilliant at monitoring a wide variety of things, but the jury is still out on blood pressure readings" says Wiener. Indeed, Idiens says they are not as accurate as using a medical-grade sphygmomanometer—the device your doctor enlists—and trackers should be for workout motivation only. "Readings on your upper arm are better than your wrist, and they can be movement-sensitive," she explains.
However, trackers may still have a place. "The pros are that you can check your blood pressure anywhere, anytime—which can give you a better picture of heart health without having to go to a doctor," notes Idiens. "So, in conclusion, they are great as guidance—including for flagging things like high blood pressure—but do make sure you do thorough research of which device you are getting, and take your device to a doctor's check-up to see how it compares."
How we tested the best fitness trackers for women
To find the best fitness trackers for women we tried leading brands such as Fitbit, Apple and Garmin, as well as brands that are new to the market, such as NURVV Run. We tested each tracker over a period of time while doing a range of activities, from nordic walking and trail running, to yoga for beginners and sweaty HIIT workouts.
We weighed up the pros and cons of each fitness tracker and considered the following:
Budget—the price of fitness trackers can vary greatly but they are usually around the $-$ (£100-£800) mark. We tested a range of fitness trackers including affordable buys and premium options.
Features—simple fitness trackers can monitor daily steps, heart rate, and sleep cycles, while more advanced trackers have smartwatch features that allow you to make contactless payments, stream music, answer texts via your watch screen, and even take an ECG reading on your wrist.
Tracking ability—we considered how well each tracker helped us monitor our health and wellbeing, from daily activity, workouts, sleep and menstrual cycle on both the tracker's watch face and in the relevant app. Some brands provide a more detailed analysis in-app, while others require you to have a subscription to access more data.
Design—an easy-to-use fitness tracker is a must—no one wants to spend hours trying to set up their device before a workout. We also considered how well the trackers fit, how long the battery lasted and how long it required to fully recharge.
The best fitness trackers for women as chosen by our experts
(opens in new tab)
1. Fitbit Versa 3
Best fitness tracker overall
Specifications
Watch dimensions: 40.48mm x 40.48mm
Battery lasts: up to 6 days
Water-resistant: up to 50m
Available colors: Black, midnight, pink clay, thistle, olive
GPS: Yes
RRP : $229.95/£199.99
Reasons to buy
+
Good for all fitness levels
+
Easy to use
+
Has on-screen breathing exercises
+
Lots of colorways available
Reasons to avoid
-
The large screen may put some people off
-
More expensive than other Fitbits
There's a reason Fibits have been worn by fitness lovers for over a decade and that's because they're so user-friendly, even for technophobes. That's definitely true for the Fitbit Versa 3. It's been created with a focus on boosting your health and emotional wellbeing—which is essential to leading a happy and healthy lifestyle. Plus, it can really help you push your fitness boundaries further.
It has all the features you could ever need in a fitness tracker, including a step counter, distance counter, heart rate monitor, built-in GPS, exercise modes and on-screen visual workouts. What's more, it's waterproof up to 50m so perfect for tracking your lengths at the pool or wearing during an outdoor dip. The functions are easy to select by simply swiping up, down, left or right. And, it's even easier to set up, just charge it up using the cable provided and connect to the Fitbit app via your smartphone.
Not only can it review your sleep, track your menstrual cycle and encourage you to take time out for a quick breathing meditation or mindfulness reset, but the ever-expanding Fitbit community means you can share as much or as little of your progress and wellness goals with other like-minded individuals. You'll always feel like part of a team, even when you're doing at-home workouts alone or tackling trails solo.
(opens in new tab)
2. Apple Watch 5
Best premium fitness tracker
Specifications
Watch dimensions: 40mm x 34mm
Battery lasts: Up to 18 hours
Water-resistant: Up to 50m
Available colors: Space grey, silver, gold
GPS: Yes
RRP: $399.99/£329
Reasons to buy
+
Stylish
+
Endless functionality
+
Encourage you to move more
Reasons to avoid
-
Expensive
-
Only compatible with iPhone 6S+
It's no surprise the popular Apple Watch is one of the best fitness trackers, but it is quite an investment so you'll want to make sure you're happy with the features before making the splurge on this pick. Luckily, with the Apple Watch Series 5, satisfaction is almost guaranteed, purely because of the huge number of functions available.
This includes Siri and the ability to reply in iMessage on the move. But that's not all—add into the mix a medical-grade ECG heart monitor, automatic detection to know which sport you want to track and a nudge if you haven't moved enough each hour. Plus, this wearable watch also looks out for your health, with a menstrual cycle tracker and decibel monitor, so you know when you need to protect your hearing. The only thing missing is its own sleep tracker, although you can download an app for that or try one of these premium earplugs.
See our full Apple Watch Series 5 review
(opens in new tab)
3. MyZone MZ-3
Best budget fitness tracker
Specifications
Watch dimensions: 70mm x 43mm
Battery lasts: 7 months
Water-resistant: up to 10m
Available colors: Black & red
GPS: No
RRP : $149.99/£129.99
Reasons to buy
+
Easy setup
+
Good for group fitness
+
Very accurate heart rate reading
Reasons to avoid
-
Connection issues
-
Can be uncomfortable around the chest
Not everyone wants to wear a fitness watch and some people prefer a fitness tracker without a screen. If this sounds like you then you're going to love our top budget pick. Instead of wearing it around your wrist, the red Myzone MZ-3 strap fits around your chest and connects to your smartphone via Bluetooth. This type of external strap can give ultra-accurate heart rate readings. What's more, your workout score on this fitness tracker is based on the effort you put in and the heart-rate intensity you reach. This type of tracker is addictive and focusing on heart rate is a great way to boost your fitness, whether you're doing walking for weight loss or trying your hand at something new like rowing. Plus, the fact it only needs charging every seven months means if you're using it in the gym, you can keep it in your sports bag so you'll never forget it.
Although we think it's the best fitness tracker for those on a budget, the downside is it doesn't have GPS. If that's a deal-breaker for you, then it's best to stick to a fitness watch instead.
See our full Myzone MZ-3 review
(opens in new tab)
4. Withings Move ECG
Best fitness tracker for heart health
Specifications
Watch dimensions: 38mm
Battery lasts: 12 months
Water-resistant: Up to 50m
Available colors: Black & silver, white & silver
GPS: Yes
RRP : $129.95/£129.95
Reasons to buy
+
Easy to use
+
Large and stylish watch face
+
ECG technology
Reasons to avoid
-
Limited features
-
Not rechargeable
The Withings Move ECG earned a spot in our best fitness trackers round-up because of its medical-grade technology that can effectively track your heart rate. The in-built atrial fibrillation device means you can discover any heartbeat irregularity in less than a minute, just by putting your thumb and forefinger on the side of the rim. It's a great pick if you're looking for a stylish way to track your daily activity. There's a special hand on the analog watch face that tracks daily steps, which moves as you do and then automatically resets at midnight. You'd be surprised how much it can spur you on to do those last few hundred steps to stay on target—helping you keep your heart healthy in the process.
Unlike the other fitness trackers, this watch runs on a coin cell battery which you'll have to manually change every time your battery runs out. It also doesn't have in-built GPS so you'll have to take your smartphone with you as part of your selection of best running gear to allow the app to track your activity.
See our full Withings Move ECG review
(opens in new tab)
5. Mobvoi TicWatch C2 Plus
Best fitness tracker with built-in GPS
Specifications
Watch dimensions: 42.8mm
Battery lasts: two days
Water-resistant: up to 1.5m for 30 mins
Available colors: Onyx, platinum, rose gold
GPS: Yes
RRP: $209.99/£189.99
Reasons to buy
+
Stylish design
+
Color screen
+
Built-in GPS
+
Full range of features
Reasons to avoid
-
Heavy
-
Takes time to set up
Looking for a fitness tracker that looks like a stylish watch, but still has built-in GPS and is rechargeable? Cue—the Mobvoi TicWatch C2+. It tracks steps, activity levels, calories burnt, distance traveled and allows you to create personal goals. Then there are the meditation features if you're trying to learn how to breathe better, Google Assistant and notifications for social media and SMS. Plus, the built-in GPS and Google Pay mean you don't have to worry about taking your phone out with you ever again.
It's available in three colors, onyx, platinum and rose gold, and with a color screen, plus 20 different watch face designs to choose from, you can really personalize it to suit your taste. You'll definitely get a good return on your investment if the Mobvoi TicWatch C2+ ticks all your boxes and you're willing to take some time to get it set up before getting started. The only downside to this fitness tracker is the stylish watch design feels a lot heavier than other trackers which might put some shoppers off this pick.
See our full Mobvoi TicWatch C2+ review
6. Fitbit Luxe
Most stylish fitness tracker
Specifications
Watch dimensions: 36.3mm x 17.5mm x 101.6mm
Battery lasts: up to five days
Water-resistant: up to 50m
Available colors: Lunar white, black, orchid, soft gold stainless steel
GPS: Yes
RRP : $149.95-$199.95/£129.99-£179.99
Reasons to buy
+
Stylish bracelet design
+
Tracks all the essentials and more
+
Swim-proof
+
Easy to set up and use
+
Connects to the Fitbit App for more detailed analysis
Reasons to avoid
-
Small screen
-
Bracelet style option more expensive
-
No button on the side
There's no doubt Fitbit's latest model, the Fitbit Luxe, is the most stylish fitness tracker out there right now. In a gold chain bracelet style, it would fit seamlessly in with your wardrobe and could easily be mistaken for a piece of jewelry. However, there are also three colored bands to choose from if the bracelet isn't your style.
Using the Fitbit Luxe you can keep track of your daily steps, distance covered, calories burned and stairs climbed. From the watch face, you can also monitor your heart rate, start recording workouts, set alarms and take a few moments out for gentle breathing meditations. While you can't see it on the face of the watch, the Luxe will track your sleep as you snooze and give you a detailed sleep analysis with a sleep score in the Fitbit app the following day. Via the app, you can also track weight, menstrual cycle, mindfulness, stress levels, and water intake. And, the Health Metrics section will give you a detailed run-down of your average breathing rate, heart rate variability, and skin temperature.
For such a small device, the features it offers are pretty impressive. While we liked the small, slim and lightweight design of this fitness tracker, it might be a little too small for some. Plus, there's no side button for turning on the home screen or pausing workouts. Instead, to do this you have to double-tap the touchscreen.
(opens in new tab)
7. Suunto 3 Fitness
Best fitness tracker to wear all day
Specifications
Watch dimensions: 43mm
Battery lasts: up to 30 hours when using connected GPS
Water-resistant: up to 30m
Available colors: Black, sakura, burgundy, copper, gold, ocean
GPS: No
RRP : $299/£199
Reasons to buy
+
Lightweight
+
Comfortable
+
Tracks a range of activities
+
Guidance training
Reasons to avoid
-
Not touchscreen
-
No built-in GPS
Just starting your fitness journey and not sure which type of exercise will be right for you yet? Step forward, the Suunto 3. Not only does it help track your performance for a seemingly endless list of sports, from yoga for beginners to hiking (here are the best walking boots) to martial arts, but it evaluates your data and then provides you with a training program to follow.
The wristband is super flexible and comfortable to wear, even when you get sweaty, so it's great for everyday use. Plus, we love its ability to track your heart rate 24/7. What's more, this fitness watch also tracks sleep and tells you the quality of your sleep. This is a really good way to see how what you're doing during the day is affecting how much rest you need at night. And, at just 36g, it doesn't feel too weighty so won't wake you up in the night. However, if you want a fitness tracker with a touchscreen, give this one a miss. Instead, this watch has five large buttons around the rim for controlling the device.
See our full Suunto 3 review
8. NURVV Run Smart Insoles
Best fitness tracker for runners
Specifications
Size: US 5-15.5 / UK 2.5-12
Battery lasts: 5+ hours
Water-resistant: Yes
Available colors: Black
GPS: Yes
RRP: $299.95/£249.99
Reasons to buy
+
In-depth running technique analysis and guidance
+
Lightweight
+
Suitable for all weather
Reasons to avoid
-
Takes time to set up
-
Can only track runs
For runners looking to improve their technique through running gait analysis, the NURVV Run Smart Insoles could be exactly what you're looking for. Using insoles with 32 sensors that slot inside your trainers, and trackers that clip onto each shoe, NURVV Run tracks your activity, analyses your technique and provides insight and guidance to make you a better runner.

It tracks everything from your distance and time to your step length, foot strike, pronation, and balance. We also love the real-time audio coaching, using the Pace Coach or Footstrike Trainer settings that help us sharpen up our technique as we work out. What sets this fitness tracker apart from the others is the tracking is happening right where the work is—so runners get in-depth and accurate readings of their cadence (steps per minute) and pronation (inward movement of the foot as it rolls and distributes the force of impact on the ground). Knowing this can really take your running to the next level and point out any issues that could lead to injury.
The insoles are super lightweight so you'll barely notice them in your running trainers, and they're easy to set up. You'll have to run at least four times, totaling up to at least 10km to access a personalized Running Health score in the NURVV Run app. This will help you understand where there's room for improvement in your running style. The smart insoles are an expensive piece of running gear, so best suited to those who are really focused on taking their running to the next level.
9. Garmin Venu 2S
Best Garmin fitness tracker
Specifications
Watch dimensions: 40.4 x 40.4 x 12.1 mm
Battery lasts: Up to 11 days
Water-resistant: Yes up to 50 metres
Available colors: Stainless steel, light gold, silver stainless steel, rose gold
GPS: Yes
RRP: $399.99/£349.99
Reasons to buy
+
Easy to set up and use
+
Variety of features
+
Stylish design
When it comes to fitness trackers and smartwatches, Garmin is an industry leader. And, for us, the Venu 2S is the best fitness watch in the Garmin family. The brand promises the Venu 2S will help you tune in to your body and mind, and it does so with a whole range of features that produce key stats around heart rate, respiration and blood oxygen saturation. A stress sensor will tell you when it's time to take a break and do one of the on-screen guided breathing exercises, while a body battery tracks energy levels and encourages rest when you need it most.
The app offerings are excellent. There are animated on-screen workouts on the watch that can guide you through everything from Pilates for beginners to strength training—perfect at-home workouts when you're time-poor. There are also built-in sports apps to track activity and the intensity minutes tracker provides all the workout motivation you'll need to hit your weekly target. It's swimming-approved and you can keep track of all your activity via the Garmin Connect app.
The GPS smartwatch comes with all the bells and whistles, including sleep tracking, Garmin Pay, phone notifications and safety and tracking features. It's an expensive tracker, but worth it if you're want to invest in a high-quality smartwatch that can do it all and last you many years to come. Although, it's worth noting that only Android users can respond to texts via the watch face.
---
w&h thanks personal trainer Caroline Idiens (@carolinescircuits (opens in new tab), carolinescircuits.com (opens in new tab)), personal trainer David Wiener (training specialist at Freeletics (opens in new tab)) and personal trainer Aimee Victoria Long (aimeevictorialong.co.uk (opens in new tab)) for their time and expertise.