Fitbit Charge 5 review: A significant upgrade from the previous model in design and function
Weighing up the Fitbit Charge 5 vs Charge 4? We reviewed the Charge 5 to find out all the details of the new tracker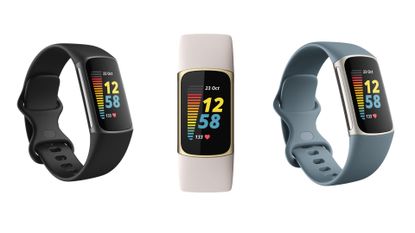 (Image credit: Fitbit)
An excellent step-up from the Charge 4 with exciting new features and impressive GPS software
Why you can trust Woman & Home Our expert reviewers spend hours testing and comparing products and services so you can choose the best for you. Find out more about how we test.
The Fitbit Charge 5 is the latest model in the Charge range, released in August last year and designed for those who want a step up from the classic Charge 4. It offers great fitness tracking elements, like heart rate, steps, and calories burned, alongside new features like a Daily Readiness Score.
As a strength training and running enthusiast alongside my role as health editor, I'm always taking new fitness trackers and watches out for a spin. Whenever I'm testing out a new one, like the Fitbit Charge 5 in this case, I'm looking at how easy it is to use, the range of features it has, how comfortable it is to wear, and most importantly, whether it can help me and others achieve certain health goals. Each tracker is also charged multiple times and used throughout my daily life to asses the battery life.
If you're after one of the best Fitbits, then you can't go too wrong with the Charge 5. While it's not for those looking to run a marathon (weighing up Garmin vs Fitbit might be a better option if you want this), it's perfect for anyone who wants to get their heart rate up with the stats to show for it.
Fitbit Charge 5 specifications
Size: 36.7mm x 22.7mm x 11.2mm
Battery life: Up to 7 days
Charge time: Two hours
Water resistant: Up to 50 meters
RRP: $149.95 / £129.99
Who does the Fitbit Charge 5 suit?
The Fitbit Charge 5 is also ideal for anyone who's interested in stepping up their training intensity, whether that's running, strength training, or another type of exercise for several days a week. Alongside standard features like distance tracking, heart rate, calories burned, and steps, this model has in-built GPS so you can move without having to take your phone with you and 20 exercise modes to choose from, including a specialized spinning option. It comes pretty close to the newest Fitbit, the Fitbit Sense 2, in terms of most features.
Unlike previous models of the Charge, the Charge 5 has a Daily Readiness Score, which works simply to tell you if you're ready to work out or not based on how tired you are. A low readiness reading would be under 30 and suggest that you need to rest up, while a high readiness score is about 70 and suggests that you're good to go for a heavy workout session.
One downside of this tracker is that you don't get many insights post-workout on your watch, but like all other models, this tracker connects to the Fitbit app where all your stats and workout details are automatically logged when you finish a workout. This includes the workouts that you pre-program, and the ones you automatically track through the Smart feature.
The Charge 5 is also an excellent choice for anyone who generally wants to improve their health habits and learn how to sleep better, for example, as sleep tracking features are included in this model. If you wear your Fitbit at night then via the app, you can see how well you slept during the night with a total sleep score given for how well your sleep was, depending on how much time you spent in REM, light and deep sleep.
What's the Fitbit Charge 5 like to use?
The Fitbit Charge 5 has a simple display and navigation system that makes the watch easy to use, ideal for those who are new to Fitbit as well as seasoned fans. The display is smaller than some of the smart watches and this limits what you can have on the screen, with your essential stats (steps, calories burned, and heart rate) showing interchangeably on the home screen rather than alongside each other.
However, you can still navigate easily from the home screen to various features like the exercise programs in just a few touches and swipes. There are only seven out of the 20 available that come pre-programmed on the watch, the rest have to be downloaded from the app.
The Charge 5 is also one of the better looking fitness trackers. Much like the Sense, Inspire 2, and Versa 3 watches, this one follows a "Biologic Industrial Design language" that was supposedly inspired by the human body. As a result, it comes in a range of softer colors, including beige and pale blue along with the classic black, and the face has smoother edges made of stainless-steel.
There's also been a significant upgrade to the Charge's display. The Fitbit Charge 4 had a monochrome display much like many other Fitbit models, even newer models, but this new tracker has a full color display with light yellow and blue colors. While it makes for a nice change, I thought the colors are also a little reminiscent of Fitbit's Kids range of trackers so it probably wouldn't be a watch I would wear casually myself.
Much like all other Fitbit fitness trackers and watches, the Charge 5 comes with the Infinity strap complete in the box. However, you can buy others online from the official store - including one designed specifically for sport.
Fitbit Charge 5: Battery and charging
Despite being one of the brand's newer fitness trackers, the battery life and charging system is a little dated. The Charge 5 needs to be plugged in and charged, using the simple USB cable system, for two whole hours.
Other models insist on a similar charging time - apart from the Fitbit Versa 3 which boasts an impressive 12 minute charging time - but you can use them before this two hour mark for a lower battery level. This isn't the case with the Charge 5, you have to leave it alone to charge for the full two hours before you can use it.
Once it's charged though, the tracker does tend to last for the full seven days even when enabling GPS features which tend to reduce battery life relatively quickly. There was only one week where I found it didn't last for a full week but in this case, I was manually tracking workouts and so using the on-board GPS for several hours at a time without a break.
What features does the Fitbit Charge 5 have?
The Fitbit Charge 5 has an impressive range of features, justifying the higher price.
Some of the best ones include:
Stress Management Score
Oxygen Saturation (SpO2) Monitoring
Skin Temperature Tracking
Sleep score and sleep stages
Menstrual cycle tracking
Daily Readiness Score
Built-in GPS
SmartTrack, which automatically tracks your workout
20 exercise modes
Notifications from your phone
Compatible with Fitbit Pay
Always-on display mode
Two features worth particularly pointing out are the watch's compatibility with the Fitbit ECG (Electrocardiogram) app, meaning users can assess their own hearts for any irregularities and speak to their doctor if they have concerns, and the on-wrist EDA Scan app. This detects electrodermal activity, which is small changes in your skin's sweat levels that might suggest you're under stress. A combination of the two can help you manage your overall health and learn how to deal with stress better.
However, unlike the Charge 4 which allowed users to control music via Spotify, it doesn't have any features that provide music playback. I found this to be slightly surprising when I took the tracker out for a run, since it was designed with workouts in mind - and most people listen to music while they exercise.
Is the Fitbit Charge 5 waterproof?
Not quite - the Charge 5 is water resistant up to 50 meters. Unlike one of the other best fitness trackers, the Charge models aren't designed for complex water activities like diving or even over-exposure to water.
The brand themselves say, "While certain of our products may be water resistant or splash proof, it is always important to take it off after it gets wet and dry it well before putting it back on."
A digital health journalist with over five years experience writing and editing for UK publications, Grace has covered the world of health and wellbeing extensively for Cosmopolitan, The i Paper and more.
She started her career writing about the complexities of sex and relationships, before combining personal hobbies with professional and writing about fitness. Everything from the best protein powder to sleep technology, the latest health trend to nutrition essentials, Grace has a huge spectrum of interests in the wellness sphere. Having reported on the coronavirus pandemic since the very first swab, she now also counts public health among them.