The best Fitbits to help you hit your health and wellness goals
Our round-up of the best Fitbits includes stylish smartwatches and advanced trackers that will take your fitness regime to the next level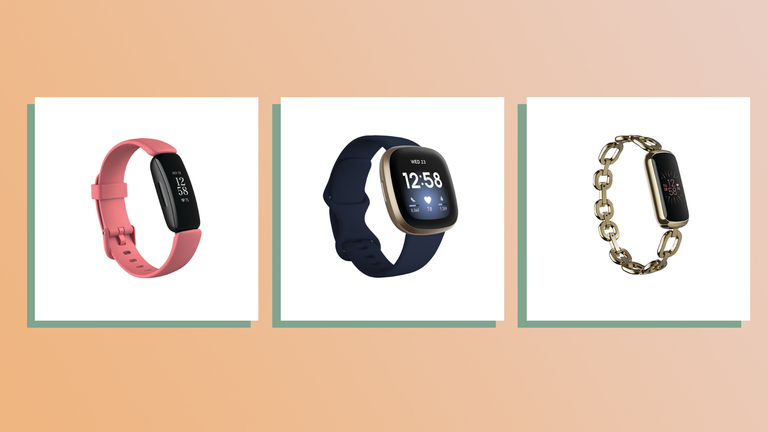 (Image credit: Future)
By Amy Hunt , Ciara McGinley
The best Fitbits are the perfect companion for creating healthier habits and taking your fitness to the next level. Here we round up four of the best models.
Fitbits have developed a reputation as some of the best fitness trackers out there, and it's not hard to see why. Whether you want to track workouts, count daily steps, monitor your heart rate, improve your sleep routine or introduce mindful moments into your day—there's a Fitbit out there for you.
The brand offers both fitness trackers and smartwatches. Trackers feature all the basics and can monitor daily activity, sleep, and workouts. While smartwatches have all the bells and whistles, including music streaming, on-screen smartphone notifications, and more.
The clever devices will help you hit your health and wellness goals by developing a routine that works around your lifestyle
How we tested and selected the best Fitbits
We tested each Fitbit over a number of weeks and assessed each model on functionality, design, and the features it offered. We considered:
How easy it was to set up
How easy it was to use
How comfortable it was to wear
The features it offered
How it fared for workouts as well as everyday wear
How much it motivated us to work out
How it helped us track our progress
The best Fitbits as chosen by our experts
1. Fitbit Versa 3
Best Fitbit watch overall
Specifications
Size: 40.48mm x 40.48mm
Battery life: up to six days
Charge time: 12 minutes
Water resistant: up to 50m
RRP: $229.95/£199.99
Reasons to buy
+All the features you need in a fitness tracker+Easy to use+Large touchscreen watch face
Reasons to avoid
-More expensive than other options
For those looking to take their fitness to the next level, the Fitbit Versa 3 is the perfect option. It's one of the best smartwatches, with every feature you could ever need in a fitness tracker, including built-in GPS, a heart rate monitor, sleep tracking, active zone minutes, voice assistant, and music playing abilities. What's more, it's swim-proof and has on-screen visual workouts for you to do anytime, anywhere. You can also receive call, text, and app notifications, and if you're connected to the app via an Android you can send quick replies from your watch.
It'll motivate you to get moving for your next sweat session, whether that's a couch to 5k run or a boxing workout. And, encourage you to prioritize your wellbeing with two and five-minute guided breathing exercises. When compared with some of the smaller devices, we also really appreciated the wider screen, which makes everything feel a bit easier to use.
It really does fulfill the 6+ day battery claim, especially if you're not using the GPS every day. It also charges super quickly and can give you a full day's charge in just 12 minutes. This Fitbit was a clear winner for us. It's one of the more expensive options, but if you're happy to invest and looking for a tracker and smartwatch combo, it's a must-have.
2. Fitbit Inspire 2
Best budget Fitbit tracker
Specifications
Size: 37mm x 16mm
Battery life : up to 10 days
Charge time : two hours
Water resistant: up to 50m
RRP: $99.95/£89.99
Reasons to buy
+Simple to use and easy to navigate+Very affordable+Comes with a free 1-year trial of Fitbit Premium+Tracks and monitors all the basics
Reasons to avoid
-It doesn't have some of the more in-depth features other Fitbits do
For those looking for a simple, easy-to-use fitness tracker, try the Fitbit Inspire 2. It's sleek, stylish, and compact. We found the Inspire very easy to navigate—a simple swipe up and down takes you to all of the features, while you can swipe left and right on the home screen for a quick-view look at the basics like step count, calories burnt and distance you've walked/ran.
In terms of features, you can connect the Inspire to your phone and receive calls and texts, as well as social media updates on the tracker's screen. You can track your exercise, be it a walk, run or swim (it's waterproof to 50m). With all the essential features of the best Fitbits and nothing further to complicate things, it's ideal if you're a little nervous around tech and want a super-easy introduction to the world of fitness trackers.
The downside to this tracker is that it doesn't have features such as music streaming, which might be a deal-breaker for some.
3. Fitbit Charge 4
Most advanced Fitbit tracker
Specifications
Size: 35.8mm x 22.7mm
Battery life : up to seven days
Charge time : 2 hours
Water resistant: up to 50m
RRP : $128.95/£129.99
Reasons to buy
+A great all-rounder+Easy to set up and use +Sleek design
Reasons to avoid
-Smaller screen-Longer charge time
A new and improved version of Fitbit's Charge 3, the Charge 4 fitness tracker is one of the brand's more advanced options, yet it's still an easy-to-use buy.
It has all the essential features of a fitness tracker and more, tracking sleep and steps, calories burnt, heart rate, and more. It has exercise modes and a built-in GPS so can track everything, whether you're walking for weight loss or taking up Pilates for beginners. If you wear the tracker overnight, you'll receive an in-depth sleep analysis and a sleep score. It's also got a vibration-only alarm for a gentle wake-up each morning.
All in all, this is the best Fitbit for women who want all the benefits of a fitness tracker without any complicated extras. However, it's worth noting the screen is a little small which might put some shoppers off this model.
4. Fitbit Luxe
Most stylish fitness tracker
Specifications
Size: 36.30mm x 17.62mm
Battery life: up to five days
Charge time: two hours
Water resistant: up to 50m
RRP: $149.95/£179.99
Reasons to buy
+Stylish jewellery design available +Free six month Fitbit Premium membership +Range of colors available +Tracks all the essentials and more
Reasons to avoid
-Fully touchscreen with no button the the tracker to turn it on or pause workouts
The Fitbit Luxe is a fashion-forward fitness tracker that will help you hit your health and wellness goals in style. Available in three colored wristbands or a link bracelet style, this Fitbit tracks all the basics and then some. It's swim-proof and automatically recognizes when you're swimming, it's got 20 exercise modes and real-time pace and distance for walks, jogs, or bike rides. It will track your sleep and you can input menstrual health data on the app for a better overall picture of your health.
An exciting new feature coming to the Luxe very soon is the Daily Readiness Score that determines when you're ready to work out or should take time to recover. If that's not enough, it's got stress management tools, guided breathing exercises, call and text notifications, and even more insights with Fitbit Premium.
The Fitbit Luxe does come with an expensive price tag but is worth the investment if you want a stylish tracker. While we liked the small and sleek design, we initially missed the lack of a button on the side of the tracker. Instead of turning the tracker on, or pausing workouts, with the slim side button, all you need to do is double-tap the touchscreen. It's a small factor that takes a little getting used to if you've used other trackers before.