The best Fitbits to help you hit your health and wellness goals, tried and tested by our health editor
Our health editor tried and tested each of the best Fitbits to help you decide on the one for your health goals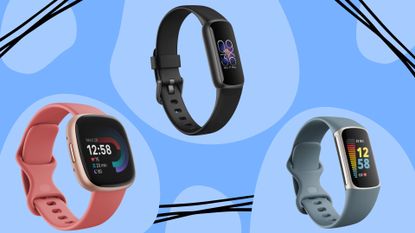 (Image credit: Fitbit)
woman&home newsletter
Sign up to our free daily email for the latest royal and entertainment news, interesting opinion, expert advice on styling and beauty trends, and no-nonsense guides to the health and wellness questions you want answered.
Thank you for signing up to . You will receive a verification email shortly.
There was a problem. Please refresh the page and try again.
One of the best Fitbits is the ultimate companion if you're looking to create healthier habits or take your fitness to the next level. There are so many models to choose from now though, so we tested a range of the top pick and rated them on a range of factors to help you find the device to suit your lifestyle and goals.
Fitbits were among the first fitness trackers out there when they came to market in 2007 and the brand continues to innovate 15 years later with impressive new features, making them an invaluable tool in any fitness arsenal.
So, whether you want to discover more about the brand before you buy or you're looking to compare them with the best fitness trackers on the market, we've tested and reviewed the best Fitbits with help from two fitness experts to give you everything you need to know.
How we tested the best Fitbits
Why you can trust Woman & Home Our expert reviewers spend hours testing and comparing products and services so you can choose the best for you. Find out more about how we test.
After consulting the experts on important factors to consider, we tested each Fitbit over a number of weeks, through various workouts and daily activities, assessing each model on a range of factors that impact day-to-day use. For more information, see our page on how we test products for woman&home.
Tom Opper (opens in new tab), online personal trainer and founder of Top Fitness, is also a fan of the brand. "What is a Fitbit? They allow you to track several important benchmarks, such as your daily step count. And as the saying goes, what gets measured, gets managed."
"Once you're able to clearly see how you're performing in various areas each day, such as your sleep and activity, you have a clear benchmark to improve on moving forwards," he says. "Over time, you'll also be able to spot trends that may be affecting your performance in a given area, and take action to improve it."
When testing the best Fitbits, we considered the following:
How easy it was to use: A tracker that charges quickly, has a long-lasting battery life, and is easy to navigate during sweaty workouts is key. It's where screen size and responsivity play a huge role, so we tested to see how easy each of the best Fitbits was to use.
How comfortable it was to wear: We noted how comfortable each of the smartwatches and trackers was to wear - no one wants a wristband that rubs uncomfortably against the skin or catches on clothing after all.
The features it offered: There are so many Fitbit models out there now - some people will want a Fitbit that offers features such as contactless payment, on-screen text messages, and music streaming. Others might just want a Fitbit that tracks daily activity and sleep patterns, which is why we've tested a range of the best Fitbits with different features.
Accuracy of heart-rate monitoring: "More advanced models will be able to track in more detail, comparing where your current heart rate sits against your usual maximal heart rate (MHR) to assess how hard you're working at any given point", says Opper.
Waterproofing: Most Fitbit models are swimproof and waterproof to 50m but this is important to consider. "If swimming forms a part of your exercise routine, or even if it's just a recreational activity you enjoy," he says.
Built-in or smartphone GPS: "Some models include GPS built-in, which is more accurate for tracking distance than devices that use an accelerometer, such as many smartphones."
The best Fitbits as tested by our experts
1. Fitbit Versa 3
Best Fitbit smartwatch overall
Specifications
Size: 40.48mm x 40.48mm
Battery life: Up to 6 days
Charge time: 12 minutes
Water resistant: up to 50m
RRP: $159.90 / £169.99
Reasons to buy
+
All the features you need in a fitness tracker
+
Easy to use
+
Large touchscreen watch face
For those looking to take their fitness to the next level, the Fitbit Versa 3 is the perfect option. Now cheaper thanks to another new release, this is a smartwatch (rather than a tracker) with all the features of the Fitbit types.
It has a wider square-shaped screen rather than a long, rectangular one, which we found makes it much easier to navigate our way through the menus. It also comes with the water-resistant Infinity strap in the box, which is secure during use but needs wiping down after every workout to prevent sweat build-up and chafing.
The Versa 3 has all the features you could ever need in a fitness tracker, whether you're looking to start doing daily exercise, sleep better, or manage your stress levels. Along with all the essential features like accurate heart rate monitoring, calories burned, and step count, which all appear by default on your watch screen, the Versa 3 brings built-in GPS monitoring, Active Zone Minutes, voice assistant, and music-playing abilities. What's more, it's swim-proof and has on-screen visual workouts for you to do anytime, anywhere via the app.
You can also receive call, text, and app notifications. When you're connected to the app via an Android you can also send quick replies from your watch, but this isn't a feature available to iPhone users.
It'll motivate you to get moving for your next sweat session as you can set daily exercise, step, or calorie-burn goals, and the app will remind you how far you've come that week. For those who like a little competition or need the pressure to get out there and exercise, we reckon this is a great way to incentivize as you feel supported, rather than scolded. For those who don't want this, you can turn notifications off. Individual workouts also appear either automatically or after you've started a workout on the watch, so you can see how many hours of exercise you've done that day or week, along with your stats.
If you want to learn how to relax your mind, Versa 3 can encourage you to prioritize your wellbeing with two and five-minute guided breathing exercises.
When it comes to any fitness tracker, battery life will always be an issue. But we discovered that with the Fitbit Versa 3, there's no need to worry. It fulfills the 6+ day battery claim, especially if you're not using the built-in GPS every day. It also charges super quickly and can give you a full day's charge in an impressive 12 minutes. This Fitbit was a clear winner for us. It was initially of the more expensive options but with the release of the Fitbit Versa 4 and the best Fitbit deals on offer, this device is now over $30/£30 cheaper.
For a complete rundown on this model, see our full Fitbit Versa 3 review.
2. Fitbit Versa 4
Best Fitbit upgrade
Specifications
Size: 1.5" l x 1.5" w x 0.45" h
Battery life: 6+ days
Charge time: 2 hours
Water resistant: Yes, up to 50m
RRP: $229.95 / £199
Reasons to buy
+
Side button for turning device on/off
+
40+ exercise modes
+
Free six-month Premium membership
Reasons to avoid
-
Very similar to the Fitbit Versa 3
The Fitbit Versa 4 is the device to go for if you're looking to upgrade your Versa 3 or switch from a tracker to the newest Fitbit. We found it to be very similar to the previous model in many ways, including aesthetically, but it does have a full-color clockface, comes in alternative hardware color combinations, and the side-button has been reintroduced, making it easier to bring the device to life.
The new model also includes some new features. For example, you'll soon be able to make on-wrist Bluetooth calls with the Versa 4, access Google Maps on the move, and pay with Google Wallet. Much like the Versa 3, it also includes built-in GPS, over 40+ exercise modes to choose from, a Daily Readiness Score (via the free Premium app subscription), along with heart rate, calorie burn, and step-count tracking. While the Versa 3 will be a better, cheaper option if you're new to the Fitbit world as it has many of the same features, if you're looking to upgrade to a new model that'll stand the test of time, it's got to be the Versa 4.
The Versa 4 also helps you take advantage of the Active Zone Minutes more than other models - a feature which records how much time you spend in moderate to intense exercise, to make sure you're doing enough through the week to stay healthy. As well as being one of the main features on the round-up slide, it's present on the clockface underneath your heart rate.
Unlike the Versa 3, it does take a full two hours to charge the Versa 4 so the previous model wins out with its quick-charging feature. However, the newer model also lasts for over 6 days even when using at full capacity.
For a complete overview, ready our full review of the Fitbit Versa 4.
3. Fitbit Luxe
Best premium Fitbit tracker
Specifications
Size: 36.30mm x 17.62mm
Battery life: Up to 5 days
Charge time: Two hours
Water resistant : Up to 50m
RRP: $129.95 / £109.99
Reasons to buy
+
Sleek design
+
Available with multiple different straps
+
Simple to use
Fitness and fashion go hand-in-hand with the Luxe. While it's a significantly smaller device than the Versa 3, being a fitness tracker rather than a watch, with a much longer charging time, the two actually have a lot in common.
The Luxe is available in several different wristband colors - including black, white, and pink - and it's one of the only models that's also available in another material. Opting for the Special Edition gorjana Soft Gold Stainless Steel Parker Link Bracelet strap will add another $70 onto the price tag at checkout but for those who want to an incredibly low-key fitness tracker-turned-watch, then this is a good pick.
Much like many of the other models, the Luxe is water resistant up to 50 meters so you can take it swimming at the pool - but probably not much more than this. It also has 20 exercise modes and real-time pace and distance tracking for walks, jogs and bike rides. It tracks your sleep and you can even input menstrual health data into the app for a better overall picture of your health. It's also got stress management tools, guided breathing exercises, call and text notifications, and even more insights available with Fitbit Premium.
However, it doesn't include in-built GPs, which may be a real deal breaker for those who want equal parts fashion and fitness as distances and steps may not be as accurate as they would be on other models like the Charge 5.
The Fitbit Luxe does come with an expensive price tag but is worth the investment if you want a stylish tracker and when you weigh up Apple Watch vs Fitbit, the latter will always come up best. While we liked the small and sleek design, we initially missed the lack of a button on the side of the tracker. Instead of turning the tracker on, or pausing workouts, with the slim side button, all you need to do is double-tap the touchscreen. It's a small factor that takes a little getting used to if you've used other trackers before.
If you're picking between the Versa 3 and the Luxe, my advice is (after spending plenty of time with them both) to ask yourself whether you want an all-out smartwatch to replace your regular timekeeper or a fitness tracker to have alongside your regular watch. If it's the former, go for the Versa 3 and if it's the latter, then the Luxe is for you.
For a complete overview of this model, see our full Fitbit Luxe review.
4. Fitbit Charge 5
Most advanced Fitbit tracker
Specifications
Size: 21.93mm x 14.75mm
Battery life: up to 7 days
Charge time : 2 hours
Water resistant : up to 50m
RRP: $179.95 / £169.99
Reasons to buy
+
On-wrist ECG app
+
Comes with six-month Fitbit premium membership free
+
Most advanced tracker yet, but still easy to use
Reasons to avoid
-
Limited color options available
The Charge 5 is Fitbit's most advanced fitness tracker yet, securing the position of best fitness tracker next to Versa 3's status as a smartwatch. What sets this fitness tracker apart from the rest of Fitbit's lineup is the on-wrist ECG app. This allows you to monitor heart health at the tap of a touchscreen. The feature assesses your heart for an irregular rhythm and alerts you if you're above or below the threshold, so you can investigate it further with a medical professional. While the Inspire is for newcomers, the Charge 5 is for Fitbit enthusiasts.
The Charge 5 also features a Daily Readiness Score like the Inspire, offering personalized recommendations of when to exercise and when to rest, based on your activity, sleep score data, and heart rate. It's got all the features of the other top range Fitbits too, including smart notifications, built-in GPS, heart rate, calorie, step tracking, and more.
Fitbit's latest launch also comes with a 6-month premium membership to the Fitbit app, allowing you to delve further into your personal data and the workout programs on offer. Normally priced at $9.99 / £7.99 per month, you'll have to pay for it once the trial is up. If you're totally new to exercise and nutrition, whether you want to lose weight or just start eating healthier, this could be useful.
Fitbit Premium offers members access to over 200 mindfulness sessions. While this is a lot, we found that we stuck to the ones we liked, rather than scrolling for hours to find something new. Fitbit also recently partnered with Calm to give subscribers access to their sleep stories, one of the app's biggest pluses.
The only downside to this Fitbit is there are currently limited color options available, much like the other trackers on offer. While the smart watches come in a range of bright colors, the Charge 5 is only available to buy in black, white, and blue. If color is important for you, opt for the Versa 3 which comes in so many different colors from refreshing pale pink to deep olive.
For a full rundown of this device, check out the complete Fitbit Charge 5 review.
5. Fitbit Charge 4
Best Fitbit tracker for beginners
Specifications
Size: 35.8mm x 22.7mm
Battery life : up to 7 days
Charge time : 2 hours
Water resistant: up to 50m
RRP : $128.95 / £129.99
Reasons to buy
+
A great all-rounder
+
Easy to set up and use
+
Sleek design
Reasons to avoid
-
Smaller screen
-
Longer charge time
The model down from the Charge 5 is the Charge 4. While similar in many ways, this tracker is missing some elements of the newer version. But as one of the best Fitbits, it's still an excellent fitness tracker.
If you're new to trackers, smart watches and the like, and not quite ready to invest in the latest tech, we suggest picking up the Fitbit Charge 4. It has all the essential features and more, tracking sleep and steps, calories burnt and heart rate. It has exercise modes and a built-in GPS so can track everything, whether you're running or taking up Pilates. If you wear the tracker overnight, you'll receive an in-depth sleep analysis and a sleep score. Much like the Versa 2, it's also got a vibration-only alarm for a gentle wake-up each morning.
All in all, this is the best Fitbit for women who want all the benefits of a fitness tracker without any complicated extras. However, it's worth noting the screen is a little small which might put some shoppers off this model.
For an overview of this wearable, see our full Fitbit Charge 4 review.
6. Fitbit Inspire 2
Best budget Fitbit
Specifications
Size: 37mm x 16mm
Battery life : up to 10 days
Charge time : 2 hours
Water resistant: up to 50m
RRP: $99.95 / £89.99
Reasons to buy
+
Simple to use and easy to navigate
+
Very affordable
+
Comes with a free one-year trial of Fitbit Premium
+
Tracks and monitors all the basics
Reasons to avoid
-
It doesn't have some of the more in-depth features other Fitbits do
While the Versa 3 comes with all the bells and whistles of a smartwatch, the Fitbit Inspire 2 is a simple, easy-to-use fitness tracker with built-in GPS so you can leave your phone at home. It's sleek, stylish, compact, and definitely one of the best Fitbits.
Overall, we found the Inspire very easy to navigate. a simple swipe up and down takes you to all of the features, while you can swipe left and right on the home screen for a quick-view look at the basics like step count, calories burnt and distance you've walked or run.
In terms of features, in some ways, it's similar to the Versa 3. You can connect the Inspire to your phone and receive calls and texts, as well as social media updates on the tracker's screen. If wellness is your focus goal in getting a Fitbit, then the Inspire could be for you. Not only does it track your sleep and stress levels, giving you in-app scores and recommendations, but it can also offer a Daily Readiness Score where you can see how prepared your body is for your next workout.
Naturally, you can track your exercise with this Fitbit - as with them all. Whether it's walking, running, or swimming, the Inspire can either automatically track your workout (in case you forget to press 'go') or you can start a workout and follow along with your stats in live time.
We also found the Inspire 2 has a significantly longer battery life of up to 10 days, as long as you don't overuse the workout programming function by leaving going on for hours on end - such as going for an all-day hike. In this case, we found it was better to just let the tracker automatically pick up the workout, which it tends to do about 10 to 15 minutes in, to save on battery life.
However, it doesn't come with more advanced features like music streaming. While this wasn't a deal-breaker for us, it's something to consider.
With all the essential features of the best Fitbits and nothing further to complicate things, it's ideal if you're a little nervous around tech and want a super-easy introduction to the world of fitness trackers.
Why are Fitbits good fitness trackers?
It's widely acknowledged that very few (if any) fitness trackers offer 100% reliable step-count and calorie-burning statistics, however, Fitbits are one of the best fitness trackers because they hold users accountable and can be a great source of workout motivation. If you're looking for something even more reliable when it comes to GPS tracking or want running, cycling, or golf-specific metrics, consider weighing up Garmin vs Fitbit.
"Using a fitness track can be beneficial if you are struggling with motivation and accountability," confirms Kate Rowe-Ham (opens in new tab), a Level 3 qualified personal trainer and specialist women's health coach. "They are also particularly beneficial for those living with any conditions where exercise will play an integral role in managing any symptoms."
When it comes to improving your motivation, you'll be able to track your progress with a pick of the best Fitbits. "For many seeing this will help keep you on track to maximizing your wellbeing," she says. "Often trackers will have challenges associated alongside which will hold you accountable and slowly begin to create habits you want to keep."
Are Fitbits waterproof?
Yes, all of the best Fitbits are water resistant up to 50 meters. "They're designed to be swim-proof and stand up to even the sweatiest of workouts," the brand says, making them perfect for exploring all the benefits of swimming. However, no Fitbit will be suitable for diving or deeper submersion than this and they warn against wearing the device in any warm environment, like a hot tub or sauna.
Most of the device's settings and metrics are controlled via the app, like changing the time on a Fitbit, so you don't have to worry about these being impacted by the water either.
The Ace is the only Fitbit that's not water-resistant. It's designed to withstand splashes, spills, and sweat rather than a dip in the pool. Some straps are also not water-resistant but can withstand sweat. These include:
Woven straps (Sense and Versa 3)
Hook and Loop bands (Charge 5)
Knit bands (Sense and Versa 3)
Stainless Steel Mesh band (Inspire 2, may discolor with consistent exposure to sweat)
If you want a completely water-resistant band, opt for the Infinity band that comes included when you buy one of the best Fitbits, or the Sports band, which is more breathable.
Fitbit is also keen to emphasize that mishandling the device in particular ways, like dropping it, exposing it to perfumes including soap and sunscreen, and high-velocity water pressure will also reduce the waterproof capacity of the device.
A digital health journalist with over five years experience writing and editing for UK publications, Grace has covered the world of health and wellbeing extensively for Cosmopolitan, The i Paper and more.
She started her career writing about the complexities of sex and relationships, before combining personal hobbies with professional and writing about fitness. Everything from the best protein powder to sleep technology, the latest health trend to nutrition essentials, Grace has a huge spectrum of interests in the wellness sphere. Having reported on the coronavirus pandemic since the very first swab, she now also counts public health among them.