What is a Fitbit and how does it work? Plus, everything you need to know about setting up your Fitbit
Wondering what is a Fitbit? We've got you covered. Here's everything you need to know about the fitness trackers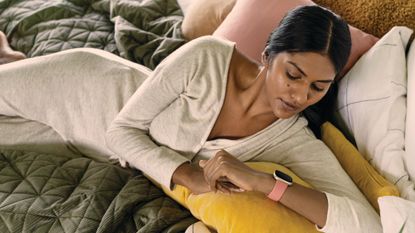 (Image credit: Fitbit )
Are all your friends waxing lyrical about their step counts and sleep quality and has it got you wondering 'what is a Fitbit and should I invest in one?'—if so, we've got you covered.
We're here to help you answer all your burning questions from 'what is a Fitbit?' to 'how does a Fitbit work' and even 'how to set up a Fitbit' if you've taken the plunge and treated yourself to one of the best fitness trackers on the market.
While there are lots of similar activity trackers out there, the best Fitbits are super easy to set up and even easier to use. Depending on the model you go for, once you've got yours working for you, this smart piece of wearable tech can give you a total overview of your health—tracking your heart rate, sleep quality, menstrual cycle, and exercise, to name just a few areas.
What is a Fitbit?
A Fitbit is an activity tracker worn on the wrist just like a watch, that tracks your day-to-day activity, whether you walk, run, swim, cycle or work out at the gym. Fitbits come in two main types: trackers and watches. Trackers are more activity and tracking-focused while a Fitbit Smartwatch offers smartphone-like features.
Depending on the type of Fitbit you go for, some can also track your heart rate, sleep, and menstrual cycle for a greater picture of your overall health. Some Fitbits can even detect the type of exercise you are doing (swimming, cycling, running, etc) and offer optimized tracking.
What's more, some feature fun extras such as on-screen workouts, breathing meditations, the opportunity to link your music streaming service to your watch for phone-free listening as you workout as well as phone, text and app notifications, calendar alerts, and Fitbit Pay which can be very helpful if you forget your wallet!
As the brand offers so many models, there really is something for everyone in the Fitbit line-up, whether you just want to track distance and figure out how many miles 10,000 steps is, or want to monitor your heart rate during at-home workouts—there will be a Fitbit that's right for you.
How does a Fitbit work?
Activity tracking: All Fitbit trackers and watches use a 3-axis accelerometer to track your motions, using algorithms designed to look for specific movement patterns. Some devices also include an altimeter to detect whether you are moving up or down the stairs. As you move, your Fitbit will estimate your steps, distance and calories burned, which you can view on the tracker's face or via the Fitbit app.
Heart-rate tracking: Photoplethysmography (PPG) technology uses light to monitors the volume of blood in your wrist and determines how many times your heart beats per minute.
Sleep tracking: Fitbit tracks your patterns by using heart rate sensors and motion detectors through the night. In the morning, the data is delivered as a personalized Sleep Score in the Fitbit app, telling you just how well you slept.
Exercise tracking: The recommendation from organizations such as the World Health Organization, is that you hit a goal of 150 minutes of moderate activity every week or 75 minutes of vigorous activity. Fitbit will automatically set your weekly target at 150 Active Zone Minutes and as you work out, it will tally up your effort by tracking Fat Burn, Cardio, and Peak activity. For every minute you spend in the Fat Burn Zone, you'll earn 1 Active Zone Minute, and for every minute you spend in the Cardio or Peak Zones, you'll earn 2 Active Zone Minutes. The zone you're in is determined by your heart rate and how hard you're working out.
Other metrics: Some Fitbits can also track even more health metrics and help you tune into your body that little bit more. However, you will need to purchase a Premium membership to do so. Health metrics that are only available with a membership include oxygen saturation (SpO2) measurements, skin temperature tracking, breathing rate tracking, and heart rate variability.
What is the newest Fitbit?
The Fitbit family is huge and the brand often adds to its line-up with new and improved models. The latest launch from the tech brand is the Fitbit Luxe.
It's a gorgeous bracelet-style fitness tracker for people looking to exercise in style. It offers an impressive array of features and comes with a stainless steel case for durability. One of the most stylish smartwatches out there, it's certainly a fashion statement from the health and fitness brand.
The Luxe has a battery life of up to five days and tracks all the essentials, such as steps, distance, calories burned, activity, sleep, and menstrual cycle. The waterproof tracker is available in a range of colors with vibrant watch displays.
How to set up a Fitbit
Now you've got your device, the next thing you'll be wondering is how to set up a Fitbit. The good news is, it's one of the easiest fitness trackers to set up and use.
Here's how to set up a Fitbit in five easy steps:
Download the 'Fitbit' app: You'll find this on Playstore or the Appstore on your smartphone.
Charge your Fitbit: Use the charging cable provided.
Turn on your device: Press and hold the small button on the side of the tracker.
Set up an account on the app: Open the Fitbit app and click on the profile picture to access the account settings. From here, click "Set Up a Device".
Fill in your profile: The app will ask you questions about your current health status (e.g. height and weight). You can also set fitness goals here to track specific metrics, such as steps.
How to charge a Fitbit
All Fitbit devices come with a rechargeable battery and a charging cable. You can use the charging cable to charge a Fitbit device just like you charge a smartphone.
Simply plug the charging cable into a computer, a UL-certified USB wall charger (such as an iPhone or Android wall charger), or a DC-to-USB adapter (car charger), Fitbit's official website suggests.
Here's what to do if you encounter issues when trying to charge your Fitbit:
Avoid using a USB hub. Try plugging the charging cable into a different USB port or wall charger.
Try restarting your tracker.
Clean the contacts on your tracker and the pins on your charging cable. Use a toothpick, toothbrush or cloth. Ensure it's totally dry before plugging in to charge.
How to change the time on a Fitbit
As you connect your Fitbit to the Fitbit app via your phone or computer, the time displayed on your Fitbit should match the time on the mobile device or computer it has been paired with. If the wrong time is showing:
Try manually syncing your tracker with your device.
Ensure your tracker is running the most up-to-date firmware.
Select the correct time zone using the Fitbit app. Tap or click the account icon, select 'time zone' under 'advanced settings' and turn off the 'automatic' option. Tap or click 'time zone' and select the correct time zone. Sync your tracker.
Select the correct time zone on the Fitbit.com dashboard. Log in and click the gear icon in the top right-hand corner. In 'settings', scroll to the bottom of the "personal info" page and modify the time zone. Force sync your tracker by clicking the Fitbit Connect icon near the date and time on your computer and selecting 'sync now'.
How to sync a Fitbit
If your Fitbit tracker is paired with the Fitbit app on a mobile device, it will sync every time you open the app. You can also set it to sync periodically throughout the day by turning on All-Day Sync.
If your tracker is synced with a computer and Fitbit Connect, it will automatically sync every 15-20 minutes, assuming the tracker and computer are in close proximity and the wireless sync dongle is plugged in, if applicable. You can manually initiate sync by touching the tracker image at the top of the screen and pulling it down.
Here's what to do if you encounter issues when trying to sync your Fitbit:
Charge your tracker.
Restart your tracker.
Ensure Bluetooth and location services are turned on.
Ensure the software on your mobile device is up to date.
If you are using a Windows computer, uninstall any old Fitbit Connect software and install the Fitbit app for Windows 10.
Disconnect any other devices using your Bluetooth connection.
If you are using a computer without Bluetooth, plug in your wireless sync dongle.
Turn 'Always Connected' option on to enhance Bluetooth connectivity.
Turn 'All-Day Sync' on.
Check for known issues with your device/ software updates.
How to get the most out of your Fitbit
Now you know exactly what a Fitbit is, how it works and how to set it up, it's time to get started! Here are three ways you can get the most out of your fitness tracker.
Add Fitbit friends: By adding Friends via the Fitbit App, you can track the progress of your family and friends, and message them with words of encouragement when they are close to hitting their goals. To add Friends click '+' icon on the Fitbit app dashboard, then tapping or clicking 'Add Friends'. Follow the on-screen instructions to add stored contacts and Facebook friends, or send email invitations. You can choose what data to share with them by changing your privacy settings. Competitive? The app will "rank" you and your contacts, based on the number of steps you have each taken in the past seven days.
Take on a Fitbit Challenge: Whether you have your own personal challenge, or team up with friends to hit a target together, a Fitbit challenge is a great way to set yourself a goal and monitor your progress as you work towards it. You can create your own challenges or add friends to Fitbit's pre-made ones—such as the Daily Showdown—for a face-off of who can take the most steps in a day. On the Fitbit App, click "Discover" and explore the range of challenges and adventures on offer.
Invest in Fitbit Premium: Once you've explored what the Fitbit app has to offer, you can take your learning to the next level by joining Fitbit Premium. The subscription service will open up new workouts and challenges for you to take part in, provide more detailed health and wellness reports with extra sleep features, and guided programs to help you with everything from how to sleep better to how to eat less and more mindfully.