Fitbit Premium vs free: What's the difference and is upgrading to Premium worth it?
Fitbit Premium vs free, which is better? I tested them both to decide whether it's worth the investment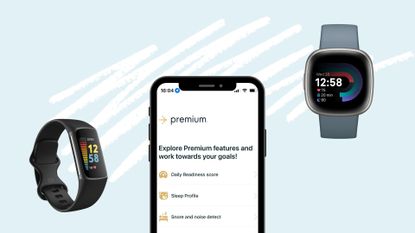 (Image credit: Fitbit)
woman&home newsletter
Sign up to our free daily email for the latest royal and entertainment news, interesting opinion, expert advice on styling and beauty trends, and no-nonsense guides to the health and wellness questions you want answered.
Thank you for signing up to . You will receive a verification email shortly.
There was a problem. Please refresh the page and try again.
The question of Fitbit Premium vs free is one that most Fitbit fans have to weigh up at one point or another after they've been using the device for a while. For a monthly fee, Fitbit offers access to a whole host of new metrics, insights, workouts, recipes, and so much more. But is it really worth it?
I've been using the Fitbit Premium app for about a month now after upgrading my Fitbit Versa 3 to a Versa 4, which includes a six-month free trial of the Premium version of the app. From better sleep insights and stress statistics to video workouts and recipes to follow, I find that there are so many more features that the additional fee seems reasonable overall - provided that you actually use them.
Whether you've just bought one of the best Fitbits and you want to know more about one of the best workout apps out there, or your free trial has just ended and you're thinking of upgrading, this is what you need to know about Fitbit Premium vs free, how much it costs, and whether it's worth the investment.
Fitbit Premium vs free
There are some major differences between Fitbit Premium and the free version of the app. The free version of the Fitbit app is completely free to download from the app store and use, and it's compatible with all the different types of Fitbit. With a device connected, you have access to a range of health metrics - including sleep, exercise, and step summaries for the week and/or month. As the name suggests, however, the Premium version is the next level up from this. It offers more detailed insights, plus additional health metrics exclusive to Premium subscribers - such as Readiness Score.
Having tried and tested the Premium app for myself, these are the main differences between Fitbit Premium vs free to consider if you're weighing up the two.
How much does Fitbit Premium cost?
Fitbit Premium costs $9.99/£7.99 per month, a subscription you can cancel at any time, or $79.99/£80 per year, paid upfront. In every case, you have a 90-day free trial to kick off your plan so you can always cancel after testing out Fitbit Premium if you decide the features aren't for you.
Many Fitbits also come with a free Premium included in the initial purchase. The Fitbit Charge 5, Fitbit Sense, Fitbit Inspire 3, and Fitbit Versa 4 all offer six months of Premium with the device while the Inspire 2 offer a full year's trial before you have to pay. Within these trials, you can enjoy all the upgraded features at no extra cost, although you do have to register with your card details so be sure to set a reminder to cancel if you don't want to continue the subscription.
What does Fitbit Premium offer?
1. Readiness Score
Fitbit's Readiness Score is a relatively new addition to the Premium feature list. Using your recent activity, sleep score, and heart rate variability (HRV) measured against your baseline, the feature generates a score to assess how ready you are to exercise again. It's undoubtedly one of the best features offered by the Premium version of the app as there's not a similar version on the free version of the app.
As well as your Readiness Score for the day (furthest picture on the right), it also offers recommendations based on the score for how many Active Zone Minutes you should hit and suitable workouts you could follow to achieve this (middle picture). At the end of the week, you'll be able to see how your score for each day compares to one another and previous weeks, meaning you'll be able to spot trends in your activity levels and tiredness.
A higher Readiness Score means you're well rested and ready for a higher-intensity workout, while a lower score suggests you need to rest instead of exercising. Anyone who's used other fitness trackers will notice that the feature is very similar to the WHOOP 2.0, another excellent tracker, but one that costs almost $20/£20 more each month for the insight.
The only downside of this feature is, at the moment, the Readiness Score is only available for those on the newest Fitbit like the Sense, Versa 3, Versa 4, Charge 5, Luxe, or Inspire 2, so if you don't own one of these models then you may not have access to this top-tier app feature.
2. More health metrics
For those looking to get deep insights into their health and wellbeing, Fitbit Premium may be a better option than the free version. The paid version offers users access to more metrics - including blood glucose levels and advanced skin temperature details.
Both of these will be useful metrics for some people. For example, those with type 2 diabetes need to measure their glucose levels regularly, and the Fitbit app can be a useful tool to help with this. However, unlike many of the other features in the free version of the app, measuring blood glucose levels requires another device as Fitbit can't get this information itself. The Premium version will allow you to track your glucose levels manually, rather than doing it automatically - as it does with your step count, for instance.
3. Sleep Profile
Fitbit is famous for its sleep-tracking abilities and the free version offers plenty of insights into this, provided you wear your device to bed every night.
On the free version, you'll be able to see how many hours per night you've slept (picture on the right-hand side above) and view a breakdown of all the different types of sleep you had through the night. With Premium, the Sleep Profile feature collates this information and forms a monthly detailed analysis of your sleep patterns through the last 30 days and offers up insights to help you understand which elements of your sleep pattern need improvement. It even goes so far as to offer a sleep animal - an animal that most resembles your sleep schedule for the past month.
While this is an excellent feature for anyone looking to learn how to sleep better, you do have to wear the device in bed for the full 30 days of the month. If you take it off to give your skin a break from the strap or forget to wear it, you'll lose this insight.
4. Meditation exercises
Calm and Breethe are two of the best meditation apps to download - and Fitbit has partnered with both of them to offer exercises within the Premium version of the Fitbit app. Users of the free version will find some exercises but nowhere near the number and quality of the ones offered to Premium users.
Each of the categories targets a different moment of rest: Meditations for Sleep, Meditations for Stress, Relaxing Sounds, Stories for Sleep, Mindful Minutes, Morning Meditations, Boost Body Positivity, and Mindful Meals. The exercises range also from around 20 minutes to 45 minutes long, so you're bound to find something to fit the time you have.
If you're not particularly keen on meditation or incorporating more mindfulness into your daily activity, this feature may be a little lost on you. However, if you were considering a subscription to Breethe, Calm, Aura, or Ten Percent Happier, and you already have a Fitbit device, Premium would be a good time and money-saving investment.
5. Workouts
Another excellent feature included in the Fitbit Premium version of the app is workout videos. There are some videos available for free subscribers, as with meditations, but again there are significantly fewer and they're very basic. Premium subscribers get access to a whole library of workout videos, created and curated by Fitbit themselves alongside partners like Les Mills.
Whether you're looking to do a quick HIIT workout at the gym or you want a full circuit training session at home, there will be a program on the app for you to follow - ranging from 10-minute boot camps to full 45-minute strength training classes.
It's a truly excellent feature if you're new to exercise, want to learn how to get fit, or want to discover more ways to work out without having to pay for a personal trainer or coach at a significantly higher price. Having tried the workouts for myself, I can vouch for how good they are; dynamic, informative, and truly versatile (so you can take them anywhere with you).
6. Recipes
When it comes to making lifestyle changes around our health, the hardest part is often nutrition. Fitbit Premium has a feature for that, using recipes from Eating Well and a library of their own creations, you can learn how to make everything from nutritious lunches and dinners (as pictured above) to genuinely tasty and healthy snacks.
Some of my favorites include the riced cauliflower and broccoli bowls, charred shrimp and pesto bowls, peanut butter oat energy balls, and veggie pancakes.
Whether you've bought a Fitbit because you want to reduce your stress levels, improve your sleep, or lose weight, you may need to look at your eating habits to see any serious progress. Even for the would-be chefs, Fitbit Premium's extensive range of recipes is a great source of inspiration for those days when you just can't think of what to make.
7. Wellness Report
Once you've signed up for the Premium version of the Fitbit app, you can start working on your Wellness Report by wearing your Fitbit every day and night for a whole month. After the month is up, your device will have enough data for the app to create a detailed report, which covers all your health data.
As it includes insights into your heart health, weight, sleep, and activity levels, it's incredibly useful information to have for your benefit and take to your doctor if you're having a problem - or just looking for a check-up. Importantly as well, the app explains the information to you so you can have any health-related conversations with confidence.
The Wellness Report isn't a feature you'll be looking at every month hopefully, unlike the workouts, recipes, or Readiness Score, but it's definitely a useful one to have if you start to experience an issue with your health.
Is Fitbit Premium worth it?
Yes, if an extra $9.99/£7.99 a month is in your budget for you and you're looking to make positive changes to your fitness and eating lifestyle in the next few months, subscribing to Fitbit Premium will be well worth it. In my opinion, unless you're dealing with issues related to oxygen saturation or blood glucose, it's not the additional health metrics that are most valuable - but rather the Daily Readiness Score, video workouts, and recipes. These alone I believe are enough to justify the subscription considering how much you'd be spending on them if you signed up for these apps individually.
However, it's only worth it if you plan on regularly using all or most of the features regularly. Fitbit Premium is best suited to those who are looking for exercise consistency, motivation, and inspiration, rather than looking to make transformational changes so if this is what you're after, it may be better to have a look at some of the other best fitness trackers.
If you're already subscribed to other fitness platforms, regularly watch videos online, attend classes rather than the gym, and think you could assess your readiness levels from how tired you're feeling, you may find you don't actually have use for the additional features. In that case, the free version of the app would be just fine. Equally, if you're not interested in signing up to another monthly subscription and just want one upfront cost, it may be worth weighing up Garmin vs Fitbit as Garmin offer many of these features automatically with the purchase of a tracker.
A digital health journalist with over five years experience writing and editing for UK publications, Grace has covered the world of health and wellbeing extensively for Cosmopolitan, The i Paper and more.
She started her career writing about the complexities of sex and relationships, before combining personal hobbies with professional and writing about fitness. Everything from the best protein powder to sleep technology, the latest health trend to nutrition essentials, Grace has a huge spectrum of interests in the wellness sphere. Having reported on the coronavirus pandemic since the very first swab, she now also counts public health among them.