The best meditation and mindfulness apps to help you reach your zen in 2019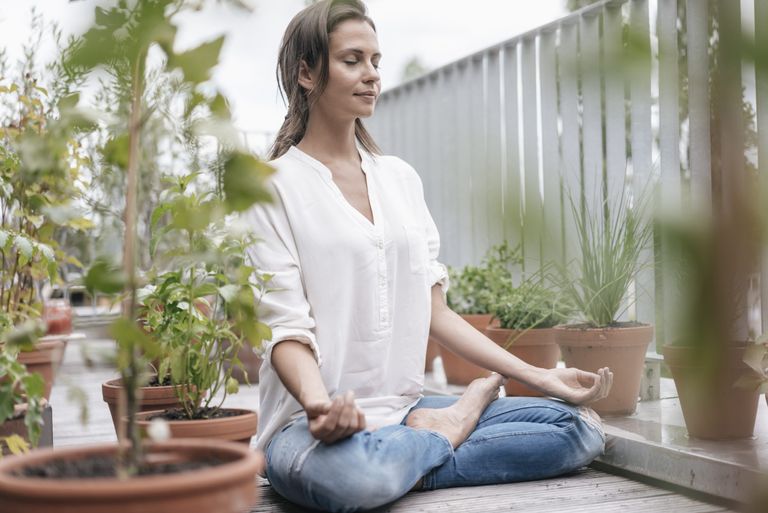 By Amy Hunt
In this age, an apt word to some up most of our lives is chaotic.
With smartphones pinging notifications at us every two seconds, and social media meaning we're constantly overloaded with information - it shouldn't come as a surprise that most of us find it difficult to switch off.
When we're at work, we're on. And even when we're at home, we're constantly plugged in to a stream of content. In fact, many of us even get sucked in to the world of technology when we're trying to sleep.
Which is probably why huge numbers of people have sought refuge in meditation and mindfulness apps in the last few years.
Promising us that we'll achieve a calmer, more relaxed attitude, they're particularly tempting to a generation frazzled by technology.
But which ones out there are the best - and how are they all different?
Best meditation apps for 2019
Insight timer, free (with in-app purchases)
One of the most popular and most used - but least publicised - meditation apps is Insight Timer, with over 6 million users currently logged on.
Insight Timer is well researched and thought out, being based around the personal meditations and teachings of over 3,000 meditation teachers, meaning each practise is different to the next.
Currently, there are over a whopping 14,000 free guided meditations available, all offering something a little different to the next one. Some are purely for relaxation purposes, giving you the perfect preparation for sleep, or helping you to wind down from a busy day.
Others are geared towards more specific needs, including how to forgive, how to let go of things,and there are even ones that claim to help boost your fertility. Meditations vary in length, with some just a few minutes long, and others that last over an hour. Choose your perfect one and get relaxing!
Calm, free (with in-app purchases)
Calm is one of the most-downloaded best meditation apps out there, and for good reason. It offers a range of different activities for different uses. One is its Daily Calm feature, which gives users a new 10-minute meditation every day - best put to use at the beginning or at the end of the day.
You can also sample some delightful 'bedtime stories', to help you fall into a relaxing snooze, or use one of their 30+ nature sounds to lull you into a sleepy stupor. They include plenty of the natural sounds we find calming - including whooshing waves, rain falling, or fires crackling.
There are plenty of guided meditations, but if you don't fancy listening to someone's voice, there's also music to help you either focus, relax or sleep.
Experts also offer up their advice with monthly masterclasses, and breathing exercises are there to help users deal with stress and anxiety.
The app is free to download, but some features are only unlocked by paying a small fee of £9.99 a month.
Headspace, free (with in-app purchases)
Now, you're probably have heard of Headspace if you've heard of any of the best meditation apps. This is one of the simpler best meditation apps, and by far one of the most popular, offering quick courses of meditation to those who have got the app for free, to kick you off on your journey towards mindfulness.
However, you'll have to subscribe if you want to unlock any more of the features, which will cost you £10 a month. But many have claimed that it's worth it, with reviewers singing the app's praises on the App Store.
If you do sign up, you can expect a whole heap of features. If you don't have much time, there are 2-3 minute 'mini-meditations', while new guided meditations are offered on a daily basis. Like the other apps, there's targeted meditation, to help you snooze, exercise and focus better, and some soothing 'sleep sounds' to help you get some quality shut-eye.
Ten Percent happier is a meditation app that claims to help you without all of the more 'wishy-washy' stuff that can often put people off the practise.
The app is based off the best-selling book, '10% Happier: How I Tamed the Voice in My Head, Reduced Stress Without Losing My Edge, and Found Self-Help That Actually Works - A True Story by Dan Harris.'
Described as "meditation for fidgety skeptics", it includes all you'll need to get started. Find the classic guided meditations, as well as a library of video lessons, which aim to help you with the key compontents of life: sleep, relationships, work, stress, health, and many more.
The session can be completed at any time too, with options to do them whilst you're doing something else - such as showering or cleaning your teeth.
Like Inside Timer, there are plenty of respected meditation teachers on the app too, ready to help you out. And, like Headspace and Calm, you'll need to pay if you want full access to all of the app's features, paid for on either a yearly or monthly subscription basis.
One of the simplest apps on the market, this is probably better billed as a mindfulness app, encouraging you to check in with yourself, rather than meditate.
A free download with the option to subscribe for £9.99 a month, all you need to do when you first log in is record exactly how you're feeling - stressed, happy, overwhelmed, sad, or angry. Then, the app will 'prescribe' you a mindfulness exercise to suit your mood.
With the free version, you get around 30 meditations and exercises, but by paying you'll receive 70, including yoga and accupressure classes.
Buddhify is one of the only meditation apps where you need to pay upfront. The app costs £3.99 in a single payment, but the good news is that you won't need to pay anymore after that.
Created by husband and wife team Rohan and Lucy Gunatillake, the app focuses on "on-the-go" meditation, meaning you don't need to find a spare 20 or 30 minutes in your day to fit it in.
The exercises are targeted towards the different parts of your day - such as waking up, taking a break, waiting for an appointment, or sleeping. Combine your practise with these parts of the day and you'll be good to go!
Amy Hunt is an experienced digital journalist, currently working as Life Channel Editor at womanandhome.com. She began as the magazine's features assistant before moving over to digital as a News and Features Writer, before becoming Senior Writer, and now a Channel Editor. She has worked on other women's lifestyle websites previously too—including Woman's Weekly, Goodto.com, Woman, and Woman's Own. In 2019, Amy won the Digital Journalist of the Year award at the AOP Awards, for her work on womanandhome.com.
She is obsessive about everything homes and interiors—whether she's sniffing out the very best deal on a KitchenAid stand mixer or keeping up the latest Dyson release. And when she isn't editing or writing articles on interior trends or the latest home gadgets, she's passionate about books—you'll usually find her with her nose in a gripping thriller at the end of the working day.