The 10 best health apps to refresh your wellness routine in 2023
The best health apps can help you improve your mental health, sleep better, and exercise more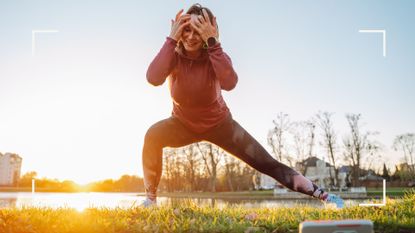 (Image credit: Getty Images)
woman&home newsletter
Sign up to our free daily email for the latest royal and entertainment news, interesting opinion, expert advice on styling and beauty trends, and no-nonsense guides to the health and wellness questions you want answered.
Thank you for signing up to . You will receive a verification email shortly.
There was a problem. Please refresh the page and try again.
No matter your goals for the year, a pick of the very best health apps can help you get there. Available to download from most app stores, these dedicated apps are designed to help you create healthy habits from the comfort of your own home.
While how much we move and what we eat does have a big impact on our overall health, our wellbeing is so much more than diet and exercise. Changing factors such as our sleep patterns, hydration levels, and reliance on certain habits can have a major effect on our physical and mental wellbeing, as can having good support during particular times of life like menopause. While no app will be able to replace professional guidance in these areas, expert-approved apps like these can have a great impact in helping us create small changes in our lives for the better.
To test the best health apps, we enlisted the help of two key experts in the fields of health and wellbeing, including a specialist general practitioner and a personal trainer. Both are also founders of innovative new apps, featured on our list of best workout apps and best fitness apps, that aim to improve our health in unique ways.
Best health apps to try in 2023
1. Headspace
Best health app for mental health
Specifications
Initial cost : Free to download
Subscription: $99.99 / £49.99 per year
Specialisms: Stress, anxiety, sleep, exercise, new beginnings, staying focused
Reasons to buy
+
Focuses on key pillars of mental health
+
Record your progress in the calendar
+
14-day free trial
Reasons to avoid
-
Many features not available with free version of the app
Self-care practices can make all the difference to our mental health. While no app will be able to replace professional mental health help, Headspace goes a long way to encourage us to take small moments for ourselves every day.
The app, which is available to download for free but does require a subscription to access many of the sessions focuses on six key pillars to help improve your mental wellbeing. These are managing stress and anxiety, sleep aid, exercise motivation, giving you the confidence to try something new, and helping you to stay focused. However, within this, there are so many different avenues to explore with more niche mindfulness sessions available, including those relating to certain situations - such as 'Mindfulness at Work, 'Mindful Money', and 'For Challenging Times', to help you better cope with difficult situations.
Rather than just being mindfulness sessions to complete at your own pace, Headspace is also one of the best yoga apps and active mindfulness platforms. It offers you a daily schedule of morning, afternoon, and evening programs to follow so you can practically work on your mental wellbeing and start forming a regular practice. Headspace works similarly to Calm in this way as it offers these practical alternatives for those who prefer to relax by doing something physical. It's one of the best stretching apps too as there are exercise and stretching sessions, music for better concentration, and sleep stories told by famous faces such as John Legend included within the subscription, for example.
Always speak to your doctor if you have concerns about your mental wellbeing or conditions such as anxiety or depression.
2. Garmin Connect
Best health app for fitness tracking
Specifications
Initial cost: Price of Garmin device
Subscription: App free to use
Specialisms: Running, cycling, swimming, strength training, stress monitoring, sleep monitoring
Reasons to buy
+
Suitable for tracking a range of activities
+
Monitors sleep and stress statistics
+
View progress over a month in calendar
+
Find training plans via Garmin Coach
Reasons to avoid
-
Must purchase Garmin device to use
When it comes to tracking your fitness levels with one of the best health apps, you'll need an additional device to read your body's vital statistics - such as heart rate, sleep quality, and stress levels - to determine the impact that exercise is having. I'll always be a fan of the many types of Fitbit but I'm opting for a Garmin fitness tracker and the associated Garmin Connect app as our pick on this list for one specific reason.
Unlike many other fitness tracker apps, Garmin Connect lays out your progress month-by-month in a simple calendar form on a tab along the bottom of the app. Each bar represents a different tracked feature of your overall health - such as stress levels, step count, exercise sessions, and sleep score. When you've achieved your goal in that area, the bar lights up in a color. I find looking at my overview of the month in this way to be really useful as I can immediately see what's going well - and what's not. Plus, if you need a little help improving your fitness, there's also an in-built coach and various cardio-based training plans to choose from.
However, while they're certainly worth the money in my opinion, Garmin devices are on the pricier side. If you are looking for one of the best fitness trackers or smartwatches on the more budget-friendly end of the spectrum, Fitbit truly is a great alternative and it's worth weighing up Garmin vs Fitbit to make the final decision. Garmin Connect is also only available to download from the iOS App Store and Google Play, so make sure your phone is compatible before investing.
3. My Water
Best health app for water tracking
Specifications
Initial cost: Free
Subscription: $4.99 one-time cost / £2.99 per month or £19.99 per year, with three days free
Specialisms: Tracking how much water you drink
Reasons to buy
+
Most features available without subscription
+
Personalized water intake recommendation
+
Allows you to record other drinks too
+
Social links to share progress with friends
Reasons to avoid
-
Advertisements on free version
If you're looking for one of the best habit tracker apps to improve how much water you drink every day, look no further than My Water. As well as allowing you to log how much water you drink every day, My Water goes one step further and offers a personalized recommendation of how much you should aim for per day.
Upon sign-up, the app asks you a series of questions about your lifestyle to determine how much water you should drink based on your activity levels, how many sugary beverages, energy drinks, and cups of coffee you consume, eating habits, and what your goal behind drinking more water is. It then analyzes your given data and offers a target to liter measure to aim for every day. For me, this was really motivating as the question of how much water you should drink every day is different for every person and can often be misjudged - leading to dehydration or needing a few too many bathroom breaks.
4. Lifesum
Best health app for healthy eating
Specifications
Initial cost: Free to download
Subscription cost : $45 / £49.99 per year with various price plans available
Specialisms: Healthy eating, meal plans, calorie counting
Reasons to buy
+
100s of recipes to choose from
+
Goal-orientated meal plans available
+
Calorie-counting features
+
Relaxing interface
Reasons to avoid
-
No option to remove calorie-counting features
Lifesum is the perfect pick of the best health apps to download if you're looking to change the way you eat in 2023 and need a little inspiration. The best feature of the app is the collection of hundreds of recipes. I loved scrolling through the mix as there are so many to choose from, from simple breakfast fixes like scrambled eggs to exciting picks, such as maple-glazed tofu and oven-baked zesty salmon. Each recipe includes a cooking time, complete nutritional information, ingredients, and cooking instructions.
As well as recipes to help you think creatively about what you eat, Lifesum has a selection of diets you can follow, separated into categories like 'Balanced', which includes sport-specific diet plans, 'Fasting', 'Keto/Low Carb', 'High Protein', and even 'DNA Tests'. This is one of my favorite elements of the Lifesum app as the great variety allows you to be very specific with your eating plan, without making an immediate assumption of a weight loss goal. It can even help structure a plan if you want to learn how to lose weight without dieting at all.
What Lifesum has that other calorie counter apps don't is the ability to add exercise statistics to your daily roundup. If you are interested in losing weight and tracking your calorie intake, you can add up your total calorie consumption for the day per meal and any calorie burn achieved through exercise, to figure out whether you've stayed in a calorie deficit to lose weight throughout the day.
However, it's not possible to turn your calorie count for the day off. If this element of the app isn't for you, it may be worth trying an alternative like WeGLOW (opens in new tab) where you can toggle the on/off feature for calories to suit you.
5. Sleep Cycle
Best health app for sleep
Specifications
Initial cost : Free to download
Subscription: $39.99 / £27.99 per year
Specialisms : Alarm clock, sleep monitoring
Reasons to buy
+
No connected device required
+
See how lifestyle factors influence sleep
+
Back up alarm clock
Reasons to avoid
-
Subscription required to use
We're told to get eight hours sleep a night but the quality of our sleep, which is controlled more by external lifestyle factors than the hours we spend in bed, is equally important. If you're looking to learn how to sleep better this year, an app like Sleep Cycles that records your sleep quality to help you figure out what needs to change, could be the way forward.
Fitness tracking apps such as Garmin Connect will also offer these features but the additional benefit of Sleep Cycle, and the best sleep apps generally, is that it's much cheaper to use and doesn't require you to wear a separate device in bed. Instead Sleep Cycle works through your microphone to monitor your sleep patterns. It listens and analyses the noises you make during sleep to figure out how much quality sleep you've had and the influences around this result. The app works even better if you can sync it with your Apple Watch as instead of picking up results from sound, it works alongside the sleep-tracking data on your wrist.
When it comes to figuring out what needs to change, the 'Journal' tab on the app is most useful in my opinion. Here you can see your activity levels for the day, the weather, the temperature of your room, heart rate, wake up and bed time for the day. If you've had less quality sleep than you would've liked, you'll be able to see how any of these factors have changed and how they could have influenced your result. There's also a whole host of insightful programs to help you change your daily lifestyle for better sleep habits in the 'Programs' tab.
6. Calm
Best health app for meditation
Specifications
Initial cost: Free to download
Subscription: $69.99 / £28.99 per year with seven day free trial
Specialisms: Meditation, mindfulness, stretching, sleep
Reasons to buy
+
Meditation sessions grouped by goal
+
Other wellness activities also available
+
Life subscription available for UK users
Reasons to avoid
-
Many sessions not available on free version
Calm is one of the most famous meditation apps out there with over four million subscribers (as of 2020) - and for good reason. There are so many options to choose from under the Meditation subsection of the app, including starting points for newcomers, sessions for those who prefer walking meditation over sitting, and specialist meditations to help those dealing with anxiety, depression, or another particular health issue.
I found the 'Quick & Easy' sessions to be most beneficial, as someone fairly new to meditation, as they last for around two minutes each and are useful for centering yourself and just refocusing if you just need a break. Longer sessions include those designed to help us ease into sleep and those created for students. The app also allows you to save meditations to your Library in the Profile section of the app, so you can find your favorites with just a click of a button.
Calm could easily have been our best mental health app pick, however, as it offers so much more than just meditation sessions. On the homepage, you can access other sessions dedicated to improving your mental and emotional wellbeing, such as stretching and movement videos, soundscapes, and short stories designed to lull you to sleep, read by the likes of Bridgerton's Jonathan Bailey, singer Michael Bublé, and Great British Bake Off star Mary Berry.
7. Peloton
Best health app for workouts
Specifications
Initial cost: Free to download
Subscription: $12.99 / £12.99 per month
Specialisms: Cycling, treadmill, and yoga
Reasons to buy
+
Variety of workouts to choose from
+
Many available with free version
+
Motivating trainers
Reasons to avoid
-
Functionality works best with Peloton bike or treadmill
Whether you're a fan of pacing through a treadmill session or relaxing yoga classes, you'll find a home workout for you with this pick of the best health apps. And of course, there are plenty of cycling workouts to choose from too with a whole host of enthusiastic trainers to keep you moving.
I was initially surprised when I started to use this app, as I thought I'd have to have the all-singing, all-dancing Peloton bike or treadmill at home to fully take advantage of the features. But that's certainly not the case as you can use any stationary bike or treadmill available to you, including one in the gym. In some cases, I found you don't need any equipment at all to take advantage of what's on offer in the Peloton app and many of the sessions - which include activities like stretching, strength training, and Bootcamp alongside Peloton classics - are available with the free version of the platform.
What's more, if you want to head outside for a run, walk, or bike ride, you can use the Peloton app as a fitness tracker to record your route, distance, pace, and other statistics.
8. Fitbod
Best health app for strength training
Specifications
Initial cost: Free
Subscription: $79.99 per year / $12.99 per month
Specialisms: Strength training, muscle building, workout recovery
Reasons to buy
+
Breaks down exercises into muscle groups
+
Prioritizes muscle recovery
+
Easy to use
Reasons to avoid
-
Only suitable for strength training
The benefits of strength training for women are numerous - from lessening our risk of sports injury today to lessening the symptoms of menopause and the risk of osteoporosis later in life, evidence shows that strength training is one of the most important types of exercise for our health. Fitbod is the app that can take you from being a gym newbie into a confident gym-goer in just a few weeks.
Much like a personal trainer, the app asks a couple of questions on sign-up about your goals, current health status, fitness levels, and exercise preference. From here, it establishes a personalized training plan focusing on key muscle groups and recovery. If you're a little unsure of how to use certain pieces of equipment at home or in the gym, this app is even better for you than many of the others out there as there are individual video demonstrations for each movement so you can perfect your technique.
I found Fitbod to be the pick of the top strength training-focused apps as it prioritizes recovery too, which is vital if you want to make progress. On the middle tab labeled 'Recovery', you'll see an illustration of the muscles in the human body. Post-workout, the areas you've targeted that day will highlight in red and your plan will change to reflect the fatigue in these areas.
9. Days Since
Best health app for giving up bad habits
Specifications
Initial cost: Free to download
Subscription: $17.99 / £17.99 per year with seven days free trial and various price plans available
Specialisms: Habit tracking
Reasons to buy
+
Stats available for recording achievement
+
Reset counter at any time
+
Customizable colors
+
Possible to add count widget to homepage
Whether it's giving up smoking, switching to alternatives to alcohol, or exercising every day, Days Since can help you keep track of the good habits you want to make and the bad habits you want to keep with a simple-to-use class counter-style interface with insightful additional statistics and features.
Start a counter-timer, customize your habit with color, and stick with it to rack up a good number of days since you last indulged in a bad habit. Much like My Water, it's a great habit-tracking app as resetting the counter takes you right back to day one, which I found useful for offering a little extra motivation to continue. Underneath the counter on the homepage, you can see your statistics for your longest streak, average streak, the total number of days you've achieved so far, resets, and more.
The part of Days Since I find the most beneficial for keeping tabs on my progress is the iOS-compatible widget. This widget comes in the form of a little square box on the homepage of your Apple device and tells you how many days you're on so far. Reset the counter and the widget falls back down to zero, keep up your progress and you'll watch the number climb.
10. Balance
Best health app for menopause support
Specifications
Initial cost: Free to download
Subscription : Free to use - balance+ costs £9.99 per month or £89.99 per year with a seven day free trial
Specialisms : Journaling, expert articles, community sharing
Reasons to buy
+
Free to download and use
+
Filter articles by topic
+
Generate a health report for your doctor
+
Include period tracking feature
Founded by a general practitioner and menopause specialist Dr Louise Newson (opens in new tab), balance helps with monitoring menopause symptoms, asking and answering questions, exploring treatment options, and improving your mental and physical wellbeing.
Using the journaling tab, you can make use of the best journaling app features and record symptoms, mood, period changes, sleep schedules, activity levels, and more to help you understand more about your body in this life stage. The app will also highlight any significant changes in each of these parts of your life, which may provide valuable insight if you need to visit your doctor with any problems.
Perhaps most useful for those going through the early stages of menopause, without much knowledge of what the next couple of years will look like, is the 'Discover' tab. This tab offers users access to a whole range of expert-approved articles on topics relating to menopause, from everything you need to know about the pelvic floor and changes you can expect to see in your sex life to staying happy and healthy through the years. When you find one you like, you can read it right away or save it for later. Plus, there's a collaborative community feature where you can access real-world reviews of menopause treatments like HRT, take part in personal experiments to beat annoying symptoms, and read testimonies from other people.
How to choose the best health apps for you
Think about what you want to get out of the app: "Health apps can be a fantastic tool to optimize your health and wellbeing, but there is so much choice out there," warns Dr Louise Newson, menopause specialist and balance founder. "The best place to start is by thinking about what you want to get out of an app. Do you want to track your activity or symptoms, are you looking for more information and advice, or both?"
Consider whether the app has enough variety: If you're choosing a health app that's diet or exercise related, this is something important to consider. "Variety is key when looking for a fitness app as it's unlikely we'll always be moving in exactly the same way or with the same intensity [every time we workout]," says Stef Williams (opens in new tab), personal trainer and founder of WeGlow, another great health app.
Is the app easy to use? Think about whether the app is straightforward to use, suggests the doctor. "The app should be straightforward to use and incorporate into your daily life. There's no point in downloading an all-singing, all-dancing app with a raft of complicated features if you never use it. Does the app offer 'personalization', that is content based on your personal goals, your symptoms and interests?"
Does it have enough features to warrant the subscription? If your pick of the best health apps is subscription based, consider whether you'd truly be getting your money's worth. "I think it's important to find something that can support you with multiple aspects of your journey. After all, looking after yourself isn't just about moving your body, it's also about nourishing yourself and feeling supported in a way that makes you feel positive about health and fitness," says Williams.
Is it safe to use? "You need to be certain the app is safe before you hit the download button," she says. "It's important to ask questions like who has developed the app? Is the information evidence-based and what sort of input does it have from healthcare professionals and other experts? Has the app been reviewed and certified?"
Why can health apps be beneficial?
1. They can help you avoid searching the internet
Health apps can help you avoid the medical minefield that is the internet, Dr Newson says. For example, if you're looking for weight loss advice and you want to lose weight without exercise, these apps can help offer nutritional advice certified by experts. "We are all so time-pressed these days, so having access to trusted information on an app with the information you need without having to wade through pages of information online is invaluable," she says.
2. Record symptoms for a health professional to analyze
Many of the best health apps also offer journaling features that allow you to record your experience over several weeks, months, or even years in a certain area, which can help you figure out if you're having any health problems in time to come.
"There's been a real trend for health tracking apps in recent years to monitor everything from steps to sleep and periods," the doctor says. "Tracking symptoms is actually really important during the perimenopause and menopause, for instance, because for most women, your diagnosis is made based on your age, symptoms and whether you are still having periods or not."
3. Health apps can hold you accountable to your goals
Plus, your pick of the bunch can help to hold you accountable if you've set health goals for the year. Whether you've got a distance in mind and you want to learn how to start running as a beginner or prioritize your mind with one of the best meditation apps this year, there's an app for that.
"Tracking via apps can also be a great way to hold yourself accountable if you are trying to boost your general health and wellbeing such as trying to exercise more, or eating a more balanced diet," agrees Dr Newson. "Plus, they can help you keep track of self-care routines."
A digital health journalist with over five years experience writing and editing for UK publications, Grace has covered the world of health and wellbeing extensively for Cosmopolitan, The i Paper and more.
She started her career writing about the complexities of sex and relationships, before combining personal hobbies with professional and writing about fitness. Everything from the best protein powder to sleep technology, the latest health trend to nutrition essentials, Grace has a huge spectrum of interests in the wellness sphere. Having reported on the coronavirus pandemic since the very first swab, she now also counts public health among them.