The 7 best stretching apps for loosening up muscles and cooling down in 2023, tested by us
The best stretching apps can help you loosen up pre-workout and cool down afterwards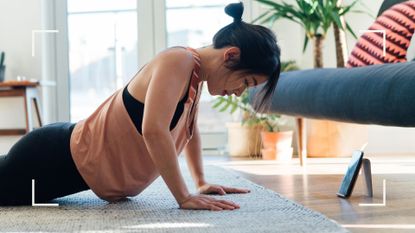 (Image credit: Getty Images)
woman&home newsletter
Sign up to our free daily email for the latest royal and entertainment news, interesting opinion, expert advice on styling and beauty trends, and no-nonsense guides to the health and wellness questions you want answered.
Thank you for signing up to . You will receive a verification email shortly.
There was a problem. Please refresh the page and try again.
The best stretching apps can take you from sore to shining in just a couple of moves, believe it or not. While it might seem that stretching when you're already aching is a little too late, moving your body can do you the world of good.
But most people (and we'll include ourselves in this) don't stretch nearly enough. Whether it's not knowing what our bodies need to alleviate a particular ache or pain or just not having the motivation to put in the time to stretch, something always seems to get in the way.
The benefits of stretching are endless, from reducing the risk of injury to boosting mobility, flexibility and even improving workout performance. A solid stretching routine is key to keeping joints moving at their full range of motion and supporting muscle relaxation, too. Just like the best workout apps can help you figure out what exercise works best for you, the best stretching apps can support you in building a stretching habit from scratch.
Best stretching apps 2023
1. Bend
Best stretching app overall
Specifications
Initial cost : Free
Additional extras: Subscriptions start $2.99 / £2.20
Built for: Curated routines, focusing on your goals
Reasons to buy
+
Guided stretches
+
Curated routines and create your own
+
Easy to follow written instructions
Reasons to avoid
-
Illustrations to follow rather than real people
Bend helps you create a stretching routine that fits within your lifestyle, sending you reminders every day at your chosen time with exercises catered to your experience (beginner, intermediate or pro), your focus (from fully body to hips and more), and based on your goals (whether that's to increase mobility or reduce stress - because yes, stretching can really support our emotional wellbeing, too). The app also has pre and post-workout routines, strength training exercises, and movements you can do from your office desk if you only have a few minutes to stretch.
When testing this pick of the best stretching apps, I loved how easy Bend's stretching routines were to follow. Each one has detailed instructions on how to do the movement and a list of the benefits. However, for those used to video workouts and tutorials, it's worth bearing in mind that the stretches are demonstrated with graphic illustrations in the app. As they're also without audio guidance, this could be a real deal breaker for those who prefer to see and hear real people taking through the routines.
2. Down Dog
Best stretching and yoga app
Specifications
Initial cost: Free
Additional extras: Subscriptions start $9.99 / £9.99
Built for: Personalized routines, yoga and stretching hybrid workouts
Reasons to buy
+
Stretches incorporated into yoga routine
+
Suitable for all levels
+
Personalised workout every time
Reasons to avoid
-
Yoga focus might not be of interest to some
-
You need separate apps to access other workouts by Down Dog
Down Dog is one of our best yoga apps - and for good reason. No two Down Dog routines are the same, which is something I love about the app. There are over 60,000 different configurations and each yoga-based stretching session will be catered to your chosen practice, experience, and pace with your chosen instructor and music genre. What's more, the Boost feature allows you to choose an area of the body that needs a little more attention and in response Down Dog creates a practice that ensures this focus is well stretched by the end of your routine.
When I first used this app, I added a 'Boost' of neck stretches and I loved how it was seamlessly incorporated into the rest of my yoga routine. For yogis who want to improve their mobility and flexibility, or those who want a yoga-focused warm-up pre-workout, this 2-in-1 app is all you need. The only downside is you can't access the other Down Dog routines (such as HIIT, barre, or prenatal yoga) via the app. For each workout type, you'll need to download the individual apps.
3. Pliability
Best stretching app for pros
Specifications
Initial cost: Free
Additional extras: subscriptions start at $13.99 / £12.99
Built for: Video workouts, mobility tests, and personalized workouts
Reasons to buy
+
New stretching videos every day
+
Over 1500+ videos on-demand
+
Mobility test and personalized workouts
+
Designed for athletes
Reasons to avoid
-
More expensive than others
-
Not as beginner friendly
Designed for athletes, Pliability (previously known as ROMWOD) has a huge library of on-demand stretching videos with new videos uploaded every day, each one focusing on a different movement or goal. If you loved the idea of Bend but want more video focus, Pilability could be for you.
Pliability explores how stretching supports both the body and mind too, making it one of the best fitness apps overall as well, and helps to improve your mobility and boost recovery from exercise, while also promoting feelings of calm.
Although some sessions require foam rollers, massage balls, or a set of the best resistance bands, there are plenty of equipment-free routines to get started with. However, this app is best suited to pros, those who already stretch, and anyone looking to take it up a notch.
4. Start Stretching
Best stretching app for beginners
Specifications
Initial cost: Free
Additional extras: Premium subscription starts at $1.99 / £1.79 one time payment
Built for: Basic stretching routines
Reasons to buy
+
Free to use
+
Easy to follow
+
Great for beginners
Reasons to avoid
-
Only has nine stretches
-
Illustration demos
If you're not quite ready for equipment-based stretching routines as featured in Pilability, try Start Stretching. It's a must-try for those who want to improve their mobility and boost flexibility without complicated routines or equipment.
It features easy-to-do stretches, with detailed descriptions and graphics to illustrate. While I didn't mind the graphics, if you prefer video demos or real people showing you how to do each movement, this one might not be for you. I'd recommend you try another one of the best stretching apps, like GoWOD, instead.
While the app is free to download, it only features nine stretches so can feel quite repetitive after some use. However, if you are new to stretching and want simple, free guidance, this should be your starting point.
5. Stretch Club
Best stretching app for daily movement
Specifications
Initial cost: Free to download
Additional extras: £8.99 per month
Built for: Daily stretching, goal-orientated stretches, programs for better stretching form
Reasons to buy
+
Simple interface
+
Programs for desk workers
+
Programs targeting specific areas
+
No need to sign up with email
Reasons to avoid
-
Many sessions only available with PRO
If you're someone who spends most of their day sat down at a desk, Stretch Club could be the pick of best stretching apps for you. Of all the programs available on the app, of which there are many, I found the most unique ones were those that focused on realigning posture and issues relating to desk work. While this is similar to Bend in many ways, there is more focus on this here.
Accompanying these desk-based stretching routines were other useful programs in the same format - such as Full Body, Sleep, Expert, Quick Stretch, and Lengthen. Plus, plenty of stretching for runners sessions. Also on the homepage, you'll find programs to target specific areas of the body such as lower back and hip stretching routines, which is ideal if you're looking to strengthen a particular area.
If you're looking for a stretching app that works as one of the best habit tracker apps too, Stretch Club may be for you. As well as jumping into different stretching programs as you like, you can create your own routine through the app. You'll need the PRO membership to do this unfortunately but it's well worth it, in my opinion, if you're someone who wants to making stretching part of their daily routine. When you start to build consistency, you'll then be able to see your progress in the weekly and monthly analytics pages.
6. StretchIt
Best personalized stretching app
Specifications
Initial cost : Free
Additional extras : Subscriptions start at $19.99 / £18.49
Built for: Personalized programs, tracking your progress
Reasons to buy
+
Personalized program
+
Track goals
+
Upload progress pictures
+
Access on-demand library
Reasons to avoid
-
Not as many classes as other apps
-
Expensive
To get started with StretchIt, I answered a series of questions based on my experience, mobility, lifestyle and stretching goals to generate a personalized program. This was my favorite thing about this app that isn't offered by many of the others on our list, making StretchIt one of the best health apps to try as well. If you have particular stretching needs, such as pain relief, then this could be the app for you.
Thanks to the seven-day free trial, you can explore everything StretchIt has to offer and your program before committing to a subscription. Although, it's worth noting that even at sign-up you need to input your contact details and payment information.
I liked that I could track my stretching workouts and progress in the app, much like Stretch Club, and even upload progress photos as I took on different challenges. Plus, having an instructor talk through each move kept me on track. As well as accessing my personalized program, I appreciated that I could watch other sessions, for example, on days when my shoulders felt tense and needed extra support.
The only downside for me was that there wasn't as many classes available to watch on StretchIT as there are with some of the other apps on our list. But, that being said, if you're new to stretching or currently doing yoga for beginners then this might be all that you need.
7. GoWOD
Best free stretching app
Specifications
Initial cost: Free
Additional extras: Subscriptions start at $11.99 / £7.49
Features: 14 day free trial for Premium, tailored mobility programs
Reasons to buy
+
Test mobility and access exercises for free
+
On-demand library
+
Different types of programs
Reasons to avoid
-
Created for stretching pros
GoWOD was designed by CrossFit athletes and health experts to help people get the most out of their mobility before and after sessions. As such, you can take mobility tests and access more than 240 stretching videos completely for free. However, it's accessible for anyone working out regularly to use, not just CrossFit athletes.
This app is one that focuses on long-term goals, with an overview of your data so you can track your stats and progress as you go, much like Stretch Club. There are three types of personalized programs on offer, including Daily, Pre-WOD and Post WOD, and you can tailor them depending on whether you're stretching in the gym or at home. If you're not a CrossFit athlete, it may be helpful to know that 'WOD' stands of Workout Of The Day while using this app.
This is a brilliant app for free stretching routines led by expert coaches, in my opinion. If you're ready to take it up a notch after exploring the free programs on offer, GoWOD Premium will grant you access to a full mobility program tailored to you, taking into account your lifestyle, training needs, training prep and recovery.
Is 20 minutes of stretching a day enough?
Yes, if you live a sedentary life then stretching for 20-minutes a day could be a great way to bring movement and balance back into your daily routine, explains yoga practitioner Maud Eeckman (opens in new tab). "However, if you're hyper-mobile, 20 minutes of stretching could aggravate and cause instability in the body," she warns. "In those circumstances, strengthening exercises would be better."
Yoga teacher Georgie Davies (opens in new tab) agrees. "I would say the most important thing is to move your body every day, whether that be through stretching, yoga, running, or other forms of exercise. It's having a variety of movements that's important," she tells woman&home. "If you're taking part in a lot of cardio or strength training without stretching, I would definitely recommend building this into your routine so your body has a combination of strength and mobility."
What happens to your body when you start stretching?
If you've just started mobility work, you should start to see some physical and mental changes occur pretty quickly, our experts agree. "Stretching helps to create flexibility in the body and so helps to increase mobility within the joints," says Davies, who is also the founder of Yogipod (opens in new tab). "The phrase 'use it or lose it' is also totally applicable to stretching, muscle health, and mobility, so the more we use our bodies the stronger they become. If you start stretching every day then it's likely you'll notice more range of motion, less muscular aches after exercise, and when combined with strength training as well, a reduced risk of injury."
Although, stretching is about more than just improved mobility. It's about finding the balance of mind as well. As Eeckman explains, "It can help the body begin to release stored emotions. These are the emotions stored under the fascia, a connective tissue which surrounds all the muscles in your body. With a consistent stretching routine people can expect to feel less stiff, feel calmer, and have a better ability to respond to situations rather than react to them."
A digital health journalist with over five years experience writing and editing for UK publications, Grace has covered the world of health and wellbeing extensively for Cosmopolitan, The i Paper and more.
She started her career writing about the complexities of sex and relationships, before combining personal hobbies with professional and writing about fitness. Everything from the best protein powder to sleep technology, the latest health trend to nutrition essentials, Grace has a huge spectrum of interests in the wellness sphere. Having reported on the coronavirus pandemic since the very first swab, she now also counts public health among them.
With contributions from