Yoga for beginners—how to get into yoga whatever your age or fitness level
Kickstart your yoga journey with our expert-approved guide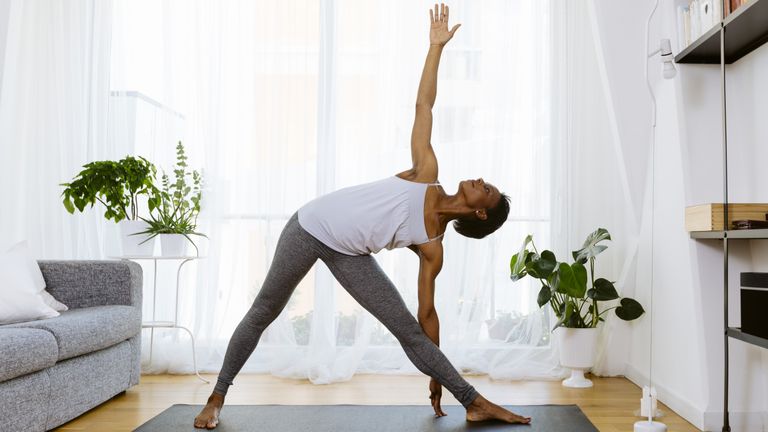 (Image credit: Getty Images)
Whether you're a total newbie or haven't practiced yoga in years, you won't regret stepping on the mat for the physical health and mental wellbeing benefits of the mindful practice. No matter your age, size, fitness level or experience, it's never too late to start yoga for beginners. 
We all know someone who raves about yoga, and for good reason. There are so many benefits of this ancient practice, from increasing strength to reducing stress and discovering acceptance of yourself and the world around you.  
Coming to yoga as a beginner can be daunting, especially if your only experience with yoga is following ultra-flexible yogis doing headstands on social media. While some people who practice yoga aim to achieve such moves, that's not all this activity is about. Many people turn to yoga for beginners because it makes them feel good, both physically and mentally. 
To help you on your yoga journey, we asked the experts for a lowdown on the mindful practice and their ultimate top tips for getting started. 
Get yourself one of the best yoga mats, and get ready to fall in love with this form of exercise.
What is yoga?  
"Yoga is a union of mind, body and breath," explains Rebecca Young Riboldi, a yoga instructor at FLYLDN. Combining a series of poses with an emphasis on the breath, it's a workout for both your body and your mind. 
The origins of this ancient practice date back more than 5,000 years to India. The language used in yoga is Sanskrit—one of the oldest languages in the world. And you'll often hear words like āsana and Savasana during practice.  
"Yoga is an incredibly transformational and constantly evolving practice," says Alana Murrin, yoga teacher at Psycle. "It combines mindful movement with breathing techniques, meditation and yogic philosophy, to help you reach a state of equilibrium and balance in body and mind."
Alana points out some aspects of yoga will feel easier than others, but those you find most challenging will be your most powerful teachers. Patience and commitment are key when it comes to this practice. 
The benefits of yoga 
Builds strength 
Improves flexibility and balance 
Increases energy levels 
Aids digestion 
Reduces the chance of osteoporosis 
Promotes resilience 
Reduces build-up of stress
Helps develop love and acceptance of your body 
Allows you to discover a deeper connection with yourself 
Gives you greater awareness of emotions 
Opportunity to connect with like-mind people 
Physical benefits of yoga
The most common misconception of yoga is that it's all about stretching. "While working deeper into the length of ligaments and muscles can be an aspect of yoga, there is an equal emphasis on strength and agility," Rebecca tells us. This strength-building aspect is so important as it helps your body maintain the various poses in the practice.  
Yoga is a form of strength training, that can have huge benefits particularly for women over 50. As you age, you naturally lose bone density and muscle, by practicing yoga you can build strength and reduce your risk of osteoporosis. You'll feel strong and powerful as you move through the yoga poses which can also be a big confidence booster. 
The mindful practice can also help you with how to breathe better, says Rebecca. "Regular practice allows you to breath deeper, strengthen the diaphragm, and allows the lungs to work more efficiently," she adds. 
A lesser-known benefit of yoga is it can actually reduce bloating and aid digestion. The gut-brain axis refers to how the gut can be affected by psychological stress. By practicing yoga and reducing stress, some people believe you can actually improve gut health and increase circulation through movement. Research even shows that yoga is an effective complementary treatment for those with Inflammatory bowel disease (IBD) because of its stress-reducing abilities. 
Yoga can also be a great relief for those who suffer from lower back pain. Research found yoga for back pain could be just as effective for back pain as physical therapy. The practice builds strength and agility, making it easier to move around day-to-day. 
Mental health benefits of yoga
Not only is reducing stress in your body good for your gut, but it is also (of course) good for your mind too! 
"Yoga helps to stimulate the parasympathetic nervous system, helping you feel more relaxed and alleviating any symptoms of anxiety and stress," Alana tells us.
When we are stressed or anxious, our sympathetic nervous system (aka our flight or fight response) goes into overdrive. The parasympathetic nervous system is a direct neutralizer to this response, so by practicing yoga and meditation you can active this neutralizer. Research shows practicing yoga for just three months may lower the stress hormone cortisol. Amazing, right?! 
When we reduce stress, we sleep better and have a greater sense of wellbeing, too. A national survey by the NCCIH looked at the impact of yoga on the lives of those who practiced it. It found 55% of yogis felt the practice improved their sleep, while 85% found it reduced their stress levels. 
Emotional wellbeing benefits of yoga
Dedicating time to your yoga practice is dedicating time to yourself. Coming to the mat every day will do wonders for your emotional wellbeing. 
"Yoga offers an opportunity to connect back to yourself and in a busy world with infinite distractions, this is becoming increasingly important. Regardless of your mood, energy levels, and skills, the practice will always create a space for you to show up just as you are," says Alana. 
Just like meditation, as you step out of your mind and into your body, yoga will give you a sense of awareness that helps you better understand your thoughts and emotions. 
"The goal is not to push out negative thoughts or emotions, but rather to confront these emotions, sit with them and better understand them," says Rebecca, adding "This, coupled with the endorphins that are produced during some of the stronger sequences, can leave you with an improved sense of self and many positive emotional gains." 
The best types of yoga for beginners  
There are lots of different types of yoga. The best type for you will depend on your health and fitness goals. 
The best yoga for beginners include: 
1. Hatha yoga
Hatha yoga is a great introduction to the practice and a gentle way to start yoga for beginners. It focuses on teaching the physical postures of yoga with an emphasis on the breath. You'll learn the basics and become familiar with the poses you can expect to see as you try other types of yoga. 
In a Hatha class, you'll also hold the poses for longer compared to flow practices. "As you hold the poses for longer, you have more opportunity to familiarise yourself with the structure and experience of each pose," says Kat Farrants, founder of the online yoga platform Movement For Modern Life. 
2. Restorative yoga
"Restorative yoga is a very calm and still practice, where you can experience deep relaxation through a series of long, passive stretches, fully supported by props," says Kat. 
Holding passive poses doesn't put too much pressure on muscles, and will actually help your body release any built-up tension. This is a great bedtime yoga practice. It will kickstart your parasympathetic nervous system and, as the same suggests, it will leave you feeling restored and ready for deep sleep. 
3. Yin yoga
Yin yoga focuses on targeting the deep connective tissue around the muscles to stretch and lengthen. In a Yin class, you can expect to hold each pose for up to 10 minutes, which really allows the muscles time to stretch and tension to melt away. 
"Unlike the Vinyasa style, it's not a sweeping, flowing sequence. You will hold a series of poses often supported by bolsters, cushions, and blankets for a minimum of three minutes to help the body relax and open up," Alana says. 
4. Vinyasa yoga
Vinyasa is a more dynamic style of yoga and is best suited to those who've learned the basics in Hatha or Yin. You'll actively hold each pose for a few breaths before flowing into the next pose.
Vinyasa classes are great for strengthening and building endurance. Combined with a focus on the breath, you can expect to feel energized and agile after a flow. A perfect way to start your day. 
How to start yoga 
1. Be patient
Yoga is not something you will master, it's called a 'practice' for a reason—so, don't be tempted to give up after a few classes! 
"There is no being good or bad at yoga," says Alana, "Respect your own journey and your body's inner wisdom. There will never be a moment you're not good enough, so don't compare yourself to others"
Rebecca often speaks to students who feel confused after their first class. "It's totally normal!" she says, "Keep up a routine and after three to five classes and you will start to get the hang of it."
2. Find a class you love
Whether you practice yoga at home using one of the best workouts apps or practice at a studio—finding a class you love is so important for your journey. 
If you don't connect with the teacher or space, it could taint your yoga experience and you won't want to keep practicing. "It's so important to feel comfortable, safe, and inspired in your practice," Alana tells us. 
"Just like in school, we all connect with different teachers that help us to better learn and grow, and it's the same in yoga," Rebecca explains. 
3. Meditate
"One thing that has helped me get more out of my yoga practice over the years is an interest in understanding and practicing meditation," Rebecca says. 
"There are many apps that make it accessible these days, and it is really a great skill to practice that is extremely complementary to a yoga practice. 
Before your first mouthful of coffee in the morning, take a few moments to breathe deeply in through your nose and out through your mouth. "As you get more used to breathwork and mediation, you'll find it appears more in your life unconsciously—whether that's a walk around the park, or five minutes of peace when you wake up, that all counts and will have great mindful benefits," explains Chatty Dobson, yoga teacher and owner of FLEX Chelsea.  
 The square breathing method is a great technique to get you started:  
 Close your eyes and visualize a square in your mind's eye  
 As you breathe follow the sides of the square in your mind 
 Breathe in for a count of 4  
 Hold for a count of 4 
 Breathe out for a count of 4  
 Pause for a count of 4  
What to wear for yoga 
Comfort is key during yoga, so find something that makes you feel good and allows you to move freely through the poses. 
"Avoid clothes with zips or fastenings so you can lie comfortably on your back or stomach during class," Alana advises. 
You should also avoid clothing that's too loose. "You don't want to find yourself adjusting and moving things around while you're in your yoga practice. Avoid wearing a baggy shirt or sweater as it will end up irritating you by falling in your face during downward dog, which can also disrupt your breathing," Rebecca says. 
Instead opt for fitted leggings (see our round-up of the best leggings for inspo), a comfortable sports bra, and a breathable sports top. You should also remove socks or shoes for your practice to give you a better grip on the mat. 
Which yoga mat is the best?
The brilliant thing about yoga is you don't need much to get started. But, if you do decide to invest in a yoga mat, finding a mat that supports your body while you move and stays securely on the floor is a must. 
We reviewed all the best yoga mats on the market, and highly rate the Lululemon Reversible Mat 3mm. Made of a natural rubber that offers ultimate support for joints, this yoga mat is slightly wider than some of the other options on the market—providing plenty of room for movement. It doesn't contain latex, which is great for those with allergies. The antimicrobial properties of the mat prevent mold and mildew build-up (but you should still learn how to clean a yoga mat properly!)
The best thick yoga mats are a great option for those who need a little extra cushioning to support and protect joints. We love the Gaiam Premium Mandala 6mm yoga mat for this. It's a stylish and durable option, offering lots of grip and stability. 
Yoga for beginners on YouTube 
To get you started, we've rounded up our favorite yoga practices for beginners on YouTube. From Yoga with Adrienne to Cat Meffan, here are four beginner's practices we love. 
1. Morning Yoga Stretch for Beginners | Yoga with Kassandra 
Time: 10 minutes 
Just 10 minutes a day can make all the difference at the beginning of your yoga journey. This quick morning routine from Yoga with Kassandra will wake up your muscles and give you the energy boost you need to kick off your day. 
2. Morning Yoga for Beginners - Weight Loss Edition | Sarah Beth Yoga
Time: 15 minutes 
Ready to get a sweat on? Try Sarah Beth Yoga's morning routine. This 15-minute practice is great for strengthening and toning. Designed specifically for those turning to yoga for weight loss, Sarah advises completing this workout three times a week until you feel ready to move onto an intermediate or longer practice. 
3. Foundations of Yoga | Yoga with Adriene
Time: 20 minutes 
Learn the foundations of a Vinyasa flow with YouTube sensation Yoga with Adriene. This is a great at-home practice to try before taking a class at your local studio. The slow 20-minute practice will help you nail the basics of yoga. 
4. Yoga for Beginners | Cat Meffan 
Time: 30 minutes 
When you're ready to try a longer practice, join Cat Meffan (and her super cute pup) for a relaxed 30-minute routine. This is a great beginner's yoga practice, combining basic and gentle movements with a focus on the breath. 
Ciara is the digital health editor at woman&home.com, covering all things health & wellbeing from fitness to sleep to relationships. She's always on the lookout for new health trends, innovative fitness gadgets and must-read wellness books. 
Originally from Ireland, Ciara moved to London to study journalism. After graduation, Ciara started her career at Goodhousekeeping.com/uk where she worked as a junior digital writer before later becoming the acting senior digital writer. Her time there was spent writing lifestyle features, running photoshoots and video shoots, and organizing product tests (including sportswear and swimwear) for the website. 
Ciara qualified as a meditation teacher with the British School of Meditation in 2020, and outside of her day-to-day now runs her own meditation school called Finding Quiet. She is all about bettering that mind-body connection but believes wellness looks different to everyone. 
In her spare time, you'll find her trying out new fitness classes, hiking up mountains, or in a beer garden because life is all about balance…