The 10 best yoga apps to find your zen in 2023
One of the best yoga apps can help you practice your favorite sessions at home or on the go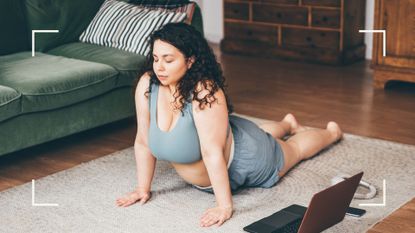 (Image credit: Getty Images)
woman&home newsletter
Sign up to our free daily email for the latest royal and entertainment news, interesting opinion, expert advice on styling and beauty trends, and no-nonsense guides to the health and wellness questions you want answered.
Thank you for signing up to . You will receive a verification email shortly.
There was a problem. Please refresh the page and try again.
If you'd rather stay at home and find your flow, a pick of the best yoga apps could be for you. Instead of heading to your local studio, you can try something new, revisit an old favorite, or improve on your technique and explore sessions from the comfort of your home.
With yoga being one of the more popular low-impact workouts out there, however, there are so many different apps to choose from. No matter whether you're looking to reach a certain goal with your practice or just relax and unwind after a long day, sorting through the selection takes some work. Here, at woman&home, we've tried and tested a dozen of the best yoga apps on the app store to deliver a curated collection for you to try.
From apps focused solely on mindfulness to the best workout apps that offer a range of sessions and wellbeing tools, there's something for everyone on our list. All you need to do is pick up one of the top-rated yoga mats (or, one of the best thick yoga mats if you like a little extra support), and find your favorite with your pick of the bunch.
The best yoga apps 2023, as tested by us
Why you can trust Woman & Home Our expert reviewers spend hours testing and comparing products and services so you can choose the best for you. Find out more about how we test.
1. Down Dog
Best yoga app overall
Specifications
Initial cost: Free
Additional extras: Subscriptions start at $9.99 / £9.99
Features : Personalized classes, audio & video classes, 7 day free trial
Reasons to buy
+
Tailored practice every time
+
Easy to use
+
Excellent teachers
+
Track progress
Reasons to avoid
-
Some practices are audio only
-
Can't access other workouts from the platform
For a personalized yoga practice, look no further than Down Dog. With this app, no two workouts are the same. For each session, you can select the time, level, focus, instructor, and music to generate a practice that is tailored to your needs. There are over 60,000 different configurations within the app led by six teachers, and multiple types of yoga to explore from Vinyasa and Hatha to yoga nidra and cardio flows. I particularly loved the Boost feature, which allows you to add a little something extra to your practice - whether that's a focus on back-strengthening exercises or neck stretches. Some days I wanted an energizing practice and some days a relaxing session, so I appreciated that with Down Dog I could choose a music genre that best fits my mood that day.
The app has rave reviews on the Apple App Store, and it's not hard to see why. It's easy to use, easy-to-follow, offers a personalized class, and is also one of the best stretching apps out there generally. The only downside for me is that you can't access the other workouts Down Dog has to offer. The developer has also created the likes of Down Dog HIIT, Barre, Prenatal Yoga, and Meditation,m but to access these workouts, you have to download each app.
2. Glo
Best yoga and wellbeing app
Specifications
Initial cost: Free
Additional extras: Subscriptions start at $23.99 / £21.49
Features: On-demand and live classes, self-guided programs, download classes to practise offline, 7 day free trial
Reasons to buy
+
On-demand classes
+
Live classes
+
Suitable for all levels/experience
+
Offers yoga and more
Reasons to avoid
-
Depending on your time zone, live classes might be too late/early in the day
Glo is one of the best health apps as it offers yoga, Pilates, meditation, and fitness workouts all in one place, led by some of the best teachers in the world. There are classes for every level, whether you're a newbie or a pro, and all workouts can be customized depending on your experience, the time you have to practice, your desired intensity, and your chosen style.
With Glo, you'll have access to hundreds of pre-recorded classes but I also appreciated that I could book live classes on the app. Sometimes having a session scheduled for a specific time can boost workout motivation and ensure you turn up to the mat.
You'll receive personalized recommendations based on your go-to classes and you can create collections to store your favorite sessions in one place. You can also download classes to practice when you're on the go and don't have wifi access. I thought it was great that Glo offers workouts for prenatal and postnatal workouts for parents too. They meet you where you're at, without the need to download a separate app or sign up for a specific program. Overall, this is a brilliant yoga app but I wish there were more live classes tailored to n audience as due to time zone differences there was only one morning class available with most live classes starting after 1 pm.
3. Daily Yoga
Best yoga app for tailored practices
Specifications
Initial cost: Free
Additional extras: Subscriptions start at $9.99 / £9.49
Features: Workout challenges, new classes weekly, guided meditations
Reasons to buy
+
Classes tailored to your goals
+
Personalized yoga plan
+
Range of subscription types available
+
Community section to chat with others
Reasons to avoid
-
Need premium Gold membership to access some key features
According to Daily Yoga, it has been the number 1 yoga app since 2012 with over 60 million users throughout that time - so, is it really worth the hype? If your sole focus is yoga and meditation, then this is the only virtual studio you need in your pocket.
There's a range of programs to follow, whether you want to lose weight, improve flexibility, or boost strength. Plus, you can tailor your workouts based on your focus for that day, for example, if you want to learn how to sleep better or reduce stress. The videos are clear and easy to follow, with real-life yoga experts guiding you through each workout. The Smart Coach feature creates a 28-day class schedule, tailored to you and your goals, and you can keep track of your workouts in the app as well as connect it to your smartwatch or other devices for better overall fitness monitoring.
It's worth noting that the Gold Pro Membership is needed to access all the features and get the most of this app. Keep an eye on the platform for discounts if you wish to upgrade.
4. Happy Place
Best yoga app to create a wellbeing toolkit
Specifications
Initial cost: Free
Additional extras: Subscriptions start at $NA / £9.99
Features: Range of wellbeing practices, private space to journal and track progress, 14-day free trial
Reasons to buy
+
Range of classes curated by experts
+
Private space to write intentions, etc
+
Space to set and track goals
+
Free trial
Reasons to avoid
-
Not suitable for those diving deeper on their yoga journey
-
Not available in all regions
If you love Fearne Cotton's podcast Happy Place, one of the best podcasts for self-improvement, then you'll love this app. The Happy Place app is packed with wellbeing practices and advice from global experts. When it comes to your yoga practitioners, Zephry Wildman and Rosie Underwood will help you find your flow. You can also access guided meditations, breathwork, tapping practices, sound baths, manifesting tips, sleep advice, and more in the app.
We know that yoga is about more than the postures you can do on the mat. It's about looking inward and finding balance for your body and mind. With weekly recommendations of mood-boosting practices, a private space to write your goals and gratitude lists, and an area to track your progress, Happy Place is an all-rounder. It's both one of the best yoga apps and one of the best journaling apps, providing you with practical tools to support your wellbeing. However, if you're not so interested in the other wellbeing practices and want to focus solely on yoga, an app offering tailored programs would be better suited.
5. Peloton
Best yoga app for fun workouts
Specifications
Initial cost: Free
Additional extras: Subscriptions start at $12.99 / £12.99
Features : Offers range of expert-led workouts, track progress, live and on-demand classes
Reasons to buy
+
Huge range of workouts available
+
Expert yoga teachers
+
Live and on-demand classes
+
Fun, music-led practices
Reasons to avoid
-
No extra resources if you want to learn more about yoga
When you think of Peloton, yoga probably isn't the first activity that springs to mind. You might be more inclined to compare cycling vs running with this pick of the bunch. But actually, the fitness app is for everyone - even those that don't own the infamous Peloton bike. Offering expert-led workouts you can do on the move and from the comfort of your own home, Peloton has excellent yoga practices and mindful movement sessions to boost that mind-body connection and encourage you to implement mindful movement into your everyday life.
The Pelton teachers are inspiring and empowering, with classes available for all levels. Themed practices allow you to find your zen to your favourite tunes (try the R&B Slow Flow, thank me later). Plus, there are workouts tailored to target different parts of the body, for example practices for tight hamstrings or a stiff neck. Classes can be watched live or on-demand, and you can track your progress in the app.
Peloton yoga practices are less about mastering certain types of yoga or postures, and more about moving your body in a way that feels good for you. With your Peloton subscription, you can access all other workouts and practices in the app too.
6. Headspace
Best yoga and meditation app
Specifications
Initial cost: Free
Additional extras: Subscriptions start at $12.99/£9.99
Features: Offers more than yoga, fitness challenges, Olympians teachers, women's health section, free trial
Reasons to buy
+
More than yoga, also features meditation, guided runs/walks, sleep stories
+
Expert teachers and Olympians
Reasons to avoid
-
Not as suitable for advanced yogis
Headspace is known and loved for its guided meditations and mindfulness programs, being one of the best meditation apps, but did you know this app also has an array of mood-boosting workouts including yoga? Within the Move section of the app, you'll find mindful movements to relieve stress and release tension, easy-to-do at-home yoga workouts, and 28-day fitness programs. Plus, you'll have the chance to be trained by experts and Olympians such as Kim Glass and Leon Taylor.
I loved this app because everything's in one place: my morning meditations, my evening workouts, and my nighttime sleep stories. With one subscription I could access it all and track my progress. However, if you want to dive deeper into your yoga journey, learn specific postures, and discover more about the practice of yoga, you might be better suited to a more in-depth and specifically yoga-focused app.
7. Alo Moves
Best yoga app for advanced yogis
Specifications
Initial cost: Free
Additional extras: Subscriptions start at $19.99 / £17.49
Features: Two week trial, new classes daily, download to use offline
Reasons to buy
+
Personalized class recommendations
+
New classes uploaded daily
+
Also features meditations and affirmations
+
Features range of types of yoga
+
Download classes to practise offline
Reasons to avoid
-
Need props for some of the workouts
Alo has some of the best workout leggings out there, so it's no surprise the brand also has a world-class yoga and movement app, too. Alo Moves has a huge range of yoga classes including Vinyasa, Ashtanga, Hatha, Restorative, Yin Yoga, Yoga for Beginners, Kundalini, and even Prenatal Yoga. Plus, there are fitness workouts such as HIIT, barre, Pilates, and mindfulness sessions like meditation and breathwork. You can also access skill-focused programs to improve your flexibility, mobility, and more in the app.
Already there are over 3,000+ classes on Alo, with 70+ world-class instructors. New workouts are also added daily so you'll never get bored, which I really appreciated when testing out this app. You can download classes to practice offline without needing WIFI access. Yoga at the beach anyone? I loved how simple this app was to use as well. It's dynamic, visually appealing, and the instructors have a great energy that had me coming back for more every time. The two-week trial allows plenty of time to find out if this is the right app for you.
8. Fly LDN
Best yoga app for all levels
Specifications
Initial cost: Free
Additional extras: Subscriptions start at £8.99/month
Features: Available on phone and desktop, seven day free trial
Reasons to buy
+
Weekly live classes
+
On-demand classes
+
Suitable for all levels
Reasons to avoid
-
New platform, not as many uploads
-
Not available worldwide
Previously an exclusive London-based yoga and Pilates studio, Fly LDN is now a virtual yoga and fitness platform. The on-demand workouts include yoga, barre, Pilates for beginners, and low-impact training options, plus live-streamed classes to support you in building a regular workout routine.
Choose from a range of on-demand yoga workouts in Fly LDN's signature style with classes available for all levels. There are practices for those who are short on time, want a relaxing session, or an equipment-free workout too. Plus, the platform runs monthly challenges to support you on your yoga journey. I loved that I could access the app on a range of devices, from my phone to my desktop and even my smart TV. Seeing my practice on the big screen (rather than on my tiny iPhone) definitely improved my flow from one posture to the next and made the overall experience so much more comfortable.
While this is a relatively new platform, born in the 2020 lockdown, there are already over 200 classes available to watch with intuitive teachers who show just how much yoga is more than what you do on the mat.
9. Yoga for Beginners
Best yoga app for beginners
Specifications
Initial cost: Free
Additional extras: Subscriptions start at $3.99
Features: Tailored programs
Reasons to buy
+
Tailored to beginners
+
Programs based on age and experience
Reasons to avoid
-
Doesn't offer enough variety for experienced yogis
Yoga for beginners is a great app for, well, beginners. It will see you through your yoga journey, with daily programs tailored to your age, ability, and goals. The app is simple to navigate and delves deeper into each of the different poses you come across in this mindful practice. It offers audio guidance, much like the WithU app, and video workouts with yoga practices tailored to your focus, whether that's building strength, releasing the tension, or improving flexibility.
However, you'll likely grow out of this app quickly once you've mastered the basic moves and are ready for more in-depth practices, but it's a great starting point.
10. WithU
Best yoga audio app
Specifications
Initial cost: Free
Additional extras: Subscriptions start at $9.99 / £9.99
Features: Audio workouts, expert coaches
Reasons to buy
+
Audio workouts
+
Expert coaches
+
More than yoga workouts
Reasons to avoid
-
Not as suitable for beginners who like visuals
WithU offers over 170 audio-guided yoga sessions you can tune into any time, anywhere. However, unlike many of the other top yoga apps, there's no video accompaniment. This app is entirely based on audio, so you can tune in with your headphone and remove the need for looking at a screen as you move.
While this works for those who want to reduce their overall screen time, I found it was better suited to advanced yogis who are familiar with traditional poses and know how to move from one to the next. Although, there is an avatar that plays on the screen to show you the different moves.
The app offers more than yoga, with over 1,000 audio workouts ranging everywhere from six minutes to 50 minutes. There are free features available too, but you'll need a membership to access exclusive programs and track your progress. As well as yoga you'll find meditation, mobility, cardio, treadmill, spin workouts, and so much more.
How to choose the best yoga app for you
Does it outline the practice fully? "What we think of as yoga in the West is primarily asana or the idea of bringing your body into certain postures," explains yoga teacher Georgie Davies (opens in new tab). "Yoga itself also includes meditation, pranayama or breathwork, as well as other tools for taking your awareness inward."
How easy is it to use? If you're looking to practice every day or most days of the week, you'll want an app that's simple to navigate around. "You want an app that's easy to navigate and also has a desktop version so if you want to practice on a bigger screen, you can," says Maud Eeckman (opens in new tab), a wellbeing and empowerment coach who uses yoga tools in her sessions.
Community: Does the app allow you to share your practice with others? "I think it's nice to have a community aspect of a yoga app, so that you can share experiences of practice with a supportive community like you would hopefully have in a studio as well," says Davies.
Does the teacher's energy match yours? "You should also look for an energy match in your teacher," adds Eeckman. "It will maximise the chance you open the app regularly and practice yoga."
Is two hours of yoga a week enough?
Yes, two hours of yoga is more than enough to see both physical progress in your body and experience the numerous mental health benefits of yoga. However, don't feel like you need to do hours of practice to reap the many benefits of yoga, say the experts.
"If you feel like two hours of yoga is enough for you to find balance in your life, then yes," says Eeckman. "If two hours feels like a chore or makes you feel guilty if you don't do it, then rework how you can fit yoga into your life."
Instead of investing hours of work into the practice when you're not feeling in the zone to do so, build consistency. "I would instead look at building a consistent practice of awareness," adds Davies, who is also the founder of Yogipod (opens in new tab). "Become aware of what makes you feel good on and off the mat and build that into your week. This could mean that, sometimes, two hours of yoga a week feels like enough for you but other times you might want to incorporate more restorative practices into your routine.
She adds, "The physical practice of yoga is a great addition to any other exercise done throughout the week too. And so, if that is the aim of the practice then whether two hours a week is enough depends on what other activities are being undertaken as well." For example, incorporating some Pilates for strength training may be beneficial to improve your technique, but you should be aware of your energy levels as exercising when you feel run down can have negative side effects.
How do I know if I'm doing yoga correctly?
"Yoga is never about how it looks, it's about how it feels," says Eeckman. If you are able to notice a shift in how you are feeling, building that self-awareness muscle, you are doing yoga, and you're smashing it," says Maud.
Davies explains, "It's about making sure the body feels comfortable. That doesn't mean there won't be periods of effort where you will feel the body working or stretching, but we are not looking for discomfort."
A great way to check in on this is by observing your breath, she suggests. "If your breath becomes hurried or stressed, check in with how you're feeling and see if you can move into a more comfortable position to allow the breath to slow and relax. Ultimately, we all look different off the mat. All our bodies are unique and so, in my opinion, all of our yoga postures will also look slightly different from each other."
A digital health journalist with over five years experience writing and editing for UK publications, Grace has covered the world of health and wellbeing extensively for Cosmopolitan, The i Paper and more.
She started her career writing about the complexities of sex and relationships, before combining personal hobbies with professional and writing about fitness. Everything from the best protein powder to sleep technology, the latest health trend to nutrition essentials, Grace has a huge spectrum of interests in the wellness sphere. Having reported on the coronavirus pandemic since the very first swab, she now also counts public health among them.
With contributions from