The best yoga mats for finding your flow at home or in the gym
Get the most out of your stretching routine, meditation session or workout with our top picks
Included in this guide:
1
Lululemon
The Reversible Mat 3mm
2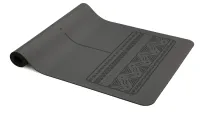 Yogi
Bare Paws Natural Rubber Extreme Grip
3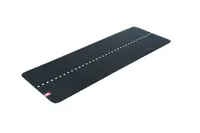 Escape
Fitness Yoga Mat
4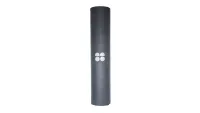 Sweaty
Betty Super Grip Yoga Mat
5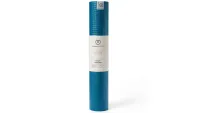 Yogamatters
Sticky Yoga Mat
6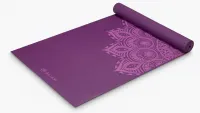 Gaiam
Premium Mandala 6mm Yoga Mat
7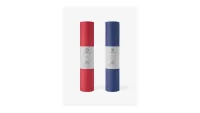 Yogamatters
Revive Yoga Mat
8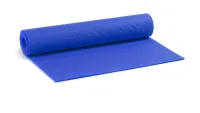 Yogistar
Children's Yogamatte Yoga Mat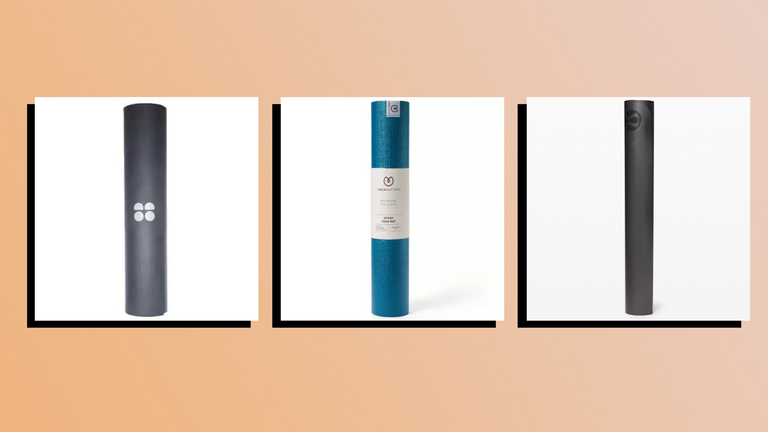 (Image credit: Future)
By Faye M Smith , Aleesha Badkar , Ciara McGinley published
Investing in one of the best yoga mats can help you get the most out of your yoga practice. After all, yoga is great for your health, no matter your age, fitness level or fitness goals. It increases flexibility, strengthens and improves muscle tone, and can help reduce stress and anxiety.
An excellent yoga mat will offer excellent grip and all the support you need as you move, whether you're dipping your toe in yoga for beginners, want a comfy meditation set-up, or are on the search for a mat suitable for all workouts.
To help you find the best yoga mat for you, we tried and tested popular brands such as Lululemon, Sweaty Betty, Yogamatters and Meglio. All the products in our round-up were of excellent quality, but the Lululemon Reversible Mat 3mm really stood out. It's a slightly more expensive option but will last you many years to come. However, if the Lululemon mat is a little too think, we've got extra-thick options and durable picks for ultimate stability as you flow.
How we tested the best yoga mats
We put each yoga mat to the test during a range of activities. We did everything from power yoga and Vinyasa yoga to meditation and at-home workouts to see how these mats fared. We paid particular attention to aspects such as material, support, design and size.
Material—the best material is down to personal choice. Natural rubber options are antimicrobial, cork mats are eco-friendly while PVC mats are affordable and easy to clean. You should also consider if you want an open-cell yoga mat that absorbs sweat (ideal for hot yoga) or a closed-cell mat that doesn't soak up moisture and is easy to clean. No matter what mat you choose, it's important you know how to clean a yoga mat based on what it's made from.
Grip—a mat with a great grip on both sides is a must-have to avoid any nasty slips as you flow. Yoga mats with a non-slip coating or those that are made from materials like rubber are best.
Support—if you want extra support for joints, choose one of the best thick yoga mats with extra cushioning for ultimate comfort.
Design—is a brightly colored mat important to you? Or do you enjoy an alfresco flow and need a yoga mat that comes with a helpful carrying strap? We tested a range of fun yoga mats to give you an overview of the designs on the market, but look out for accessories you might need.
Size—if you plan to use your yoga mat for HIIT workouts too, it's worth opting for a slightly larger size than the standard yoga mat.
The best yoga mats as reviewed by our experts
1. Lululemon The Reversible Mat 3mm
Best yoga mat overall
Specifications
RRP: $78/£58
Dimensions: 180cm x 66cm
Thickness: 3mm
Material: Polyurethane and rubber
Weight: 1.76g
Colors: 21
Reasons to buy
+Antimicrobial+Wider than standard yoga mats+Durable +Non-slip
Reasons to avoid
-Slight aroma at first-Contains latex
Not only are they responsible for some of the very best workout leggings on the market, but the folks at Lululemon are also a dab hand when it comes to yoga mats. Whether you're looking for one of the best yoga mats for meditation or turning to yoga for weight loss, this Lululemon mat ticks all the boxes and then some. Despite being just 3mm thick, it's incredibly squidgy (thanks to the natural rubber base), so joints feel both supported and protected. Tough and durable, with a simple unisex style, hands and feet won't slip on this black mat at all, even when you're wearing socks or workout shoes.
While it does contain latex, which isn't great for those with allergies, it also has antimicrobial properties to help prevent mold and mildew. It's slightly wider than standard mats on the market, so you definitely feel like you have plenty of room to move. The only downside is it does smell a bit strange when first unwrapped, although that does disappear once aired.
See our full The Lululemon The Reversible Mat 3mm review
2. Yogi Bare Paws Natural Rubber Extreme Grip
Best hot yoga mat
Specifications
RRP: $104.95/£74.95
Dimensions: 180mm x 66mm
Thickness: 4mm
Material: Natural rubber and PU
Weight: 2.5kg
Colors: 5
Reasons to buy
+Sustainable and vegan+Non-slip, even when wet+Slightly thicker at 4mm
Reasons to avoid
-Tricky to roll up and store-Heavier than other options
When most yoga mats get wet, they also get super slippery. But, that's not the case for this Yogi Bare mat—making it perfect for hot yoga or when you want to get your sweat on.
Available in red, dark green or grey, the stunning Aztec-style design is laser-etched onto the mat itself, which is ideal for helping to know where to put your hands and feet in certain poses. This mat has been designed with the environment in mind. It's biodegradable, made with fully sustainable materials, vegan-friendly and even the packaging used is 100% recyclable.
The best bit? It literally won't move. You can jump around all you like, completely safe in the knowledge this mat is staying put. It's almost triple the price of some of the other options on this list, but for keen yogis who want a slightly thicker mat that doesn't budge, this is worth the investment.
See our full Yogi Bare Paws Natural Rubber Extreme Grip review
3. Escape Fitness Yoga Mat
Most affordable yoga mat
Specifications
RRP: $31.24/£20.60
Dimensions: 173cm x 61cm
Thickness: 4mm
Material: Compact foam
Weight: 1.06kg
Colors: 1
Reasons to buy
+Great value+Lightweight+Positioning guide for hands and feet
Reasons to avoid
-Narrow -Slippery on carpet
If you're new to the mindful practice or want to buy a mat on a budget, try the Escape Fitness Yoga Mat. It scores highly when it comes to looks, and makes this buy seem much more expensive than it really is. The 4mm thick foam mat is comfortable and supportive. We love the large white spots down the center, which makes it easy to line up hands and feet and nail yoga poses.
Not only does it have a good grip, especially on a wooden floor, but at just 1.06kg, it's a lightweight pick. Plus, it goes back into its rolled-up position well, making it easy to transport.
See our full Escape Fitness Yoga Mat review
4. Sweaty Betty Super Grip Yoga Mat
Best non-slip yoga mat
Specifications
RRP: $78/£65
Dimensions: 183cm x 61cm
Thickness: 4mm
Material: Natural Latex
Weight: 2kg
Colors: 4
Reasons to buy
+Stable and supportive +Comfortable latex +Made from biodegradable natural latex+Easy to clean
Reasons to avoid
-Slightly heavy-Not suitable for those with a a latex allergy
Any fitness fan out there will list Sweaty Betty as one of their go-to brands for gym kit. So, it's no surprise the brand also knows a thing or two about accessories.
The Super Grip Yoga Mat was easily the best non-slip mat we tested. Made from natural latex that doesn't hold funky unwanted smells or contain any harmful substances, this yoga mat really lives up to its name with ultimate gripping powers. It's cleverly designed so that it sticks to the ground, no matter how strenuous the workout. It also has a sticky grip on the other side so hands and feet stay in place when stretching too.
At 4mm thick it provides plenty of support and cushioning for joints. However, at 2kg it's best kept for at-home yoga sessions. As it's made from biodegradable natural latex, it's not suitable for those with latex allergies.
5. Yogamatters Sticky Yoga Mat
Best latex-free yoga mat
Specifications
RRP: $39.49 (approx.)/£22
Dimensions: 183cm x 61cm
Thickness: 4.5mm
Material: High-grade PVC
Weight: 1.4kg
Colors: 14
Reasons to buy
+Latex-free+Lightweight +Texture for ultimate grip
Reasons to avoid
-Slippery when wet-Slight aroma
The durable Yogamatters Sticky Yoga Mat is one of the best yoga mats for everyday use—the choice of bright colors could be the boost you need, especially when stretching in the morning. In fact, there are 14 different shades to choose from in this style, so you'll certainly find one that suits you.
The mat doesn't contain any toxic phthalates or DOP, which is considered to be a carcinogen. Most importantly as it's made from High-grade PVC, it's easy to clean and free from latex. The textured material helps with grip and supports you as you move. At 4.5mm thick, it protects knees and cushions joints. While it doesn't come with a yoga strap, you can pick one up from the brand to easily carry this to your next yoga or Pilates class. However, we suggest avoiding using this mat for hot yoga as we found it to be slippery when wet.
See our full Yogamatters Sticky Yoga Mat review
7. Gaiam Premium Mandala 6mm Yoga Mat
Best thick yoga mat
Specifications
RRP: $29.99/£32.49
Material: PVC
Dimensions: 172cm x 61cm
Weight: 1.34kg
Thickness: 6mm
Colors: 40 designs
Reasons to buy
+Latex-free+Anti-slip+Mandala inspired design
Reasons to avoid
-Slight aroma at first-Not great when wet
Looking for something both squishy and stylish? Gaiam really delivers on comfort and this thick yoga mat from their Premium range is no exception. Producing quality and durable buys is the reason they have been a leading yoga brand for a quarter of a century, so it's a great choice for both beginners and more experienced yogis.
While it's nowhere near as expensive as some of the rubber varieties of yoga mats on the market, this one still offers stability and grip, thanks to the PVC material. Plus, there are no nasty phthalates, making it safe for the whole family to use. If this bold, purple design isn't quite right for you, there are plenty of others in the range.
Once you get past the slight aroma on first use and let the mat air out, you're set to love this pick. We wouldn't recommend it for sweaty HIIT sessions or hot yoga, but for everyday stretching and restorative yoga, you can't go wrong.
8. Yogamatters Revive Yoga Mat
Best yoga mat for all workouts
Specifications
RRP: $62 (approx) /£45
Dimensions: 183cm x 61cm
Thickness: 5mm
Material: 100% TPE
Weight: 1.2kg
Colors: 2
Reasons to buy
+Lots of cushioning +Closed-cell makes it easy to clean+Lightweight +Great for all workouts
Reasons to avoid
-Slightly slippery at first in socks and shoes
In the market for a mat to use for all of your workouts? Let us introduce you to the Yogamatters Revive Yoga Mat. Designed specifically to suit all activities, whether you're a seasoned yogi or trying Pilates for beginners, this mat will see you through any exercise.
Made from 100% TPE with a closed-cell surface, it doesn't absorb sweat and is super easy to clean post-workout—you can use the brand's yoga cleaner, or simply wipe it down with warm soapy water. We found the mat a little slippery in socks and shoes at first, but once worn in we had no problems. The grip is excellent, thanks to the textured surface. And at 5mm thick it will keep joints well-cushioned as you move.
The Yogamatters mat is available in Cherry and Midnight. It's not the most affordable yoga mat in our round-up, but if you're investing in an exercise mat for all your workouts we couldn't recommend it more.
9. Yogistar Children's Yogamatte Yoga Mat
Best yoga mat for kids
Specifications
RRP: $18.79 (approx.)/£13.32 (approx.)
Material: PVC
Dimensions: 152cm x 51cm
Weight: 900g
Thickness: 4mm
Colors: 4
Reasons to buy
+Non-slip+Washing-machine friendly+Thick and supportive
Reasons to avoid
-Expensive-Often out of stock
Often available on Amazon, this Yogistar mat is one of the best yoga mats for children. And, at 152cm x 51cm, they shouldn't get too big for it too soon, either!
It's made with PVC, meaning the grip is exceptionally sturdy, especially on hard floors (where the insulation will also help to keep tiny feet warm). It's non-toxic and free from phthalates and heavy metals, so won't irritate the skin or cause allergies. But what makes this one of our best yoga mats for little ones is the fact that you can wash it at 30ºC in a washing machine.
Get your little one involved in your daily yoga or meditation routine, not only is it a great bonding experience but they're sure to reap the wellbeing benefits of the mindful practices, too.
Is there a difference between a yoga mat and a fitness mat?
With so many mats to choose from, it can be difficult to know whether to invest in a fitness mat or a yoga mat. In general, they are very similar and often made of the same materials. But, there are a few key differences worth noting.
Fitness mats tend to be slightly wider and thicker to withstand the weight of intense HIIT workouts, weights and allow for lots of movement. Yoga mats are usually slim and thin and aren't designed to be used when wearing shoes. If you use the same mat for both workouts, it might wear down a little quicker and need to be cleaned more regularly, but can still be used.
Faye M Smith is an award-winning journalist with over 15 years experience in the magazine industry. Her continued work in the area of natural health won her the coveted title of theHealth Food Manufacturers' Association (HFMA) Journalist of the Year Award 2021.
Currently Acting Health Editor across several brands including woman&home, Woman and Woman's Own, Faye specialises in writing about mental health, the menopause, and sex and relationships. In fact, having previously been the go-to sex columnist for Now magazine, there isn't much she won't discuss when it comes to women's health. This makes her the best person to review must-buy sex toys, describe how to have a mind-blowing orgasm or explain how to navigate sex in the shower without it ending in a medical emergency.
While not anti-gym, Faye's fitness routine is more focussed on finding inner balance rather than burning excess calories. An advocate of mindfulness, she loves power breathing, yoga and plenty of walking in nearby woodlands rather than a sweaty HIIT class. Follow her @fayetuned