The best dumbbells for women—get strong and fit at home with our tried and tested free weights recommendations
From adjustable dumbbells to hex-shaped dumbbells, our top picks will help you work up a sweat weight training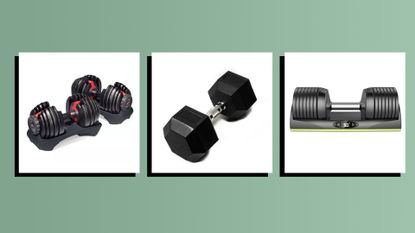 (Image credit: Future)
Dumbbells are not just an effective way to build muscle but can be the least daunting of gym-based weights for women who are new to strength training. Investing in the best dumbbells has two main benefits—you can start small and increase your weight as you become stronger—and, you can work out from the comfort of your own home.
Dumbbells are the basis of multiple workouts—including HIIT classes, strength-based workouts, and even barre classes. When using dumbbells, expect to work up a sweat and watch your heart rate increase on your fitness watch (see our guide to the best fitness trackers if you're in the market to invest).
Strength training for women is even more important as we get older. As we age and during menopause, we naturally lose bone density and our muscles become weaker. By performing strengthening exercises with dumbbells, resistance bands, or our own body weight, we can combat this natural loss, build muscle, tone up and reduce the risk of injury. If weight loss is your goal, strength training with dumbbells also increases the body's metabolic rate and helps to burn fat more effectively too, even at rest.
Unlike a barbell, dumbbells are easy to use for newbies and a space saver that can be tucked away in a cupboard or under a desk. But, just because dumbells are small, don't be fooled. They will still make you sweat and add a strength element to your favorite at-home workouts. In recent years, dumbbells from the most popular brands including Bowflex, JaxJox, and TRX have been in high demand. Now that stock levels are back up, we've tried and tested some of the most sought-after brands out there to bring you a round-up of the best dumbells for women who want to build strength and endurance and boost feel-good endorphins from their own homes.
How we tested the best dumbbells
Why you can trust Woman & Home Our expert reviewers spend hours testing and comparing products and services so you can choose the best for you. Find out more about how we test.
We tested all the dumbbells in this round-up while performing a range of strength training workouts and exercises such as goblet squats, weighted arm rows, deadlifts, and weighted lunges. We assessed our top picks on weight, type, and performance—three important factors to keep in mind when you're shopping for dumbbells.
Weight—if you're a beginner, opting for a 5lbs-10lbs dumbbell is a good place to start. You'll ideally want to increase your weight by 5lbs every week if you're new to strength training, so investing in adjustable dumbbells could be a great option.
Type—from hex dumbbells to smart tech dumbbells, there are lots of types out there. Hex dumbbells are most similar to those you'll find at a gym. They're affordable and limit wear and tear on wooden floors. With adjustable dumbbells, you'll get more for your money, but they're expensive. Consider what type suits your fitness goals and budget.
Performance—it's important not only to consider the type and weight but how well dumbbells perform. A good grip and easy-to-hold handles are a must-have, to ensure you can securely lift the dumbbells and perform upper body exercises safely.
The best dumbbells as chosen by our fitness experts
1. Bowflex SelectTech 552i Dumbbells
The best dumbbells overall
Specifications
RRP: $741/£538
Weight variation: 2-24kg
Adjustable weights? : Yes
Reasons to buy
+
Easy to adjust
+
Good grip
+
Great weight range
Reasons to avoid
-
Not as attractive as some other models
The Bowflex SelectTech 552i Dumbbells are the best dumbells if you're in the market for a rack of adjustable weights. The steel plates can be adjusted with a simple turn of the dial—taking them from 2-24kg in just seconds (a must-have feature if you're fitting your training around a busy .lifestyle )With a plastic grooved handle, they're easy to hold and don't slip as you sweat—this is essential, especially when you start lifting the heavier weights.
They're not the prettiest of weights for propping up in your home, but they performed well for arm exercises including shoulder presses and bent-over rows. Plus, were steady enough to rest on the body when performing exercises such as weighted hip thrusts. We think these weights are best suited to fitness lovers who plan to use all the weights or have goals to lift up to 24kg. It's an expensive piece of kit, but well worth the long-term investment for your at-home workouts.
2. Eleiko Vulcano Dumbbells
Best premium dumbbells
Specifications
RRP: From $39/£28
Weight variations: 1-40kg
Adjustable weights? : No
Reasons to buy
+
Great grip
+
Durable—made from sturdy polyurethane
For single premium dumbells, look no further than the Eleiko Vulcano Dumbbells. Made of sturdy polyurethane, these weights offer great grip, are twice as strong as rubber, and are odor-free. The gently sloped handle is knurled to provide a secure grip and we found them comfortable to hold as we made our way through upper body workouts.
Available in a range of weights, from 1kg-40kg, there is a set to suit everyone. However, as they are single, non-adjustable weights you'll have to commit to one pair—we'd love to see them sold as a bundle. Overall, a great premium option if you're serious about lifting weights. And, it's a piece of kit that can easily be shared with all the family at home.
3. Shreddy Dumbbells
Best dumbbell kit for beginners
Specifications
RRP: $41/£30
Weight Variations : 4-8kg
Adjustable weights? : No
Reasons to buy
+
Small, easy to store
+
Colorful
+
Great for first-timers
+
Affordable
Reasons to avoid
-
Grip could be better
-
Not suitable for overarm workouts
When we opened the Shreddy dumbbells, the first thing that stood out to us was the color. Aptly named 'Pink To Make You Wink' the 6kg dumbbell set is a great addition to beginner's at-home workouts. The brand, owned by fitness guru Grace Beverley, also sells 4kg and 8kg dumbbells.
Made of durable cast iron with a rubber coating, these weights are set to last you many years to come. However, due to the coating, they didn't provide the best grip, especially when we were super sweaty. Because of this, we stuck to using these dumbells for lower body workouts over upper body—which is great for increasing muscle and combating loss of bone density in the lower body.
4. TRX Hex Rubber Dumbbells
Best hex dumbbells
Specifications
RRP: From $19/£13.95 for one 5lb dumbbell
Weight variations: 5lbs-50lbs
Adjustable weights? : No
Reasons to buy
+
Stable design
+
Affordable price
Reasons to avoid
-
Grip uncomfortable during some moves
Want a no-fuss pair of dumbbells? Say hello to the TRX Hex Rubber Dumbbells. Made with durable, rubber-hex ends and contoured ergonomic handles, these dumbbells performed well for bench pressed and deadlifts. They were comfortable to use, thanks to the knurled textured grip, and felt secure to hold thanks to the 6-sided hex design.
The only time the grip felt uncomfortable was when we put too much pressure on the handles—such as when performing planks. With such an affordable price tag, they are great for beginners and pros alike as you can pick these dumbbells up in a range of weights from 5lbs—50lbs.
5. JaxJox DumbbellConnect
The best adjustable dumbbells with smart tech
Specifications
RRP: $499/£499
Weight : 8-50lbs
Adjustable weights? : Yes
Reasons to buy
+
Easy to use
+
App to track workouts
+
Smart technology
+
Adjustable
Reasons to avoid
-
Large weight increments
-
Quite big to store
If you're into everything digital then these smart adjustable dumbbells have your name all over them. Featuring a small LCD screen on the weight rack, you can change the weight of your dumbbells at the touch of a button—genius! You can link your weights with an app to track reps, volume, sets, and workout duration, too.
The digitally adjustable weights ranging from 8-50lbs, and you can increase and drop your weight in 6lb increments. The weights offer great grip and stayed firmly in our hands as we performed everything from squats to presses during our workouts.
The tech is easy to use, however, the entire piece of kit is rather big and difficult to store at home unless you have plenty of space. We'd also love to see smaller weight increments so weight can be gradually increased for different workouts, as this would be more suitable to those at the beginning of their strength training journey.
There's no denying these dumbbells come with an expensive price tag, but as they're adjustable it means you'll be able to use them for a much longer period of time than you would a single set of dumbbells. A serious investment for your at-home gym.
6. Blk Box individual Hex dumbbells
Most affordable single hex dumbbells
Specifications
RRP: From $15/£12 for one
Weight variations: 2.5kg-50kg
Adjustable weights? : No
Reasons to buy
+
Stable design
+
Quiet for at-home workouts
+
Sold separately means you can buy the exact weights you want
Reasons to avoid
-
Sold separately means no bulk price saving
The Blk Box individual Hex dumbbells are a great pick if you're looking for a single gym-style dumbbell. The brand offers dumbbells in a range of weights, from 2.5kg-50kg. As they are sold separately, you can pick up a range of weights of your choice without having to purchase two of the same weights in a set.
Featuring heavy-duty, rubber-encased heads that help minimize noise and limit wear and tear—they're not going to win any beauty awards but they get the job done and won't ruin your wooden floors. We tried the 4kg weights out and found them sturdy enough to hold via the heads when performing weighted squats or by their chrome-plated, contoured handles when completing other arm-based routines. The grip on the handle was slightly uncomfortable when held for too long, but they never slipped.
7. Core Fitness Adjustable Dumbbell Set
Best budget adjustable dumbbells
Specifications
RRP: $349.99/£253
Weight variation: 5-50lbs
Adjustable weights? : Yes
Reasons to buy
+
Great weight variation
+
Reasonable price
Adjustable dumbbells are expensive, there's no denying it—but, for a set of smart dumbbells under $400 or £300 see this Core Fitness option.
The sleek set sits in a lightweight aluminum cradle. The weights work by twisting the dumbbell handle to change the weight, which ranges from 5lbs—50lbs. The rubber handle was comfortable to hold and we didn't lose our grip, no matter how sweaty we were during workouts. Even during overhead exercises, these weights always felt secure. Like the other adjustable options in this round-up, they are tricky to store as they're bulkier than traditional dumbbells.
8. Sweatband DKN rubber dumbbells
Best dumbbells for home workouts
Specifications
RRP: $55/£39.99
Weight variation: 2kg-12.5kg
Adjustable weights? : No
Reasons to buy
+
Quiet for at-home workouts
+
Made from durable materials
Tight for space but keen to add a weight element to your at-home workouts? We've got the pick for you. The Sweatband DKN rubber dumbbells are basic, but thanks to the rubber-encased hex-style heads they are quiet on wooden floors and won't damage the flooring.
The hexagonal design was great for stability when we were switching between weight-based exercises during a workout to bodyweight exercises. Grip was good for most exercises, thanks to the steel and grooved detail. However, when resting our hands on the grip they weren't so comfortable (the brand does offer grip gloves for this reason though). The brand also has resistance bands and kettlebells available in different weights.
What to consider when shopping for dumbbells
If you're still not sure what dumbbells to invest in, Mollie Millington Personal Trainer, UK Athletics Coach and Holistic Health Coach, shared with us her key considerations when it comes to shopping for weights.
Shipping time and cost—in recent years, dumbbells have been in high demand since fitness lovers turned to working out at home. For this reason, many manufactures ran out of stock and lots of eager shoppers were put on waiting lists to bag some weights for their at-home workouts. Shipping time for this product is often still delayed, and because of the weight of the product, it can be expensive. If you can, order via click & collect to avoid the extra charge.
Order a range of weights—if you're ordering fixed dumbbells over adjustable, order them in larger increments rather than smaller ones. For example, instead of ordering 2kg, 3kg and 4kg dumbbells, order 2kg, 4kg and 6kg so that as you build strength, you can start lifting heavier. If you've invested in smaller dumbbells, you might be able to hold two in one hand to increase the weight or put them in a backpack for certain exercises.
Consider material and shape—rubber-coated weights are less slippery, offer good grip and are less likely to damage your floors. Metal dumbbells are often more accurate for the weight but can catch on jewelry and leave marks on the floor. Weights with round ends will roll around, while flat-sided weights are easier to store and thanks to their stability can be used safely in exercises such as press-ups.
Fixed vs adjustable dumbbells: which one is better?
Fixed dumbbells are affordable, while adjustable dumbbells are typically more expensive costing over $200. Depending on where you're at in your fitness journey there are pros and cons to both.
Fixed dumbbells—the type of weights you'll find in gyms. They are great for beginners as they are affordable and easy to use—just pick up and get lifting. They are small and can easily be stored under your bed or couch between workouts. The downside to fixed dumbbells is if you invest in only one set, you'll grow out of them quickly and need to purchase a heavier set if progressive overloading is part of your fitness goals. The heavier the weight, the more expensive the dumbbell. If you find your dumbbells have become too light, you can increase your reps or frequency of your lifting for a new challenge.
Adjustable dumbbells—more expensive than fixed weights, but well worth the investment if you're dedicated to your strength training journey and ready to kit out an at-home gym. Switching the plates of adjustable dumbbells can be time-consuming and not ideal for those fitting a quick workout into busy family life. However, there are smart-tech adjustable options making it easier than ever to move between weights as you build strength. If you're tight on space, they might be difficult to store as they often come with wide holding racks.
Why dumbbell workouts are great for women aged 40+
Lifting weights isn't just for bodybuilders or those who want to build lots of muscle. For women over 40, incorporating a strength training element into their workouts with dumbbells can be beneficial for their overall health as well as their fitness levels.
Lifting dumbells not only builds strength, but it will also combat the natural loss of bone density that comes with menopause, improve posture and balance, reduce risk of injury and overall improve mental wellbeing by releasing the feel-good endorphins that leave you feeling strong and fit. It build endurance as you move through the reps and will boost your confidence as you work your way to heavier dumbbells.
By putting stress on the body through workouts with dumbells, you'll develop strong bones and reduce the risk of osteoporosis too, personal trainer Aimee Victoria Long, founder of the Body Beautiful Method previously told w&h.
What's more, dumbbell workouts can also compact menopause weight gain. It won't rack up as many calories burnt when compared to cardio workouts, but it does increase your metabolism and in turn, helps to burn more calories at rest. Research (opens in new tab)from the University of New Mexico even found increased muscle mass from strength training helped to burn more calories.
Dumbbells are also a great introduction to strength training for women who haven't lifted weights before. They're relatively easy to use, once you master the correct posture with the help of a PT in-person or online, and can be less intimidating than squat racks and barbells at gyms.
Can you build muscle and burn fat with weight training?
Not only will weight training help you combat the natural loss of bone density that comes with age, but it can also help you build muscle and burn fat.
"You can build muscle with dumbells but if they are light, the muscles will not be large," Millington says.
"You will probably be shaping for a 'toned look'. Or if you do many reps (2-4 past the point where it gets uncomfortable), that will help with building more muscle. Heavier weights with fewer reps will give you bigger muscles in a shorter amount of time," Millington adds.
For those with weight loss goals, strength training combined with cardio and a nutritious diet full of protein and healthy fats is a game-changer. By building muscle, you better your body's ability to burn calories even while you rest.
"Training that promotes muscle growth will also help to increase the body's metabolic rate. The more muscle we have, the more calories the body burns even at rest, so it's good for losing weight and maintaining weight loss," nutritionist Kim Pearson previously told w&h.
You can do this by trying the best bodyweight workouts, resistance band workouts or adding strength-building elements to your HIIT routines with dumbbells.
w&h thanks Mollie Millington (opens in new tab) Personal Trainer, UK Athletics Coach and Holistic Health Coach, personal trainer Aimee Victoria Long (opens in new tab), founder of the Body Beautiful Method and nutritionist Kim Pearson (opens in new tab) for their time and expertise.