How to pick the right yoga mat for you, whatever your budget and ability
A few easy tricks can help you unroll and go!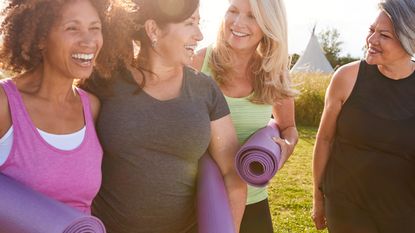 (Image credit: Getty Images / monkeybusinessimages)
Want to invest in a new yoga mat and no idea how to choose the right one? We're here to help!
With most people preferring to shop online at the moment, buying one of the best yoga mats can be tricky. And then, once it's been delivered and you've unwrapped it, it's often too late to send it back and pick another. But there are things you can look out for when it comes to picking the right yoga mat for you.So, if you can't get to the shops,f ollowing a few simple rules can help you make a smart decision.
"When selecting your mat, always think about what is important to you," says Jamie Kent, founder of Yoga Download."You want to find one that you love not only for the look and design, but also the way it feels to use. There are many different natural materials available and they all have slightly different advantages. And, of course, it's also important to think about comfort and good grip."
Already have a yoga mat? Not all of them are durable enough to last a lifetime. It could be time to upgrade or, if you're developing your yoga skills, you may need more than one mat. "For some yogis, it's not a matter of upgrading as you practise more regularly, but diversifying your mat collection," says Jamie. "If you have a heavy mat, your second mat could be a lightweight, travel-friendly mat. You can always add to your mat collection and use different ones for different situations. Plus, it's always nice to have extras to practise with your friends and family."
So, got your best leggings on? Then, here's everything you need to know about picking the right yoga mat for you.
How the right yoga mat can boost balance and aid performance
"There are so many reasons why you should have your own yoga mat," says Laura Pearce, senior yoga teacher and founder of Kin Yoga Mats."The space becomes your sanctuary for the hour or so you're in class, allowing you to melt away into your own little cocoon of calm."
Plus, using a yoga mat can help boost your yoga practice."The type of mat you use can have a big effect," says Laura. "A high-grip mat stops your feet slipping apart in lunge and warrior poses. For many of these poses, you need to activate your abductors and glutes, which is done through the feeling of 'tearing your mat in half' with your feet. It's a common cue you may have heard your yoga teacher use. This activation keeps the hips stable and safe, and means you can maintain control moving into other shapes."
Balance poses are another reason for investing in the perfect mat. "If you don't have the right cushioning while doing a headstand, it really hurts. But too much 'foaminess' may cause you to wobble," says Laura.
Picking the right yoga mat for you
First thing to do is consider which yoga style you'll be doing.
Just stretching. Then a basic buy is potentially all you need, especially if you want to improve your posture.
Getting extra sweaty or moving around a lot. A premium rubber pick will help stop you sliding too much."A high-quality mat will work for all styles of yoga," says Jamie. "But there are definitely some mats that are more suitable for certain styles, such as Hot Yoga and Yin Yoga. A mat with maximum grip is extra important for any heated yoga class, where students are more likely to sweat and are more susceptible to sliding around on their mats."
For meditation. Looking into mindfulness?Comfort is especially important, so look for something 5mm thick or over.
Regular inversions: "Practices that incorporate regular inversions, such as some Vinyasa and Iyengar classes, as well as styles that spend a good amount of time on the floor, such as Restorative and Yin Yoga, benefit from the bestthick yoga matsthat provide extra padding," says Jamie.
Why you should always aim for the top of your budget
The price of your mat can make a difference to the quality, but it isn't the only deciding factor when it comes to the yoga mat you should pick. "There is a large variety of mats available these days. This has increased competition in the market and made it easier than ever to get a high-quality mat at a reasonable price," says Jamie. "But, be aware, the lowest-end mats, which are significantly cheaper than the rest, are usually made of PVC. It's worth going up a price point to find a mat with superior grip and composition. Plus, a quality durable mat usually won't need to be upgraded often."
New to yoga? "For most people, buying a mid-range mat is an ideal place to start your yoga practice," says Jamie. "If it becomes a regular part of your life, investing in a nicer, top-of-the-line mat could be worth it." You want to make the experience enjoyable. This is especially worth noting as research has found that thebenefits of yogacan have a huge impact on both your mental and physical wellbeing."In the end, yoga is more about what you do with your body, and a good mat takes itself out of the equation and allows you to immerse yourself in the practice," says Jamie.
Weight can make a big difference when picking the rightyoga mat
The weight of your yoga mat matters in some instances. "A slightly heavier mat will provide a more stable base as you practise, and you will be less likely to slide around," says Jamie. "This is especially helpful if you are practising a more dynamic and fast-paced class. A heavier mat is also usually thicker, which provides benefits, such as more support in certain poses."
Plan to carry your yoga mat around between the gym and home? Then opt for a lighter mat, as awkwardly carrying one around may result in you ruining your posture, which is what yoga should be fixing instead. "Of course, if you plan to travel long distances, it might make sense to get something thinner," says Jamie. "Although, be warned, even lighter mats can get heavy and cumbersome if you're carrying them for long distances."
Here's which materials are best to avoid
While it may not always be possible, depending on your budget, there are some materials you should try to avoid. "The main material to try to avoid when purchasing a yoga mat is PVC, which stands for polyvinyl chloride," says Jamie. "Many everyday yoga mats are made from PVC, which is a toxic plastic. PVC has been classified as a human carcinogen and is harmful to the planet. This material does not break down easily and its toxins can be bioaccumulative, meaning tiny pieces build up in our bodies."
And, although there is nothing you can really do about PVC, there are some tricks to get rid of any chemical smells on your new or existing yoga mat. "If your new mat smells of chemicals, spray and wipe it down with a non-toxic, anti-odour spray. You can purchase a store-bought one or you can easily make your own. Many yogis swear by a little water and apple cider vinegar," says Jamie. "Alternatively, you can add a few drops of your favourite essential oil to some water. Combine these in a spray bottle and thoroughly wipe down your mat. These natural products will gradually work to eliminate any unwanted smells."
Remember: Eco-friendly buys can be just as durable
Keen to try something eco-friendly, but worry it won't be quite as long-lasting? Nowadays, eco mats are just as tough and durable. "Eco mats are becoming more advanced and you can expect a similar quality to non-eco-friendly mats," says Jamie. "As with many products, there are many benefits to mats made from natural materials. Some common materials are natural tree rubbers and cork, which provide incredible durability."
Plus, many eco-friendly buys are also biodegradable. This means that if you bury them in the garden, they will often decompose within a year.
If you can, test the grip of a new mat
Able to see and try the yoga mat in person before committing? Then make sure you test the grip. It's really simple to do and can help you make an instant decision as to whether it's right for you.
"One way to test the grippiness of a mat is to simply put your hand on it and try to slide it up and down with a bit of pressure applied," says Jamie. "If your hand slides, so will you while you're practising. Slippery mats are pretty easy to spot and feel. Another way to test is to do a Downward Facing Dog on the mat and see how the grip feels."
Faye M Smith is an award-winning journalist with over 15 years experience in the magazine industry. Her continued work in the area of natural health won her the coveted title of the Health Food Manufacturers' Association (HFMA) Journalist of the Year Award 2021. Currently Health Editor across several brands including woman&home, Woman and Woman's Own, Faye specialises in writing about mental health, the menopause, and sex and relationships.