The 8 best bath towels to buy in 2023: tested for absorbency and softness
Our curated edit of the best bath towels has been tried and tested by us to find out how they perform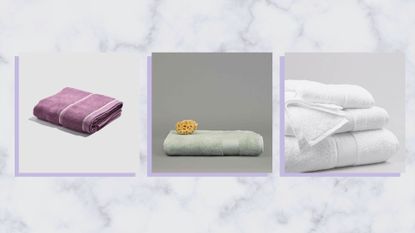 (Image credit: Piglet in Bed/Dip and Doze/Tielle/Future)
The best bath towels should be absorbent, soft, and kind to the skin, without turning coarse and starchy once they've been washed.
Soft, luxurious-looking towels are not only an ideal way to make your bathroom look expensive, but they should also provide a high level of absorbency, without taking too long to dry out after use (if you want to avoid an unpleasant damp smell emanating from your towel).
We tested eight of the best bath towels in 2023 for a cozy, deluxe feel, taking note of how they felt to use, how effective they were at drying, and what their GSM – or grams per square meter – is, which refers to the weight of the towel and subsequently how absorbent it is.
And if you're wondering how often should you wash your towels? experts recommend washing after every three uses, so we also popped these towels in the washing machine to see how well they retained their shape and fluffiness at that level of washing.
How we tested the best bath towels
Why you can trust Woman & Home Our expert reviewers spend hours testing and comparing products and services so you can choose the best for you. Find out more about how we test.
When testing the best bath towels we considered some key factors, including...
Material: Probably the most important element of a bath towel is how the towel feels when you use it on your skin. The towels we tested were all made from cotton, from cotton terry to Egyptian cotton. High-quality materials - and bonus points if they were ethically and sustainably produced - are integral when choosing a new bath towel.
GSM: Used to measure the weight and absorbency of a towel, GSM refers to how 'heavy' the material is. Luxury towels are often made from a higher GSM, and therefore have a thicker, fluffier feel.
Absorbency: However, a high GSM doesn't always convert to a supremely absorbent towel. We tested how quickly the bath towels drew in moisture, as well as how efficient they were at self-drying - did the towel feel heavy and damp after use, or did it retain a lightweight feel even after absorbing water?
How well did the towel wash and dry?: There are few things more frustrating than investing in a super-soft, fluffy towel, before seeing it become hard and scratchy after being washed and dried. While we didn't test these towels with a tumble-dryer, we noted how well they fared in the washing machine without shrinking, and when air-drying.
RRP: High-quality bath towels don't need to break the bank, but you will likely pay more for a thicker, more luxurious feel. We tested the value for money for these towels, and how they stood up against the claims made about their quality.
The best bath towels, as tested by us
Image 1 of 2
1. Piglet in Bed Cotton Towel
Best bath towel overall
Specifications
RRP: $26.39 / £22
Materials: 100% ethically-sourced cotton, 100% polyester on the trim
GSM: 500
Reasons to buy
+
Great price
+
Fluffy and soft
+
Medium weight so not too heavy
The Piglet in Bed cotton bath towel is made from zero-twist cotton, which means the yarns within the fabric haven't been twisted, a practice that enables the fabric to have higher strength but is not necessary with naturally strong materials such as Egyptian cotton. While the bath towel is made from 100% soft, sustainable cotton, the polyester trim around the edge of the towel is a little stiffer, but as this trim is so short and unnoticeable, I didn't find this to be an issue when it came to comfort.
Using this towel for the first time, I was struck by how fleecing it felt, without feeling so thick that it was difficult to wrap around me post-shower. At 500gsm, this isn't the heaviest towel I tested, but I found that there was no compromise on absorbency, and I actually preferred that the towel felt a little more lightweight than, say, the Dusk Monaco bath towel.
While I was skeptical that the material would lose its softness in the wash, I found that it didn't shrink, nor turn scratchy after a wash and air drying, retaining its shape and comforting feel.
Another plus of this Piglet in Bed option is the price - considering how luxurious the cotton feels, you might expect a higher RRP for such a high-quality towel. The 100% cotton used is also certified by OEKO-TEX (opens in new tab), meaning it wasn't produced with the use of any harmful chemicals or substances, and the cotton is also sourced in partnership with the cotton sustainability program Better Cotton Initiative (opens in new tab), making this an eco-friendly bath towel option, too.
Image 1 of 2
2. Tielle Luxury Hotel White Towel
Best luxury bath towel
Specifications
RRP: $23.98 / £20
Materials: 100% Turkish combed cotton
GSM: 650
Reasons to buy
+
High GSM for a luxury, hotel-like feel
+
Available as a 'jumbo bale' which includes two of each towel size
+
Still felt soft and fresh after being washed and dried
Reasons to avoid
-
Might feel a little too heavy for some people
Tielle is known for its luxurious, hotel-standard towels and bedding, including the best mattress protectors, and this spa-feel bath towel is no exception. Made from 650gsm Turkish cotton, this towel is definitely on the heavier side, which made for a super-absorbent feel, but would definitely be too heavy for some people. However, I really felt I was living a life of luxury with this thick, soft bath towel, and when I hung it to dry on my towel rail after use, the high absorbency level meant that it didn't feel too damp to the touch.
The softness of the Tielle bath towel held up the best out of all the towels I tested, washed and dried, despite being air-dried rather than tumble-dried. Tielle actually claims that the towel can be washed with a heat of 95 degrees celcius, though they recommend around 60 degrees, but I washed this towel with similar colors (and no fabric softener) on just 40 degrees and I found that it came out of the machine feeling fresh and soft, and dried with zero starchiness.
The towels can also be personalized with embroidery for an extra cost, which is a nice touch that wouldn't bump up the RRP of the towel too much, considering its £20 price is already so reasonable. If you'd prefer a more lightweight feel to your towel, this option probably isn't for you - it's thicker and heavier than other options on our list, like the H&M Cotton Terry Towel, but the weightier feel is definitely worth it for the level of luxury that comes with it.
Image 1 of 2
3. The White Company Ecoloom Towel
Best The White Company bath towel
Specifications
RRP: $28.76 / £24
Materials: 100% cotton
GSM: 550
Reasons to buy
+
Lightweight feel
+
Not too large
+
Sustainably made
Reasons to avoid
-
Not as absorbent as other options
The White Company is regarded as a go-to brand for high-quality bath towels, so I was surprised that this 100% cotton option wasn't at a higher price. You definitely get value for money with this towel, which is able to feel both lightweight and thick at the same time. While it didn't retain exactly the same level of silky-softness after washing and drying, this larger-sized towel still felt really snug and comforting to use.
The Ecoloom towel sits somewhere in the middle of a thick, heavy, hotel-like towel a la the Tielle option I tried, and a more lightweight, everyday option like the M&S Antibacterial towel or the H&M Cotton Terry offers. There are lots of sizes available for the Ecoloom towels, from an inexpensive face cloth to the 'super jumbo' size, and
The White Company claims that the Ecoloom towels are made with reduced energy and water usage and use natural starch. While this sustainable production technique is definitely a bonus, it does mean that the cotton in this towel isn't 'zero-twist', but I found that the bath towel still felt thick, strong, and of high quality.
Image 1 of 2
4. Dusk Monaco Bath Towel
Best budget bath towel
Specifications
RRP: $11.99 / £10
Materials: 100% cotton
GSM: 500
Reasons to buy
+
Appealing ridged design
+
Available in several natural colors
+
Strong, durable material of zero-twist cotton
Plain white towels can sometimes look a little lackluster, so I loved the ridged design of this Dusk option, which covered the whole towel except for a small section of pipe trim around the edges.
While the 100% cotton is 500gsm, this towel actually felt a little thinner than, for example, the Sheridan Luxury Egyptian Cotton towel, though this didn't result in a compromise when it came to absorbency. However, while this is a slightly thinner option, I did find that the size of the bath towel was a little too large: it didn't fit comfortably on my towel rail without having to bunch some of the material up, which meant it couldn't air dry evenly after use.
If you don't mind a larger towel, though, you'll be rewarded with the sheer softness of this Dusk offering. This quickly became my favorite white bath towel in my home, which is somehow supremely absorbent and plush, whilst also having a lightweight feel that I loved.
At Dusk's recommendation, I machine-washed this towel at 30 degrees Celsius, and although it did take a while to air-dry in my flat, the material felt just as soft when it did as when I first used it. Plus, at just $11.99/£10, this really is a fantastic all-rounder.
Image 1 of 2
5. H&M Cotton Terry Bath Towel
Best cotton terry bath towel
Specifications
RRP: $10.77 / £8.99
Materials: 100% cotton terry
GSM: Not known
Reasons to buy
+
Super lightweight
+
Terry material is highly absorbent
+
Dries very quickly after use, would be a great towel for traveling with
Reasons to avoid
-
Not a luxury-feel towel
-
Doesn't feel incredibly soft
Terry refers to a style of weaving that can either be used for a cotton mix with fabrics such as polyester or silk, or a 100% cotton terry fabric. Terry towels are a popular choice because they're so absorbent, and while the GSM is unclear with this towel, the cotton terry fabric makes for a really lightweight feel, with this option being the thinnest out of all the towels I tried. It also features a large hook on one long side of the material, to easily hang up after use.
While the towel doesn't feel quite as luxurious as the Tielle or Dusk bath towels I tested for this guide, I loved how lightweight it was, and I would definitely take it with me to the gym or even use it as a beach towel if I didn't want to take up too much space in my bag.
This definitely isn't the softest towel ever, but I found that it was a great option when I was drying myself off in a rush, and just wanted a highly-absorbent towel that would do the job without necessarily feeling super luxurious. Air-drying and machine-washing this towel provided no issues, either, and the lightweight towel definitely kept its shape without shrinking or becoming scratchy.
Image 1 of 2
6. M&S Super Soft Pure Cotton Antibacterial Towel
Best bath towel for absorbency
Specifications
RRP: $14.97 / £12.50
Materials: 100% cotton
GSM: 550
Reasons to buy
+
Feels the same after machine-washing and air-drying
+
Several colors available
+
Lightweight but absorbent
While it does claim to be 'super soft', I did find that other options such as the Dip and Doze bath towel I tested did have that little extra bit of softness when compared to this M&S option. However, for such a low price and with antibacterial properties which are kind to the skin and the environment, I found this 550gsm bath towel to be great value for money.
The first thing I noticed when using the towel was just how absorbent it was - I was seemingly instantly dry, and the towel didn't feel too moist when I hung it up on my towel rail afterward, either. As a lightweight towel and not the softest option I tested, I did find that the material felt almost exactly the same after machine-washing and air-drying as it did when I first used it.
The 100% cotton material of the towel was made with the Better Cotton Initiative, meaning the materials used were sourced ethically and sustainably, and the towel has a low-twist yarn which gave it a stronger, secure feel without being too hefty. If you're not looking for a luxury-feel bath towel, this is a great price for an option that feels like it would last a long time.
Image 1 of 2
7. Dip and Doze Cotton Bath Towel
Best sustainable bath towel
Specifications
RRP: £25 (UK only)
Materials: 100% cotton
GSM: 600
Reasons to buy
+
Made from ethically-sourced cotton
+
High GSM for a soft, thick feel
Reasons to avoid
-
Doesn't retain its softness as much as others after washing and drying
With a high GSM of 600, this thick towel from Dip and Doze is a highly absorbent option, though I did find that it didn't retain its softness after a machine wash and air-dry as well as some other options on this list. That said, it still felt fresh and of high quality when it came out of the wash, and it really does feel like it's been made with care. Made from 100% organic and Fairtrade cotton, this Dip and Doze towel is the perfect sustainable option, and I loved the natural Sage color, too.
There's also a handy hook for hanging up your towel so you don't compromise the material by making it sag, and for a 600gsm towel, I didn't feel that it was so heavy as to weigh me down when I used it. I'd say this is a medium level of weight when it comes to lightweight bath towels, which meant it was best suited for everyday use, and I also felt comfortable using it to dry my hair without the feeling that it was damaging the strands.
While the price is a little higher than, for example, the Dusk Monaco bath towel or the H&M Cotton Terry option, the knowledge that the cotton was made and sourced sustainably is another plus point to this well-made towel.
Image 1 of 2
8. Sheridan Luxury Egyptian Cotton Towel
Best Egyptian cotton towel
Specifications
RRP: £20.40 (UK only)
Materials: 100% Egyptian cotton
GSM: 660
Reasons to buy
+
Lots of colors available
+
Thick, plush feel
+
Dries quickly after use
Reasons to avoid
-
Quite expensive when not on sale
-
Very heavy feel
This bath towel is made from combed, ring-spun Egyptian cotton pile yarns and the luxurious feel of this Sheridan option is certainly reflected in the fair heft pre-sale RRP. However, I found that the towel definitely lived up to my expectations: with a GSM of 660, this was one of the thicker, more weighty towels I tested, and its softness was also immediately apparent when I used it.
With such a high GSM, it's natural that this sort of towel would feel much heavier than a more lightweight, low-GSM option, and I did find that when I first dried myself off with the towel, the heaviness of it was a little frustrating. But its absorption level was impressive, and even though the material is so weighty, I noticed that it didn't take a lifetime to dry out on my towel rail after I had used it.
Even after washing and drying, this thick towel still retained its softness, and while it would definitely be too bulky for traveling with, this Egyptian cotton option will definitely be a go-to when I want to be enveloped in a snug, sturdy towel.
What is GSM?
Robert Lancaster-Gaye, co-founder of Tielle Love Luxury (opens in new tab), tells us that "GSM is the weight of a towel measured in grams per square meter. Typically, the higher a towel's GSM, the heavier, fluffier and more absorbent it will be".
However, he notes that GSM isn't the only factor to look out for when choosing a towel: "A 550 GSM towel made from high-quality, long staple yarn will outperform an inferior 650 GSM towel any day". He explains that "a high-quality 550-650 GSM towel is generally considered the best for spas and 5-star hotel towels".
What are the main types of cotton?
"Essentially, cotton is cotton", says Lancaster-Gaye. "But it's the length of the yarn that makes all the difference". He favors "Turkish cotton, which is a premium long-fiber cotton that produces smoother, stronger towels", but there are several other types of cotton commonly used in the making of towels, from cotton terry to Egyptian cotton.
Hannah is the UK Shopping Writer for woman&home. As a shopping writer, Hannah has written on everything from period pants to wine subscriptions, and is especially interested in sustainable alternatives to well-known products, as well as books and homeware accessories.
Before she joined the team at woman&home Hannah headed up the social media accounts for Wonderland in 2019, where she was also a Contributing Editor for the magazine's sister titles. During the COVID-19 pandemic, Hannah also explored evolving shopping trends at New York Magazine's The Strategist UK, researching everything from face masks to status candles and even pens.