How to make a bathroom look expensive on a budget – 14 expert tips
From refreshing grout to creating gallery walls, these simple ideas can elevate any bathroom on a budget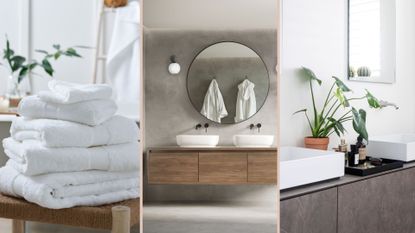 (Image credit: The White Company | Industville | Future)
Looking to make your bathroom feel more luxurious on a budget? Look no further because these tips from leading bathroom designers and interior experts offer practical advice on how to make your bathroom look expensive without overspending.
When it comes to making a home look expensive it can be the smallest of details that often make the biggest impact, and these are also the most affordable. Whether you have a large family bathroom or a small en-suite, these interior design tips encourage affordable tweaks, and styling tricks to add a luxe touch to any washroom.
From introducing greenery and displaying artwork to upgrading the hardware our experts explain how these simple ideas can go a long way to creating a more expensive-looking bathroom.
How to make a bathroom look expensive: 14 interior design tips
Decluttering your bathroom is key to achieving a more refined-looking space, so it's key to do this before you even start to try styling because all your efforts will be overshadowed by stuff.
Once you have decluttered it's time to try these inexpensive interior design tricks to make your bathroom look expensive on a budget, to add a touch of luxury to your everyday beauty routine.
1. Decant toiletries into chic storage
Adopt the same principles for your bathroom storage as those used when organizing your pantry to perfection by decanting your everyday beauty essentials into aesthetically pleasing pots and jars for stylish storage.
"Declutter and decant should be your bathroom mantra," says Chrissie Rucker OBE, owner of The White Company (opens in new tab). "No one can feel relaxed in a messy space and your bathroom should be a sanctuary. Transferring items into beautiful glass jars and bottles is a simple trick that will make a huge difference".
2. Hang artwork
Artwork is an easy way to make your bathroom look expensive because it makes the decor feel more thoughtful and curated. James Ryan, CEO of London-based Grove Gallery (opens in new tab) tells w&h: "Putting artwork on walls is a great way to complete a room and what you choose can instantly transform the space it's in."
"Bathrooms tend to be on the smaller side and space is often at a premium. It's important to choose something that compliments your existing features, rather than dominating them. For example, if you have a statement bath or intricate fixtures, a piece of modern or abstract art can help to balance things out and elevate your decor."
"Finding subtle themes can also neatly tie your space together. For example, botanical prints or pieces with a nod to the outdoors can make your space look more considered."
Choosing framed artwork that is behind the safety of glass prevents water damage. Provided your bathroom is well ventilated you won't see any problems with the humidity seeping behind the glass.
"Bathrooms also need to be functional so choose something that can be kept clean easily. Frames are perfect for this because they can be wiped down. Frames will also help prints to withstand moisture and stop edges from curling."
3. Command attention with lighting
Lighting may not be the first thing that comes to mind when you think of bathroom design, because of the limitations but nevertheless, it's a hugely important element to consider – not only for creating the right ambiance for a relaxing soak in the tub but also to give your bathroom design a touch of elegance and consideration.
"The bathroom is one of the only rooms in your house where the bulk of the light will come from your ceiling light," says Marlena Kaminska, designer at Value Lights (opens in new tab). "Spotlights are a great solution for many bathrooms, being modern in style and offering bright, clear directional light - perfect for your daily routine."
"But if you're looking to elevate your bathroom lighting scheme and add a bit of luxury to your everyday routine, why not look to incorporate an elegant bathroom chandelier." If a chandelier is too ornate consider a cluster design or an oversized pendant - a design that commands attention to give your space the wow factor.
"Outside of style, it's really important to make sure that any lighting in your bathroom can withstand the damp and humid conditions of the room. Look for lighting which has an IP rating of at least IP44."
We also highly recommend adding the best flameless candles to create an intimately cozy ambiance for enjoying spa-like baths.
4. Choose on-trend mirrors
Mirrors are the ideal finishing touch for any room of the house. Not only do they welcome a decorative touch to walls they also help to flood a room with light, making it feel more airy and inviting. Of course in a bathroom mirrors are essential to aid with beauty regimes, but rather than proving purely functional, you should see the bathroom mirror as an opportunity to add flair to the decor.
"To create a luxurious high-end bathroom look install two mirrors, preferably of the same design, or one oversized mirror," suggests Mara Rypacek Miller, managing director, Industville Ltd (opens in new tab). "Consider adding stylish wall sconces or pendant lights on either side of the mirrors which provide just enough light for when you are getting ready, without being too bright."
Curvature is one of the biggest interior design trends of 2023, so naturally circular mirrors are still one of the most popular choices for bathrooms to add a chic on-trend touch.
5. Invest in luxury towels
A quick and easy way to make your bathroom feel more luxurious is to invest in the best bathroom towels because this can make a huge difference – in the same way that luxe bedding can make a bedroom look expensive on a budget.
"Investing in some new fluffy white towels to display in your bathroom will provide instant transformation and lift to the room," says Robert Lancaster-Gaye, towel expert and co-founder of Tielle Love Luxury (opens in new tab).
"Beautiful white towels are timeless, always look stylish, and will match any style of decor or color scheme. They transport you to your favorite luxury hotel and give a flavor of a more aspirational lifestyle."
While white is the hotel-inspired color of choice it doesn't mean you can't choose another neutral accent color, such as a pale gray or beige to add to your bathroom, as long as they look and feel luxurious the towels will still help to make the room feel more expensive.
6. Lay down a decorative mat
In the same way that a rug can enhance a living room trend and even a kitchen layout, the right bath mat can do the same in a bathroom.
While a bath mat is practical it can also be beautiful and welcome a more luxurious feel, especially in a sumptuous fabric that will add comfort underfoot, as well as look aesthetically pleasing. A thoughtfully chosen design can add color and pattern to a plain bathroom and help to create a point of focus and help to enrich the decor.
Look for an oversized design that feels more like a rug, for placing more centrally then pairing with a smaller version of the same design on the floor beside a sink vanity unit to create clear zones.
7. Upgrade taps, flush handles and more
Changing the hardware is a sure way to elevate a bathroom in need of a luxe touch, in the same regard as changing handles can make a kitchen look expensive with minimal effort and cost.
"When it comes to bathroom design, a few carefully selected pieces of brassware can make all the difference," says Barrie Cutchie, design director at BC Designs. "If budgets are tight, choosing to update brassware or to go for more expensive brassware compared to your ceramics can provide a more luxury and high-end finish to your bathroom."
"Updating tired brassware, such as those with limescale can instantly refresh and provide a polished and sleek finish. Whether a quick refresh or starting from scratch, choosing new taps for a basin or bath is like dressing up a bathroom and giving it a bit of a facelift with the latest trends."
In addition to changing the taps, it can also pay off to add more decorative solutions when it comes to other essential bathroom accessories – such as toilet roll holders, flush handles, and towel rails. All these items may be essential but often they are overlooked, resulting in them feeling underwhelming within the wider decor.
While this can be done on a budget, Barrie advises: "It can also pay to invest. As one of the main products in your bathroom that has moving parts, investing in a higher quality product means it will last longer, along with looking the part."
8. Refresh the grout
"Grout is prone to cracking and eroding, particularly low-quality grout, and can start to look grubby over time," says Leigh Price, co-director of Real Stone, Tile & Bathrooms. (opens in new tab) "The good news is, refreshing grout is fairly low cost and can give your bathroom the look of an expensive makeover."
While this is more of a DIY job than merely styling your space, it is a somewhat easy and affordable one to undertake – not to mention a job that can transform tired-looking tiles in an instant.
"A tube of grout reviver from your local DIY store can cost less than $4/£5. Simply squeeze the tube over discolored areas and wait for it to dry," advises DIY expert Dave Gordon, general manager at SGS Engineering (opens in new tab)." Some grout revivers even provide anti-mold treatment while giving your tiles a new look."
Another option is to fully regrout, which involves more effort but is still a budget option when compared to completely retiling. "Before taking on your regrouting project, you ought to be aware that while it is something you can do yourself at home, it is a time-consuming job that must be done carefully," advises Leigh.
"Opt for a decent quality powdered grout and mix with water as per the instructions on the bag, and once you have gouged the existing grout out, smooth the new grout into the joints ensuring there are no air bubbles and the grout joints are full."
9. Paint the bath
Make a statement with your bathroom color idea without having to invest much in decorating materials. How? By painting just the bath. You'll just need to ensure you buy the right paint finish, such as exterior egg-shell paint because this finish is most suitable for areas with water and humidity.
"While there are many different ways to bring color into the bathroom, from tiles to paint, one idea that adds plenty of wow factor is through a painted bath," says Barrie. "They are a trend within their own right – and one that isn't going to go out of favor any time soon."
Barrie continues: "Painted baths create so many options when it comes to bathroom design. They can be used to add a pop of color that is different from the rest of the scheme or can be in keeping, such as one painted in black in a monochrome-designed bathroom.
"By painting your bath, it instantly draws your eyes in and makes you really focus in on the bath, which is often the star of the show within luxury bathroom design."
"Colors trends that are popular at the moment are greens and blues as they represent nature and bring the great outdoors into our home. We're also seeing brighter colors for 2023, including pops of orange."
10. Introduce plants
Plants or flower arrangements on display are a winning way to inject a touch of luxury into any interior, particularly in a bathroom because they can enliven the scheme and help to make the room feel more curated.
In addition to helping your bathroom decor look more considered plants also offer the benefit of improving the air quality in your home too.
Chris Bonnett from Gardening Express explains: "Mold in the home is caused by excess humidity. Warm rooms, like bathrooms, are at particular risk. Using plants to help keep mold at bay is a practical and natural way to control humidity and moisture in your home."
"How good a plant is at reducing humidity is all to do with its ability to absorb dew, fog, and other moisture through its leaves. This moisture then moves down to its roots," Chris explains, as something to take. into consideration when buying plants online for a bathroom.
Not as effective as the best dehumidifiers, but: "You will notice an improvement," says Chris," and you'll have beautiful plants to enjoy too."
Incidentally, the presence of more greenery is also a top tip for making your house look more expensive from the outside too.
11. Replace silicone around the shower and sink
Nothing ruins the decor in a bathroom quite like discolored or moldy silicone, because it can give a false impression that you don't clean your bathroom enough.
"Much like grout, the silicone around your shower and sinks will deteriorate over time and may eventually get damaged or break off," Dave explains. "Before placing a new layer on top, it is recommended to remove all the old silicone first using a utility knife. Next, make sure to clear any residue that has been left behind and clean the area with denatured alcohol."  
"Before you apply the new seal, bring some tape and place it around all the edges you want to reseal to prevent spillover. Using new sealant, which you can pick up from your nearest DIY store for less than $9/£10, slowly close the gap and smoothen the new finish with a caulking tool. "
12. Upgrade the towel rail
"Adding a heated towel rail to your bathroom is an easy way to add that luxury look whilst also making the bathroom feel a little bit warmer and more inviting," says Nick Duggan, director at The Radiator Centre (opens in new tab). "Having a warm bathroom is one of life's little luxuries and a towel rail radiator can warm your room whilst also making sure your towels are nice and snug."
"When selecting a towel rail or bathroom radiator, we would always advise customers to avoid chrome radiators, as they do not emit heat as efficiently as colored or matt finishes. In fact, chrome-plated radiators can give out up to 20% less heat than painted options," Nick explains.
"Another thing to keep in mind is that the bigger the bars, the better the heat output. Designs that separate the towel from the radiator section are also great options, as these heat the room more effectively."
"We recommend looking at a dual-fuel option when it comes to bathroom heating. Many towel radiators are also now available with an optional electric heating element, which will ensure you have warm and dry towels even when your central heating is turned off in the summer."
13. Change the pull cord
Because of the nature of bathrooms and electricity supplies, the smaller details when it comes to lighting are so often overlooked. In place of switches, there is more often than not a pull cord, which goes unnoticed and unloved for years – when actually it should be considered as a styling tool to make your bathroom look more expensive.
Banish the cheap-looking off-white braided cord with the plastic toggle on the end, it's time to update the pull cord to something with a whole lot more appeal. Depending on what style and color scheme you've chosen for your bathroom you can find stylish replacements to suit that will elevate the overall look and feel of the room. We particularly love this $54/£44 black pull-cord switch by Dowsing & Reynolds (opens in new tab).
You will likely need to seek a qualified electrician to swap the cable but it's an easy solution when improving the room immensely.
14. Add elegant shutters
 While not entirely a budget option we'd argue that shutters are always a worthwhile investment to elevate the expensive appeal of any room.
"Shutters are a timeless feature, suited to both modern and traditional properties," says Sally Denyer, window treatment expert at Shutterly Fabulous (opens in new tab). "When designing a bathroom, shutters can elevate the look of the space instantly, particularly when painted as they draw the attention to the window, making the space feel lighter and more elegant."
In addition to looking great, shutters also offer the benefits of sound, light, and privacy control, which are all essential qualities for any bathroom.
As well as creating shutters in sustainable hardwood, many retailers also offer a polyvinyl option, which is the ideal solution for bathrooms as they are 100% waterproof to prevent any damage caused by wet environments.
Prices vary from different suppliers, but for context, bespoke hardwood shutters start from $392/£329 per square meter at Shutterly Fabulous.
Tamara is a highly experienced homes and interiors journalist, with a career spanning 19 years. Now the Lifestyle Editor of womanandhome.com, she has spent the last 16 years working with the style teams at Country Homes & Interiors and Ideal Home, and it's with these award-winning interiors teams that she gained a wealth of knowledge and honed her skills and passion for shopping, styling and writing about every aspect of lifestyle and interiors.
With a keen eye for the latest interior trends, there's not a lot she doesn't know about home decor – whether it's what colour we should be painting our living rooms next season, or if the latest 'must-have' buys are actually worth investing in.
A true homes and interiors expert, Tamara has served as an ambassador for leading interior brands on multiple occasions, including appearing on Matalan's The Show and presenting at top interiors trend events such as the Autumn Fair and Spring Fair.