How to make a kitchen look expensive on a budget – 10 clever design tricks
Get the luxe look for less when transforming your kitchen by following these insider tricks to make a kitchen look expensive with minimal costs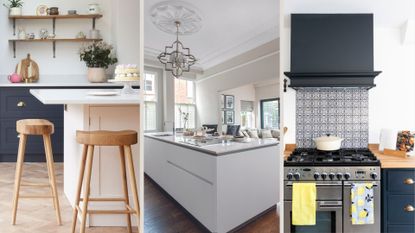 (Image credit: Olive & Burr | Future )
New year, new kitchen? Is that the dream, but the budget won't stretch to an expensive renovation? Fear not because there are plenty of creative tricks when it comes to mastering how to make a kitchen look expensive on a budget, with many of them being easy DIY tasks you can do in a weekend.
Following the latest kitchen trends for 2023 or the must-have interior design trends is a sure way to add a touch of oppulence to your space but it needn't leave you out of pocket, if you approach your decorating project with a little creativity.
From refreshing doors and cabinets with a lick of decadent color to replacing handles with more luxe materials and adding decorative accessories, experts share the easiest ways to transform a kitchen from lacklustre to luxurious on a budget.
How to make a kitchen look expensive on a budget
When it comes to kitchen design the easiest way to make it feel more expensive is to choose luxe materials but to do that on a budget you can choose imitations that look just as luxurious as the real thing – from quartz and marble to brass.
While the wrong paint colors can devalue a home the right interior design features can add value and make it feel more expensive as a result. We asked kitchen design experts to share their top tips with w&h on the best ways to get the luxury look for less.
1. Transform cabinets with sophisticated color
Painting your kitchen cabinets with the latest interior paint color trends is a simple hack to instantly transform a tired-looking kitchen to one of thoughtful design. Choose a color that add oozes sophisication, whether that be dark and brooding or the latest muted neutrals
"To do this well, preparation is key," says Mike Head, director at kitchen tile specalists Atlas Ceramics. "You'll want to start by giving them a good clean, using a specialist degreaser."
"Then, lightly sand them down with grit paper to get an even, matte finish. Wipe the dust off and let them dry before you paint. Make sure to use masking tape to protect edges, and cover your floor with a dust sheet. Lastly, remove the handles and that's your prep done."
"You should initially paint with a brush to get into the nooks and crannies, before using a roller to cover the remaining area," Mike advises. "Take your time, and wait for each layer to fully dry to ensure an even finish."
2. Replace the handles
Attention to detail is key for transforming any space on a budget. In the kitchen, aside from painting the cabinets, the most obvious detail that can be easily changed to great effectiveness are the cabinet and door handles.
Swapping your existing handles, perhaps ones you inherited with the kitchen and have never really given much thought to will change the overall look in an instant.
"You don't have to spend a lot of money on updating your kitchen, it's all about choosing the right touches in the right areas," says Ben Burbridge, managing director at Kitchen Makers. "Investing in new handles for your kitchen cabinets is an inexpensive way of adding a touch of luxury to your kitchen, particularly with the detailing they can offer."
Metallics are particularly big right now for adding a luxe touch, we'd recommend brass that looks like the more expensive option over chrome.
3. Introduce a splashback
A simple kitchen splashback idea is a great way to transform your existing kitchen by adding a touch of color, and texture. And it doesn't have to be expensive, especially if you are able to install a splash back panel or tile the small area yourself.
"All you'll need is adhesive, tile spacers, a cutter, spirit level, a trowel, and safety goggles," advises Mike. "The splashback is an ideal space to go bold - so don't be afraid to experiment with color or shapes."
A splashback can become a fabulous focal point for the kitchen so make sure your splashback coordinates but elevates your existing interior.
"You'll also want to think about grout," adds Mike. "Light grout paired with darker colored tiles can really highlight the finish, however, if you're tiling above a hob, it might be better to choose a darker grout, as it's easier to maintain when at risk of food splatters."
4. Upgrade taps
Having a stunning new sink may be the dream, but that can often be a costly job to overhaul the entire area, whereas a new tap can be far more affordable and just as transformative – after all, no one really sees inside the sink but the taps are more on show.
"A statement tap is an easy way to make a kitchen look more luxurious," says Mike. "You could opt for a sleek black matte or a classic chrome U shape, and you don't need to spend a fortune - there are plenty of modern options you can find at affordable price points.
You'll also have to think practically about what works for you. If you're short on space, you might want to consider even swapping your kettle for a stylish boiling water tap," suggests Mike.
It's a good idea to ensure the metal of your new tap matches any other metallic finishes throughout your kitchen to create a cohesive scheme. If you are opting for a new whole metallic finish you can easily replace existing handles to match, as we suggested earlier.
5. Revamp countertops with vinyl
As a dominant design feature throughout a kitchen, there's no denying that changing the countertops can instantly make an old kitchen look new and feel more luxurious. Physically replacing worktops with new material will, of course, cost you more, because countertops are sold as standard sizes so quite often you end up paying for more than you need. So what's the budget alternative? Vinyl.
And before you shudder at the mention know that vinyl wraps have come a long way and can now be used with amazing effects for inexpensive kitchen renovations. Check out some of the 5.4 million#kitchenvinylwrap TikTok posts as examples of how popular it's become in recent years.
"Vinyl is an easy, cost-effective way to update worktops; but you can also use it on drawers, cupboards, and tiles," says Mike. "You can purchase vinyl from any DIY retailer or home store in a range of patterns and colors from mosaics, marble, and terrazzo. It's a great way to try a new design you may be considering for a renovation later down the line."
"All you need to apply the vinyl is something to smooth the sheet down with, such as a smoothing tool, and some silicone to seal your edges. It's a full kitchen makeover you could do in less than a week!"
6. Paint the island to standout
Look to paint stand-alone elements such as kitchen islands or freestanding furniture units to reenergize the color scheme without having to rethink your entire kitchen paint color idea.
The kitchen design experts at Olive & Barr suggest: "Give a new lease of life to your kitchen island with a fresh lick of paint. Instead of taking on the large task of painting the whole kitchen, find smaller areas to inject a new seasonal color. Choose a warming color that complements the existing cabinets such as a dark navy or deep green."
7. Fake on-trend reeded glass with film
Another great way to cover surfaces to look like their more expensive counterparts is with adhesive film on any glass elements incorporated into your kitchen design, from display cabinets and pantry doors to windows.
"Reeded glass has taken the interior world by storm," says Joanna Baumard, co-founder of specialist window film retailer Purlfrost. "A fluted style window can often come with a hefty price, not to mention the upheaval of having it fitted. Thankfully that's where window film coverings come to the rescue."
"Not only are they affordable and easy to install, but you'd also never guess the glass wasn't an original. This stylish update can be used on cabinetry to create a designer look at the fraction of the price."
8. Switch to statement lighting
Change the look and feel of your existing kitchen by getting creative with lighting options, that can all be achieved on a budget.
"Affordable adhesive strip LED lights are perfect for creating a sophisticated atmosphere in your kitchen when you are hosting," says Mike. "You can place them above the hob, or under your cupboards for a cheap alternative to installing down-lighters."
Consider introducing pendant lighting hanging over a breakfast bar or kitchen dining table to add a wow statement that immediately captivates and gives the room a completely different feel. Statement lighting choices are a great way to make a home feel more expensive on a budget.
9. Refresh the flooring with a rug
Incorporating a rug into your kitchen can completely transform, even hide, your existing floor to make it feel instantly new and updated.
Often rugs are overlooked for kitchen spaces with the misconception that they are only for living rooms but they can be just as integral for changing the decor in a kitchen.
"Adding a rug to your kitchen in warm tones that fit in with the color scheme of your cabinetry, worktops or tiles can help add depth to your kitchen, particularly if you have tiled, laminate or hardwood flooring," explains Looeeze Grossman, founder of The Used Kitchen Company.
Looeeze goes on to explain how this simple accessory can also play a huge part in making your interiors cozy. "A runner between the island and your back run or even a rug in front of the bi-folds can add that little bit of coziness needed to transition your open space from the bright and light space of summer to the cozy and warm space of winter."
10. Welcome a feature wall
Whether introducing a wall of vibrant color, a new decorative wallpaper, or simply a stylish gallery wall it pays to create a feature wall to command attention when transforming your kitchen to look expensive on a budget. Creative details like this in a kitchen will look like you've had an interior designer in to overhaul the decor.
Because you are decorating only one wall it is a lot more affordable than painting or wallpapering an entire room because you need fewer materials – but it doesn't have any less impact on transforming the space.
To perfectly position your feature, wall pick the wall with the most expanse of free space for maximum exposure – it won't feel as impactful if half the wall is covered by wall cabinets and storage.
Tamara is a highly experienced homes and interiors journalist, with a career spanning 19 years. Now the Lifestyle Editor of womanandhome.com, she has spent the last 16 years working with the style teams at Country Homes & Interiors and Ideal Home, and it's with these award-winning interiors teams that she gained a wealth of knowledge and honed her skills and passion for shopping, styling and writing about every aspect of lifestyle and interiors.
With a keen eye for the latest interior trends, there's not a lot she doesn't know about home decor – whether it's what colour we should be painting our living rooms next season, or if the latest 'must-have' buys are actually worth investing in.
A true homes and interiors expert, Tamara has served as an ambassador for leading interior brands on multiple occasions, including appearing on Matalan's The Show and presenting at top interiors trend events such as the Autumn Fair and Spring Fair.