Interior design trends 2023: enduring home decor for this season and beyond
Experts reveal key autumn/winter interior design trends to take us into next year, from tactile materials to warming colour palettes there's an element to inspire all homes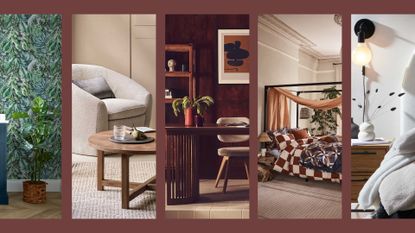 (Image credit: I Love Wallpaper | M&S | John Lewis |George Home | Dunelm)
woman&home newsletter
Sign up to our free daily email for the latest royal and entertainment news, interesting opinion, expert advice on styling and beauty trends, and no-nonsense guides to the health and wellness questions you want answered.
Thank you for signing up to Woman & Home. You will receive a verification email shortly.
There was a problem. Please refresh the page and try again.
Whether you're seeking a new season colour to refresh existing home decor or looking for modern design elements to influence a renovation project the latest autumn-winter interior design trends 2023 offer inspiration for all your decorating endeavours.
Following interior design trends, whether the latest kitchen design trends or bedroom trends, doesn't mean you have to completely overhaul your current home decor with each season, these ever-evolving decorating trends inform new design elements and inspirational aspects to incorporate into your existing scheme to offer any room a new lease of life.
These are the inspirational interior design trends of 2023 shaping how we style and curate our homes for the season ahead and beyond.
Autumn Interior Design Trends 2023: 14 decor styles to inspire
As we enter into the latter stages of the year our desire to create a personal sanctuary away from the busy world outside is stronger than ever. It's, therefore, no surprise that many of the key interior design trends of 2023 have a running thread of comfortability, ease, and longevity. These trends are enduring styles to see us through this year and next with ease.
Whether through sustainable materials and designs that create a state of relaxation, or the latest mood-enhancing interior paint colour trends our homes should be a place of solace but one that reflects personality too.
1. Irresistable boucle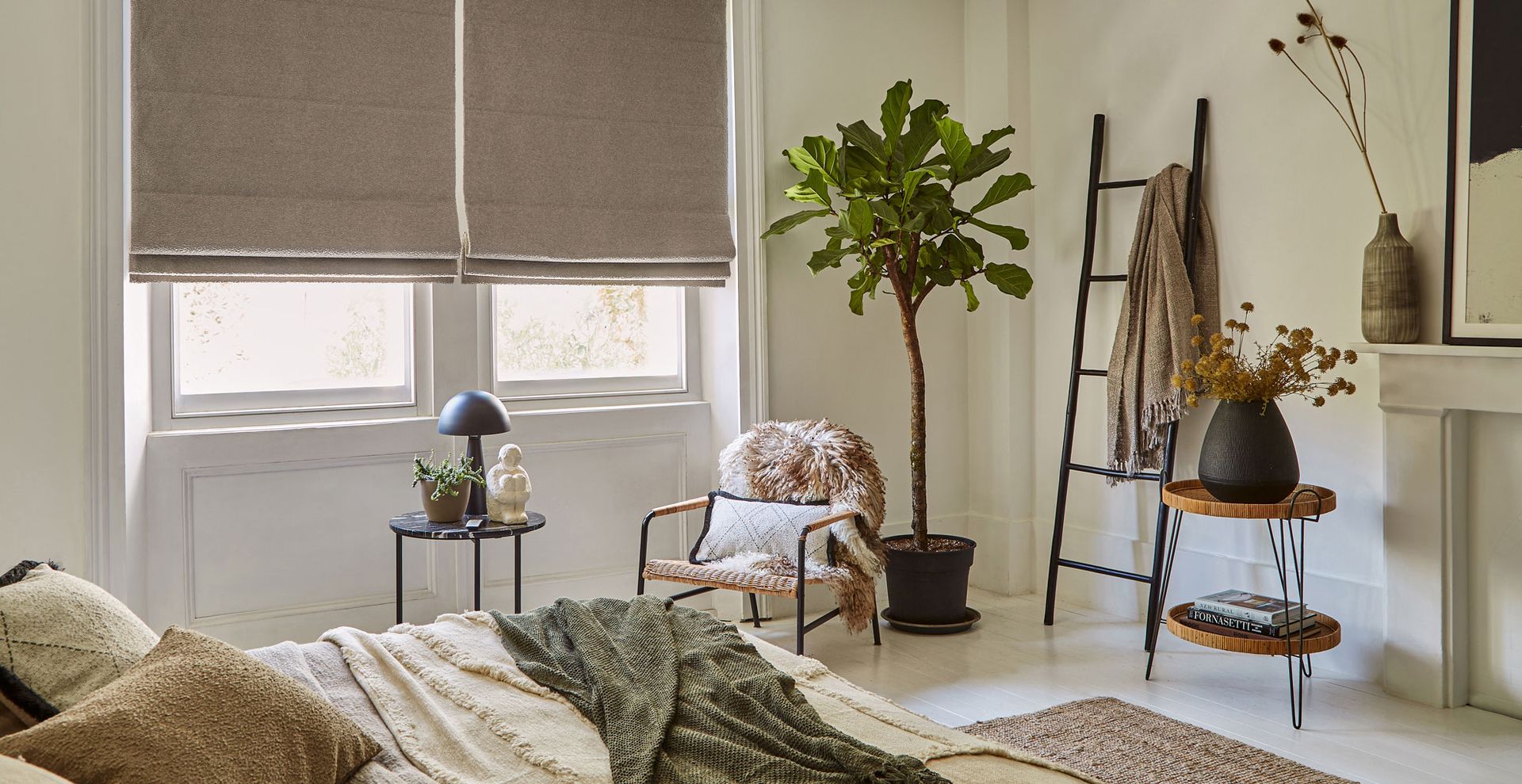 Boucle is still THE buzzword you'll hear around interior furnishing choices, from sofa upholstery to soft furnishings and window treatments it's a popular material of interest for most designers right now.
This comforting, tactile, and quite frankly irresistibly stroke-able fabric delivers outstanding levels of comfort to make our homes cosy, as the Teddy coat has done for the fashion world with boucle soft furnishings dominating living room trends in 2023.
"Boucle is more stylish than ever," says interior designer Abigail Ahern. "This nubby teddy-bear-like fabric hits the sweet spot between soft and hard-wearing, propelling a cocoon of comfort into interiors."
"The fabric not only has a beautiful aesthetic appearance, coming in various shades of neutrals, but the durable and versatile properties of the fabric also allow it to keep up with the fast-paced expectations of busy and social rooms."
"Boucle blinds inject the perfect balance of warmth, cosiness, and texture into all areas of the home. The unevenness of the boucle thread ripples across a blind, creating an appearance too tempting not to touch."
2. Warming neutrals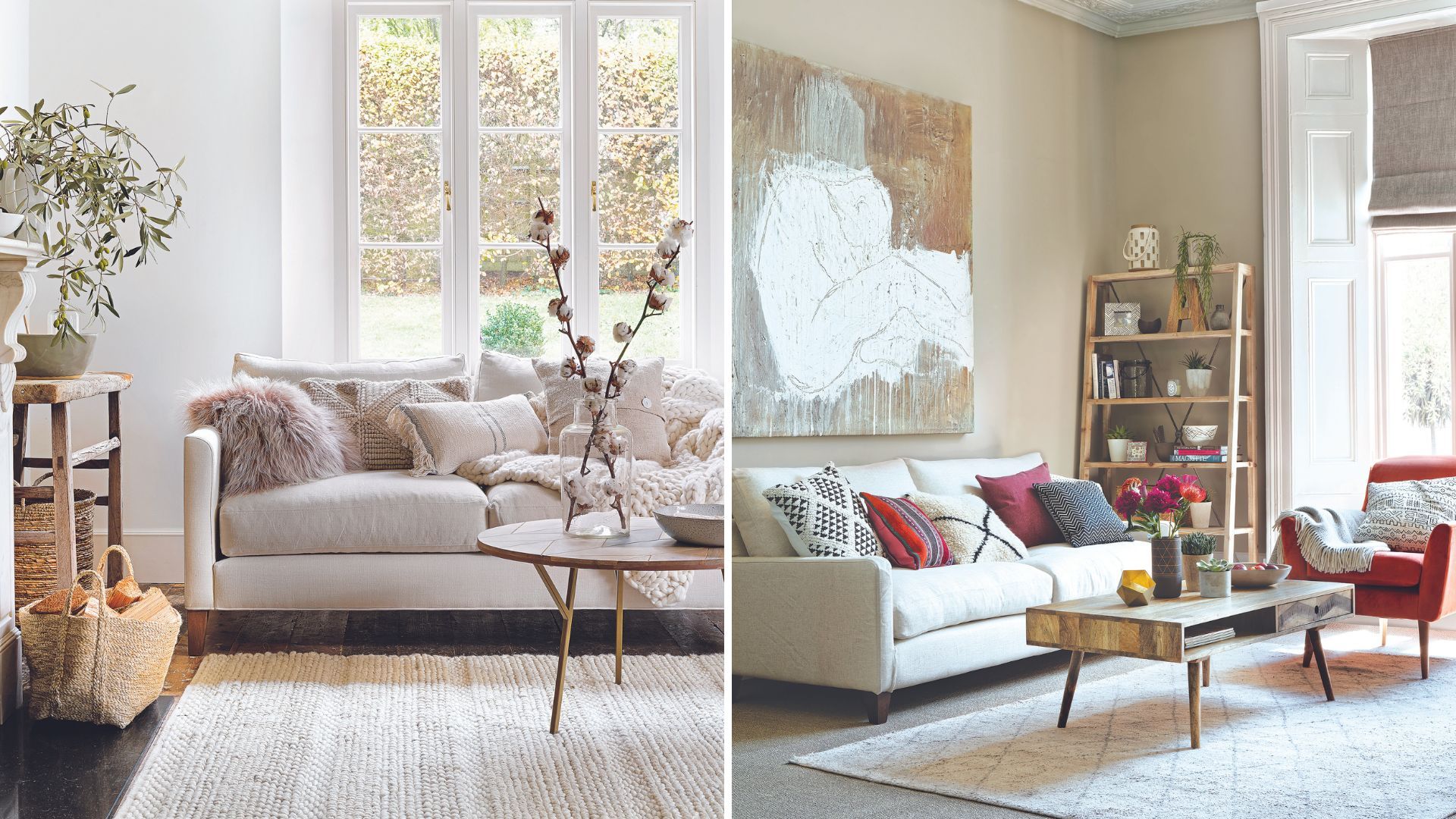 The neutral colour palette is here to stay well into 2024 it would seem, as one of the best living room paint colours and most soothing bedroom paint colours, but we're looking to add warmth to give neutrals a new depth.
"It's pretty understood that there is going to be a response to the neutral trend that's taken over design," says Jordan Neman, co-founder of LA-based home decor and furniture design company, House of Leon. "A completely neutral colour scheme will be popular for a few more years to come, but it no longer offers the excitement it once did. Introducing colours, mineral or earth tones, will definitely be a popular trend for the new year."
"Lovers of gold accents, warm wood tones, and cream sofas rejoice! Warm hues will continue to dominate over cooler colour palettes in 2023," agrees Anne Haimes, design director and founder of Anne Haimes Interiors.
"Hardware in kitchens and bathrooms will favour gold over silver or brushed nickel, while stark white walls will be replaced by softer creams and warm earthy shades." For warmth look for the best white paint colours with red undertones, rather than cooler blues.
3. Sensorial design
Touching on sensory lighting Jordan says, "We believe lighting will continue to take centre stage in a certain way for autumn 2023. As people learn the importance of ambient lighting and the role it plays in giving a space a feeling."
The sensory design concept is fast becoming integral to all interior design considerations to improve our sense of wellness because it's about creating spaces that take into account all of our senses – sight, scent, sound, touch, and taste.
"Smart lighting can be used to set light levels to not only brighten and dim over the course of the day but also change the colour of the light to mimic natural daylight and promote wakefulness in the daytime and naturally warm to soothe the eyes in the evening," explains Kate Baker, light and wellness advisor, at smart lighting expert 4lite.
"By surrounding yourself with cool blue interior hues of light in the daytime, you can be more awake, then, when it's time to wind down in the evening, the lights can be set to automatically change to warmer yellow tones, so your eyes can finally relax, ready for a better night's sleep. It's completely unnoticeable as the lighting gently adjusts the tones and hues of the light."
From dimmer switches and smart lighting to layered approaches with lamps, modern homes will hold a higher regard for the power of good lighting – balanced lighting is also one of the style secrets of how to make a home feel expensive, as OKA demonstrates beautifully in its new autumn home campaign.
4. Newstalgia retro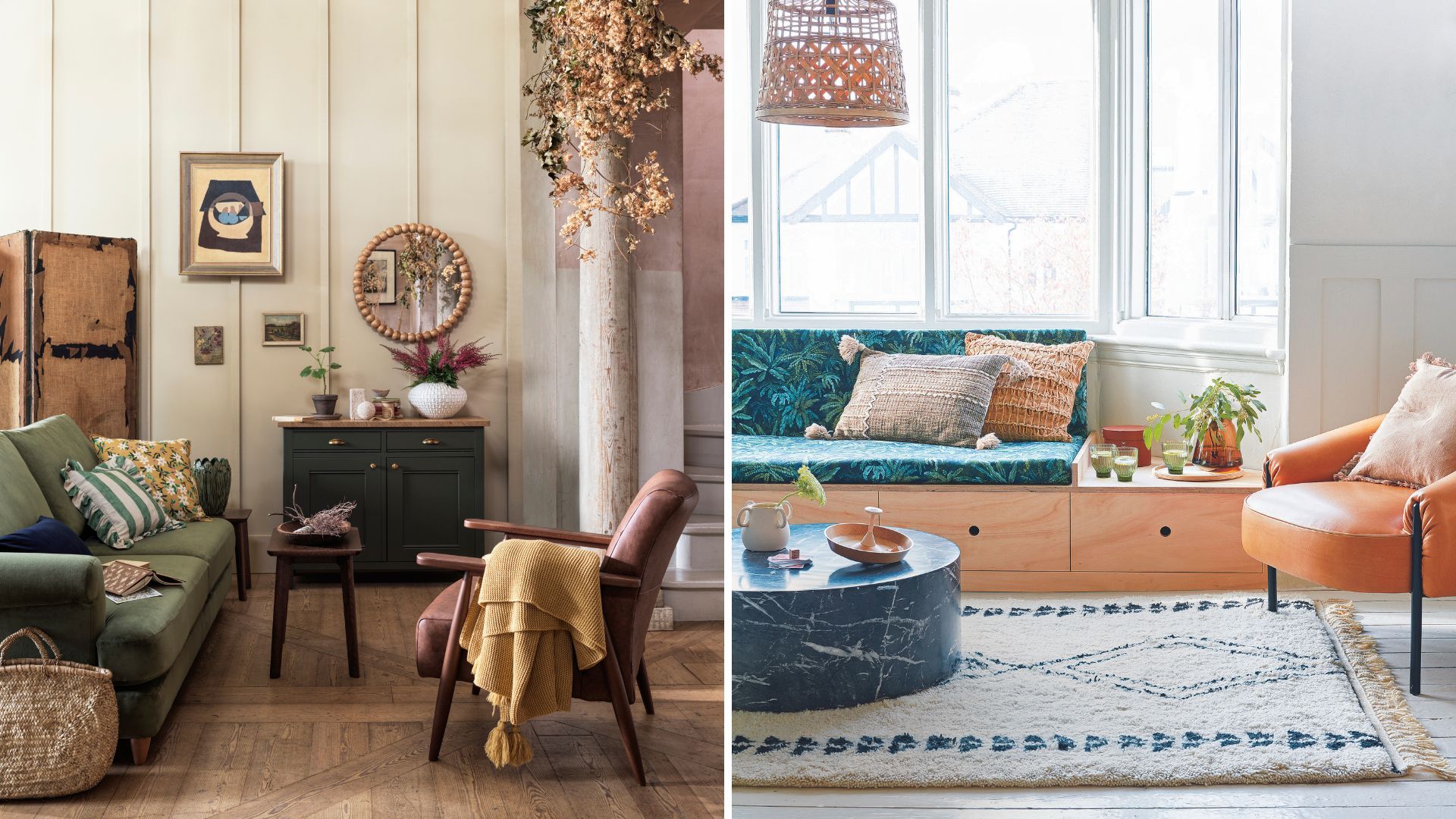 This thoughtful trend is all about building a tapestry of who we are, through keepsakes and heirlooms which tell a story. Celebrating designs of bygone eras but giving them a contemporary twist – so it's not about creating an entirely retro look, it's about making retro designs work for a more modern aesthetic.
"The best interiors are those with depth and character and the best ways to create this is with a mixture of old and new pieces," says Anna McGregor co-founder of interior design emporium LAMP/LDN. "The Newstalgia trend celebrates old pieces with modern updates. A mid-century sideboard as a vanity unit in a concrete bathroom creates a warmth that a built-in unit could never provide."
"Combining vintage with contemporary styles can create a lived-in and loved timeless aesthetic," says Wayfair's Resident Style Advisor, Nadia McCowan Hill. "A maximalist dream, modern pieces can give antique finds a new lease of life."
Described by Pinterest Predicts as 'soulful spaces that merge self-expression and historical nostalgia', what's not to love about this eclectic trend? From a pair of quirky bookends and houseplant pots to refresh a well-worn bookcase, to statement wallpaper that will provide a revitalized backdrop for vintage basins, sofas, sideboards, and more.
5. Sustainable interiors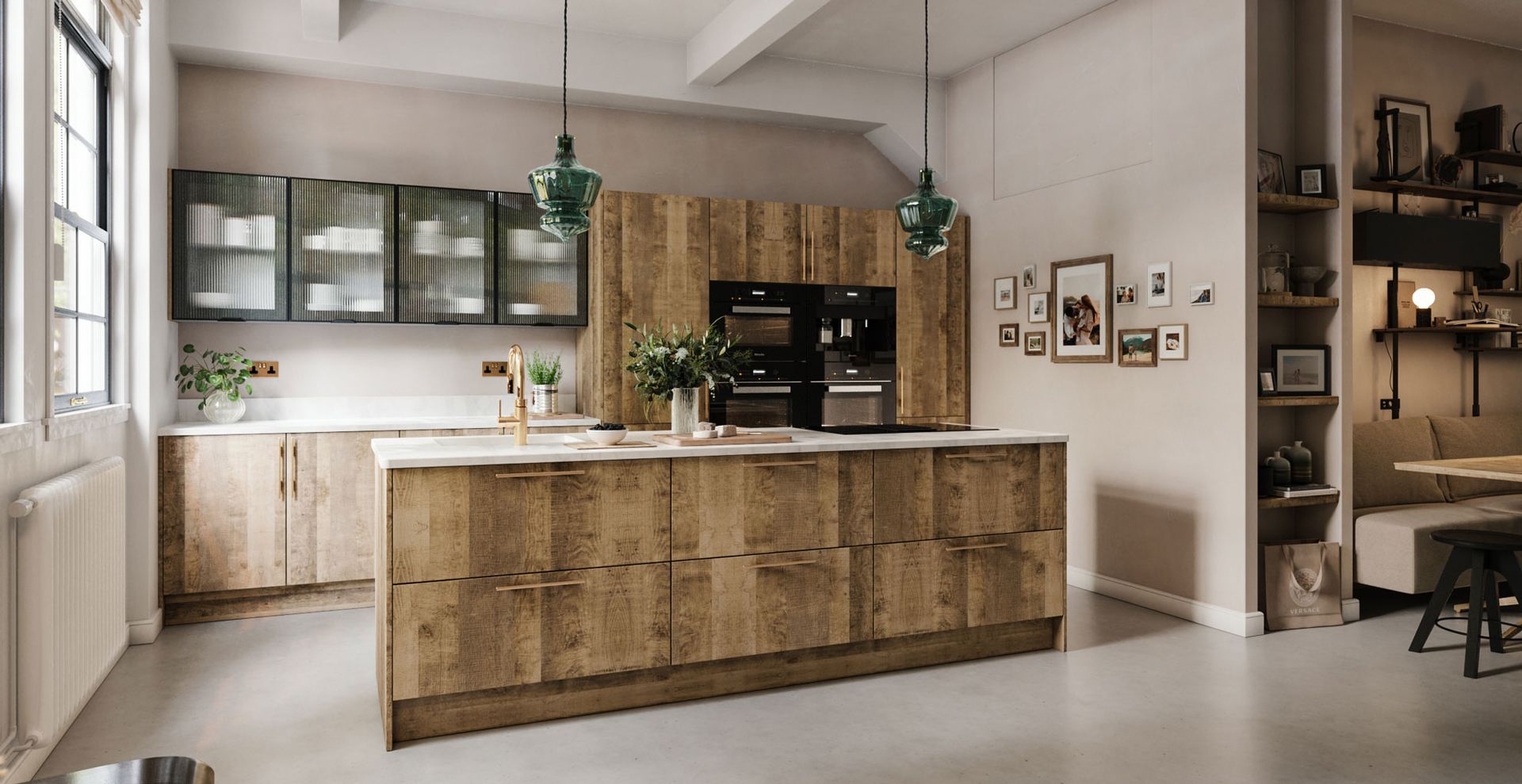 That leads us nicely to a reoccurring theme for all current interior design trends, sustainability. Regenerative design is an ever-growing trend that will only grow stronger and more prominent as the desire to reduce, reuse and recycle continues.
This ranges far and wide, from seeking ethically sourced materials and buying second hand furniture to simply being less wasteful with more sustainable living choices such as carrying out a DIY IKEA Billy bookcase hack.
"The theme of sustainability is becoming more and more important," says Kajsa Krause, principal at Champalimaud Design. "Sometimes it flies under the radar, but a sensitivity to the environment is entering projects more frequently, and the consciousness of consumers makes that necessary. We are also seeing the growth of sustainable material options like biodegradable vinyl or leather."
"We follow two rules to help us create more sustainable interiors – buy to last or buy vintage," says Lotte Martin, co-founder of LAMP/LDN. "When looking for large pieces of furniture for our projects we always start by seeing if anything existing can be re-loved with new upholstery. We also rewire vintage lamps, add new brass fittings and then top them with beautiful statement shades made by hand in the UK – a lamp ends up looking like a little piece of art."
6. Soft curvature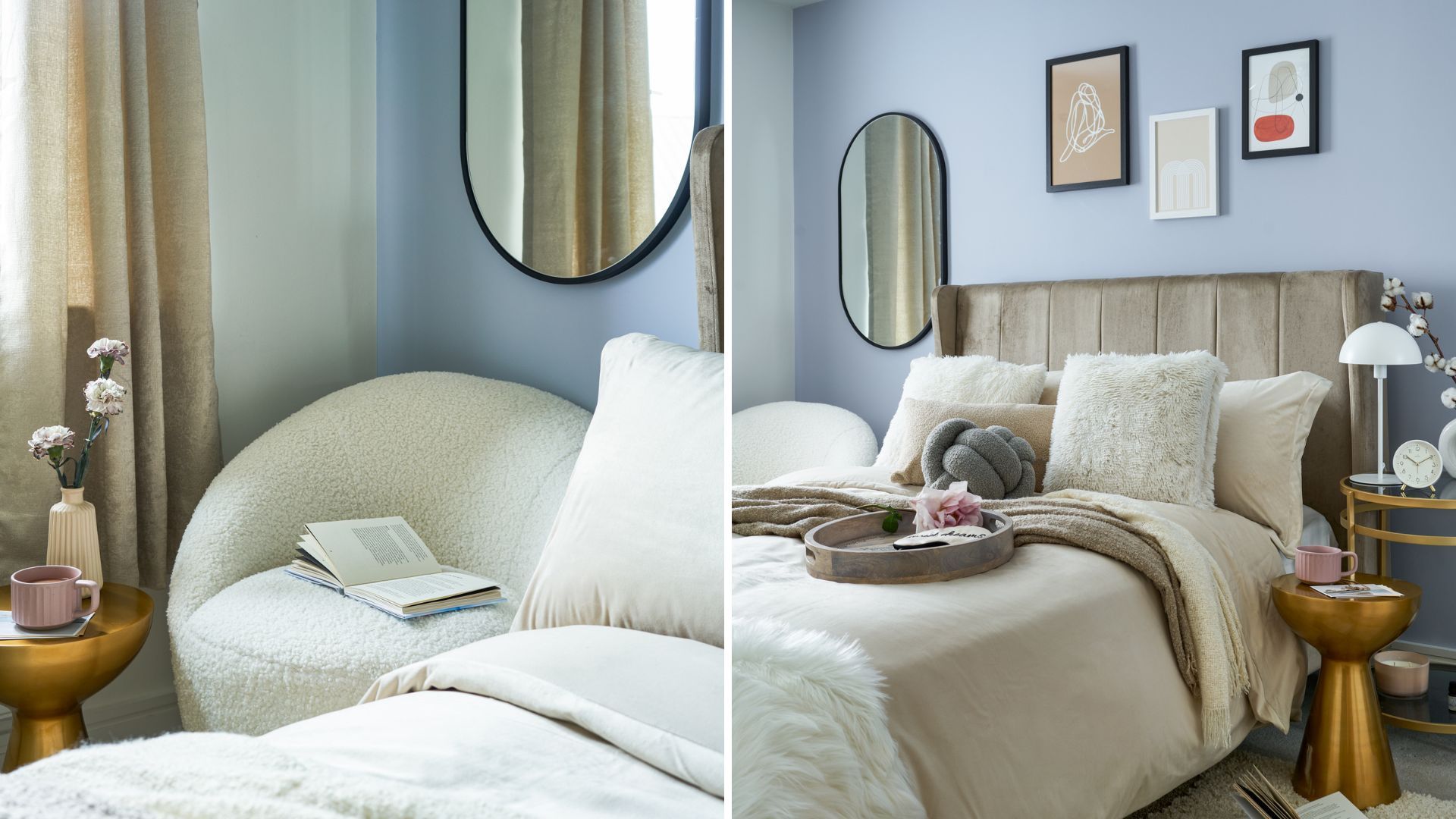 Our approach to design has been growing increasingly curved throughout 2023, to offer a softness to our homes. From sofas and armchairs with rounded edges and arching headboards to circular mirrors, there was barely a straight line in sight aside from doorframes – and now it looks as though not even those are safe!
"Soften rooms with curved furniture like round tables or sofas for a cosy and comforting appearance," advises Rebecca Snowden, Interior Style Advisor at Furniture And Choice. "This also adds an updated spin on retro furniture shapes such as mid-century design."
"Rounded furniture made a big debut in 2022, but next this year saw curvature taken to the next level by bringing back archways" explains Anne.
"Archways can help soften living spaces and help ease the transition from room to room in a way that feels organic. They're also fabulous for creating the illusion of taller ceilings by drawing attention to the height of walls."
"If you're not prepared to swap out your existing doorways, painted arches can create the same effect without the commitment or expense. Make a statement with a pop of colour or opt for more muted tones to achieve subtle elegance."
7. Biophilic design
As we continue to celebrate nature the biophilic-inspired design trend continues to grow as our desire to form a stronger connection endures. This approach to interior design means incorporating nature into indoor environments, to replicate the feeling of escapism associated with outdoor spaces.
In doing so we create a calming environment in which to spend time resting and recuperating from a busy outside world. From introducing a plethora of plants to adding nature-inspired design details this trend is about feeling at one with nature.
"Plants bring liveliness and interest to a space, drawing your focus to certain areas of a room or pulling colours and textures together," says Elisabeth Rogoff, principal at Champalimaud Design.
"In what has been a turbulent decade for politics, culture, and the environment, we have emerged with a refreshed motivation to connect ourselves more deeply to nature and the world around us," adds Jo Littlefair, co-founder and director of Goddard Littlefair. "This biophilic shift to rebalance ourselves has seen us create spaces that bring the outside, inside, and to dress the spaces around us with life and living things."
In addition to plants, also seek natural materials, textures, and colour palettes to mimic the natural beauty found within nature.
8. Russet tones
Russet shades of reddy brown are always a dominating shade of the season, inspired by the colour palette provided by autumn leaves but this year you will notice it more than ever. Whether it's paint, upholstered furniture, flooring or clay accessories the colour rust is set to be everywhere for home furnishings.
"Fast becoming a go-to look, tonal shades will be combined to build a striking chromatic look as customers become confident in learning to layer colour," says Sam Sutherland, lead interior stylist at interior emporium WithFlitch.com.
"Decadent, yet earthy, rust-red tones are warming and welcoming, oozing all things we love about the turn of the season. Reminiscent of crisp leaves and roaring fires, shades of rust can be used across all rooms of the home. We love to see it paired with brown leather and touches of green for an encompassing scheme, it also works great when paired with teal for a contrasting look. "
9. Cocconcore
'Cottagecore' and 'Mermaidcore' dominated during the spring/summer months so it feels only right that a new 'core' trend is taking over and rather fittingly for the colder months it's called 'Cocooncore'. The general vibe is making a home feel cosy, creating a place to hibernate away from the outside world.
"Cocooncore is all about cosy spaces, tactile furnishings, ambient lighting and designing a room that you won't want to leave," says Sam. "Think beds layered with plenty of throws and a thick duvet, boucle armchairs in the corner of the living room, or dining chairs cosied up with sheepskin rugs."
"Find comfort in your interiors and update your scheme with rounded forms, whisper-soft colours such as blush pink, oyster grey or dusky blue and layer your lighting for a complete ambient haven away from blustery days and chilly evenings."
This new Teddy Duvet Cover and Pillowcase Set at Dunelm is just the thing to snuggle into this winter.
10. Farmhouse chic
There are those who deem Farmhouse style as one of the outdated interior trends of 2023 in favour of Meditterean chic, however, the tides are changing as we head into the cold months when cosy cabin feels are very much the order of the day.
From traditional checks to artisan quilting and patchwork there's a real air of homespun charm to every single autumn-winter collection we've seen so far. This bedroom scene perfectly encapsulates the warming qualities of a simple yet comforting home, with the Artisan Check Patch Waffle Duvet Set by George Home.
"I still think there will be a trend towards people seeing their homes as a sanctuary against everything that's happening in the world and this will be reflected in their living space," says Interior designer, Amy Jones owner of Greta-Mae.
"This new organic style will be full of textures and warm soft colours. the accessories used in this space will have an artisanal feel to them I think earthy muted browns, blacks yellows and greens will feature heavily in this scheme."
11. Sophisticated stoneware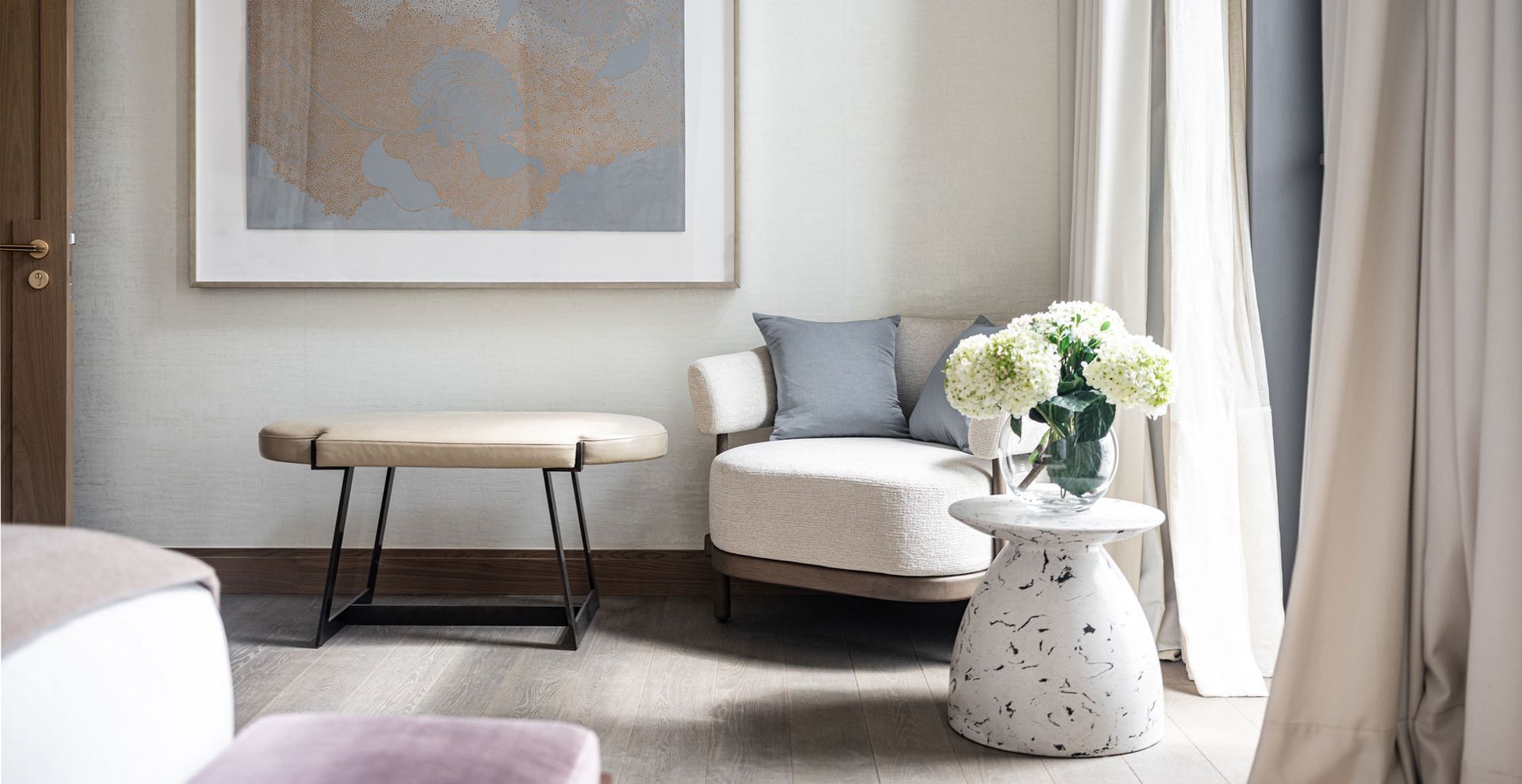 Statement stone has been hugely significant this year thanks to the quiet luxury decor trend. From surface and flooring materials to statement furniture pieces this effortlessly elegant material will continue to be popular for investment features.
"From travertine, marble to onyx, stoneware brings a sense of luxury to everyday interior items and adds brightness to a space," says Narchie founder Harriet Pringle.
"The timeless material will be seen throughout the home with bold pieces in the kitchen and bathroom, coffee tables and cabinets, to smaller decorative accessories including trays, candlesticks, lamp bases, bowls, and bookends."
More than merely a fad, experts believe quiet luxury is an enduring interior trend that can help add value to a home.
12. Danish pastels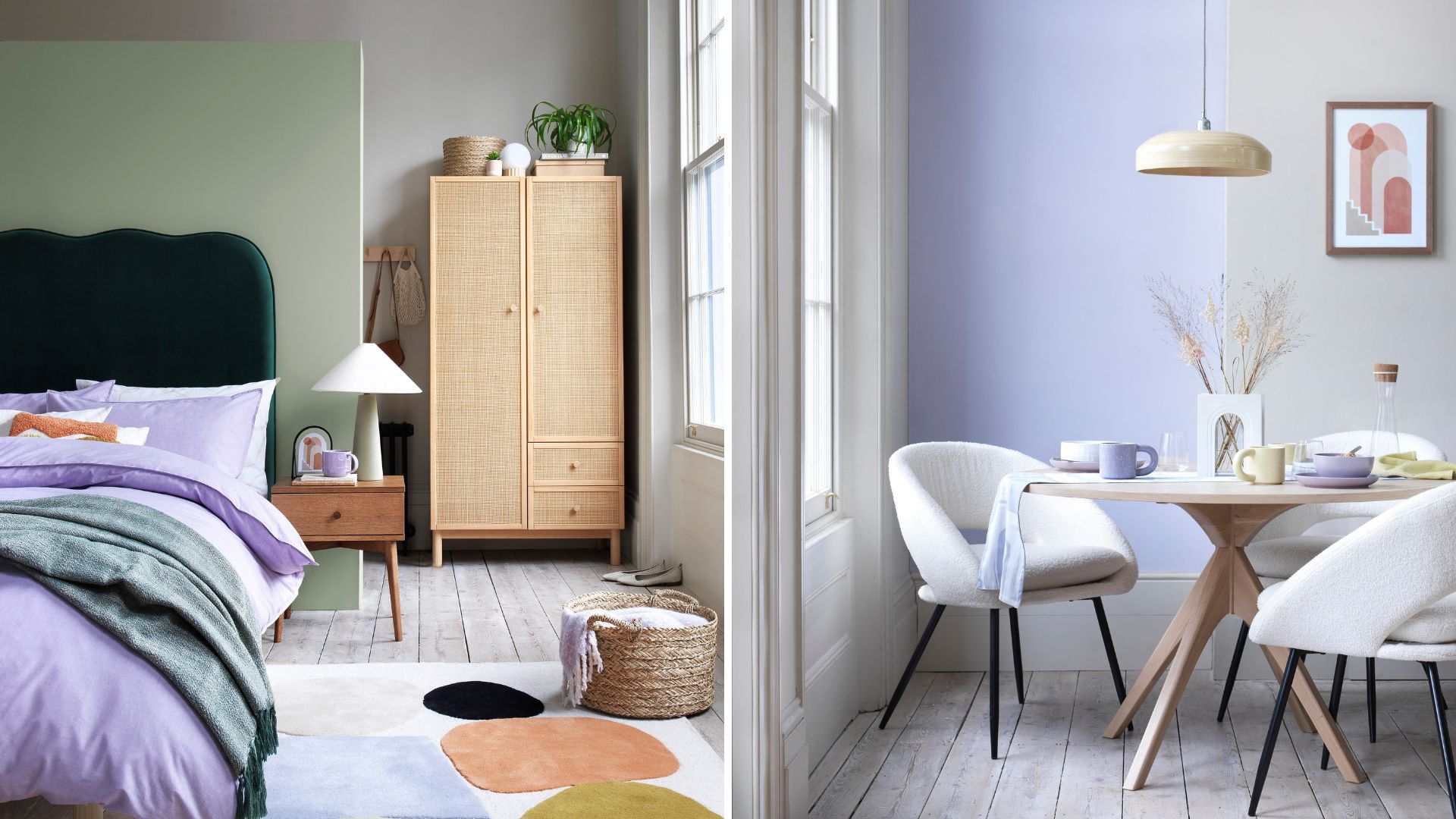 "Danish pastels are expected to blow up in 2023. Requests for sterile and achromatic designs have moved to the sidelines, with growing requests for rounded edges, organic forms, and softer colour palettes," explains Devin Shaffer, lead interior designer at Decorilla.
"The array of Danish Pastel hues is especially popular because, like other Scandi-inspired designs, they seem to bring a soul and a mood to a room that no other colour families can."
It goes without saying that pastels are going to be in the spotlight, for those who wish to add colour with a softer approach than that of deep autumnal hues like brown, rust and ochre.
These stronger, more saturated colours can sometimes feel like a "designer eye" is required to make them a success in an interior space, whereas balanced pastels such as earthy pink paint colours and sage green provide effortless confidence when it comes to adding colour.
13. Warming wood tones
We've seen this proving more prominently within flooring trends for 2023, rich wooden tones are big news right now in the world of interior design. – as seen in the latest John Lewis home collections.
As the pull to nature and earthy tones grows from strength to strength it's no surprise that wooden tones used across furniture design take on a deeper, richer colouring – a stark contrast to the bleached tones of Scandinavian styles which have dominated in recent years.
"Popular in the 80s and 90s, warm wood is back on the scene thanks to its welcoming and comforting tones," says Rob Ellis, head of design at dwell. "Perfect for those eager to balance the rich colour of wood with modern design influences."
"Warm woods are extremely versatile and can sit within almost any interior design scheme - whether you're a fan of maximalism or prefer a more neutral backdrop. "
From walnut veneer designs with brushed brass hardware, resulting in timeless furniture pieces for the bedroom, to stained oak sideboards paired with fluted panelling for living rooms the overall look for this trend is effortlessly sophisticated.
14. Golden metallics
While the world of spring/summer fashion trends 2023 hailed silver as the metallic must-have of the year, over in the world of interiors it's all about warmer metals such as gold and brass. From furniture to hardware and handles the finish of the moment exudes a sophisticated touch of warmth – as is evident from the new Marks & Spencer autumn collections.
"Gold and brushed brass finishes are very much at the forefront of 2023 autumn interior design trend predictions," reveals Juliette Thomas, director of Juliettes Interiors.
"Gold is the colour we expect to see being incorporated into homes a lot this season," Juliette explains. "Using gold in interiors brings a luxurious and modern feel to your home - the colour is no longer tied to classic interiors and is often used as a finish on metal and as an accent. Gold being popular also supports the trend prediction of the Art Deco style becoming popular again next year."
"In 2023, we can expect people to continue to use a combination of metals and woods, and textured fabrics and wallpapers. This is a great way to achieve a high-end modern, contemporary look, but with a trendy luxurious feel."
Updating hardware throughout a home is an easy way to make a bathroom look expensive, not to mention how to make a kitchen look expensive on a budget.
Is grey out of style for 2023?
It would appear that the popularity of grey has started to give way to warming, more creamy neutrals. That's not to say that decorating with grey is an absolute no-go, it's subjective it's merely that grey is less in favour over other colour trends for both bold and understated decorating choices.
"I'm seeing a departure from cooler tones and towards sunset colour schemes like terracotta and soft pinks," says Emily, interior designer at My Bespoke Room. "So often seen as a 'safe' option in interiors, grey colour schemes lack life and energy and are definitely out for 2023."
The new neutrals of choice return to beige and sandy shades that offer a warmer alternative to grey and white which can both sometimes feel a little on the cold side of the colour spectrum.
As for decorating with brooding darker shades, it's less about charcoal greys and more about luscious forest greens that create a striking saturated finish with a touch of natural warmth. The new way of painting with dark colours is to seek a warming, cocooning feel.
What is the next big interior design trend?
As we've explored while compiling the latest decorating trends of 2023 there are a number of key elements that are considered to be the biggest design statements but we strongly believe the next 'big' interior design trend is more of a feeling than one standalone element. There appears to be a golden thread woven throughout all the hottest design trends and that's one of comfort at the very core.
From the colour palettes of warmer neutrals that feel reassuring yet safe, or the tactile textures that provide a tangible surface to reach for when feeling in need of comfort – the big interior design trend for all areas of decorating the home is one of comfort.
"Comfort will be key in 2023," agrees Nadia. "After more than two years of turbulence, we're looking to our homes for comfort and reprieve."
"At one end of the spectrum, it's the little budget-busting accents in bold colours that are lifting our mood from dopamine dressing, while at the other, we're drawing moments of calm from whisper-soft tones and curved cocoon-like forms." The one thing all the latest interior design trends of 2023 have in common is a desire to make us feel at ease and completely content in our homes.
Sign up to our free daily email for the latest royal and entertainment news, interesting opinion, expert advice on styling and beauty trends, and no-nonsense guides to the health and wellness questions you want answered.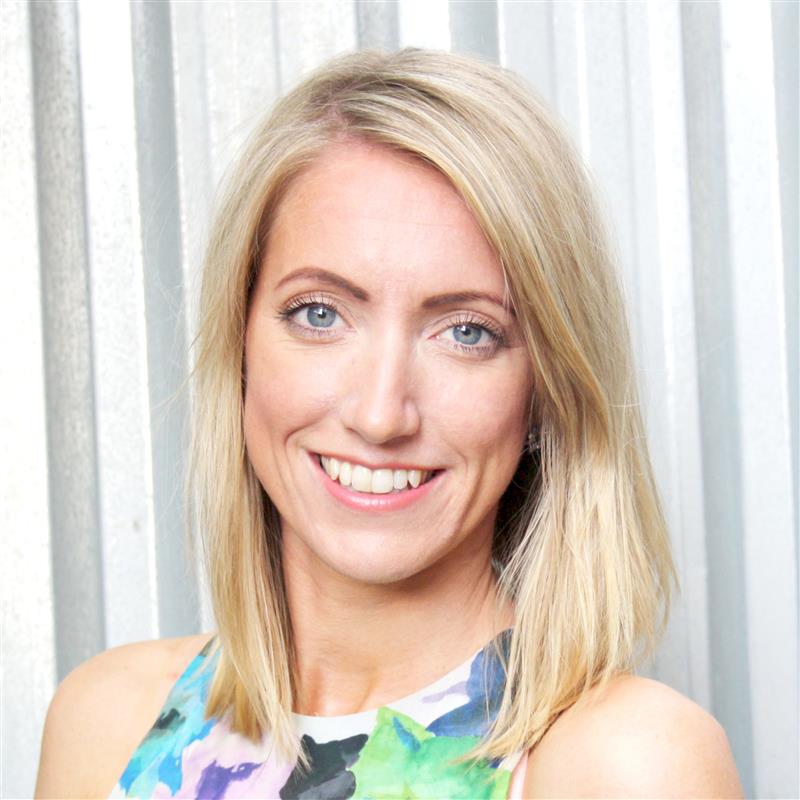 Tamara is a highly experienced homes and interiors journalist, with a career spanning 19 years. Now the Lifestyle Editor of womanandhome.com, she has spent the last 16 years working with the style teams at Country Homes & Interiors and Ideal Home, and it's with these award-winning interiors teams that she gained a wealth of knowledge and honed her skills and passion for shopping, styling and writing about every aspect of lifestyle and interiors.
With a keen eye for the latest interior trends, there's not a lot she doesn't know about home decor – whether it's what colour we should be painting our living rooms next season, or if the latest 'must-have' buys are actually worth investing in.
A true homes and interiors expert, Tamara has served as an ambassador for leading interior brands on multiple occasions, including appearing on Matalan's The Show and presenting at top interiors trend events such as the Autumn Fair and Spring Fair.