Forest green color trend: 13 ways to use this trending tone in your home
The forest green color trend is the perfect way to add luxury and calm to your interiors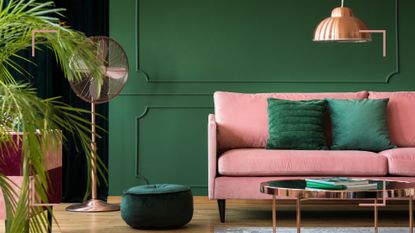 (Image credit: Getty)
If you're looking to give your home a fashionable makeover, why not try the latest forest green color trend? It's not only a great way to bring the outdoors inside, but green is also a restorative and calming shade, making it a great choice for bedrooms and living rooms alike.
While sage green is enjoying its time in the decor spotlight, its bolder tonal partner forest green is proving increasingly popular, and a great way to inject rich color and vibrancy into your home right now.
The love for this deep forest green trend speaks to our desire to connect to nature and benefit from its grounding and calming effects – one of the reasons that biophilic patterns are so popular for living room and bedroom wallpaper trends 2023.
So, if you're keen to bring some nature into your home, yet aren't great at keeping house plants alive, here's how to decorate using the forest green color trend…
Why is forest green so popular?
The terms 'forest green aesthetic', 'forest green paint', and 'forest green wallpaper' are all hugely popular search terms that are seeing a rise across the US and the UK since the shade's prominence in fashion trends 2023. As it continues to gain popularity interior and color experts explain how the natural appeal and sophisticated richness are an enduring part of its popularity.
"Forest green carries a sense of heritage that works particularly well in entrance halls and living rooms, "says Simon Temprell, interior design manager at Neptune (opens in new tab). "Dark, moody greens can work as a clever neutral when used in a monochromatic scheme, helping to create a framework when colors feel too blended."
For content creator Sharn Rayment, who is currently documenting her home renovation at Sharn's House (opens in new tab), green is a welcome change from the more neutral shades that have been ruling the interior design world for a while.
"We're returning to the seventies with fashion trends at the moment, and I think that's also translating into home decor," she says. "Now we're back to embracing pattern and color again, which I love! Forest green is bold and opulent, but not too in-your-face, so both the maximalists and more cautious types among us can get on board."
Forest green color trend decor ideas
1. Go green with your couch
Dani Burroughs, Head of Product at Snug (opens in new tab), believes the forest green color trend is made for the living room. "This soothing color is ideal for the living room, helping to connect the outdoors back in to create an instant feeling of zen," she says. "There's just something about the bold hue that brings a breath of fresh air to the room."
And if you're looking for an easy way to inject forest green into your lounge, without changing your current living room paint color Dani says go for a green couch. It's also perfect if you're renting and can't decorate. All that's left to do is to think about the accessories that go best with this bold shade.
"Confident yet timeless, a green sofa goes hand-in-hand with so many colors," she says. "If a minimalist interior is more your style, let the sofa do the talking by styling the room in paler tones and wooden accents. Those who are green fanatics can play up to the color by matching the paint on the walls and bringing in plants for added flair."
2. Create an accent wall
Even just one wall painted forest green can make a room look totally different, it's the ideal way to transform a living room on a budget. Not only will it give it a splash of color, but it's also really easy to do says Emma Bestley, co-founder & creative director of YesColours (opens in new tab).
"It's amazing what a difference an accent wall can make," she says. "It could be exactly what your room is missing, the flash of bold color helps to anchor the entire scheme and with just one liter of paint, you'll be able to cover two coats on a 3x2m wall. So easy to you could do it in your lunch break!"
To really make the green pop out, pair it with a warm white, one of the interior paint color trends 2023 is predicting will be big. Not only will this allow for the accent wall to truly stand out, but it will also add a nice neutral background for other forest green accessories.
3. Add a sense of calm with a green bed
With nature-inspired hues being one of the predicted bedroom trends for 2023, the forest green color trend is a great choice for your bedroom. Green is a perfect color as it's a calming hue, which can help you wind down after a busy day.
Lou Petersen, head of design innovation at DFS believes green shades – especially forest green – aren't going anywhere right now as they help us create a safe haven in our own homes. in the bedroom But says it plays a significant role in adding a touch of glamor.
"For me, a forest green velvet bed with a statement headboard is a great way to lend a bedroom a luxurious, boutique feel," she says "one that features a gently curved headboard with channeled upholstery detailing." Could a forest green velvet bed be the key to making your bedroom look more expensive?
Lou suggests that to keep the look calm, ditch the bold colors and instead choose other tones of green. "Layering forest green with other shades such as sage and olive, or with deep inky hues of blue, will create a soothing ambiance perfect for drifting off," she advises.
4. Welcome the outside in with wallpaper
When it comes to what wallpaper designs will be big for 2023, the Biophilic trend is here to stay, according to Paula Taylor, Head Stylist at Graham & Brown (opens in new tab).
"The enduring popularity of flora and fauna-inspired designs has shown no sign of waning, as we continue to migrate towards busy urbanized spaces it has become more important to bring the outside in and channel the healing properties of nature," Paula explains.
Many of these wallpapers come in shades of forest green and Paula suggests teaming them with dark green paint for a true style statement.
"The forest green color trend can work well as a wallpaper and paint combination," she suggests. "For example, our Borneo Emerald wallpaper partnered with our Adeline paint creates a rich biophilic space, centered around a peaceful leafy design."
A perfect choice for living room wallpaper, the nature-inspired design scheme can help to create a gentle balance against all the technology in the room, creating a happier and healthier environment. It can even be used to make a small living room feel bigger if you choose the right accent wall to paper.
5. Paint your front door
If you're looking to give the outside of your house a spruce up, painting the front door can really help. In fact, a splash of on-trend color is a great budget way to make your house look expensive from the outside. And as for the best color for a front door, choosing a classic shade like forest green works best as it's timeless.
A rich green, although on-trend now, is always a timeless choice for painting front doors.
When it comes to painting your front door a bold color such as forest green, make sure you check how it will look outside. Colors look very different inside than they do in the bright glare of day, so paint a swatch of color directly on the door. Then make sure you choose the best paint for the job.
"You want something resistant to all weather conditions, so High-Build microporous paint with a UV filter should offer lasting protection while keeping the colors intact," advises Tony Kersey, buying manager for builders, hardware, and fixings at hardware store Homebase (opens in new tab). (opens in new tab)
6. Embrace dopamine decorating
Just as dopamine dressing has dominated the catwalks of late, dopamine decorating is set to be one of the big interior design trends of 2023. While you may think that the forest green color trend needs to be paired with neutral, it's a shade that also works with a rainbow burst of colors.
"People often think they have to balance out strong shades like forest green with white or grey, but I absolutely disagree!" says Sharn. "Pink and green are always a winning combo, so I'd go for a light pale pink to compliment the richness of the green."
And if pink isn't your bag, consider even brighter pops of color to give your interior a true retro feel. Helen Shaw, director of marketing at Benjamin Moore (opens in new tab), says zingy shades work well with the natural undertones of forest green.
"To add further interest pair this darker shade with lighter tones of chartreuse and pops of orange to create a mid-century feel," she suggests. "When finishing the overall look consider how you combine accessories and materials. The organic dark shade works particularly well with natural woods and metallic accents which will help lift the space."
7. Create a color zone
If you're new to color, Emma from YesColors suggests that creating a color zone may be a good way to try out the forest green color trend.
"Create a little zone of color in one section of the house," she says. "Try a bold color around a shoe or coat rack area or an energizing splash of color near a desk space. These pockets of paint will bring the area to life and are great at zoning the space in compact or open plan spaces."
Green is actually a great color for study or work areas as it promotes restfulness and calm. This in turn improves efficiency and focus, so is an excellent shade for anywhere you need to concentrate.
Tash Bradley, director of interior design at Lick (opens in new tab), the color-centric home decor brand, says its association with nature means not only is it restful, but it's a clever way of bringing the outdoors inside. "Green is nature's neutral, and your eye doesn't have to adjust to the color green, so it's a very calming color to surround yourself with," she says.
"I love putting forest green on French doors or a window going out to the garden because this will guide your eye into the garden and bring the outside in."
8. Add color and texture with green tiles
While green bathroom suites might still be something that belongs in the '70s, forest green walls or tiles are big news for both kitchen and bathroom trends 2023. Forest green tiles are a great choice for a bathroom says Richard Skeoch, director at Hyperion Tiles (opens in new tab) as they can help create a spa-like sanctuary.
"Forest green can be the perfect shade for a bathroom because this color will instantly create a sense of calm, add interest and provide a seamless connection with nature," he says. "This shade is ideally suited to a relaxing environment, such as a bathroom, for a more natural, yet luxurious, look."
While forest green can make small bathrooms look smaller, contrasting with lighter hues, such as off-white can help create more space. Richard also suggests that choosing different types of tiles can also help create interest in the room.
"Glazed ceramic could produce a striking feature wall and porcelain will provide enhanced durability for floors," he says. "If you're looking for a really strong, crisp color, try encaustic versions. In terms of style, choose between block color or perhaps patterned tiles to add more interest."
Sharn is also pro-green tiles, not only because they create a striking accent to any bathroom but because of longevity as well. "Darker tiles and grout don't show dirt or stains as much, so your bathroom will look a lot cleaner versus choosing white tiles!" she adds.
9. Try tonal shades
A tonal color scheme is made up of one main hue with tones of that shade added in. Try a light sage green with your forest green for a simple yet interesting contrast.
This light and dark green effect is the best bedroom paint color as the deeper forest green adds a touch of luxury while choosing a paler sage green color has a soothing quality, perfect for when you need to wind down at the end of a day.
You can either choose to paint alternate walls with different shades or choose a darker shade for the bottom half of your walls, moving into a paler green on the top half. You could also add accents of forest green to pale green walls by painting skirting boards in a darker hue.
10. Go all in to create impact
Feeling brave? Then forget accent walls and go green all over to really make a wow statement. Tash says forest green is great for a variety of different rooms.
"Forest green is a rich, strong shade of green," she says. "It's much more of a mid to a dark tone, so if you're thinking of bringing the color into your home, it really suits going into a room that lacks natural sunlight because its yellow base really absorbs shadow. Or, if you want a smarter living room with a bit of drama, it will look great."
As someone whose house is full of color, Sharn is a keen believer that there's no such thing as too much color. Yes, even when it comes to the forest green color trend.
"I'm a big believer in going the full hog with color," she says. "Don't feel like you just have to stick to one wall, try covering the ceiling in color or matching your skirting boards to your walls. It adds such impact."
If you've never lived with bold colors before, Sharn's big tip is to live with it before you decide if it's too much. "Always trust the process," she advises. "At first you will think it's too much, but within a few days, you'll be used to it and will love what you've created."
Alluding to the much-dreaded paint colors that devalue homes she advises: "Don't feel constrained by what other people are doing, or what you think will appeal to future buyers. It's your house to live in now, so make it your own and enjoy it!"
11. Mix it up with metallics
A rich tone like forest green is the perfect companion for metallic accessories, whether that be gold, silver, or even brass.
"Forest green, while eye-catching by nature, is a versatile color so don't be afraid to pair it with accessories from a variety of different color families," says Francesca Hadland, styling expert for Bridgman (opens in new tab). "Imbue your furniture with a touch of luxury by placing warm gold or cool silver accessories nearby."
Paula from Graham & Brown says mixing metallics with the forest green color trend is also a great way to add a luxurious art deco feel to your interior for 2023.
"The Art Deco trend utilizes dark outlines to pull forms from soft metallic shades for dramatic impact and a decadent feel," she says. "Reference this in your choices of furniture and home accessories with clean outlines and jewel tones highlighted by brass accents and subtle geometric shapes."
12. Be bold with your kitchen cabinets
While the Japandi trend still reigns supreme in kitchens, one of the big kitchen trends 2023 predicts to be big in color, and as someone who has a bright green kitchen, Sharn wholeheartedly recommends forest green as the perfect kitchen shade.
"I may be biased, but green is the best kitchen color in my opinion!" she says. "Whether it's green cabinets or green walls, it's such a lively and luxurious shade, so it'll make even the lowest-cost kitchen look premium."
Mix dark kitchen cabinet paint colors with either white or light wooden surfaces for a fresh feel or team with dark or brass accessories to add a touch of luxury. "I would definitely pair green with brass hardware to add to the richness and glamour of it all," advises Sharn. Mixing brass with striking green is a sure way to make a kitchen look expensive.
13. Add intentional pops of green
If you're renting or are just scared to go for a bold green wall, Francesca at Bridgman says accessories are your friend, saying: "Using accessories is an effortless way to fill your home with rich shades of green. Use cushions, throws, rugs, and even candles to punctuate your space with fifty shades of green, from jades to sages to forest tones."
Sharn says don't stop with accessories; forest green furniture can also be an easy way to make a bold impact. "Try adding a colorful piece of furniture to the room to start with, like drawers or a bookshelf in a standout shade."
What color green is trending 2023?
Whether you're looking for the best hallway paint color, the must-have wallpaper trends, or a shade to freshen up your bedroom, green as a whole is definitely the go-to shade for 2023.
"Green suits every area of the home as it's one of the most versatile colors on the wheel, and with so many shades to choose from the possibilities are endless," says Emma from YesColors.
"Tranquil shades of sage and mint green steer towards a relaxed and restful space, encouraging peace during unsettling times. These hues are ideal for areas such as the living room, bedroom, or bathroom. While deeper hues of forest, emerald, and jade promote an energizing and positive space, making it a perfect hue for the hallway, study, or kitchen."
"Aside from its abundance of wellness properties, green is a welcoming color to incorporate into the home and contrasts beautifully with many shades. From pastel pink paint colors to rich blues, green will be a much-loved color for years to come."
With over 22 years' experience in journalism, Jayne has written about a variety of subjects. She spent the start of her career within the world of film, interviewing Hollywood stars, attending premieres and lusting after red carpet outfits, and then moved into fashion, launching websites for big magazines such as Look, Woman's Own and Wedding and working with top fashion brands such as Westfield, LK Bennett and Hunter.
Career highlights include dressing up as Kylie (in gold hot pants!) for a national newspaper and working on big fashion events alongside Giles Deacon, Henry Holland and Naomi Campbell.