Paint color ideas for hallways – how to choose the right shade according to experts
Interior designers and paint experts share the key paint color ideas for hallways, to create the perfect entrance for your home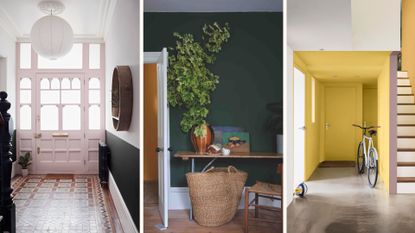 (Image credit: Future)
woman&home newsletter
Sign up to our free daily email for the latest royal and entertainment news, interesting opinion, expert advice on styling and beauty trends, and no-nonsense guides to the health and wellness questions you want answered.
Thank you for signing up to . You will receive a verification email shortly.
There was a problem. Please refresh the page and try again.
It's the first room you see when you enter the home, so choosing the best paint color ideas for hallways pick can really affect how that all-important first impression and how it makes you feel when you walk through the front door.
If you're looking to redecorate and are wondering whether you should pick something dark and dramatic or go for a more calming vibe, then think about which look you're most drawn to. Choosing something bold for your walls will create instant impact and also helps disguise knocks and marks, whereas paler, more neutral shades will be calming and likely to help you de-stress after a long day.
Of course, the color you choose for your hallway will be dependent on your own personal taste and style, but we've come up with some ideas to help whet your appetite. We've asked some leading industry experts for their advice on which color to choose and what the biggest interior color trends being mindful of paint colors that devalue homes, so you can create a look that's right for you.
BEST PAINT COLOR IDEAS FOR HALLWAYS
1. Add vibrant tones
If you want something that really stands out from the crowd, why not go for a lighter color on walls, with some pack-a-punch-painted pieces of furniture? This hallway, for example, has a soft blue shade on the walls and skirting, while the radiator, console, and mirror are in a wow-factor pink – the interior equivalent of fashion's dopamine dressing trend.
"First impressions are everything, which is why your entryway is your opportunity to go all out," says color and paint expert Annie Sloan (opens in new tab). "Build a space that delights you every single time you return home. Given that the space is small, this is your opportunity to go bold and be holistic – I'd paint everything! This will build excitement for the rest of your home and is so much more easily done in a hallway than in, say, a living room or kitchen."
2. Timeless on-trend lavender
Lilac and lavender have been on our radar for a while and work well on walls whether you're after something sugary or sweet or a more sophisticated, timeless look. This hallway, for instance, uses lavender along with a rich deeper brown that helps ground the scheme.
What is most important, however, is to pick a hallway paint color idea that you can live with – a shade that pleases you as soon as you walk in the door. It should create a warm welcome that won't overwhelm a space or make it appear too small.
It's also important to take into account whether your hallway is north or south facing, and how much light is coming into the space. If it's south-facing, perhaps choose pale, chalky pink paint colors and lilacs. If the hallway is north-facing, then a shot of a warming color, such as yellow, might be a better choice.
3. Statement sunny yellow
Brighten your day every time you walk through the front door with sunshine yellow. Take the statement tone up onto the ceiling and doorways, too, for a scheme that's stylish and uplifting.
Aside from being beautiful, paint color ideas for hallways also have to stand up to the rough and tumble of everyday life, with people constantly coming in and out, shoes being taken off, coats hung, and shopping bags and children's pushchairs often scraping the walls. So, if you're worried about a shade like this being scuffed, make sure you choose the right paint finish in order to keep it in good condition.
"You need to be considerate with which paints to use where," says Annie Sloan. "Flooring should be painted with Chalk Paint and protected with two coats of Chalk Paint Lacquer for maximum protection. Use Satin Paint on banisters and railings – it's formulated with an inbuilt lacquer and is designed specifically for skirtings, banisters, and other internal woodwork. Use this to avoid any chipping on hardworking parts of your home, like staircases."
4. Go for rich, dark red
Drawn toward brighter, richer colors in your hallway? Then opt for a dark red that can be used to bring warmth into your interior, as shown in this airy space. Deep red is also one of the most popular paint color ideas for kitchens because it's warming and inviting. We love how it's also been used in a chequerboard effect on the stairs and hallway floor, too, with a forest green on the wall to the right of the stairs.
"Hallways are the connecting spaces in your home and so the color you paint them should help to link the rooms together," says Marianne Shillingford, creative director of Dulux (opens in new tab). "My advice is to always buy testers to try out colors in the space and live with them for a few days before you decide which suits you and your home best."
5. Use soft coral
Sweet peach and soft shades of coral add a light, fresh feel to a hallway, and keeping the woodwork bright white helps emphasize that feel. Team with pendant lights and accessories in natural materials to help the effect stay calming and serene. We'd also recommend these colors if you're looking for the best bedroom paint colors.
"The hallway is the space that welcomes guests into the house, so it's important to think carefully about the color choice and the atmosphere as a result," says Helen Shaw at Benjamin Moore (opens in new tab). "Opting for warm tones, such as coral, gives a homely feel, while hues at the other end of the color wheel, such as blues and greens, evoke a feeling of calm and tranquillity. Both options are perfect for welcoming guests."
6. Bring in burgundy
If you're drawn to a moodier look for your hallway, then try a deep burgundy for a shot of sophistication, using it to drench woodwork in a luxuriously decadent fashion. Using color in this way avoids one of the most common mistakes people make when decorating with dark colors – allowing the best white paint on woodwork to distract from the rich wall color.
"Earthy grown-up reds are intrinsically welcoming and reassuring for a hallway," says Betsy Smith, color consultant for Graphenstone, "but don't forget the ceiling to add extra visual interest, too."
"Juxtapose reds with a dark petrol blue in an adjoining room makes the red sing – color juxtaposition works brilliantly in a hallway to create a sense of drama and depth. Transitioning from a commanding hallway will make adjacent rooms feel brighter and act like a spin, helping to connect rooms. For a softer palette, you can pair reds with a soft paler blue or grey."
7. Go for calming greens
We've seen green take the interiors market by storm, particularly sage green, with many of us drawn toward colors that draw inspiration from nature. Whether you opt for a soft, blue-green or more of a deep olive or forest green shade, this color is sure to make a soothing addition to your home and is a good choice if you want to know how to make a room look bigger with paint.
Here, a third of the wall is in a grey-green paint from Valspar (opens in new tab), while the top half is a fresh white, keeping it beautifully light and bright – but what finish should you go for? "Hallways take the most punishment of all the rooms in the house," says Victoria Yardley, founder of eco-paint specialists Victory Colours (opens in new tab). "Therefore, I'd recommend using a more durable, wipeable paint in order to keep it in mint condition, like a matt emulsion, which has a flat matt finish."
8. Embrace khaki
Another variation on the color green, khaki is a much darker color that can add depth to your walls, plus it works just as well in small spaces as it does in larger hallways.
For a cocooning feel, use it on all walls, and even the ceiling and woodwork, or, if you're unsure about using such a large amount of this dark color, why not paint just one wall and keep the other light, as shown in this hallway decorated using Farrow & Ball (opens in new tab) paint.
"Although neutral tones are popular at the moment, don't be afraid to experiment with bold colors to make more of a statement," says Jo Winston, marketing director of St. Modwen Homes (opens in new tab) – think khaki, burnt orange, or even matte black."
9. Experimental pastels
Once upon a time, pastel interiors were considered twee, but these days they're fun, edgy, and ideal for adding a bright color combination into your hallway. From the striped staircase wall to the pretty pink and mint shades on the surrounding walls, this hallway certainly makes for a fun environment – and the beauty is that should you get bored, it's easy to change.
"Bring in areas of pale color that will reflect the available light," advises Justyna Korczynska, senior Designer at Crown Paints (opens in new tab). "This could be stripes or a series of checks. You could also try metallic paint as a paint effect over a matt emulsion to add shine and reflection to bring the space to life. And don't forget about painting the woodwork, stair risers, and spindles to freshen up a hallway, too."
10. Contrasting colors
Why stop at just one color when painting your hallway? Opt for one for the walls and another for your door, in contrasting colors if you're looking to create contrast.
Painting the back of the door and the wooden sections on either side gives a cohesive look and a 'wall' of solid color – and powder pinks are popular for hallways at the moment. In this scheme, the pink has been teamed with fresh white on the walls, so the room is kept bright, but you'll notice the lower part of the wall is painted black to prevent scuffs from showing.
The radiator has also been painted black so it seems to 'disappear' – a great trick if you don't want it to be a standout feature.
What is the best colour to paint a hallway?
"Choosing the best color for your hallway can depend on the size, shape, and amount of natural daylight which is available within the space," says Emma Bestley at YesColours (opens in new tab). "The hallway should be a welcoming room that encourages you to feel energized, but also relaxed. A warm bright color such as peach, yellow or green is a great option to add a little vigor, or, for a comforting, immersive feeling, consider opting for a deeper more saturated shade of blue, green, or burgundy.
"If you drench the entire space, you instantly create a cocooning atmosphere," Emma continues. "Finally, for a light and airy space, choose soft pastels or paler muted tones of pink, lilac, or greens. These subtle tones will create a calming effect as soon as you walk through the door."
Should hallways be darker or lighter?
"Hallways are the busiest thoroughfare of your house with people passing past each other at the busiest time of day, so it needs to be practical and stand the test of time," says Martin Waller, founder of Andrew Martin (opens in new tab). "Dark colors under the dado rail, with fresh white woodwork and light colors above, work really well to hide any scuffs and marks. It adds lots of light this way, to what can be a narrow space.
"Painted paneling and built-in cupboards to store away unwanted bags and coats are a great addition, and when painted in a durable satin finish, add a really smart edge to the space. Hallways project the first impression of your interior, so give it some love and show it off to your visitors!"
What colours are on trend right now?
"As summer ends we will embrace the colors of autumn," says Joa Studholme, color curator of Farrow & Ball. "Mother Nature is again the perfect guide to the way we decorate."
"Refined greens are still super attractive in the home and greens like French Gray (opens in new tab) and Treron can be layered one upon another, or used in different parts of the house – the lightest French Gray in hallways and reception rooms, for example. However, if you wish to create a special moment, embrace the unexpected and team greens with a dramatic Preference Red on a door, or halfway up the wall for a dramatic transformation."
As an interior stylist and writer with a penchant for way too many vases and cushions, Laurie Davidson eats, sleeps, and breaths interiors. She's lucky enough to have been in the industry for over 20 years, working across TV and magazines, and alongside some of the top UK brands and names.

If Laurie isn't knee-deep in boxes for a shoot or preparing mood boards, you'll most likely find her testing appliances and accessories for buyer's guides. With a wealth of experience, features, and shoots under her (stylist's) belt, Laurie has become a much-called upon expert.