How to make a small room look bigger on a budget – 12 easy ideas
Wondering how to make a small room look bigger? Get inspired by our creative, low-cost styling tricks to maximize any small space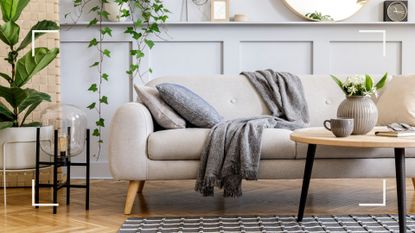 (Image credit: Getty Images | Follow The Flow)
Making a small room look bigger on a budget is simple with clever styling tricks and paint applications that can create an illusion of space.
If you want to know how to make a small space bigger, you have to be smart with your interior design choices to make the most of every square inch available. We ask key interior designers and stylists to share their top tips, from creative ways to make a room look bigger with paint to how to style furniture and fittings to make your space feel much bigger.
These 12 simple styling tips can transform any small space, whether you're wondering how to make a small living room look bigger or hoping to maximize space in your kitchen.
How to make small room look bigger – 12 easy ideas
1. Declutter
When looking for ideas to make a small room look bigger, most designers will start by recommending a thorough declutter to ensure the limited space is not compromised further by unnecessary 'stuff'. To organize a small space properly a thorough decluttering exercise is not only good for the soul but also essential for creating the illusion of more space by freeing up surfaces and clearing floors.
"The more you can remove from your living space, the more dramatic the result will be," says Kelly Collins, Interior Designer and Head of Creative at Swyft (opens in new tab). "Start by getting rid of old ornaments before moving on to any unnecessary furnishings cluttering up the space."
Nic Shacklock from Online Bedrooms (opens in new tab) stresses that decluttering is especially important in a small bedroom. "Having a tidy and restful space to sleep in certainly helps homeowners nod off when they go to bed and wake up feeling refreshed and ready to face the day," he tells us. So, if you're wondering how to sleep better, this is the first step.
"Decluttering your bedroom isn't a five-minute job so our advice is to start small," he continues. "Simply tidying away anything on flat surfaces is a great place to start and will make a difference straight away. Move on to decorations and soft furnishing and even donating any furniture you don't need."
2. Play around with furniture layouts
The success of any small room is the furniture layout, where creating a natural flow that doesn't leave the limited space feeling restricted is key. "Before you put your furniture in its final positions, try out a few different layouts to get an idea of what works," advises Kelly. "Play around with furniture combinations - sometimes the most obvious solution isn't the best.
"A good way of doing this is to mark out large pieces of furniture on the floor using tape. This will allow you to ensure the room flows before putting furniture in place."
3. Redirect your lighting
Using the right lighting is an easy yet highly-effective way to make a small space feel more generous in size. "Lighting is the easiest way to create a sense of space and airiness, using up-lighters to raise the height of a room for example or a chandelier to draw the eye to a focal point," suggests Martin Waller, Founder of Andrew Martin (opens in new tab).
To keep things cost-effective it could be as simple as repositioning or moving lighting from one room to another to better serve the space. as Martin explains, "The positioning of lighting is key to any scheme. There is always a darker, north-facing side to every home and the use of lighting is an easy solution. You shouldn't be afraid of turning on a light during the day, even in spring and summer. Illuminating a dull corner with a table or floor lamp or washing a dark wall with a well-placed wall light can make a huge difference to the feel of any room."
Even simply changing the bulbs can make all the difference to a small space."Generally speaking, cool white or even daylight bulbs are only really good for high task or workspace areas where there is no natural light. Layering warmer light is a more natural way to brighten your living space," adds Niki Wright, co-founder of Lights&lamps (opens in new tab).
4. Draw attention to the ceiling
Making a feature of the ceiling, fondly referred to as the fifth wall by many interior designers, is one of the biggest interior design trends to gain popularity in recent years. "If you want to want to maximize space in a property, or create the illusion of space try to draw the eye upwards," suggests Athina Bluff, Lead Designer for online interior design service Topology Interiors (opens in new tab). "Painting the ceiling is ideal for drawing the eye up to make the space feel bigger."
Painting a ceiling can be considered a budget option because in effect because it requires a far smaller quantity of the best interior color paint than you would use were you painting all four walls.
5. Reposition mirrors to welcome more light
Any small space within the home can benefit from the addition of a mirror to bounce natural light around, but positioning is everything to gain maximum impact.
"A well-positioned mirror can instantly make any room look larger," says Shanade McAllister-Fisher, Interior Designer at Shanade McAllister-Fisher Design (opens in new tab). "Mirrors are fabulous at creating the illusion of depth and reflecting natural light. There is such a huge range of designs out there at super affordable prices, but my advice is to go large, the bigger the better, but stick to a slim line frame for a sure-fire way of enhancing the appearance of scale."
An entryway is often one of the smallest zones of the home and therefore crying out for a space-enhancing solution to make a big first impression. "If your front door has a glass panel, position a mirror so that it can capture the natural light and reflect this into the hallway," suggests Peter Legg, Lead Designer, där lighting (opens in new tab).
6. Elevate storage
This clever storage idea is particularly effective in a small hallway or bathroom where you can seek slimline wall units that provide optimum storage.
Wall-mounted storage is beneficial in more than one way because it uses otherwise wasted vertical space but also elevates units off the floor to free up value floorspace. These examples shown above are handy IKEA hacks using the budget, best-selling TRONES Shoe Cabinets ($30/£25 for a set of 2) (opens in new tab). Where the units have been painted to match the wall color the elevated storage blends in seamlessly without encroaching on the small corridor space.
Rikki Fothergill, a bathroom style expert at Big Bathroom Shop (opens in new tab) explains the benefits when used in a bathroom saying, "getting furniture off the floor will allow a design vision to reach to the edges where the walls meet the floor. This helps give the feel of a bigger room, so switch standing cabinets to wall-hanging furniture."
She adds, "It can be tempting to add lots of storage into bathrooms, but we'd recommend being clever with positioning. Wall hanging or corner units can help save space and provide more opportunities for your eyes to reach the edges of the room."
7. Raise curtain rods
An effective and easy way to add height to your windows is to raise the bar, quite literally. "By strategically placing curtain rods above the top of the window, you can trick the eyes into thinking the windows are taller than they are," explains Adam Pawson, Head of Digital at window specialists Safestyle (opens in new tab).
"If you don't own your property, don't worry there is a renter-friendly hack. Instead of drilling holes into the walls, choose a stick-on hook. Install four evenly across the length of where the rod is to be placed and make sure you press down before adding the curtain rod into position. Just make sure the curtain fabric hides the stick-on hooks for a tidy look.
Adam continues, "to pull this trick off well, make sure you opt for a curtain rod that matches the aesthetic of your scheme. For example, choose matt black if your home reflects a modern aesthetic or opt for a wooden curtain rod if your home is more traditional."
8. Ditch dark curtains to let in light
Removing any heavy color or materials from the windows in a small room is a completely transformative step for making the small space feel instantly less restrictive.
"An easy trick and great place to start is to opt for a light, neutral color scheme to create the illusion of bigger windows," explains Adam. "If you find your home has small windows, selecting neutral shades not only instantly brightens a room but these lighter-colored curtains allow more natural light to shine through, helping to create the illusion of a bigger room."
9. Make use of door space
Utilize all your surface and wall space - including doors. "To utilize space that would otherwise be a wasted area, door racks are a great idea," says Kelly.
When looking to organize a small kitchen she suggests, "you can add racks or hooks behind doors for storage of tea towels, herbs and spices in the kitchen. This can also be applied by adding hooks on the inside of cupboard doors to store items like pan lids to free up cupboard room."
But given you have entry doors for every room the storage potential is endless. In a small bedroom, the back of the door provides the perfect space-saving solution for an accessories rail while in a bathroom you could use it to hang towels and bathrobes.
10. Choose multifunctional furniture pieces
"There are also many multi-functional pieces on the market nowadays, suited to compact living," explains Emma Deterding, Founder and Creative Director, Kelling Designs (opens in new tab). "From coffee tables with lifting tops that allow you to eat dinner or work from home with ease, to clever footstools and ottomans with built-in storage and even pull-out guest beds, you can really make sure your space is designed for your lifestyle."
11. Open up your doorways
Look at your doorways from a different perspective by making them less of a hindrance of an already limited space. "If your door opens into your small room, it can eat into valuable floor space and make the room feel more cluttered. Consider swapping your inward opening door for an outward opener or think about installing a sliding door in its place," suggests Kelly.
Depending on doorframes and surrounds this should be a case of reversing the hinges, so shouldn't be too costly a job. "Another option is to remove the door altogether and really open up your living area," Kelly adds.
12. Add houseplants
Our love of houseplants shows no signs of wavering and nor should it because plants can really help make a small space look and feel bigger.
"Plants add color, height and homeliness to rooms of all shapes and sizes," explains Kelly. "If you're working with a small space, choose a couple of tall plants that will have a big impact on the look of the room. You could also place a plant with hanging foliage on your shelves to add even more greenery to the design."
You can even hang trailing plants from a rail along one walls to draw the eye up and add interest to an otherwise empty wall that offers no depth to the space. Drawing the eye upwards with a pop of greenery is a lovely way to welcome height and perspective to a tiny room.
Check our guide to the best places to buy plants online - most of these websites will also provide guidance on the best environment for each plant, as well as notes on how large it could get.
Tamara is a highly experienced homes and interiors journalist, with a career spanning 19 years. Now the Lifestyle Editor of womanandhome.com, she has spent the last 16 years working with the style teams at Country Homes & Interiors and Ideal Home, and it's with these award-winning interiors teams that she gained a wealth of knowledge and honed her skills and passion for shopping, styling and writing about every aspect of lifestyle and interiors.
With a keen eye for the latest interior trends, there's not a lot she doesn't know about home decor – whether it's what colour we should be painting our living rooms next season, or if the latest 'must-have' buys are actually worth investing in.
A true homes and interiors expert, Tamara has served as an ambassador for leading interior brands on multiple occasions, including appearing on Matalan's The Show and presenting at top interiors trend events such as the Autumn Fair and Spring Fair.