12 ideas and cheap ways to block your neighbor's view for extra privacy
If you're not keen on being overlooked you'll love these cheap and efficient ways to block your neighbor's view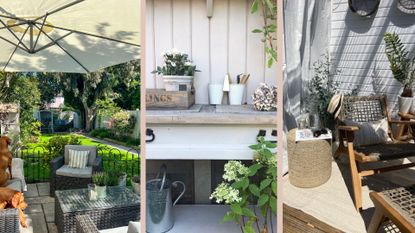 (Image credit: Steph @stephfrom_belmont | Samantha Kelly @hoops_and_home | Catherine @interiors71)
woman&home newsletter
Sign up to our free daily email for the latest royal and entertainment news, interesting opinion, expert advice on styling and beauty trends, and no-nonsense guides to the health and wellness questions you want answered.
Thank you for signing up to Woman & Home. You will receive a verification email shortly.
There was a problem. Please refresh the page and try again.
Looking for cheap ways to block your neighbor's view into your home or yard? These simple ideas will politely gain you a little added privacy in style.
Perhaps you're working from home and need a way to conduct business calls without interruption, or maybe you long for some peace and quiet to read a book and or entertain in your outdoor kitchen away from prying eyes.
Now the warmer weather has arrived, many of us are taking the opportunity to spend as much time as possible outside soaking up that vitamin D. We all know that being outside is good for your health, but being overlooked by your neighbors can take the enjoyment out of being in the garden and leave you feeling frustrated and exposed. But fear not, our interior experts have just the solution to solve that...
Cheap ways to block your neighbor's view: 12 easy ideas
Whatever the reason that led you here to look for cheap ways to block your neighbor's view into your home or yard, you are in luck. We've spoken to the experts and have lots of genius ideas to offer a pleasing solution to your privacy problem.
1. Put up a pergola
A pergola is an outdoor structure comprising a roof and supporting columns that can be adapted to suit various styles and current garden trends. Although pergolas are largely open, they are still one of our recommended ways to block a neighbor's view because they can be adapted to include slat walls and stylish, secluded seating.
Pergolas are a great way to zone a garden or backyard to provide an area for entertaining or relaxing and can be DIY'ed to save money.
Claire Moran's gin terrace is a fantastic example of a stunningly stylish yet perfectly private pergola (pictured). Talented interior designer, blogger and content creator Claire Moran aka @claire.moran.designs used her design skills to create this multi-functional space. "The bottom of our garden always gets the sun at the end of the day and we also wanted to add a little more privacy to make our garden feel more enclosed and connected with the house," shared Claire.
Claire advised that her pergola provides "the additional privacy we were craving in the house, particularly in winter when it's darker much earlier, whilst giving us a spot to enjoy the afternoon and early evening sunshine".
Claire also has a top tip for those considering a pergola to block their neighbor's view "To make it adult and kid-friendly, one half was designed for adults and the other is for the kids where we fixed play equipment to the chunky timber frame."
2. Strategically place a tall potting bench
As keen gardeners will know, spending time outside tending to your seedlings or planting next year's seeds is a hugely rewarding experience and one of the best hobbies for relaxing unless you struggle for privacy in a very overlooked yard.
A potting bench could be just the solution you need, especially a tall beauty like this one belonging to Samantha Kelly, the floral hoop creator and interiors expert behind the hugely popular Instagram account @Hoops_and_home.
As Samantha demonstrates, a potting bench can elevate the aesthetics of your garden providing plenty of garden styling opportunities and essential privacy, making it one of our cheap ways to block a neighbor's view. Position your tall potting bench in the direction you are overlooked and enjoy hours of gardening and vegetable growing prep in privacy.
3. Rely on fences
Putting up a fence is the next on our list of cheap ways to block a neighbor's view and there really is a solution to fit every budget, style, and backyard. Fences are quick and easy to install and don't require time to grow like hedges and trees.
There are laws that dictate how tall fences can be, so it's always worth doing some research before you buy. Generally, front garden fences can be up to a height of one meter, and rear garden fences can be up to two meters without planning permission, but there are lots of factors that can affect this, such as proximity to a road, whether the property is listed and local restrictions.
If installed properly, fences require minimal ongoing maintenance, and a lick of paint every few years will often be sufficient. Older fences can be transformed with paint, oil, or stain to create a stylish sanctuary in your backyard – painting fences every few years is a brilliant budget garden idea to transform the space at a low cost.
Raised planters and flowerbeds can be situated in front of a fence to provide color and fragrance and attract wildlife, further enhancing the private area you've created.
Using a combination of decorative ornaments, like mirrors, hanging planters, and festoon lighting as favored by the quiet luxury garden trend, is a great way to make a feature of a garden fence and provides the perfect backdrop for al fresco entertaining as demonstrated here by Instagrammer Ellie Morley. Ellie regularly shares inspiring images and home and garden tips on her Instagram account @Home_by_ellie.
4. Invite stylish privacy with a parasol
Parasols have to feature on our round-up of ways to block a neighbor's view because they are super practical and multi-functional, ideal for charming cottage garden ideas seeking shade and privacy.
Garden parasols can be moved around as required to provide privacy (and shade) in more than one location, brilliant for those super hot summer days. Parasols come in a variety of sizes and styles and are easy to take down and store when not required, making them a far more flexible solution to blocking your neighbor's view than a permanent structure. Ideal to pop a paddling pool underneath and enjoy some downtime with the kids or grandkids.
Cantilever parasols are great as their base can be positioned to the side of your seating, providing the maximum space to entertain your guests, as seen here with Steph, aka @stephfrom_belmont's beautifully private patio area. Steph is an interior design lover who recently completed a stylish home renovation which she shared in detail on her hugely inspiring Instagram account.
Talking to woman&home, Steph shared her top tips for ways to block a neighbor's view, "We're lucky as we have quite a private garden naturally. We have chosen to add blossom trees on both sides of the borders to add extra privacy and also use the parasol and garden accessories to draw the eye away from the fences," great advice that can be applied to most gardens.
5. Grow a privacy hedge
Hedges are a green alternative to fences in all senses of the word, providing beautiful color and a habitat for wildlife to thrive in. Unlike fence panels which need to be solid and stable, hedges provide gentle movement and calming sounds on a breezy day.
Hedges are a great way to block a neighbor's view, but they also offer protection from the wind, sun and even help by absorbing sounds from adjacent gardens.
Although there are obvious candidates for hedging, with laurel, privet, beech, and leylandii being popular, you don't have to stick to these common varieties and more unusual shrubs and climbers come with their own advantages, such as seasonal flowers adding color and fragrance.
The wisteria pictured has been trained over a trellis to create a private corner to relax in throughout the year, but it really comes into its own for a few weeks a year when it explodes with dramatic lilac-hued blooms and becomes the main focal point of the garden.
The ongoing maintenance for a hedge will differ depending on the speed of growth of the best plant to suit your needs, opt for slower-growing varieties if hedge trimming isn't your thing. A flowering hedge can provide a focal point that changes with the seasons providing privacy of course, with the added bonus of a beautiful view, a great tip for making a small garden feel bigger.
6. Add an awning for shade and seclusion
An awning is a supporting structure covered with a material shade that extends out to cover the area immediately beside or behind a property. A garden awning is a cheap way to block your neighbor's view, especially if your neighbors overlook you from above.
You can DIY a temporary awning from bedsheets if your budget is minimal or splash out on a permanent structure that attaches to your outer wall. Some even come with automation and remote controls for an added touch of luxury.
The attractive awning pictured belongs to Kelly Anderson, whose stylish home is full of clever uses of space and ways to bring the outdoors in. Kelly shares interior styling tips and room makeovers on her popular Instagram account @twentyfourcentral. Kelly's attractive awning creates an outdoor living room, optimizing the space, adding privacy, and making it super functional irrespective of the weather, a win in our book.
7. Plant trees to obscure the view
Trees are always a good option for blocking the view discreetly. There are factors you'll need to consider to select the right variants for your location, such as soil type, temperature, and sunlight.
If the budget is tight, you'll probably want to opt for younger trees as mature ones can be pricey, but happily, many fast-growing species will provide privacy in no time.
Multi Award Winning Landscape and Garden Designer Victoria Truman had this advice to share with woman&home, "Evergreen pleached trees will provide an instant screen for privacy," an example of which can be seen along the fence line in the image above.
Pleaching is a method of training trees to form a screen by interlacing their shoots as they grow to form a lattice.
8. Install a summer house
Installing a summerhouse in your backyard is a great way to enjoy being outside without the worry of being overlooked.
There are summerhouses to suit most budgets and they have the advantage of providing shade, shelter, and privacy from prying eyes, so they had to make our list of cheap ways to block a neighbor's view.
Add decorative features to your summerhouse to make it a focal point or strategically place plant pots and trees to help it blend in. On a hot day, throw open the doors to your summer house and relax in a comfy chair with a good book, just as interiors whizz Ellie Morley does in her summer house above.
9. Get a glorious gazebo with privacy curtains
Another effective yet cheap way to block your neighbor's view is a gorgeous gazebo as seen here in Catherine's beautiful garden. Catherine is the creative talent behind the popular Instagram account @interiors71 where she regularly inspires followers with affordable home and garden styling tips using a neutral color palette.
Catherine designed the ideal way to relax in stylish seclusion by adding flowing fabric panels to her perfectly styled backyard haven, proving that curtains aren't just for indoors. Outdoor curtains are quick and easy to put up and take down and don't take up much room to store, making a privacy curtain the perfect addition to your outdoor space this summer.
10. Provide privacy and a focal point with an arch
Garden arches come in all different sizes and materials, ranging from cheap metal frames for under $10 to extravagant structures costing hundreds. Growing climbers up and over the arch provides a focal point in your garden, and being done correctly can also be a cheap way to block a neighbor's view.
Opting for multiple species is a good way to provide interest throughout the seasons and is an easy gardening tip that every gardener should know.
11. Install an artificial living wall
If you are looking for a more cost-effective alternative to a living wall as a cheap way to block a neighbor's view, then look no further. This privacy panel might be artificial, but it's just as awesome and certainly gets the job done.
You can pick up a panel of artificial greenery like this from your local DIY store and that's just what clever home renovator and floral hoop creator Samantha Kelly aka @hoops_and_home did. Samantha's home is packed full of gorgeous features (many DIYed) and is seriously inspiring for those with a love of neutral color palettes and sophisticated styling.
12. Apply glass film to block your neighbor's view
So far we've looked at outdoor spaces, but if you are looking for cheap ways to block your neighbor's view into your home, then glass film will change your life.
Glass film comes in different patterns, styles and colors and is super easy to apply and remove if you rent or change your mind later down the line.
I used reeded glass film on a recent DIY project on our kitchen door and it transformed the door and the privacy levels in one hit.
Sign up to our free daily email for the latest royal and entertainment news, interesting opinion, expert advice on styling and beauty trends, and no-nonsense guides to the health and wellness questions you want answered.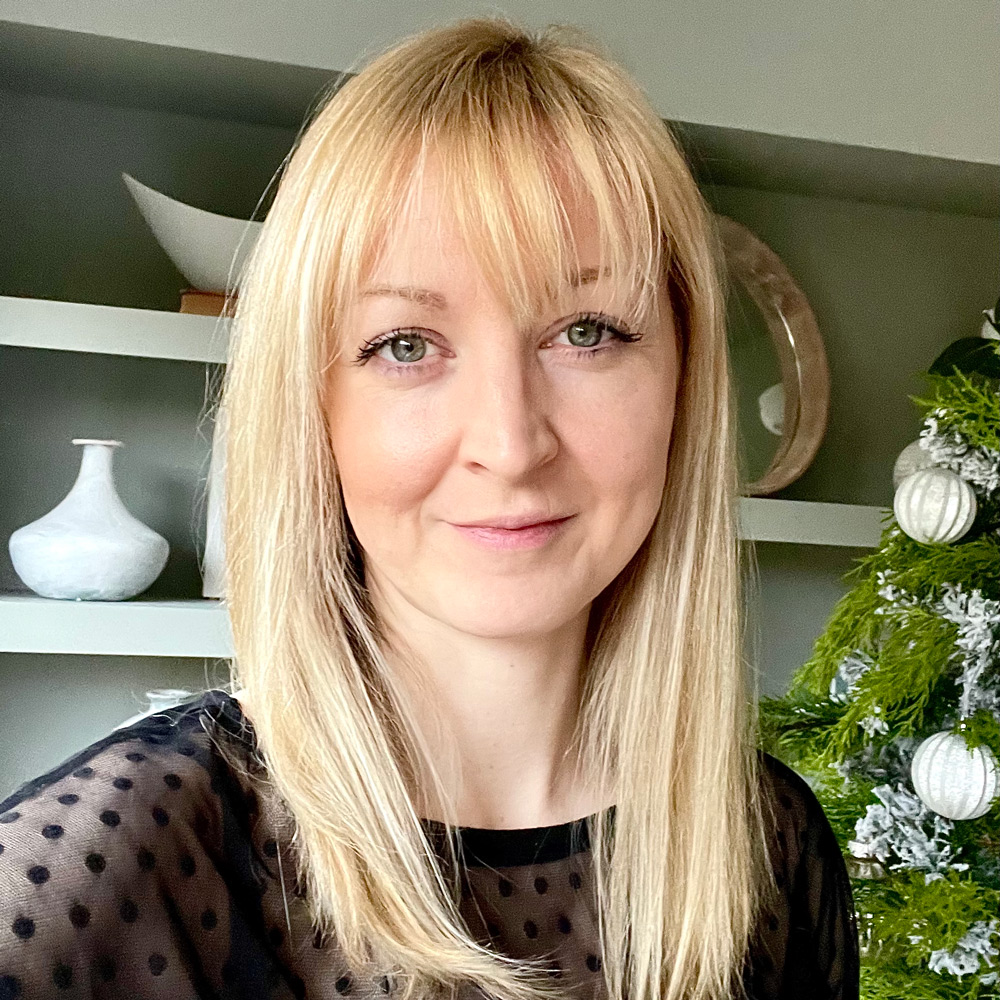 Claire is a DIY and home interior writer specializing in budget room transformations, creative DIY projects, and resourceful home styling. Claire runs the popular home interiors blog ClaireDouglasStyling and shares all her DIY tips, tricks, and behind-the-scenes styling insights on her Instagram and Tiktok accounts. When she's not writing, Claire enjoys foraging for flowers and foliage and experimenting with interesting materials and decorating techniques to incorporate into future interior schemes; micro cement and postal tubes were a recent unusual but triumphant pairing. In her spare time, Claire enjoys creating floral installations for her home...the more bonkers the better!