How to make a small garden look bigger: 11 expert tips to maximize space
Leading landscape designers and professional gardeners share their top tips on how to make a small garden feel bigger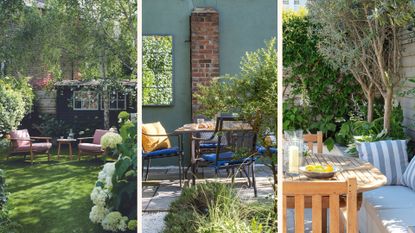 (Image credit: Future | James Merrell |Lizzie Orme | David Giles)
Finding ways to make a small garden look bigger can sometimes feel challenging, however with the right expert guidance on savvy planting and simple styling tricks it can be easy to instantly make a small yard feel more spacious.
Even the smallest of backyards can provide an element of blissful escapism, especially with the help of expert small garden tips and ideas to maximize the space and offer more functional useage.
From welcoming a little trickery with outdoor mirrors to concealing the boundary lines, these are the simple ways to use the limited space more creatively to make any small garden design look bigger and more plentiful.
How to make a small garden look bigger: 11 easy ideas
Sometimes it can be the smallest of tweaks that can help to make a space feel bigger, like when looking at how to make a small living room look bigger or making a small bedroom feel more generous.
"Designing a small garden can present many challenges," says James Scott FSGD, managing director of The Garden Company. "They are often an awkward shape, shady or overlooked, and can be tricky to access. However, the design solutions to these issues can be truly impactful."
Take inspirartion from these expert garden tips from professional horticultralists and members of the Society of Garden Designers to transform your small space.
1. Blur the boundaries
Screening the boundaries of a small garden can instantly make it feel bigger because it feels less limiting on the space available.
"A garden will always feel bigger if you are able to blur the boundaries so that you are not quite sure where the garden ends," says Eliza Gray, landscape designer and founder of Eliza Gray Gardens. "Multi-stem shrubs and climbers can give the impression of a larger space. I often put an evergreen shrub into a corner to help to disguise the fences or walls and draw the eye inwards."
"Using greenery such as hedges or climbers, make fences and walls disappear so the eye is not drawn to the boundaries, but instead imagines the plot continues, just behind the planting," suggests Sam Proctor MSGD, garden designer at Chiltern Garden Design.
2. Welcome reflective surfaces
Using mirrors is an age-old interior styling trick used to make a small room look bigger by changing the perspective. Therefore, mirrors are ideal when also looking at how to make a small garden feel bigger.
"You can use reflective surfaces at the boundaries to make a space feel larger," says Matthew Haddon, landscape and garden designer and founder of Haddon Studio. "Mirrors have been traditionally used but should be offset so as not to reflect the viewer looking back at themselves, but stainless steel could be used to brighten a space instead."
3. Reconsider furniture placement
Reconfiguring the furniture is not only the best way to transform a living room on a budget, but it could also be the answer to making a backyard instantly feel more spacious.
"Consider placing the main seating area away from the house a little, so that it can be surrounded by planting," suggests Sam. "This will create a short 'journey' to the seating and feel more haven-like once seated."
Being surrounded by greenery rather than the exterior walls of the house will instantly soften your perspective and create a sanctuary within the space, one that doesn't feel as restrictive as enclosing walls.
4. Scale things down
Avoid overcrowding the small space to instantly make it feel more open and therefore larger. "Don't try to fit too much into a small space," warns Matthew, because this can make it feel cluttered and enclosed.
"Unlike a larger garden, you're going to need to decide how you will use the space - for relaxing, dining, entertaining, or pottering about - and then design to a single coherent theme. Having a clear idea of what you want will provide a unity of purpose that will provide clarity to the overall feel of the space."
Adpot the same principles of decluttering the house, have a look around, and try to downsize the amount you have in the limited space on offer. This simple act will give more prominence to the items you do have, giving the space a great sense of purpose. Creating clearly defined zones for each purpose helps to keep the overall feel streamlined.
5. Utilize vertical space
With any small plot, seeking vertical solutions is key to using every inch of space to optimum capacity. From climbing plants and living walls to using hanging baskets to suspend plants, it's all about looking upwards to maximize the space available.
"Don't neglect the upright plane," says Jane Passingham, a garden expert from Eliza Gray Gardens. "A pergola, trellis or even a row of upright posts will change the flow of the garden and create an interesting and immersive space – as well as helping with privacy in some cases."
"The best way to work with a small yard or garden would be to focus on vertical integration," Alex Kantor an expert on landscaping trees, shrubs, and fruit trees, at Perfect Plant Nursery. "Utilizing the space that you have and growing upwards can boost the square footage of your garden. Try stacking pots to save on space or even build plant shelves."
6. Think big for features
It might seem counterintuitive to use larger pots and planting ideas in a small garden, but in actual fact bigger is better to prevent the space from feeling overwhelmed. "Large features and plants will often work better in a small space than lots of tiny ones," explains Matthew.
Offering a reason as to why this would be the case Eliza adds: "Smaller 'bitty' accessories can make a small garden feel disjointed and scattered." Making it feel smaller by default because it begins to feel cluttered and chaotic. "Don't be afraid to go large on features such as pots," advises Eliza as a result.
"Avoid using lots of small pots or decorative items as this can feel jumbled," says Sam. "Introduce one large planter or a decent-sized sculpture, as that sense of scale will make the space feel bigger."
7. Borrow the view beyond
Consider if your plot has a view beyond that could help to make your small garden feel extended. It might be that instead of obscuring the view and boxing the yard in, you open it up more to the possibilities beyond.
"If there are trees or views beyond the garden that you can 'borrow' try to do this," advises Sam. "Even if it's in a neighbor's garden or an old tiled roof that adds character."
8. Choose light colorways
In the same way that you can make a room look bigger with paint, you can also use the same principles with color in an outdoor space. Generally speaking light, bright colors tend to make any space feel airy and more open, compared to cocooning darker shades that draw you in.
"With art, it's the frame that draws our attention and a good one should enhance every detail perfectly," explains Marianne Shillingford, creative director, and color expert at exterior paint company Cuprinol. "In the garden, it's the fence that frames our lawns, patios, and planters - so choosing the right color to paint it is key,"
Marianne suggests For smaller, abstract gardens try opting for soft gray and greens, rather than typical cedar shades. "These colors will soften and blur the frame of your garden and make it look much bigger than it is," Marianne explains.
In addition to painting fences in lighter colorways that recede away, you can also apply the coloring to encompass your planting too to add to the effect.
9. Minimize materials
"Ensure materials are kept to a maximum of 3 different types, for cohesion and unity in a small space," says Tina James MSGD, head of garden design at Preston Bissett Nurseries. "Keep the palette of plants similarly restrained, with repeated patterns of planting and color."
It is a well-known rule among interior designers that using a quantity of three serves any space well – be it hanging pendant lights in sets of there or adding scatter cushions to a couch, the power of three is a perfect balance when creating an interior scheme and the same applies for gardens.
"Simplify hard materials," suggests Sam. "Consider just using two or three. For example, stone, paving, and gravel, to unify the space and let the planting do the talking."
The theory of working in multiples of threes is that one is not enough, two is too symmetrical and therefore three is the magic number than feels adequate but not too prescriptive.
10. Avoid narrow borders around edges
While it may seem logical to frame a small plot with narrow borders this can in fact make the space feel smaller by drawing attention to the edges and limited flower beds.
"Pushing planting to the boundaries of the garden will accentuate the lack of space, instead of 'keeping the eye' in the garden," says James. "Deeper borders allow for more abundant planting, with layering to add more visual interest."
11. Design on the diagonal
Whether you're exploring garden design as a beginner from scratch or rethinking how your current yard works, the key to making it feel more spacious is to take a different approach and give it a new perspective– quite literally.
"The traditionally accepted method to achieve a larger feel in a small space is to design on the diagonal because when you look corner to corner the space will be longer than if your main axis simply runs front to back," explains Matthew.
"I always enjoy designing small spaces because of the potential to really 'wow' clients.," says James. "A well-thought-out garden design can positively transform the way a client enjoys a small space. It may become a quiet, intimate haven or a special place to entertain family and friends."
"As a professional designer, I know that I need to be able to justify every design decision, and in a small garden, there is absolutely no hiding place for the design choices made. Every detail is on show and has to be extremely well considered."
Tamara is a highly experienced homes and interiors journalist, with a career spanning 19 years. Now the Lifestyle Editor of womanandhome.com, she has spent the last 16 years working with the style teams at Country Homes & Interiors and Ideal Home, and it's with these award-winning interiors teams that she gained a wealth of knowledge and honed her skills and passion for shopping, styling and writing about every aspect of lifestyle and interiors.
With a keen eye for the latest interior trends, there's not a lot she doesn't know about home decor – whether it's what colour we should be painting our living rooms next season, or if the latest 'must-have' buys are actually worth investing in.
A true homes and interiors expert, Tamara has served as an ambassador for leading interior brands on multiple occasions, including appearing on Matalan's The Show and presenting at top interiors trend events such as the Autumn Fair and Spring Fair.