How to make a small bedroom look bigger - 12 clever tips and tricks to maximize space
Looking for easy ideas that'll make a small bedroom look bigger? Be inspired by our expert tips and savvy style advice that will help you expand your sleep space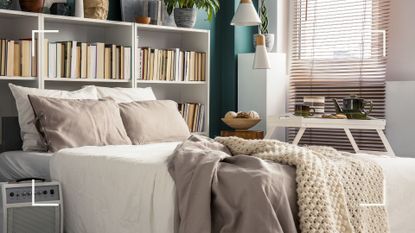 (Image credit: Getty Images | Katarzyn Bialasiewicz)
Finding ways to make a small bedroom look bigger can be a challenge, but if you're savvy with your styling and use your space creatively, it's possible to make a small bedroom look and feel so much more spacious.
When it comes to how to make a small bedroom look bigger, there are lots of easy tips and tricks that you can use to create the illusion of extra space - and none of them involve knocking down walls or any kind of major renovation work.
The trick to making a small room look bigger can involve clever styling ideas, practical storage solutions, or knowing how to make a small room look bigger with paint. We asked key interior designers and creatives to share their expert advice and top tips, that'll show how to utilize your space more efficiently and make the most of a small or compact bedroom.
How to make a small bedroom look bigger - 12 ways to maximize space
1. Choose a light color palette
Painting the walls in pale, light-reflective colors is one of the easiest ways of increasing the sense of space in a small bedroom. But making a small room feel bigger doesn't mean opting for brilliant white wall-to-wall, which can feel quite harsh and clinical. It's more a case of bringing in soft shades and pale muted tones that will bounce light around the space and make the bedroom feel bigger, while still feeling calm and cozy too.
"As a rule of thumb, lighter colors tend to make a space feel bigger, while darker colors tend to advance and bring the wall towards you making a room feel smaller," says Helen Shaw, UK Director at Benjamin Moore. "Paint is a clever way to change the perception of space in any room."
While painting walls and ceilings in pale best bedroom paint colors will instantly enlarge a small room, continuing the color onto skirting, doors and trims can also further increase the feeling of space, as there are no harsh line breaks to interrupt the sightline, so the room appears to stretch further back than it actually does.
"A trick to make a small space feel bigger is to paint the skirting boards the same color as the wall," says Yvonne Keal, Senior Product Manager at Hillarys. "This will elongate your walls and make them feel taller instead of cutting them short."
2. Pick pale tones to stretch floor space
As with wall colors, using pale-colored flooring and soft, muted tones will boost the sense of space in a small bedroom and can also be effective at how to make a small living room look bigger too. Dark-colored flooring tends to absorb light, which can make a room feel poky and more closed-in, while lighter colors reflect light, making rooms feel brighter and airier.
Avoid intricate patterns, strip wood floors and tiny tiles when it comes to smaller spaces too, in fact, anything overly busy that draws the eye is best avoided in a small bedroom. Instead, opt for calming plains or large-format planks and tiles, so that the eye flows smoothly around the room and isn't distracted.
"Dark colors can make a room feel smaller, so when it comes to wood flooring, opt for lighter shades instead to enhance the sense of space and give the room openness," says Yolanda Meyer, Purchasing Manager at Havwoods. "Using larger boards will also help make a room look bigger - by using larger boards there are fewer visible joins between planks so the floor doesn't look as busy and distracting," adds Yolanda, "and they're also quicker to install as wider boards take up more floor space."
3. Match windows treatments to walls
Try another visual trick that interior stylists often use to make a small bedroom look bigger and opt for curtains, drapes, and blinds in the same color as the bedroom walls. Having continuous color across the space merges walls and windows into one with the eye moving across the bedroom and perceiving the space as bigger than it really is.
"Changing minor parts of your bedroom can also make a huge difference," says Yvonne. "Although curtains can add an element of luxury to a space, if your room is small, swap them out with blinds. Blinds can make a room look taller and, as they free up space on either side of the window, they'll instantly make a small room feel bigger."
4. Opt for a low-slung bed
When it comes to the bed, keeping it closer to the ground, creates more breathing space above, which can help make the ceiling appear higher and the bedroom bigger. Create a Japandi bedroom with a futon or low-level sleeping platform or alternatively try a low-slung wooden bedstead.
"Opting for a low bed can be a great way to create the illusion that your room looks bigger, primarily by making other areas of your room more visible," says Jonathan Warren, director and bed specialist at Time4Sleep. "For example, a low bed can allow for more of your feature wall to be seen, thus making your ceiling appear higher."
"Although a low bed can make your room appear bigger, it's also worth considering that a low bed could lead to your bedroom appearing more cluttered as your storage options may be limited," adds Jonathan. "Many people choose to store items under their bed or choose an ottoman bed with hidden storage solutions, both of which may not be possible with a low bed. So do bear this in mind."
5. Double-up with underbed storage
While low-level beds create a clean and calm aesthetic that will help increase the sense of space in a small bedroom, lack of storage can be a big challenge when bedroom space is limited. Underbed storage is a way around the issue, providing extra stowing space for bulky bedding and out-of-season clothes, without taking up any extra floor space and overcrowding an already tight room.
"For those with a smaller bedroom, it's essential to pick the right bed for the space," says Adam Black, Co-Founder of Button & Sprung. "If storage is pivotal, pick a divan over a classic bed frame, this will allow you to maximize the storage space available without taking up any additional floor space; which is especially important in small bedrooms. Drawer storage seamlessly blends within the divan base to safely store away any bedroom essentials."
"Alternatively, homeowners can opt for an ottoman bed - this allows for extra space for storage via a mechanical lifting system. Ideal for larger, bulkier items, storage is located within the base of the bed rather than split into individual compartments or drawers."
6. Streamline storage options
While freestanding furniture is often inexpensive and easier to place or move around, it can also be quite big and bulky and easily overcrowd a small bedroom if there's too much of it. Fitted furniture is pricier but worth the extra investment as it enables storage to be consolidated into one area, creating a neater look and streamlined aesthetic that will only enhance the feeling of space in a small bedroom.
Hiding a vanity area away behind doors is a neat option that provides plenty of storage space for beauty essentials and a hair-styling kit, but with floor-to-ceiling doors so that the whole area can be concealed from sight when not in use.
"When planning a wardrobe in a tricky space, it's important to consider how you can make the most of your area. Taking stock of what you really need and want is a really important step to go through," says Racheal Hutcheson, National Retail Manager at Sharps.
"Alcoves offer pockets of extra space in bedrooms, but it can often be difficult to know how to get the best use out of them. However, bespoke shelving and fitted storage offers the perfect solution for maximizing available space and creating a focal point in a room."
7. Free-up floor space
The more floor space you can see, the more spacious a room will feel. In a small bedroom, opt for furniture with legs, rather than solid, block-style furniture, which will allow more light to flow through the room. Not every piece needs to be legged, but choosing a raised bedstead rather than a solid divan will create an elevated effect that in turn gives the illusion of extra space.
"If it's a choice between a furniture piece with legs versus a heavy block piece, the item with legs will make for a lighter-feeling space," says Giverny Simm, Design Manager at Hatch Interiors. "Alternatively, consider using wall-mounted bedside tables and wall-hung lamps, these are a great space-saving hack and free-up floor space, allowing light to carry around the room."
8. Add reflective surfaces
Using pale colors and light-reflective finishes can help to boost light levels, by bouncing light around a room, making the space feel brighter, airier, and more spacious. Soft-sheen paint finishes have a subtle lustre that reflects light, unlike matt finishes that absorb it and can make a room feel more closed-in. Similarly, using glossy surfaces, glass, and mirrored bedroom furniture can also help to boost light levels and will make a small bedroom feel bigger and brighter.
"You can instantly create the illusion of space by simply adding mirrors to your bedroom,' says Yvonne. "Place a mirror opposite your window to reflect natural light around your room and accompany it with a light and airy color palette to add to the effect."
9. Clear the clutter
It might sound obvious, but there's nothing that makes a small bedroom feel more cramped and crowded than having too much stuff. Whether you're wondering how to organize your life, or looking to regain your bedroom space, cluttered surfaces and packed wardrobes can easily overcrowd a small bedroom and can make the space feel tighter and more compact than it actually is.
"Resetting your room every day is the key to a calmer and less-cluttered space," say Ingrid Jansen and Lesley Spellman of The Declutter Hub Podcast.
"A reset a day keeps the 'floordrobe' away! Each morning after you have got yourself up and ready for the day, be sure to make your bed and reset your bedroom by putting anything away that's out of place. Make a bedroom reset a daily habit by working out your non-negotiables."
"Likewise, don't make your bedside table a dumping ground," add Ingrid and Lesley, "For a restful night's sleep, have only those things by your bedside that you need to aid sleep. Ditch the pile of books, the laptop, the old medication boxes, and the old batteries and lightbulbs, and think calm! Less clutter means more calm and more sleep."
10. Create balance with a bed in the centre
Placement of bedroom furniture can be key to making a small bedroom feel bigger. If the bed and furniture block the view into a room, it will look cramped and crowded, but moving furniture away from walkways, will create a better flow and make the space feel larger.
Putting the bed in the center of the room is a good way to create a better-balanced space. With the bed in the middle of the room, it creates symmetry and frees up space around it for nightstands or other furniture, such as a chest of drawers or vanity.
"Consider if your bed is right for the room," says Jonathan at Time4Sleep. "You might have managed to squeeze a kingsize bed into your room to enjoy the extra stretch of space whilst you sleep, but it's likely that this tactic will be visually overcrowding your bedroom. This will reduce your storage options and might be forcing you to uncomfortably maneuver around your space."
"Having a bed that fits comfortably within the room will allow you to have additional freestanding storage options such as wardrobes and drawers whilst avoiding looking too busy in a space that should ideally be promoting a sense of calm."
11. Use vertical space wisely
While a small bedroom might mean that you don't have a huge floor plan to work with, making full use of vertical space and room height can help stretch the space and make a small room feel much loftier. Opt for extra-tall furniture, such as an oversized headboard or tallboy, to utilize the bedroom's height and draw the eye upwards, or try strategically-positioned artwork that will grab the attention and take the eye up.
"One of the most common tricks for making a small room seem bigger is to utilize vertical space to create the illusion of height," advises Helen Pett, Design Ambassador at Arteriors London. "Where possible throughout the home, utilizing mirrors to reflect light will make rooms seem larger than they are particularly when occupying a full wall."
"Another design trick is to choose tall lamps to frame furniture - whether this is on symmetrical bedside tables or an accent table beside each key piece of furniture in the living room. This will not only draw the eye to the height of your lamps but will also emphasize any verticals in the room," adds Helen.
12. Use a rug to stretch floor space
Positioning a bedroom rug strategically, can help make a small bedroom feel longer and create the impression of extra space. Instead of placing small rugs either side of the bed, opt for one large rug placed underneath the foot end of the bed and extending either side. This will leave plenty of room for bedside nightstands, but will create an elongated effect that tricks the eye into thinking that there is more space than there actually is.
What colors make a small bedroom look bigger?
"You don't need to stick to a muted, neutral color palette - brighter colors can be just as soothing when used correctly," says Emma Deterding, Founder and Creative Director, of Kelling Design. "Whether you opt for zesty yellow tones, inky blue hues, or rich red and green shades, it's all about using color in a way that is balanced and easy on the eye."
"From a style perspective, your bedroom, regardless of how big or small it is, should be a true reflection of your personality and be filled with furniture and accessories that you truly love. But with a few clever tricks, you can also create a calm, relaxed and luxurious atmosphere."
So whether you opt for on-trend sage green, bright pinks or are decorating with grey, ensure you use colors that really work within your space.
What makes a small room look larger?
Aside from using pale paint colors, light reflective finishes, and clever furniture placement, ensuring that a small bedroom is well-lit can have a big impact and make a compact space feel much bigger.
"Lighting is a crucial element in the bedroom, especially when it's more compact, so it's important to make sure you have different layers," says Emma. "It's where you spend a lot of your time, so it is definitely worth investing in."
"Think about how you use the room - is it purely just a bedroom where you relax, sleep and unwind, or do you have a reading nook or a yoga/workout space there too? This is important as it will help you decide where to place lighting, which types, and how many sources you'll need."
"Start with your main light source and choose a ceiling light that will bring enough general light into the room, covering you from getting dressed to kicking back with a good book," adds Emma. "And be sure to fit a dimmer control as it will allow you to change the mood and atmosphere with ease, whilst creating a calm and cozy feel when needed in the evenings."
Does a low bed make your room look bigger?
Choosing a bed that's lower than standard height, teamed with a shorter bedside table will leave more wall space up above, which can help create the illusion of extra space in a small bedroom. In small rooms, the trick is to play with scale and create breathing space around pieces of furniture if you can, which fools the eye into thinking that there is more free space.
Choosing nightstands with open shelves or floating nightstands that leave the floor exposed can also make the space feel roomier, as do table tops in glass, acrylic or mirrored finishes that all help to bounce light around a tight space.
Sign up to our free daily email for the latest royal and entertainment news, interesting opinion, expert advice on styling and beauty trends, and no-nonsense guides to the health and wellness questions you want answered.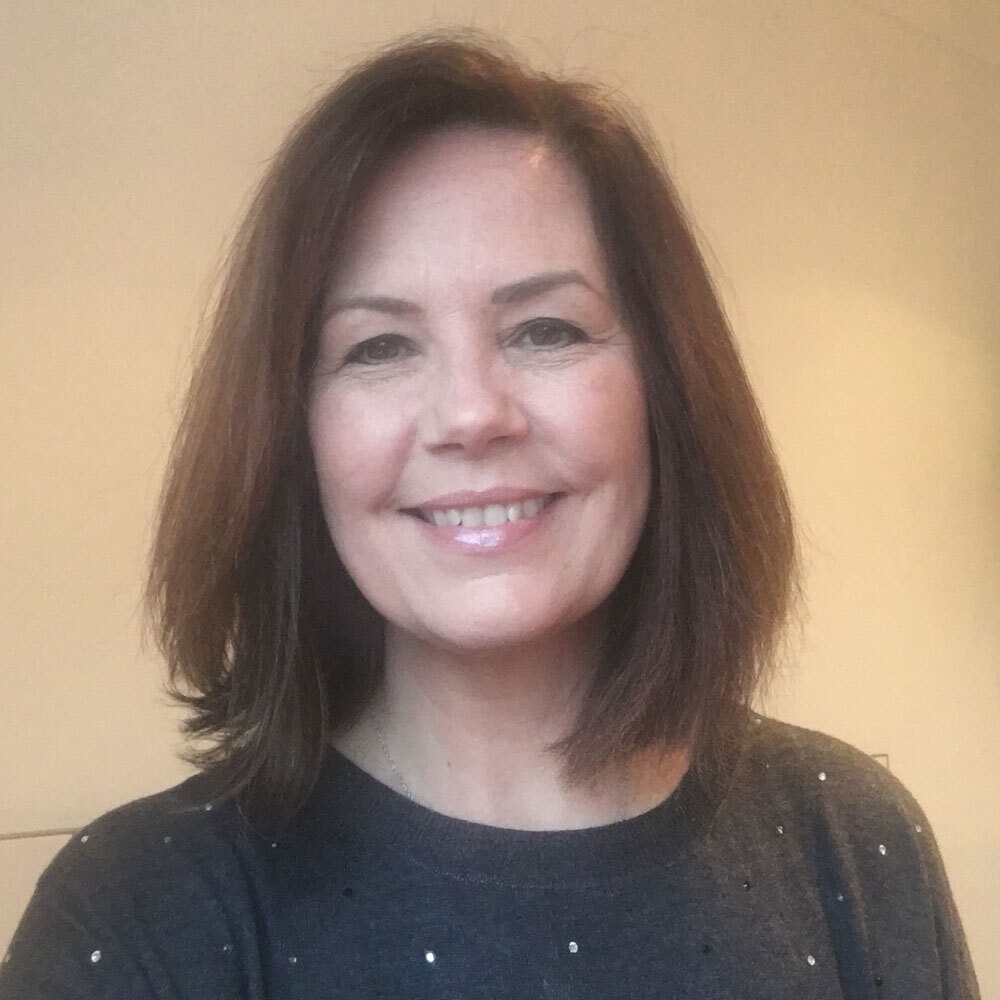 Homes and interiors journalist
Lisa is a freelance journalist who has written about interiors for more than 25 years and has worked on all the major homes titles, primarily Ideal Home, but also including Homes & Gardens, Country Homes & Interiors, Style at Home, Livingetc, Woman & Home, Easy Gardens and Good Homes magazines. Homes and interiors have always been a passion and she never tires of nosying around gorgeous homes, whether on TV, online, in print or in person, as well as being a serial shopper/bargain hunter.