15 best bedroom paint colors for a restful and serene escape
Interior designers and color consultants share the key bedroom paint colors needed to create a calming retreat for rest and relaxation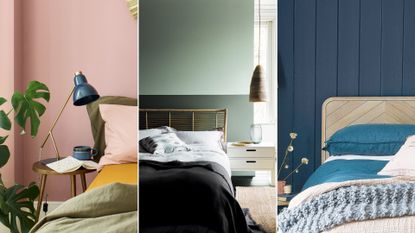 (Image credit: Dulux | Little Greene | Future)
Choosing bedroom paint colors is as much down to personal preference as it is about picking a shade that is both stylish and timeless. What is most important when selecting a color for this personal retreat is that the space feels calming and the shade will encourage rest and sleep.
Our bedrooms are our sanctuaries, a place to retreat at the end of a busy day and begin a new one afresh. It's probably the most personal space in the house, so it needs to strike a balance of showcasing personality while also feeling restful – for which the right paint color is key.
From classic neutrals for creating a peaceful atmosphere, to bolder hues of blue, green, and pink to add more character, the colors recommended for decorating bedrooms by our team of experts all offer an unfailing foundation for your decorating scheme with an acknowledging nod to the most recent interior paint color trends.
Best bedroom paint colors of 2022
1. Timeless neutrals
Creamy barely-there shades have been with us for years and have always been popular living room paint colors as well as bedroom shades.
Neutrals have enjoyed a huge resurgence in recent years when we've craved somewhere quiet and soothing to rest and as trends like Japandi bedroom ideas have gained popularity. Neutrals are sometimes seen as a 'safe' choice but there is so much you can do with neutrals given the many different shades to choose from.
Warmer neutrals work well in cooler, north-facing rooms, whereas south-facing light harbors a yellow hue, so cooler whites and creams are better. Layers of similar tones keep a scheme from feeling flat, so choose a palette of your favorite neutral shades to work with.

"When using colors in a bedroom, it's best to think about the tone of the color rather than the specific color itself," says Emma Bestley, Creative Director of Yes Colours (opens in new tab). "Any color can be used in the bedroom, but softer, paler, or muted versions of the color will work best at creating a soothing setting, ideal for sleeping."
(opens in new tab)
Durable Flat Matt Emulsion, $53.15 / £44.56 for 2.5L: A beautiful, distinctive, and versatile shade of neutral cream with a touch of pink undertones for warmth which is perfect for a bedroom. It gives a flat finish on walls and ceilings and is wipeable.
Absolute Matt Emulsion, $62 | £52 for 2.5L: An off-white with a pink tinge that is ideal for a feminine bedroom but without being overpowering. It has a high reflectance value giving it a luminous feel.

Estate Emulsion | $65.84 | £56 per 2.5L: A cool beige with a faint green undertone to give an easy, earthy quality – ideal for cooling down a south-facing bedroom. Though muted, it feels incredibly uplifting thanks to its warm caramel tones.
2. Deep sea blues
Blue has always been a popular choice for bedrooms thanks to its calming qualities. In recent years, the deeper, bolder blues inspired by watery seascapes have proved increasingly popular and continue to be key in bedroom trends for 2022.
It is a myth often told that dark colors make a room feel smaller, but deeper shades can be suited to small rooms such as bedrooms to create a cocooning sense of coziness – making a virtue of its darkness.
"Blue is the new black," says Martin Waller, Founder of design company Andrew Martin (opens in new tab). "The boldness and warmth found in blue will continue to be prominent in our homes throughout 2022."
Bold blues are uplifting but still evoke peace and tranquility. "Don't be afraid to use darker shades, as when used all over, bolder hues such as the blue-black 'Basalt' provide a sumptuous depth which creates that cozy, cocooning quality that's perfect for a bedroom space," says Ruth Mottershead, Creative Director of Little Greene (opens in new tab).
Hague Blue, Farrow & Ball
Estate Emulsion | $65.84 | £56 per 2.5L: This strong blue offers a color scheme with an unrivaled depth of pigment. The green undertones within this deep, dramatic blue means it sits as happily in large light bedrooms as it does in small dark rooms.
Absolute Matt Emulsion, $62 | £52 for 2.5L: As Ruth describes this rich blue-black 'Basalt' welcomes an unquestionably sumptuous depth with a cocooning quality that's perfect for creating a cozy bedroom space.
Vagg Matt Emulsion, £53.65 for 2.5L (UK only): A cool, deep blue for creating a cocooning feel in the bedroom from this Swedish brand. With grey undertones, it makes the perfect background for creamy whites and dark wood furniture. Eco-friendly and ultra-high quality, when the surface is dry it feels like the finest velvet.
3. Serene green
Green walls are the ideal color to invite nature in and create an earthy, grounding feel in the bedroom where you want to feel safe. As with all colors, there are many variations of green to choose from and all have their own benefits and meaning. Blue-greens like aqua and teal are associated with emotional healing and protection, grey-green shades of sage green and celadon are soft and muted, while olive is the traditional color of peace.


"We have all seen interior design trends of encouraging the outside world into our interiors, with green shades creating a de-stimulating and calming environment with their biophilic nature," says Tobie Lewis, Senior Brand Manager at Valspar Paint (opens in new tab). "Earthier olive tones are ideal for an organic, minimal feel for bedrooms."

"I love a muted palette of greens to create a comforting, soothing scheme - combining a fresh shade like 'Aquamarine' with the tranquillity of 'Ambleside' for a sense of calm and restfulness," says Ruth.
(opens in new tab)
Santorini Martini, Graham & Brown
Matt Emulsion, $53.85 |£46 for 2.5L: A muted sage color that is restful on the eye, this soothing shade will create a calm atmosphere – ideal for sending you off to sleep. This greenish-gray lends towards a stone or putty shade in tone and is ideally paired with pink or deep greens.
Pepper Tree, Victory Colours
Matt Emulsion, £41.95 for 2.5L (UK only) | An elegant color that looks amazing when paired with pinks and blushes. This rich green paint color will transform your home and will change with different lights throughout the day.
Breakfast Room Green, Farrow & Ball
Estate Emulsion | $65.84 | £56 per 2.5L: A vintage green that would really brighten up a room, especially one that overlooks the garden. It's vibrant like a spring meadow but has a softness that will create a sense of calm in a bedroom.
4. soothing gray
Pale gray has become the new neutral. The secret to using it successfully in the bedroom is to pick the right tones for the type of light within the room. Warm grays work well with cool shaded light, whereas cooler grays work best in warmer, sunnier light.
"A soothing palette is a perfect way to create a restful ambiance. Walls in soft gray, white, or cream will create a cocooning feel that is calm and serene," says Caroline Milns, Head of Interior Design at architectural practice and design specialists Zulufish (opens in new tab).
"Lighter colors such as these across the walls will gently suffuse the light; gray hues will cool the space, perfect for more sunny rooms, whereas white and cream will warm and bounce the light, ideal for rooms with less natural light. Keeping the main framework of the room more refined and neutral will also create an easy backdrop to layer touches of color and pattern through the choice of accessories."
Absolute Matt Emulsion, $62 | £52 for 2.5L: This warm gray shade is an amalgam of silver and mercury and will sit comfortably against similar materials in the home, a natural partner for a silver or chrome bed or pewter side tables for a sophisticated look
Estate Emulsion | $65.84 | £56 per 2.5L: A clean, simple, and unpretentious color offering a versatile, contemporary sophistication in the bedroom. This pale and interesting cooler shade of gray is a calming neutral on which to build strong accents with textiles and furniture choices.
(opens in new tab)
Diamond matt Emulsion, $50.15 | £42.84 for 2.5L: A barely-there gray which is the perfect shade for a soothing bedroom and the ideal base for adding stronger, mid-to-darker tone grays. It is accentuated by natural light and by architectural details, adding interest to the tone by the way it plays with the light.
5. Sophisicated pinks
Pink has become another neutral because it goes with so many other colors. Pink paint colors work particularly well with ochre, green, mulberry, coral, and orange. Depending on which shade you choose, it can be sophisticated and feminine or punchy and vibrant.
A bedroom painted pink will look inviting no matter how much natural light is present and at night it will look wonderfully cozy, giving a warm, welcoming glow.
"Bedrooms and north-facing rooms are perfect spaces for blush pink," says Marianne Shillingford (opens in new tab), creative director of Dulux. "All pinks have become popular in the past few years but none so much as the blush pink shades that capture the essence of what it is to be happy and loved."
Soft Sheen Emulsion, £46 for 2.5l:
A sugary, slightly gray pink. Warm and pretty without being sickly sweet. It will remain cool in natural light but with enough warmth due to a rich pigment. The durable flat matt finish hides imperfections if your walls aren't perfect.
(opens in new tab)
Pink Ground, Farrow & Ball
Estate Emulsion | $65.84 | £56 per 2.5L: This dusty pink is the perfect bedroom paint color for those who want to embrace a heavier pink pigment. Thanks to a generous dose of yellow pigment, this soothing shade of pink offers a warmth that doesn't feel in any way sugary.
How do I choose a paint color for my bedroom?
The best way to settle on a color choice for your bedroom is to take into account what you already have in the room first. Or, if the room is empty, think about the furniture, textiles and decor you want to have in the room and use that as a starting point.
"Consider the textiles and finishes you own or are drawn to, as these play a crucial role in setting the mood and color for your bedroom," says Betsy Smith, Color Consultant of eco-paint brand Graphenstone (opens in new tab). "Textured fabrics such as linens, textured wools, natural woods, and cane will appear elevated against neutral paint shades. Light tones such as Stone set a calming, serene ambiance. Increase the contrast with a dark neutral such as gray for a moodier atmosphere."
What is the most peaceful color for a bedroom?
"If you want to create a subtle scheme, light hues with a pink undertone make for a perfect alternative neutral," says Helen Shaw, UK Director of Benjamin Moore (opens in new tab). "They can be used from floor to ceiling or combined with crisp whites and soft greys to create a smart Scandi style scheme. Also, consider natural plaster tones or light terracotta shades as they create a wonderful, earthy, natural feel in a room and look particularly eye-catching in well-lit spaces and when paired with natural materials or painted wood."
Should bedrooms be painted dark or light?
'
"The most important thing is to select a color you can relax in - something you can fall asleep in and be happy to wake up to – so that could be dark or light – both work," says Patrick O'Donnell, Color Ambassador for Farrow & Ball (opens in new tab).
"South-facing bedrooms full of natural light are ideal when enhanced with lighter colors on the walls. Whereas north-facing rooms lack natural light. These spaces can often be challenging to decorate, so embrace the light limitations and create a cocooning environment with something dark.
"Deep greens such as Bancha (opens in new tab) help create a symbiosis between the interior and exterior, especially if you are fortunate to look out over nature. Or even more bold colors, such as Railings (opens in new tab), can work very successfully."
Alison Davidson has been working as an interiors and lifestyle journalist for over 30 years. She has been Homes and Gardens Editor of Woman & Home magazine and Interiors Editor of House Beautiful magazine, she has also freelanced and worked for most of the interiors magazines at one time or another. She is currently embracing the move to digital using the same knowledge and expertise to produce high quality features for an online audience.