The best white paint colors for every room, according to interior designers and color consultants
Choose the best white paint colors for every room using these key considerations from color consultants to pick the right shade for walls, ceilings and woodwork every time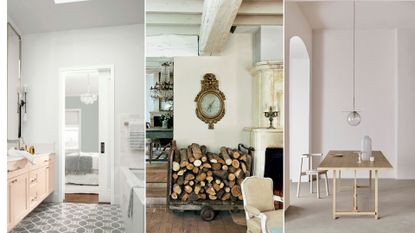 (Image credit: Benjamin Moore | Farrow & Ball | Crown)
One of the most popular decorating colors for a reason, the best white paint colors can refresh a room, make it feel bigger and tie an entire scheme together.
A timeless hue that surpasses yearly interior paint color trends, painting a wall white is a safe way of ensuring that no matter how your tastes or interior design trends change, the color of your walls will always stay in style.
But choosing a shade of white to achieve this is not so simple, and it's easy to feel overwhelmed by the many different tones, shades and white paint colors on offer.
"White can be one of the most difficult colors to choose because there are so many variations and small differences in tone," says Justyna Korczynska, Senior Designer at Crown (opens in new tab). "You can have a very clean white, a chalky white, a grayed white, a white that has a hint of green, or white with more of a yellow hue. This is because every white has an underlying tone – it might be something slightly warm or cool – the merest hint of red or blue for example."
So how do you determine the best white paint color for your interior walls, ceilings, and woodwork? We asked color consultants, interior designers and paint experts, for their advice and insights into the best white paint colors to cater for every space in the home...
How to choose the best white paint colors for your home
White is one of the best living room paint colors and a popular kitchen, hallway and bedroom paint color too. But to decide which shade of white you want to use in these key spaces of your home, there are fundamental aspects to consider.
Are you looking for a warm white or a stark brilliant white? Is the room you are looking to paint filled with natural light, or north-facing and lacking warm sunlight? All of these factors are important to consider and will affect the shade of white you choose.
"White paint is probably the most misunderstood shade of them all," explains Helen Shaw, Director at Benjamin Moore (opens in new tab). "White paint colors can feel differently depending on the type and orientation of the light that hits it and of course dependant on whether it has been tinted."
One of the biggest mistakes you can make when choosing paint is to not test the shade on the wall you're intending to paint first, before you buy and starting applying litres of the paint in full.
"Whites can change hue dramatically from room to room in the same house let alone from a paint shop to your own home so always use pure paint samples or tester pots to check the exact tone," adds Justyna. "It's a good idea to do this at different times of the day and evening to see how it looks in both natural and artificial light."
"When choosing your white tone, always consider the whole scheme in its entirety," advises Farrow & Ball's (opens in new tab) International Brand Ambassador, Patrick O'Donnell. "The best way to choose the right white tone for a space is by finding the undertone that suits your style and home, and most importantly, the light aspect of your room. To help 'read' the undertone of a color, place your swatch on a pure white background."
"North-facing rooms can often feel colder, so it's important to really consider the purpose and size of the room before choosing a white paint color," advises Helen. "All light, especially natural light, impacts how paint color appears on a wall – and ultimately, how the room looks."
Best bright white paint colors
If you are looking for the truest shade of white for your walls, ceilings or woodwork, go for a shade that is devoid of undertones – because it is these underlying pigments that will take the shade in either a direction of warmth or cooling influences.
1. Chantilly Lace by Benjamin Moore
"The brightest white in the Benjamin Moore palette is Chantilly Lace. This is a simple, clean white with none of the cold blue undertones so common in other 'brilliant whites' which make them feel stark and clinical," Helen explains.
"This pure aesthetic means Chantilly Lace is great for all-white spaces but it also sits comfortably with pretty much every other hue, so it is a safe choice for woodwork and ceilings if you are uncertain what to choose."
View Chantilly Lace Ultra Spec Flat Emulsion by Benjamin Moore (opens in new tab).
2. Ultra Pure White by Behr
The best-selling Behr bright white is pure by name and pure by nature, with no warming or cool undertones. This provides a clean white canvas for any space. "BEHR's whitest paint is Ultra Pure White," explains Erika Woelfel, VP of Color & Creative Services at Behr Paint Company (opens in new tab). "This clean, crisp and totally neutral white, is a top seller for its effortless ability to fit into any room type of any decorating style."
View Ultra Pure White by Behr Paint Company (opens in new tab).
3. All White by Farrow & Ball
As the name would suggest this shade by Farrow & Ball is as true as a brilliant white gets. "Unusually, All White contains no other pigment except for white, creating the softest most sympathetic color without the colder blue undertones of a brilliant white," explains Patrick.
"One of our contemporary neutrals, All White pairs seamlessly with Skimming Stone (opens in new tab) and Strong White (opens in new tab) for a warm scheme with a slight edge."
View All White Modern Emulsion by Farrow & Ball at Homebase (opens in new tab).
4. White Cotton by Dulux
Make small living room look bigger or a dark bedroom appear brighter with a bright white paint like this shade by Dulux.
"Of all the colors, white reflects the most light and so we use it to make small dark rooms look bigger and brighter, ceilings look taller, colors look more impactful and woodwork gleam," says Marianne.
"You could say that white is the ultimate neutral because it works with everything. If you are looking for a bright white that just works effortlessly in any room, I recommend our White Cotton."
View White Cotton Matt Emulsion by Dulux at Wickes (opens in new tab).
Best warm white paint colors
"In general, warm whites contain hints of gold and pink," explains Dulux's Creative Director Marianne Shillingford (opens in new tab). "They work beautifully with warmer shades of color and best in north-facing rooms."
5. Swiss Coffee by Behr
"Most whites have a slight color nuance or undertone. Warm whites have a golden cream undertone that feels cozy and inviting," explains Erika.
"Behr's Swiss Coffee is the best example of warm whites, ideal for living rooms, dining rooms and kitchen. The light tones can brighten up spaces making them feel spacious yet welcoming."
View Swiss Coffee by Behr Paint Company (opens in new tab).
6. Simply White by Benjamin Moore
If you're looking for a warm, clean white Helen recommends this tone to balance the warmth and coolness of the natural light. "These whites have a subtle yellow undertone that makes spaces feel warm and sunny without looking too creamy. The lack of any gray pigment keeps the colors feeling clean and fresh," explains Helen.
"These colors are ideal for north-facing spaces or spaces without too much light because they are bright and uplifting. Warm whites such as Simply White, have undertones of red and yellow, resulting in a soft glow and welcoming mood."
View Simply White Ultra Spec Flat Emulsion by Benjamin Moore (opens in new tab).
7. Pointing by Farrow & Ball
Look for warmer tones of white to counteract the darkness of shadowed light in north-facing or other light-deprived rooms. A warmer tone of white can sometimes feel creamy which is beneficial in a shaded room to compensate for the lack of natural warmth.
"North-facing rooms bring out the cooler undertones of colors and will therefore benefit from warmer white tones such as Pointing," advises Patrick. "This shade is ideal for providing a touch of warmth to lift a room starved of natural light."
View Pointing Estate Emulsion by Farrow & Ball at Homebase (opens in new tab).
8. White Dove by Benjamin Moore
"In contrast to the warm clean whites, these colors have both gray and yellow undertones. They create a more contemporary feel than their cleaner counterparts," explains Helen. "A warm muted white such as White Dove is stunning in all-white spaces, especially when layered with natural colors and textures in throws, pillows, and fabrics. They are especially suited to spaces with a lot of natural light to create a soft, calming feel."
"White Dove is clean, classic, and helps to spread natural light throughout the house - a versatile option, working in both warm and cool settings," says Corban De La Vega, at Decor Matters (opens in new tab). "The soft shade has a subtle hint of gray but is not too cool or mundane. This color is popular in cabinetry, moldings, backdrops, and just about anywhere in the house.
View White Dove Ultra Spec Flat Emulsion by Benjamin Moore (opens in new tab).
9. Joa's White by Farrow & Ball
If you're looking for the best white paint color for a room you tend to use for relaxing in the latter part of the day, it's key to look for a shade that offers warmer red undertones.
"White shades like Joa's White resonate beautifully in west-facing spaces, as the addition of red-based undertones adds to the warm afternoon glow," explains Patrick. "It lends itself perfectly towards rooms we use to relax in the evening time, by providing a comforting, cozy feel towards the end of the day."
View Joa's White Modern Emulsion by Farrow & Ball at DesignerPaint (opens in new tab).
Best cool white paint colors
"Cooler whites contain hints of blue, gray and green which make them perfect for teaming with cooler shades and for south-facing rooms," advises Marianne.
10. Ice Mist by Benjamin Moore
"Because of the blue, green, and gray undertones, cool whites help to create a space that looks crisp, clean, and luminous so they are a great choice for contemporary, minimalist spaces, " advises Helen.
"Or in combination with green, grey or blue walls color and accessories. Cool whites such as Ice Mist can also provide strong anchors for bright, deep, and saturated color schemes."
View Ice Mist Ultra Spec Flat Emulsion by Benjamin Moore (opens in new tab).
11. Lead White by Dulux
A cool white can feel warmer than bright but not creamy, because sometimes the red undertones can influence the tone a step too far. The key with cooler whites is balancing the undertones, so they don't look more lilac in certain lights.
"A cooler white like Lead White contains hints of blue, grey and green which make them perfect for teaming with cooler shades and for south facing rooms," says Marianne.
View Lead White by Dulux at HomeBase (opens in new tab).
Best off-white paint colors
An off-white is the ideal neutral for not having to commit to a color but not painting walls in a traditional white. An off-white can feel more like a pale gray but not as cold thanks to the level of warmth.
12. Decorator's White by Benjamin Moore
Off-white is a popular choice when you want a white that doesn't feel too 'white'.
"Muted whites have a subtle gray undertone and give a softer, more contemporary feel," explains Helen. "Muted whites work well as the woodwork and ceiling colour in bright spaces in combination with a muted wall colour."
"Muted whites also work well as a wall colour in brightly lit spaces to give a spacious feel without being too stark. One of our most popular muted whites is Decorators White."
View Decorators White Ultra Spec Flat Emulsion by Benjamin Moore (opens in new tab).
13. School House White by Farrow & Ball
To prevent a shade of white feeling like a stark blank canvas lean towards a white that almost doesn't feel white, thanks to the depth of undertones – such as School House White. "A more 'knocked back' white such as School House White provides a soft, timeless feel in a south-facing living room or kitchen," explains Patrick.
"This white adds a dose of green and gray to create a muted and calming look, whilst still retaining some warmth, particularly when layered in a scheme together."
View School House White Modern Emulsion by Farrow & Ball at DesignerPaint (opens in new tab).
What is the best white paint color for ceilings?
When looking for the best white paint for ceilings, all of the notes above come into play and the shade will depend on the light in the room and surrounding colors. A general rule is to aim for a ceiling color that is a tonal match for your walls - so a warm white paint color for the ceiling if your walls are yellow or pink, or an off-white paint color if you have grey or sage green walls.
"There are no hard or fast rules for finding the perfect white, it really depends on what atmosphere you want to create," says Justyna. "If the desire is to create a calm, serene space then use tone-on-tone color; a cooler white with cooler-toned pastels or a warm white with warm pastels."
Justyna goes on to suggest, "using colors with opposing undertones; a cool white with a warm color will create a stronger contrast which will result in a fresh, clean look. Juxtaposing cool Chalky White (opens in new tab) with warm Fairy Dust, a blush pink paint color, will create an almost graphic look and provide an upbeat, energetic feel within a space."
Tamara is a highly experienced homes and interiors journalist, with a career spanning 19 years. Now the Lifestyle Editor of womanandhome.com, she has spent the last 16 years working with the style teams at Country Homes & Interiors and Ideal Home, and it's with these award-winning interiors teams that she gained a wealth of knowledge and honed her skills and passion for shopping, styling and writing about every aspect of lifestyle and interiors.
With a keen eye for the latest interior trends, there's not a lot she doesn't know about home decor – whether it's what colour we should be painting our living rooms next season, or if the latest 'must-have' buys are actually worth investing in.
A true homes and interiors expert, Tamara has served as an ambassador for leading interior brands on multiple occasions, including appearing on Matalan's The Show and presenting at top interiors trend events such as the Autumn Fair and Spring Fair.