The best color for ceilings as recommended by interior designers and color specialists
From neutrals to strong saturated shades, discover what colors interior experts are currently painting ceilings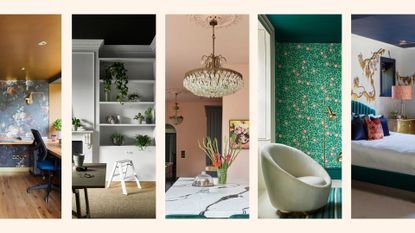 (Image credit: Chris Snook for The Main Company | Paint & Paper Library | Little Greene |AMC Design)
The days of automatically plumping for bright white on the 'fifth wall' are long gone. Colorful ceilings are having a renaissance. With so many fabulous shades on offer, we've approached interior designers and paint experts to find out the best color for ceilings.
Of course, not all rooms demand the same approach when it comes to color ideas. What's right for the bedroom, might not work as a kitchen paint color idea. Or what suits a south-facing space may not look as good if your room points north.
And despite the number of interior paint color trends, white's not out of the running entirely - but it's far from basic bright white because there's a whole breadth of choice for the best white paint colors for ceilings.
We've spoken to color specialists and interior designers to determine the best color for ceilings in today's modern home – and there's something to suit all tastes.
How to choose the best color for ceilings
"Ceilings are often painted white, out of habit," says Ruth Mottershead, creative director at Little Greene (opens in new tab). "Simply changing your ceiling color and integrating it into your design scheme will have a profound effect on the atmosphere within the space, as well as being the perfect opportunity to make a design statement."
"The ceiling color will be reflected on the walls and floor below, so the colored light cast must work in harmony with the wall colors and interior scheme," adds Betsy Smith, color consultant, at Graphenstone (opens in new tab).
"Your surroundings can often inform successful color choices; pick up a color from the landscape outside or a color that will complement any natural materials such as brick, stone, and wood in the space."
1. Add warmth with soft pink
Soft pink paint shades on a ceiling are particularly good for North-facing rooms that can sometimes feel a little cold or gloomy – as they generally catch less natural light during the day, even in the summer.
"It's important to consider the room as a whole when choosing colors for the ceiling," says Rachel Forster, interior designer and founder of Forster Inc (opens in new tab). "Painting the ceiling the same color as the walls look highly effective. Lakeland Pink Pastel is a lovely light color that is used on the walls and ceiling and adds warmth to any room."
Choosing pastel pink for your walls and ceiling doesn't rule out stronger colors elsewhere either, as The Main Company (opens in new tab) kitchen design demonstrates perfectly. The deep brooding color on the base units grounds the scheme while contrasting beautifully against the pale pink walls and ceiling.
"Pinks and colors with a red undertone work wonderfully to complement dark woods and will give a warm, enveloping feel to spaces,' says Betsy.
2. Make a striking contrast with black
Believe it or not, black can be one of the best living room paint colors, particularly when teamed with white walls. This cool combo creates a restful yet dynamic room scheme.
"Black paint colors on ceilings works fantastically well, particularly when combined with whites on walls that share their base undertones, be that ochre, pink, warm gray, cool gray, blue or green," says Andy Greenall, head of design, Paint & Paper Library (opens in new tab).
"Relaxing spaces, where you are looking to create cocooning and intimate interiors, or those where you wish to create contrast and design interest will work equally well with a black or charcoal ceiling."
To avoid black being a paint color that devalues a home there are some factors to take into consideration before painting with this dark color. "Consider the undertone or color of your walls and pair your black accordingly," Andy advises. "Or for a striking monochrome scheme opt for the palest white 'Clean White' combined with darkest black 'New Black', each can be used to bring more depth to a classic, cool gray interior."
3. Choose soothing muted tones in living spaces
It's good to keep an eye on the popular new colors and styles in the design world. However, slavishly following trends over taste is one of the most common interior design mistakes to avoid.
When it comes to the best color for ceilings, whether you love it - and more importantly - can live with it, is the best gauge. For that reason, if you're unsure what to go for, opting for soothing, muted tones are often a safer bet than choosing stronger hues.
"I like to keep the walls white or a pale neutral, so you appreciate the full impact of the color on the ceiling,' says Betsy. "The color will be reflected onto the white walls changing in intensity throughout the day in differing lighting conditions, animating the space below. Just remember, cooler colors recede, and warm colors do the opposite."
4. Cocoon a sleep space with rich, dark shades
When considering the best bedroom paint colors look to interior design trends. A popular look is to turn the bedroom into a cozy cocoon with rich, dark shades like midnight blue covering the walls and ceiling. If that's too bold for you, paint the ceiling and the top part of the wall a dark tone instead.
"I love dark colors in a bedroom as it makes the space feel cozy and warm," says Rachel. "I like to bring the color down the walls to and including the picture rail. The picture rail line is generally 300mm to 500mm from the ceiling depending on the height of the ceiling. This gives a feeling of enveloping, particularly with a strong dark color."
5. Create cohesion with all walls in soft gray
Soft neutrals, like pale gray, are still a popular choice with interior designers and can offer a calming, welcoming space.
"In the right space, we often wrap the wall color up over the cornice and on the ceiling, which can be super effective, particularly in a room with a low ceiling," says interior designer, Cat Dal, founder, Cat Dal Interiors (opens in new tab).
"This effect helps to blur the lines which actually helps to make the ceiling feel higher, as it doesn't draw your eye up to where the wall stops and the ceiling starts. In a soft neutral this can be a very modern look which works to accentuate the cornice and woodwork details."
6. Set the scene with calming verdant tones
Sage green is a huge interiors paint color trend but other shades of green are popular for their soothing effects too. Choosing dark green for the ceiling with lighter shades on the walls creates a striking effect.
"Use a saturated hue on the ceiling for drama with a paler tint on the walls" suggests Betsy. "Using a lighter tone for the wall color will lift the ceiling up, making a room feel airy."
"Ceilings are very much the fifth wall and shouldn't be an afterthought," says interior designer, Ann Marie Cousins, founder, AMC Designs (opens in new tab). 'The color you choose will depend on your scheme in general."
"For high impact, choose a color from your wallpaper and incorporate it onto the ceiling. This will allow the space to flow seamlessly and will result in a bolder, more dramatic feel to the space."
To make this look work, select the darkest tone in your wallpaper as the color to paint your ceiling and repeat it elsewhere, such as on the skirting boards, the dado rail, or the door and frame.
"Coordinating your ceiling with the ground color of your wallpaper will create a harmonious look that feels considered and elegant and will create a sense of flow," says Ruth.
7. Envelope a low ceiling in yellow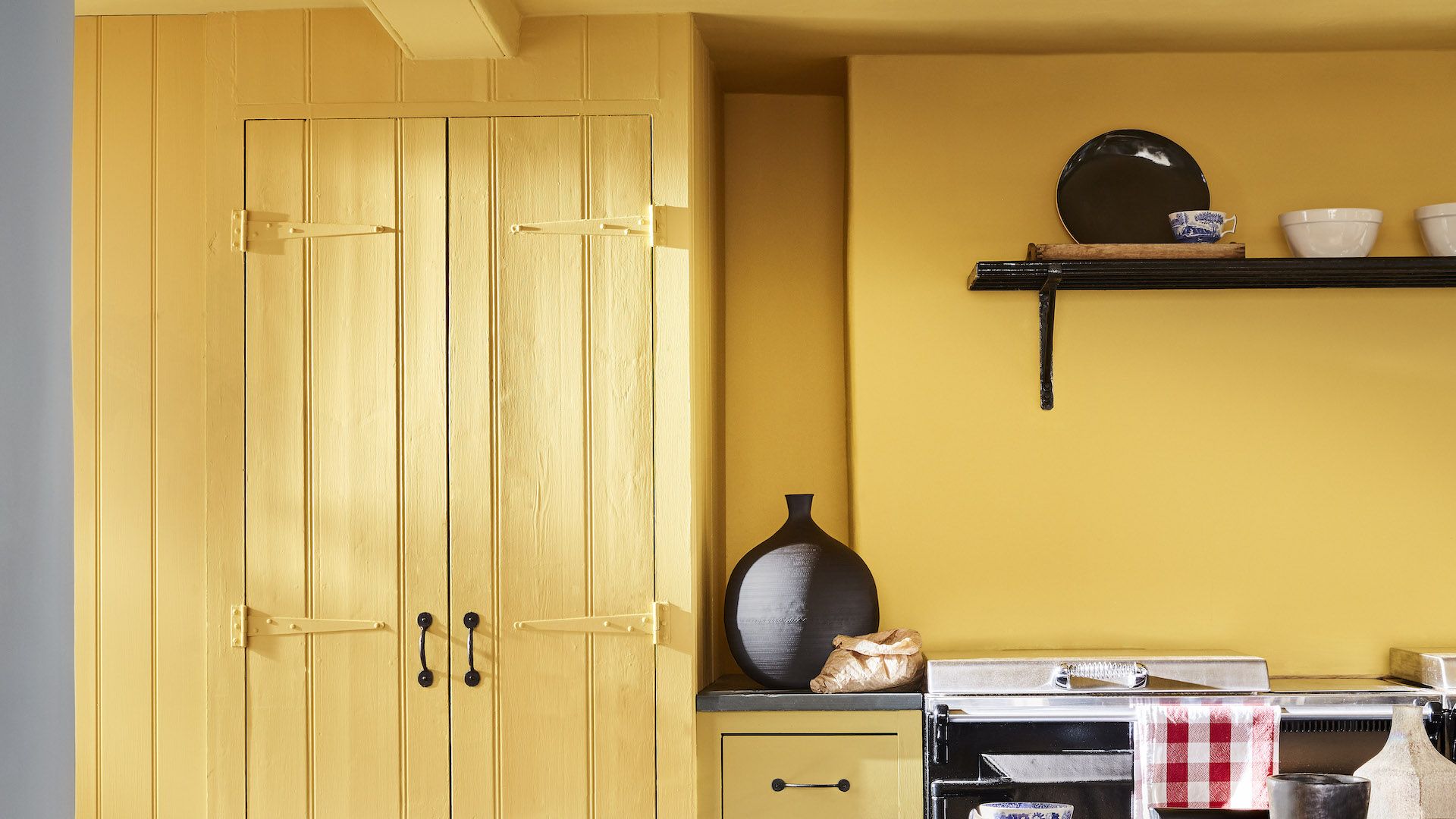 If you've ever wondered how to make a room look bigger with paint, extend the color onto the ceiling as well.
"Contrary to belief, leaving the ceiling white can make the room feel smaller," says Emma Bestley, creative director at Yes Colours (opens in new tab). 'Instead, extending the paint onto the ceiling draws the eye up and gives the illusion of much taller walls.
"If you're a color lover, you could drench the whole room to include the ceiling for real impact. Alternatively, if you prefer to keep things neutral on the walls, consider a brighter color just on the ceiling so it's not the first thing you see but becomes a feature of the space."
Choosing a sunny yellow will bring a cheerful touch to a busy, compact Kitchen to open up the space and make it feel more vibrant.
8. Go for gold in a small space
Consider something daring like metallic gold on the ceiling of a small room, such as a study or downstairs loo.
"My office space doesn't have any unique or interesting features so I wanted to include an engaging design that was both smart and inspiring," says Ann Marie.
"The gold adds warmth to the space, but it also provides a nice way to balance out the drama introduced by the wallpaper and a reflective element that helps to bounce light around the room.
"The gold also complements the soft undertones of the wood flooring and desk, but pairing it with a darker color palette and large print, really helps it to stand out. I've tied in gold hardware and accessories such as the wall lights to create a cohesive space."
"If you are looking to incorporate a gold ceiling, I'd advise using it in a smaller room such as an office, bedroom, or cloakroom as it can be overpowering in larger spaces."
9. Push ceilings away with sky blue
Choosing the right color can completely transform a room and while it is a personal choice, there are certain colors that are dominating bathroom trends 2023.
"Blue is the best color for making small spaces appear bigger which makes it a firm favorite for bathrooms," explains Marianne Shillingford (opens in new tab), creative director at Dulux.
"Remember, cooler colors recede, and warm colors do the opposite – so soft blues will raise a ceiling making the interior feel effortlessly stylish when combined with a subtle pale pallet," says Betsy.
"Blue can also make a room feel cold - generally, blues work best in large period rooms bathed in natural light."
Should the ceiling be lighter or darker?
This obviously depends on a number of factors, from the type, size, and orientation of the room, to the overall scheme.
"For a ceiling that is blessed with fantastic height, we have gone for a color slightly darker than the wall colors and brought this same color down on the cornice, so the ceiling feels more connected to the room," says Cat.
"Otherwise, if looking for a neutral color we stay away from any 'bright whites' and instead adopt a softer approach like a 'slaked lime' from Little Greene which looks fabulous in almost any light."
"Be careful with darker colors on the ceiling," warns Betsy. "It can feel heavy and seem like the roof is falling in. My preference for darker colors is to drench them on both the walls and ceilings, as this makes spaces feel larger.
"By fusing the edges, the boundaries feel infinite. A dark color is a good choice for smaller, light-deprived rooms; instantly making them more atmospheric."
Should ceilings be white or off-white?
"To keep your walls as the main focus, use a more natural, off-white such as 'Linen Wash' on the ceiling with vibrant colours like 'Green Verditer' and 'Pale Lupin' on walls," says Ruth.
"An off-white shade will bring a softness and warmth to the space, whilst a brighter true white can feel cold and stark. When using a light or pastel colour on a ceiling in combination with other colours, the light colour will act as a white, whilst providing a soft and more harmonious finish."
"We tend to use warmer tones of off-whites as opposed to bright white, as they bring a warmth and cosiness with them that helps create a calm and relaxed feeling," says interior designer, Emma Deterding, founder, Kelling Designs (opens in new tab).
"An off-white colour, even in the smallest of spaces, can help give a greater feeling of height, and light – making a room feel much bigger."
What is the most popular ceiling color?
"White still reigns supreme, but we are considering the nuance of whites rather than bright, industrial white," says Patrick O'Donnell, paint expert at Farrow & Ball (opens in new tab). "Pointing, Wimborne White, and School House White are incredibly popular and all lend a softness to the fifth wall and avoid that chilly blue note you get from a generic white."
Although white is still the most popular ceiling color, designers and homeowners are branching out and choosing other neutrals and color alternatives.
"The past few years have dramatically changed people's approach to their interiors and we are seeing customers really finding their own sense of color confidence in their homes," says Ruth Mottershead at Little Greene.
"There is a move away from white ceilings, woodwork, and skirting in favor of contrasting or coordinating colors, and the continuation of the Colour Drenching trend, which takes a single, or closely related color across all aspects of a space, from skirting and walls to ceilings and doors.
"This can be seen in the use of wallpapers too, with tonal designs being paired with coordinating colors to create cohesive immersive interiors."
What is the best ceiling white color?
When working with whites or off-whites, you must consider the other colors, textures, materials, and types of lighting in the room as this will have an impact on what shade you choose.
"In north-facing rooms, it's best to avoid off-whites with a green or gray base as this will make the space feel darker. Look for creamy neutral or yellow bases instead, to help bounce light around the room, such as Pointing by Farrow & Ball," says Samantha Wilson, interior designer and founder, of Collection Noir (opens in new tab).
"South-facing rooms can cope with both warm and cool colors. I prefer to create a more sophisticated look, so would opt for a red-based neutral to create more warmth. Wimborne White by Farrow & Ball or White II by Lick are both ideal."
"In east-facing rooms, you'll need to retain as much light as possible whilst keeping the warmth too," Samantha advises, "so look for whites with blue or green undertones to strike that balance. White 01 by Lick is a great option here."
Jacky Parker is a freelance interior & lifestyle journalist, specializing in modern interiors, design, and eco-living.
She has written for Livingetc, Homes & Gardens, Country Homes & Interiors, and Ideal Home for almost twenty years. Her work has also been featured in national and international publications including Sunday Times Style, The Telegraph, The Guardian, Grand Designs, House Beautiful, Elle Decoration, and more.
With years of experience in the industry, Jacky is privy to the insider view and the go-to places for interior inspiration and design-savvy decor.
When she's not writing about beautiful homes, interior ideas, or interviewing designers, she's browsing Rightmove for a potential coastal retreat and contemplating what to eat.
Her personal home style is a modern mix of Scandinavian simplicity, period details, and plenty of plants.