How to make a room look bigger with paint – 8 expert tricks for painting small spaces
Leading paint specialists reveal how to make a room look bigger with paint and their clever tricks for enhancing your space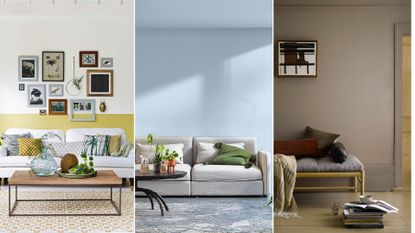 (Image credit: Future | Dulux | Crown)
Unlocking the secrets for how to make a room look bigger with paint will help you maximize the perception of space in your home, making even the tiniest of rooms feel more sizeable.
Never underestimate the power of paint. The right color or shade can add value to your home and the wrong paint colors can devalue homes just as easily. How you use them can be equally as transformative to enhance and improve any room – it's just about knowing how.
From trompe l'oeil two-tone walls, to color drenching techniques and using alternative shades for ceilings, there are a number of current interior paint color trends and creative ways you can make a room look and feel bigger.
How to make a room look bigger with paint
Try these simple ways with paint to instantly create a sense of space, with suggestions from industry experts and interior designers who know all the best tricks when decorating for maximum impact...
1. Use color drenching to create the illusion of bigger walls
Color drenching is the latest interior design trend that involves saturating an entire room in one color. This includes furniture, as well as painting walls, woodwork, and even ceilings in one cohesive color palette that 'stretches' the space by making the walls appear endless.
"Color drenching uses a single shade or closely related colors across everything from skirting to ceiling: walls, window frames doors, and radiators," explains Ruth Mottershead, Creative Director of Little Greene.
Justyna Korczynska, Senior Designer at Crown adds, "Not only does color drenching create a contemporary, monochromatic look, but it is also an easy way of creating the illusion of bigger walls, making the room as a whole appear more spacious."
Think of a stark white skirting board as the equivalent of wearing high white socks that draw the eye down and make your trouser legs look too short in length. In the case of walls, the effect can cut the height of the room short and therefore make the space feel smaller. This is incredibly distracting when decorating with dark paint colors, meaning in that instance it's always advisable to paint the woodwork in the same shade – with the right paint finish of course.
2. Make surfaces recede with soft shades
Light, bright colors are generally favored to open up small or awkward spaces because they reflect natural light and therefore create a sense of space. But there are many lighter tones that can do the trick, it's not all about the best white paint colors.
"Probably the simplest way you can make a room appear bigger with just a bit of paint is to use pale 'receding' colors that make walls look further away than they really are," explains Marianne Shillingford, Creative Director at Dulux. "These are soft organic greens and sky blues like Dulux Willow Tree and Dulux Heritage Country Sky. Paint them on all the walls and keep the woodwork in the same color or a delicate off-white like White Cotton."
"This offers a subtle way to bring color into the home and open up those small spaces whilst connecting the indoor and outdoor spaces seamlessly".
3. Try a two-tone effect to add height
Trick the eyes into thinking the room is bigger than it actually is by painting a two-tone effect on the walls. This will add height by creating an off-center divide that creates a taller perspective and will make a room look bigger with paint.
"A band of color painted around the lower third of the walls teamed with a subtle off-white above and on the ceiling will help to make a room look taller and airier," advises Marianne.
For best results, split the room into thirds and paint the bottom third in a richer shade than the remaining two-thirds above, to anchor the gaze down and in effect extend the space between the floor and the ceiling. All you'll need to achieve a crisp line between the two different colors is a roll of masking tape and a spirit level to ensure it's precise.
4. Paint ceilings in a color other than white
When it comes to painting ceilings, it's commonplace to reach for white paint. However, experts recommend looking for an alternative shade for ceilings to elevate the appearance of the roof.
"Many of us paint ceilings white out of habit, which can often make a space look smaller, drawing the eye to the shape and scale of the room" explains Ruth from paint brand Little Greene. "Opt for tonal color instead. By immersing an interior in one color and incorporating all elements within the space, you can create a truly engaging scheme that will soften architectural detailing to create a cohesive and enveloping space."
Marianne suggests, "Popping the lid off the room and creating a sense of limitless sky by painting the ceiling in a breezy summer blue like Bright Skies. It will immediately make the space appear bigger and less hemmed in and you will wonder why you never added a bit of color to your ceiling before!"
While the illusion of an open sky works especially well for Marianne's suggestion, if blue is not your idea of the best living room paint color the concept would still work in an equally soft shade such as sage green or pale gray, because the idea is simply to remove the stark white contrast that puts a figurative 'lid' on the room.
5. Disguise storage with paint
One of the most effective ways to organize a small space is by providing plenty of storage. To make a room look bigger with paint, simply painting these storage units and shelving in the same color as the wall is a great way to make the extra storage blend in with the color scheme. This will make the room feel more spacious and is one of the best ways to make small living room look bigger when you can't cut down the amount of 'stuff' needed in the space.
"Tall storage furniture such as a bookcase or walls filled with shelves can quickly eclipse a room," explains Michael Rolland, Interiors expert, and MD at The Paint Shed. "An easy way of disguising it is to paint it. Try painting this furniture or shelving the same color as the walls. This will allow them to blend into their surroundings, not making them look too daunting in a small space."
Use paint to create a continuation of color further by choosing a tone that matches the upholstery of the sofa and other soft furnishings. This will create a seamless wall of color (like color drenching mentioned earlier) that will help to prevent the space from feeling overcrowded and enclosed.
6. Soften the color above the picture rail
If you're lucky enough to have architectural details such as picture rails in your home, use this feature to your advantage by contrasting the color above and below. Choose a softer alternative to stark white if you are decorating with a strong color below the rail, because often the harshness of white can actually draw unwanted attention – and therefore not help to make the gap work to your advantage.
In the same way that skirting boards in stark white can gain unwanted attention, so can the area above the picture rail and ceilings, so a softer gradual fade of color helps to soften the line. Ruth explains, "many choose to use bright white in smaller spaces assuming white will make the room appear larger, however light neutrals and soft colors used in a tonal scheme will have the same effect whilst not appearing too stark or cold."
7. Opt for pale paint on the floor
Painting original floorboards in a light shade will help to create a sense of space by figuratively pushing the floor away from the ceiling and all four walls.
It's well known that an all-white color scheme is ideal to make a room look and feel bigger thanks to the airiness and light reflecting properties and Ruth offers her advice on decorating with an all-white scheme: "If you wish to use a white, opt for a well-balanced, warm white rather than a stark, bright blue tinged white. 'Silent White' is a perfectly balanced, neutral-warm white. Use with its lighter and deeper versions on other walls, the ceiling, and trim to add softly-spoken depth to the room."
8. Layer metallic finishes to reflect light
The nature of metallic finishes means the surfaces become reflective which can help to welcome light to a smaller space, instantly making it come alive and feel brighter. A metallic finish is an ideal bedroom paint color to add a luxe touch to the decorating scheme.
"Layering metallic paint alongside a flat matt emulsion will make the color pop and stand out, as well as create depth to a room," says Justyna.
"Or if you are feeling bold, paint the ceiling is a fun way to add something different to a room. Metallic paint will also work well in smaller rooms such as guest toilets or cloakrooms, to make them feel bigger."
Tamara is a highly experienced homes and interiors journalist, with a career spanning 19 years. Now the Lifestyle Editor of womanandhome.com, she has spent the last 16 years working with the style teams at Country Homes & Interiors and Ideal Home, and it's with these award-winning interiors teams that she gained a wealth of knowledge and honed her skills and passion for shopping, styling and writing about every aspect of lifestyle and interiors.
With a keen eye for the latest interior trends, there's not a lot she doesn't know about home decor – whether it's what colour we should be painting our living rooms next season, or if the latest 'must-have' buys are actually worth investing in.
A true homes and interiors expert, Tamara has served as an ambassador for leading interior brands on multiple occasions, including appearing on Matalan's The Show and presenting at top interiors trend events such as the Autumn Fair and Spring Fair.