How to organize a small space: 13 tips to keep your home clutter-free
These creative tips will help guide you on how to organize a small space with maximum efficiency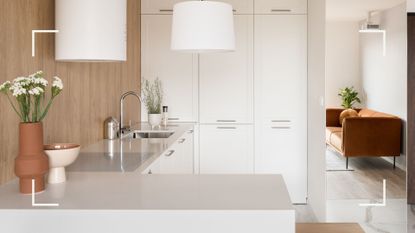 (Image credit: Getty Images | In4mal)
Knowing how to organize a small space can really transform your home, particularly if you live in an apartment or house with smaller-than-average rooms.
If you're working with a small floor area, you'll naturally have fewer storage solutions available so you need to think outside of the box a little to utilize the precious space you do have. A few misplaced teacups or utensils on the worktop can quickly overwhelm a small space so it's important to establish a sense of order to avoid clutter accumulating.
Much like knowing how to organize a pantry or how to organize your kitchen, a lot of the solutions come down to investing in smart storage, making the most of dead space, and decluttering your home. We chatted with professional organization experts who shared their fail-safe ways to make your space work harder.
How to organize a small space: 13 expert tips
"It all starts with having one objective in mind, and that's to keep the small space tidy - otherwise chaos will ensue," Jacqueline McLeod, APDO's Communications Director & founder of Bancrofts Organisation Services suggests.
Sounds simple, right? But as we all know, keeping the space tidy isn't always as easy as it sounds. Luckily, we've chatted with organizational experts who have shared some easy tips and hacks that will help you along the way.
1. Use vertical space
If you don't have much floor space, make the most of your wall space and build your furniture and storage vertically.
"When it comes to small spaces, use the vertical space aka the wall space going up and down and the space above the door which is unseen, but great for adding a shelf for storage," Jacqueline advises. "Find storage solutions that can be hung on the wall and that can house multiple items, for example, a vertical broom holder."
Kate Ibbotson, professional declutterer and founder of A Tidy Mind agrees. "Make use of all available wall space with storage, especially if the room is relatively small," she tells us.
"If you have cabinets, opt for tall units that don't leave any dead space. Open shelving that uses the whole height of walls is a good idea to use the space effectively and keep the surfaces and floor free."
Take inspiration from some of the best kitchen organization ideas, as many of these can be applied throughout your home. For example, floating shelves are an easy way to build storage in any room and can be used to house essentials like books or letters, but they can also be used to display plants or other decorative trinkets that you otherwise feel you don't have space to display.
2. Multi-use furniture
If you're in a small space, multi-use furniture will become your best friend. These discreet, multi-functional pieces can be moved around or adapted depending on your needs.
"Furniture that doubles up as storage can be useful, such as an ottoman box which also serves as seating or a coffee table with room to store magazines and stationery," suggests Kate.
Jacqueline also advises an ottoman box - or bed. "If you have a small bedroom, ottoman beds are great," she adds. "They can provide generous extra space but just because you have it, it doesn't mean it has to be filled to the top. Use it to store out-of-season clothes, bedding or shoes. Also, use the wall space around your bed to build some shelves for books, hooks for hats or accessories."
If you've lost a lot of your floor area to shoes, consider investing in one of the best shoe organizers as many of these designs are versatile and multipurpose. There's even a miniature ottoman specifically designed to store shoes. There's a reason why so many organization experts love this ubiquitous design!
Carmen Hall Tree with Bench and Shoe Storage
RRP: £59.99 (UK only) | Jacqueline recommends this multi-functional unit which features three shelves as well as two hanging racks with nine hooks. This versatile bench balances practicality with design and would look great in any room. Find similar designs on Amazon which offer international shipping.
Bonlife Grey Folding Ottoman Coffee Table with Storage
RRP: $73.49 / £60.99 | This ottoman piece can be used in four ways - as a storage box, footrest, seat, or coffee table. The gray linen design will complement most color schemes, particularly white or on-trend sage green interiors.
3. Keep your space clutter free
If you're living in a small space, there's no room for clutter. That means being savvy with the pieces you buy and being ruthless when assessing the things you don't.
"Keep the area uncluttered. A cluttered space is distracting, will always sway your focus, and will make a compact space feel smaller," Kate advises. "Keep on display only the things you use or love and nothing else."
Jacqueline agrees advising, "try to keep what you need on a daily basis only. Be a bit ruthless with yourself." Getting rid of clutter is a positive step regardless of the size of your home, as having too much 'stuff' can create chaos - both physically and mentally. It's one of the main steps you need to take if you're wondering how to organize your life.
Already overwhelmed by clutter and have no idea how to get started? Here are some tips to help you along the way:
Assign a box for essentials: Be honest with yourself about what's really essential.
Group similar items together: This can also help you identify any duplicate items.
Set a timer and focus on one area a day: Don't try to declutter your whole home in one day as it can easily become an exhausting and overwhelming task. Tackle a room at a time, and set a timer on your phone so you can complete it in short bursts.
Get rid of clothing you haven't worn in one year: Especially if closet space is scarce. Now is the time to really consider building a capsule wardrobe.
4. Make use of light
"The easiest way for a home to appear pokey is when it doesn't receive enough natural sunlight," says Kate. "Avoid heavy curtains, instead opting for blinds or shutters. Try not to clutter windowsills with lots of objects on windowsills and consider lighter colored decor to maximize brightness."
Happily, many of the best living room paint color trends of this year draw heavily on natural elements, using fresh and calming hues. If you live in a small space, you might want to avoid hanging up too many busy prints, printed carpets, or using feature walls.
5. Create zones
Another effective way to organize a small space is to create zones within rooms. "Use cubby hole storage units to zone your space/room," advises Jacqueline. For example, one side is your bed and the other is your work from home area. This idea works particularly well if you have an open-plan space where you cook, work, eat and socialize in one room.
There are different ways to create zones, depending on the space you have available, however, if you're working with a small space it may be more difficult to use large physical items to zone off areas. Instead, consider clustering your furniture around specific areas of your room with clear boundaries - these can be created by different wall colors, carpets or small furnishings.
6. Over-door storage
If you live in a small space, you need to utilize every inch of space you have available. Kate suggests making use of over-door storage. "A wall-hanging storage bag with large pockets will help you organize bits and pieces," she suggests. "There are also useful over-the-door storage solutions for organizing gift wrap, craft materials, ironing boards and towels."
Over-door hangers are also great for storing coats and jackets - particularly useful if you don't have room in your closet or have no space for a stand-alone coat rack.
7. Reset your space daily
Get into the habit of 'resetting' your space daily - this is important for maintaining order and ensuring clutter doesn't accumulate. If you're living in a small space, you'll know how quickly it can get messy, so try to tidy up your space as you go along.
This is particularly important if you have a small bedroom, say Ingrid Jansen and Lesley Spellman of The Declutter Hub Podcast. "A reset a day keeps the floordrobe away! Each morning after you have got yourself up and ready for the day, be sure to make your bed and reset your bedroom by putting anything away that's out of place."
You can apply this approach to every room, for example, once you've finished watching television, ensure you put your remote away in the correct place. After you've had a cuppa, rinse it straight away.
This advice applies to any space you're trying to organize, whether it's organizing kitchen countertops or organizing a fridge - aim to tidy up as you go along and leave the space as you found it. Failing that, just spending 10 minutes at the end of each day resetting the place for the next day will do the trick. We can reassure you that you'll be grateful for it the following day because daily habits help to keep your home clean and tidy.
8. Make use of dead space
Even in small spaces, everyone has those awkward spots that they just don't know what to do with; those annoying gaps between your cabinets, that awkwardly shaped wall that you can't build furniture around. Utilizing this dead space is important to organize your small space.
"When space is premium, you need to make use of everything you have available to you - a weird corner of the room, a small gap in wall space," says Kelly Collins, interior designer and head of creative at Swyft Home. "Add floating shelves or clothing hooks to these areas to make the space functional and practical. Since you weren't using the space for anything already, it makes sense to dedicate the area to more storage."
The solutions will of course depend on exactly what dead space you have, but Jacqueline offers some suggestions. "If your bathroom is tiny, then why not have the side panels of the bath made to pull down so you can store items inside the panels, or even create pull-out drawers or shelves instead?"
If you're not in a position to build new furniture, check out our guide to the best bathroom storage ideas as many of these can be done on a budget, or without the need for a builder.
9. Work into corners
Small spaces often come with awkward angles and hard-to-use wall space. Often it can be trickiest to utilize corners for maximum storage because most obvious storage solutions, such as cabinets, can feel overwhelming and bulky. In compact spaces, it's best to opt for open storage in order to allow more light to flow throughout the room.
Corner shelves are a great way to make the most of awkward corners, like in the example above. You can get these installed by a professional or buy stand-alone pieces.
When looking to organize a small kitchen corner also look for hidden storage solutions such as smart pull-out or cranked larder units to get right into the corner to make the most of every inch of space available inside organized kitchen cabinets.
10. Maximise closet and cabinet storage
If you have a small space, making the most of your existing storage is all the more important. If you know how to organize kitchen cabinets in an efficient way or how to organize a small closet you can really maximize your space and rely more on concealed storage, meaning the place will look less cluttered and feel nicer to be in. Our dedicated guides go into depth about how to organize these valuable storage spaces, but we've provided quick guides below.
How to organize cabinets
Use cabinet dividers and shelf inserts - these can literally double the amount of space you have available as you can use the whole space available to you.
Use clear containers or baskets - in the kitchen, decanting dry products into clear containers is an excellent way to free up space while small wicker baskets can work well in bedrooms or living room spaces meaning you can separate your small items easily (and out of sight)
Install spinning organizers - lazy susans are something of a wonder product, particularly in the kitchen. These spinning inserts are a cheap and effective way to organize small items like spices, condiments and sachets
How to organize your closet
Get rid of anything you don't wear - donate anything you no longer wear, or learn how to sell clothes online
Store seasonal items - at the beginning of every season, store your items from the previous season away. For example, in the summertime, store your best winter coats away. Consider storing them underneath the bed (or even better, invest in a bed with built-in storage)
Group similar items together - organize your items by type, and assess the best way to store them. For example, you'll want to hang up your dresses, but you may want to fold t-shirts away in a drawer or on top of a shelf
Install extra rails or shelves - if you're able to, consider adding additional rails to your closet or interior shelves to really maximize the space
UOMIO Kitchen Cabinet Countertop Organisers
RRP: $33.73/£27.99 (International shipping available)| These stackable shelf dividers come in a four-pack and can be used to store small condiments, spices, and oils. The black steel and wood design mean they can be used in other rooms too - for example, any concealed cabinets in your living room or bedroom.
IKEA Pluggland hanging storage
RRP: $6.03 / £5| Let's face it - hanging closet storage solutions are never that pretty, but as far as they go, this one looks pretty good and it does the job. Use it to store underwear, small clothing items, and socks.
OAKNO Expandable Wardrobe Storage
RRP: $23.50 / £19.50 | These nifty extendable shelf dividers can be used in closets and cupboards, and are perfect if you want to double your shelf space. They are plastic, though, so avoid overloading them and use them to stack things like t-shirts in your closet and small condiments or crockery in your kitchen.
11. Choose moveable storage
Free up space by choosing storage that can be easily moved, such as trolleys and storage carts. These moveable solutions can cater to a number of different needs within the same limited floor plan.
"Rolling carts are good for small rooms as they can be moved out of the way when not in use," advises Rebecca Roberts, APDO member and Founder of Curate My Space. "Use them to store make-up, hair styling equipment, and products in a bedroom."
Or in a kitchen try using a moveable trolley as a small kitchen storage idea for storing fresh food, and textiles, or as an extra pot and pan storage idea – provided you can still easily move the cart without anything falling off.
12. Make use of the ceiling
You might not have even considered the potential of using the ceiling to help organize your small space, but it can provide extra space to elevate items out of the way so they don't obstruct your day-to-day, say for instance when you're carrying out the laundry.
The one thing all small homes will battle with on a weekly basis when tackling how to dry clothes indoors without making your home look untidy. "Laundry is always a problem, even when you have a big home," says Marie Bateson, APDO's volunteer director and founder of Cut the Clutter, "where do you store that washing basket and where do you hang things to dry?"
"I really like the ceiling-mounted clothes airers like this one as they use dead space and avoid having to use traditional floor-standing airers which take up a lot of room.
"I also think the invention of the collapsable laundry basket is such a game changer. You can flatten and store so much easier especially when your storage is at a premium.
13. Build-in storage
Look to save valuable floor space where you can by opening up the remaining space within the room. A great way to do this in any room is by incorporating built-in furniture with concealed storage. Window seats are the perfect solution for building furniture within the recess of the window frame, using up otherwise wasted space that wouldn't is too restricted to use for storage otherwise.
By building in bespoke seating you are thoughtfully utilizing the space, and if you are able to incorporate a hidden storage element you are providing extra purpose to the design and helping to streamline the space further.
Anna is an editor and journalist, specializing in SEO and digital content production. First carving her career in communications and advertising agencies in Berlin and Barcelona, Anna's former life saw her work for film studios and inside a fashion house, before she moved to Metro.co.uk where her career highlights include heading up the SEO desk during the Covid-19 pandemic. Anna's published work ranges from culture and films to human interest features and live news coverage.

In her spare time, she enjoys watching movies, discovering the next big thing in music, traveling, online shopping, and poring over poetry and magazines. When she's not consuming those things, she's probably writing about them.

Originally from Glasgow, Anna has lived in Berlin, Barcelona, and London, not to mention stints in Guernsey and Athens. When she's not struggling to navigate a new language, she's always chasing the next hot trend and perfect black dress (you can never have too many).