15 pot and pan storage ideas to organize your kitchen like a pro
These pot and pan storage ideas offer clever solutions to help make your kitchen more organized and easier to use day-to-day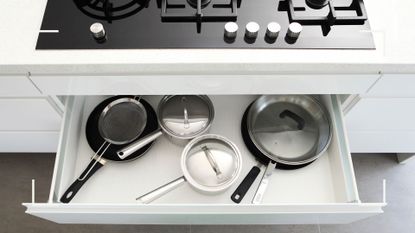 (Image credit: Getty Images)
It's important to take the time to consider all the different pot and pan storage ideas available, because unless you have an abundance of spare kitchen space, storing these essential cookware items can quickly become an issue.
To maintain a well-organized kitchen, regularly used pans should be kept somewhere that is easily accessible when cooking, while most occasional pots that are used for big family dinners or when entertaining friends for lunch usually need a larger space away from the central 'kitchen triangle'.
The good news is that there are plenty of different storage solutions for your best induction pans, cooking pots, woks, skillets and more in the little nooks of your kitchen that you've never thought of using before. So whether you have drawers or cupboards that could be organized more effectively, spare wall space, or a worktop, there are plenty of pot and pan storage ideas to help keep pans tidy and easily accessible in your kitchen.
11 efficient pot and pan storage ideas for your kitchen
If you're looking to update your pan collection of pans, take a look at our guides to the best cookware, best cast iron skillets, and best non-stick pans for a full overview of the best on the market.
Otherwise you can browse our pot and pan storage ideas below which will solve your storage dilemmas and help find a home for every piece of cookware in your collection.
1. Storage rack
A storage rack can be a brilliant way to store pans—especially if you're low on drawer or cupboard space and are looking for a way to present pans nicely on a spare bit of worktop space. They can also be a great buy if you hate rogue pan lids rolling around your kitchen drawers. Simply stack your pans up normally and then use a rack to arrange the lids!
2. Drawer dividers
If you have lots of drawer space but not many cupboards to store your pans, you can organize your kitchen drawers using plastic or wooden dividers to split them up and store your pots inside. This will make it easier to keep your pans among other kitchenware like plates, bowls and oven dishes. Or if you're a bit of a pan hoarder (guilty), using dividers to organise your pans by type could make it a lot easier to find what you need when you're in the middle of cooking your meal.
This pot and pan storage solution can also be helpful for bigger items such as food processors and blenders.
3. Wall hooks
Hanging pans and other kitchen essentials from wall hooks has long been a common feature in more rustic-themed kitchens, but it's now becoming popular in more modern spaces too. And we can see why. Not only does it look good—especially if you have a particularly fancy collection of pans—but you also have full visibility of your collection and it's super convenient as you literally just have to hook the pan on and off when you want to use it. No messing around in a drawer or cupboard looking for your favorite wok!
This is also one of our preferred ideas for storing kitchen items in general, not just pans. See our guide to the best kitchen storage ideas here.
4. Add hooks under a kitchen shelf or cupboard
If you're not keen on drilling holes into your wall or are unable to due to rental restrictions, a way around this could be to add hooks to existing shelving. Just make sure that you have a strong enough shelf to hold the weight of any pans hanging underneath. This is a good tip for when planning how to organize a small kitchen, where every inch of space counts.
5. Standalone shelving unit
For small kitchens that are low on drawers, cupboards, and counter space, a small shelving unit can often be the answer to your storage quandaries. Not only can the shelving make a great space to store all of your pans, but you can use the top shelf as extra worktop space to house your kettle, toaster, or coffee machine too. Or if you're low on cooking space, you could even keep a portable induction hob on the top so that you have all your cooking essentials in one convenient place.
6. Floating shelves
Floating shelves can make a great solution to a whole host of storage problems. While they are commonly used to display your best cookbooks, cups, glasses, or plates, they can also store pots and pans if fitted correctly.
You can get hold of bigger floating shelf units that hold a lot more utensils than a single shelf would—a great option for those low on cupboard space. Plus, one pro of a floating shelf unit over more complicated shelving is that the assembly is much easier. Simply put the unit together following the package instructions, and then screw it into the wall—just make sure that the attachments are suitable to support the weight.
7. Shelving feature wall
If you're an enthusiastic cook and your pans are your pride and joy, why not display them on a feature wall? Open shelving is still a big kitchen trend and if you have a spare wall – or even half a wall – in your kitchen some open wooden shelves could make a nice addition to your space. Not only will this hold all of your pans and make for a lovely feature, but it could probably also fit some of your other kitchenware or even ingredients too, helping you to better organize your kitchen countertops too.
8. DIY pan pullout
We all love a snazzy kitchen gadget and this pan pullout feature might just be one of the snazziest of them all. Not only will this feature give your kitchen a bit of a wow factor, it's a great way to organize kitchen cabinets. A convenient way to access your favorite pans, a pan pull out system will help you truly make the most of your space, as this will utilize the inner roof of your kitchen cupboards and—depending on how low your pans hang—you can also store other bits underneath them.
9. Ceiling mounted rack
This was a classic back in big '90s kitchens, but the trend lives on and has now even developed to suit more contemporary interiors styles. Not only does a ceiling rack make for a striking feature, but it's also a true space saver as you can fit so much on it. There are also models that come with hooks, so that you can hang your pans from them if you prefer rather than stacking them. Just make sure to give your cookware a wipe or rinse before using as this is a hotspot for dust.
10. Magic cupboard
If you're undergoing kitchen renovations, another feature to consider when thinking about pot and pan storage ideas is a magic cupboard. A magic cupboard is one of those nifty corner cupboards in the kitchen that looks like smallish area, but when you pull it open suddenly a few racks of storage all swivel out out of nowhere. This can be a great space to store your pans as it means that they're out of the way of your other kitchenware and—as the shelves in a corner cupboard tend to be circular—they fit the pan shape well and help you really make the most of your space.
11. Deep drawers
If you're lucky enough to be renovating your kitchen, you can put a bit more thought into making space for pot and pan storage. While many of us may lean towards storing pots and pan in cupboards, storing them in a deep drawer can actually help you make the most out of your space. That's because, the surface area of a drawer tends to be bigger than that of a cupboard, so you can fit more pots and pans next to each other and tesselate them so that handles all fit into the same little pockets of space. This coupled with the depth that you get from a deep drawer can mean that all of your pots and pans will fit in one place.
12. Stacked pan rack
This genius stacked storage rack is made from a robust heavy gauge wire to support even the heaviest of cast iron skillets and frying pans, which can be easily stored on the stacked shelves provided. This design can be placed vertically or horizontally on countertops or in cupboards to restore order to your pan collection. This smart pan rack can hold up to five pans when used vertically, or four when stacked horizontally.
13. Freestanding kitchen island unit
Kitchen islands are one of the most coveted kitchen design trends of recent years, providing valuable additional storage for all kitchen layouts. But this highly-desirable design element can be unobtainable for a number of different reasons, including space restrictions and budget. However, in those cases there's always the freestanding solution that is more compact in size and far more affordable. This kitchen island shelf design by IKEA offers plentiful storage for all manner of pots and pans to sit on shelving beneath an extra countertop surface space.
14. Cabinet racks
A common kitchen design mistake many people make is not to factor enough storage into their space. If you inherit a kitchen with limited pot and pan storage space, these IKEA wire pull-out drawers are the perfect solution. They come on a retractable rail that can be secured inside your exiting cabinets with ease and at very little expense, to break up the cupboard space and provide optimum extra pan storage in next to no time.
15. Cooker surround unit
If you're looking for a modern storage solution to incorporate into your kitchen design, the ENHET storage unit from IKEA (opens in new tab) is a stylish and practical way to surround your cooker with plenty of pan storage so everything is to hand while you cook. In addition to the open-shelves offering storage the countertops sit either side of the hob to create valuable additional work surface to prep meals. There's also bonus extra storage space in the drawer under the oven for frying pans, baking trays or even chopping boards.
Tamara is a highly experienced homes and interiors journalist, with a career spanning 19 years. Now the Lifestyle Editor of womanandhome.com, she has spent the last 16 years working with the style teams at Country Homes & Interiors and Ideal Home, and it's with these award-winning interiors teams that she gained a wealth of knowledge and honed her skills and passion for shopping, styling and writing about every aspect of lifestyle and interiors.
With a keen eye for the latest interior trends, there's not a lot she doesn't know about home decor – whether it's what colour we should be painting our living rooms next season, or if the latest 'must-have' buys are actually worth investing in.
A true homes and interiors expert, Tamara has served as an ambassador for leading interior brands on multiple occasions, including appearing on Matalan's The Show and presenting at top interiors trend events such as the Autumn Fair and Spring Fair.