The best portable induction hobs that are energy-efficient and easy to use anywhere
These are the best portable induction hobs, tried and tested by our expert, that will help you to cook wherever you are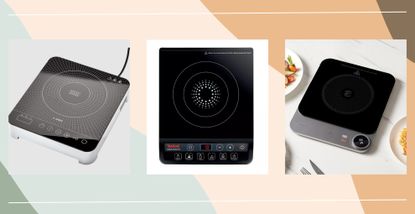 (Image credit: Future)
woman&home newsletter
Sign up to our free daily email for the latest royal and entertainment news, interesting opinion, expert advice on styling and beauty trends, and no-nonsense guides to the health and wellness questions you want answered.
Thank you for signing up to Woman & Home. You will receive a verification email shortly.
There was a problem. Please refresh the page and try again.
The best portable induction hobs will allow you to cook food quickly and easily wherever you are – whether in the middle of a kitchen renovation or out camping.
You may have first come across portable induction hobs online, as they're often used in social videos for food media brands (in fact, we're guilty of using them ourselves in our recipe video content). However, they're just as useful at home, offering a great extension to your existing kitchen kit or providing a temporary set-up when needed. They can even be used in the garden or in the garage when you want to cook al fresco or save your home from unwanted cooking smells.
Portable induction hobs have flat glass surfaces powered by heaters, which warm up faster than electric and gas hobs, meaning they are more energy-efficient, cook food quicker, and are safer than open gas hobs. They can offer solutions to many storage problems, giving you an extra hob to cook on, or a place to prepare food if you are waiting for a new cooker. All you need to do is pair one with the best induction pans, to whip up an easy dinner wherever you are.
The best portable induction hobs as reviewed by our expert
Why you can trust Woman & Home Our expert reviewers spend hours testing and comparing products and services so you can choose the best for you. Find out more about how we test.
1. VonShef Twin Digital Induction Hob
Best overall portable induction hob
Specifications
Dimensions: W60.5 x D37 x H6.5cm
Number of rings: Two
Number of heat controls: 10
RRP: $137 / £104.99
Reasons to buy
+
Double hobs for cooking two things at the same time—which is great for feeding a family
+
Very easy to clean making it quick to put away after meals
+
Good value-for-money as cheaper than most of a similar standard
+
Hot plates larger than most—so compatible with large pan sizes
Reasons to avoid
-
Short cable which can be restrictive if you don't have sockets closeby, or are cooking in a campsite, for instance
-
Unclear instruction manual which means you need to mainly use your own initiative to get started
We haven't found a more efficient portable induction hob at this price point than the VonShef model by VonHaus. Its clean, contemporary looks are supplemented by 10 heat controls that allow you to carefully tailor the settings – so whether you are rapidly boiling water for pasta, whipping up a stir fry with one of the best woks, or slow-cooking a batch of stew, it can handle your cooking needs.
We love that the hot plates themselves are larger than most too, allowing you to use generously-sized soup pans with ease. Small drawbacks include a shorter cable, which can be restrictive given that you need to be right next to a plug socket, and a slightly unclear instruction manual.
However, as with most of the best portable induction hobs, the settings are fairly intuitive – once we'd got to grips with the basics we found no need for the included help sheets. This model won't add too much time to your kitchen cleaning routine, is good value, and has two convenient hob rings. A great overall pick.
2. CIARRA Portable Induction Hob Double Hotplate
Best portable induction hob for large families
Specifications
Dimensions: 60 x 37 x 4.5
Number of rings: Two
Number of heat controls: 10
RRP: $156 / £119.99
Reasons to buy
+
Smooth glass surface is easy to clean
+
2 year warranty helps to buy with confidence
+
Plenty of heat and setting controls to allow for nuanced cooking styles
+
Double hobs and large cooking surfaces means you're able to cook large quantities and use two pans at once
Reasons to avoid
-
Touch controls aren't the fastest to react, can take a couple of seconds to activate
-
The double hob means a larger surface area, which could prove a storage issue for some
This model felt a little more premium than others we tested, with a nice slick surface and plenty of heat settings. One of the biggest benefits to the CIARRA portable induction hob was its large ring sizes. We found we could use much larger pans, and even small induction-suitable oven trays on this with ease, allowing for increased cooking potential. With nine power levels and ten temperature ranges it felt like a much more advanced piece of kit when compared to lots of similar styles, and we loved that this allowed us to explore a whole range of recipes – from slowly cooking less expensive pieces of meat low, over time to getting golden pancakes in a few minutes.
A slight drawback was that the touch controls were a little sticky at times and took a couple of seconds to activate. This is fairly common, however, and the ability to child lock the buttons we thought was a good idea, to prevent accidental changes. On the other hand, the hob top was easy to clean and store thanks to its smooth surface and slim design. The two year warranty also instils a good sense of confidence in the performance of this piece.
3. TOKIT Smart Induction Cooker
Best portable induction hob for students
Specifications
Dimensions: W28 x D35 x H2cm
Number of rings: One
Number of heat levels: 99
RRP: $200 / £153
Reasons to buy
+
Great for a student or someone with a small kitchen, to give a whole new dynamic to their cooking space
+
The smooth glass surface makes it easy to clean
+
In-built automated cooking functions, so great for novice cooks to help with temperature control
+
The slow cook setting means sous vide at home is possible, as well as batch cooking soups and stews
+
Safety functions for overheating which cuts it off it it becomes too hot
+
2 year warranty instills confidence in the brand
Reasons to avoid
-
The fan can be a little bit noisy which becomes irritating after a while
-
Just one hob means limited cooking capacity
-
Expensive, so quite an investment piece
As a brand, TOKIT was started through a crowdfunder in 2021 when the team behind it came up with an idea to make a smart all-in-one cooker. The expansion of the brand has led to their second release: an induction hob. But is it any good? Well, the first thing you'll notice that sets this apart from its competitors is that it's so light (under 3kgs) and extremely thin, which helps make it easy to store. Against some of the other alternatives in this list, it's also fairly quiet. All induction hobs make a slight whirring, but we found this to be on the quiet side of the sliding scale.
The thing that sets it apart though is the fact that it has in-built programming for automated cooking. You can use the dial to select common dishes like pancakes or boiled eggs or select various functions like sous vide. These set the plate to the right temperature for your chosen dish and we found helped us keep on track (there's also a timer so you can leave something cooking and it will automatically shut off for you).
The lowest setting transformed our ordinary cooker into a kind of slow cooker and we liked that it came to heat quickly, cutting down on necessary power usage as well as cooking times. Disappointingly we couldn't find an English version of the app that was promised, which is said to give you recipes and cooking tips, so it felt like some of the high price point was wasted. However, we have to say that overall we were impressed with its functionality and its weight, and it was extremely easy to clean too.
4. Judge Electricals Induction Hob
Best hob for flexible cooking
Specifications
Dimensions: W31 x D27 x H5cm
Number of rings: One
Number of heat levels: 10
RRP: $139 / £107
Reasons to buy
+
Wide range of heat controls means you can do everything from keeping sauces warm through to searing steaks
+
In-built timer helps to keep on top of recipes and minimise over-cooking
+
Small and easy to store even for small kitchens
+
Ideal for students or couples
Reasons to avoid
-
We found the settings a little tricky to get used to, but after a few times we
-
Both the alarm and the fan are noisy on this one, so not ideal if loud sounds irritate you
One of the most compact models we tested, we thought this Judge hob really stood up to its counterparts across the board. One of the most significant advantages of this particular single ring was its range of temperatures, which allowed safe warming and simmering as well as a fierce maximum temperature ideal for searing and boiling at speed.
We found that the initial setup was a bit fiddly, with the controls taking a bit of getting used to (the instruction manual wasn't the clearest we've experienced). However, once mastered it became quick and easy to get everyday use from and the clever addition of a timer meant that we could pop food on and not have to worry about it overcooking while we got on with other jobs.
As with a lot of other portable induction fans, this is a bit noisy. The fan whirrs whenever it's on (and can carry on afterwards too for a while as it cools) plus the beep that's triggered when you turn it on or change a setting is startlingly loud, making us think this wouldn't be ideal for families where anyone has sensory issues. The cable is fairly short too, but we didn't mind this as it meant it was neat and tidy, making it simple to store away.
Overall, we were impressed with this compact, powerful induction hob and thought it would be a great buy for everyone from students through to pensioners who are looking for a portable and low-energy addition to their kitchen.
5. IKEA Tillreda Portable Induction Hob
Best portable induction hob on a budget
Specifications
Dimensions: W30 x D38.5 x H5.4cm
Number of rings: One
Number of heat levels: 10
RRP: $65 / £50
Reasons to buy
+
Quiet when operating with too much of the usual fan noise associated with induction cooking
+
Easy to store thanks to hanging handle, so great for small kitchens
+
Brilliantly affordable option making it ideal as an additional kitchen element, or an ideal buy for students
Reasons to avoid
-
Heavier than other models which makes it feel a little clunky
-
Single ring only—meaning you can only cook one thing at a time
As with all things Ikea, the Tillreda portable induction hob has an innovative design, namely the power cable that neatly winds around a carrying handle for easy storage. The hob has a fairly standard range of controls but, considering this is one of the most affordable pieces in our guide, we think it has great functionality. At 3kg, it's heavier than many other portable hobs, and a little thicker too. However, the accessible price point means that even if you're only planning to use your portable induction hob occasionally, it's still worth the spend.
6. Gionien Domino Induction Hob
Best portable induction hob for regular use
Specifications
Dimensions: W29 x D52 x H7cm
Number of rings: Two
Number of heat levels: 9
RRP: $151 / £115.99
Reasons to buy
+
Can be built in or used ad-hoc which is great if you're renovating, as it can be used during and after the build
+
Good temperature control for the perfect settings for a whole multitude of recipes
+
Higher heat than many competitors to allow for good searing and hot frying
+
Sensitive touch controls which are quick and intuitive to use
Reasons to avoid
-
Noisy fan makes cooking feel slightly more stressful than usual and the noise continues for a few minutes after cooking which can be irritating
-
Fairly expensive, so might be a save-up for situation
While some induction cookers can struggle to get up enough heat to sear a steak well or achieve a lovely crisp skin on a piece of fish, this model beats the odds to allow for intuitive cooking at any temperature, which makes it perfect for using with the best cast iron skillets. There is good variation on the settings too—you can go from a gentle simmer to a rapid boil in minutes, and the addition of a boost function means the latter takes less time than a regular hob to come up to heat.
Things unravel slightly with a common complaint: the noisy fan, which in this case goes on for minutes post switching off. If you can brave the noise, the positives elsewhere make it a useful addition to any kitchen though, and while it's not strictly classed as 'portable', the plug-and-play functionality means you can buy it as a temporary fixture and if you like it enough, have it built in later. We like that kind of commitment-free option!
7. Tefal IH201840 Everyday Portable Induction Hob
Best portable induction hob for smaller spaces
Specifications
Dimensions: W27.5 x D34.5 x H5.7cm
Number of rings: One
Number of heat levels: 9
RRP: $111 / £84.99
Reasons to buy
+
Two-year guarantee gives us confidence in the quality
+
Additional settings to help you cook food to certain specifications, allowing for good results on a range of recipes
+
Great price point for what you get thanks to the efficiency of the hob for making food quickly and easiily
Reasons to avoid
-
Trial and error needed to find correct setting to begin with which can prove a little fiddle
-
Two-hour time limit before switching off which can be frustrating if you want to slow cook something for longer
Tefal is a trusted brand, so if you like the reassurance that brand familiarity brings, this portable induction hob could be for you. While a little trial and error is needed in order to find your perfect setting, there are plenty of elements to commend this small, efficient model—which is one of the best portable induction hobs for small kitchens or to use in tight spaces.
We like that it offers good value for money, with a few above-average offerings; the stew mode, for example, can be used to slow cook everything from pulled pork to baked beans. Be warned though, it has a two-hour limit so some monitoring is needed if your recipe requires a little more time. Slight drawbacks come in the form of a loud fan noise and fairly piercing warning beeps when you remove a pan—although these are fairly standard across the board and can be beneficial for safety.
How we tested the best portable induction hobs
As with all of our buying guides, everything we cover on woman&home we test in our own homes. When it comes to the best portable induction hobs that means cooking on each model to see how they performed in a variety of different ways. We took the following into consideration...
Ease of use: We looked at how easy they were to set up and how intuitive the controls were to use, as well as how many different settings they had and if the buttons were simple to navigate.
Care and cleaning: Another key consideration included how easy they were to clean, what was required to clean after each use. Is the cleaning routine feasible if using the portable hob while out and about. We also looked at how light and easy to store they were.
Cooking results: Ultimately, we wanted to know how they were to cook with, so we whipped up a fair few batches of our favourite recipes to see how quickly they came to temperature, how they maintained their heat and how evenly they performed.
What to consider when choosing the right portable induction hob for you
There are a few things to think about when picking the best portable induction hob for your home, to ensure you are choosing the one that best suits your needs:
How you will use it: For instance, if you are looking to buy one ahead of a kitchen renovation, you'll probably want a machine with more than one hob. If you plan on taking it camping, you may want two rings as well, to be able to cook more than one thing at once. Or, if you just need a bit of extra cooking capacity in your kitchen at busy times, a portable hob with one ring should be enough.
Its capabilities: When on the lookout for the best portable induction hobs, it's also worth considering small (but important) details, such as how long the plug cable is depending on how much room you have, and how noisy the fans gets, if you plan to use yours when others are asleep, for example.
Whether or not you've used induction cookware before: If this is your first time using an induction hob, be aware that you may need new induction cookware for your hob. But it's worth noting that some of the best cookware is induction-hob compatible, even if you don't use it on an induction hob. An easy way to test your existing kitchenware is to try sticking a magnet to the bottom; if the magnet stays in place, your pans will work. Many of the best non-stick pans are also induction-safe too, which is worth noting – including the Our Place Always Pan.
What to do if your induction hob isn't working
Induction hobs are kitchen essentials for many people, and are generally easy to use. But issues can arise from time to time that you wouldn't experience with gas or electric hobs. Some common problems can include:
If your induction hob doesn't turn on: Check the voltage for your cooktop and see if you have the right voltage distribution. If the hob still isn't powering on, check the power outage. Your circuit may be overloaded and/or there may be an issue with the house fuse.
If your cooktop shuts off while cooking: It's most likely, the automatic power-on feature turned it off, which happens when your cooking exceeds the maximum time limit. Additionally, many hobs feature sensors, which automatically shut down when they don't detect any cookware on the burner. Therefore, be sure to properly place your cookware on the hob. Many induction hobs are also sensitive to pressure elsewhere – if you have other items on the hob whilst cooking, the hob may turn itself off to stop any burning from occurring.
If your meal isn't heating properly: Check the control settings. Your heat may be too low in temperature. Overheating and uneven heating can be attributed to how your cookware is positioned. To resolve this, place your cookware flat on the burner, as this will ensure even heat distribution.
If the display keeps flashing: This happens when there isn't a pan placed in the cooking area, or when the pan's material and size aren't suitable for the appliance. Make sure you combine an induction hob with an induction pan and ensure that the bottom of the pan comfortably fits the hob ring (e.g, not too big or too small).
Tips for cleaning a portable induction hob
Cleaning an induction hob, like cleaning many kitchen gadgets, isn't difficult, but there are a few important things to bear in mind to ensure you don't damage yours:
Use the proper pots and pans: Avoid cookware that can easily scratch the surface of glass-top stoves. Example materials include glass, stoneware, aluminum, ceramic iron, and cast iron. Opt for tools made of steel or magnetic stainless steel if possible. If you don't have any, simply wipe the bottom of your existing pans with a damp cloth to ensure the bases are clean, and no dirt will scratch the surface of your hob.
Have a damp sponge or cloth nearby: It's best to immediately clean up messes, spills, and grime as they happen on an induction hob. If you don't, expect hard-to-scrub stains and buildup to form. Wiping with a sponge/cloth will prevent this from occurring—though make sure you know how to clean a sponge or how to clean a microfibre cloth to avoid it transferring any dirt or grime into your hob.
Clean yours daily if in constant use: This will help maintain the quality of your induction hob and extend its lifespan. Along with a damp soap, be sure to always use mild household detergent and a kitchen spray designed for grease removal.
Use a scraper or razor for serious stains: These work well for stubborn, baked, and burnt-on foods and should be purchased directly through the hob manufacturer to prevent damage to the glass surface. And before going in with your device, remember to apply a good amount of liquid cleaning detergent to the area.
Avoid caustic cleaners: Think bleach and ammonia. These cleaners are abrasive and incompatible with induction hob surfaces, often causing scratches and cracks.
Are portable induction hobs safe?
Yes, portable induction hobs are some of the safest hobs there are on the market. When used properly, they present a low-risk way to make food thanks to the technology that sees the pans heat up, but the plate itself remain cool. This means burns are less likely from accidently touching the top. However, as with all electricals, there are risks involved. The main safety hazards to consider are:
Lead length: Many induction hobs have fairly short leads, which can be frustrating when you want adaptability in the kitchen. That being said, being near a socket and being tied to one particular spot can help mitigate risk as you're less likely to catch the lead if its neatly tucked up near the back of the worktop by the plug. A longer lead can be useful in some cases though, like if you're planning to take yours to use outdoors or in a larger space where a power supply might be further away. Burn out: Because they're fiercely efficient, induction hobs can quickly cause food in your pans to dry up if you are distracted for a minute or two. Make sure to always keep an eye on your food to avoid burning your pans. Metal utensil burns: Always avoid resting metal utensils on or near your induction hob. These can get ferociously hot and cause burns.
What are portable induction hobs good for?
Portable hobs are useful in all sorts of scenarios. The most obvious one is if you're without a kitchen for any time, but they can also be a handy addition to your main setup. Here are a few of the things we love to use them for.
Having work done on your house: If you're planning on having work done on your home that might compromise your regular cooking space, these clever little pieces of kit can help. They're always on standby-to to help you rustle up something hot and hearty to feed the family with, and because they're induction they allow for a rapid boil or a hot sear in no time at all.
Entertaining big crowds: Alternatively, for those of us who like to entertain, an additional hob can never be a bad thing. If you're feeding the five thousand or have plans to bring everybody together for Christmas this year, an extra place to boil, fry and sauté can be a lifesaver.
Traveling: There really are endless benefits to keeping one of these stashed away in a cupboard or filed at the side of your worktop. One such benefit is travel. If you enjoy camping or staying in motorhomes or caravans that can be hooked up to the electrics then these handy pieces of equipment are ideal to take on the go. They transform any space into an instant kitchen and can deal with a surprising quantity of traffic. Take one on the road for bacon sandwiches at breakfast through to a warming stew for dinner.
What pans can I use with my portable induction hob?
It's unlikely to come as a shock to you that only induction-suitable pans work on portable induction hobs. The functionality of induction is activated through a magnetic reaction which means you need pans that help channel that energy.
The reality of the situation is that basically all pans are induction-compatible with a few exceptions for things like those made from aluminum. If you're unsure of any of the cookware in your kitchen, simply see if a magnet sticks to the bottom of each pan, as advised above.
Are plug in portable induction hobs any good?
In a word: yes. Obviously, the performance of models varies, but in general portable induction hobs are a really useful tool to add to your kitchen armoury. They heat efficiently and effectively and ensure you have an additional option to cook with in your kitchen, should you need it, or a portable setup wherever you go that has a plug.
Are portable induction hobs energy efficient?
Induction technology is one of the most efficient ways to cook, thanks to there being no 'wasted' heat. The reaction between the hob and the pan ensures everything comes to heat much more quickly compared to a conventional cooking source, which over time can save a lot of fuel. It might be old now, but it's still very much relevant—a study back in 1998 by the Department of Energy found that cooking on induction hobs transferred 84% of the power to the receptacle and its contents. This is in contrast to just 71% for electric and 40% for gas.
Are portable inductions good if you have children?
If you have little ones around then you might be concerned about the safety of cooking on a portable stovetop. As with all heat sources, we'd encourage careful handling and sensible placing. Keep the plug somewhere it can't be tripped over and the hob top itself well out of reach up high, for instance. Because of the way induction hobs process heat, through the magnetic field, it's fairly hard to burn yourself on one.
If you touch the ring itself (not that we're recommending it!) you shouldn't feel any heat since your hand isn't magnetic. That being said, pans themselves and the food inside them will of course come up to heat and could cause serious injuries. As ever, keep children safe by exercising caution.
Are portable induction hobs cheap to run?
Yes, induction hobs are favoured for their efficiency. Many cooks report dips in their coverall cooking costs after investing in an induction hob, and many people add them to their kitchen on top of an existing gas or range cooker. Having the added flexibility of just a single ring can save heating up a whole range cooker, for instance, or minimise the use of gas burners when only cooking for one or two people.
Do chefs like induction hobs?
Professional kitchens really vary in their set-up, but the most common hob type found in restaurants is gas. This isn't to say however that other forms of cooking aren't embraced. Many chefs love induction hobs for their speed and efficiency, so some choose to have a couple of induction rings in addition to their main stovetops.
Sign up to our free daily email for the latest royal and entertainment news, interesting opinion, expert advice on styling and beauty trends, and no-nonsense guides to the health and wellness questions you want answered.
Rosie Conroy is a food and drinks journalist with over a decade of experience working for big-name titles in both print and online. Formerly the Digital Food Editor of woman&home, Rosie went on to head up the team at SquareMeal, reviewing the best London restaurants and hunting out emerging culinary trends. With previous experience in food styling and recipe development, Rosie knows what to look for in a good piece of kitchenware and has extensive experience testing consumer goods—from kitchen electricalz and cooking accouterments through to new foodie treats.