The best portable induction hobs that are energy-efficient and easy to use anywhere
These are the best portable induction hobs, tried and tested by our expert, that will help you to cook wherever you are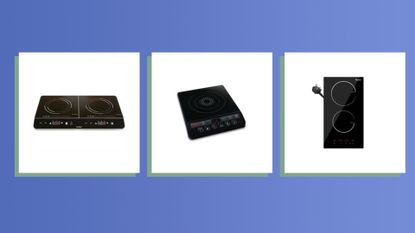 (Image credit: Future)
The best portable induction hobs will allow you to cook food quickly and easily wherever you are— in the middle of a kitchen renovation or out camping.
Portable induction hobs have flat glass surfaces powered by heaters, which warm up faster than electric and gas hobs—meaning they are more energy-efficient, cook food quicker, and are safer than open gas hobs. They can offer solutions to many storage problems, giving you an extra hob to cook on, or a place to prepare food if you are waiting for a new cooker. All you need to do is pair one with the best induction pans, to whip up an easy dinner wherever you are.
We have rounded up and tested some of the best portable induction hobs on the market, from a range of both budget and more high-end brands—including IKEA and VonHaus, to help you make your purchasing decision. We evaluated their merits by testing each one our multiple times. Our expert tester, Rosie Conroy, evaluated how quickly they came to the heat, their value-for-money, and how easy they were to clean.
The best portable induction hobs as reviewed by our expert
(opens in new tab)
1. VonShef Twin Digital Induction Hob
Best overall portable induction hob
Specifications
Dimensions: W60.5 x D37 x H6.5cm
Number of rings: Two
Number of heat controls: 10
Reasons to buy
+
Two hobs for cooking two things at the same time
+
Very easy to clean
+
Good value-for-money
+
Hot plates larger than most—so compatible with large pan sizes
Reasons to avoid
-
Short cable which can be restrictive
-
Unclear instruction manual
We haven't found a more efficient portable induction hob at this price point than the VonShef model by VonHaus. Its clean, contemporary looks are supplemented by 10 heat controls that allow you to carefully tailor the settings—so whether you are rapidly boiling water for pasta, whipping up a stir fry with one of the best woks, or slow-cooking a batch of stew, it can handle your cooking needs.
We love that the hot plates themselves are larger than most, allowing you to use generously-sized soup pans with ease. Small drawbacks include a shorter cable, which can be restrictive given that you need to be right next to a plug socket, and a slightly unclear instruction manual. However, as with most of the best portable induction hobs, the settings are fairly intuitive—once we'd got to grips with the basics we found no need for the help sheets. This model won't add too much time to your kitchen cleaning routine, is good value, and has two convenient hob rings. A great overall pick.
(opens in new tab)
2. IKEA Tillreda Portable Induction Hob
Best portable induction hob on a budget
Specifications
Dimensions: W30 x D38.5 x H5.4cm
Number of rings: One
Number of heat levels: 10
Reasons to buy
+
Quiet when operating
+
Easy to store thanks to hanging handle
+
Brilliantly affordable option
Reasons to avoid
-
Heavier than other models
-
Single ring only—meaning you can only cook one thing at a time
As with all things Ikea, the Tillreda portable induction hob has an innovative design, namely the power cable that neatly winds around a carrying handle for easy storage. The hob has a fairly standard range of controls but, considering this is one of the most affordable pieces in our guide, we think it has great functionality. At 3kg, it's heavier than many other portable hobs, and a little thicker too. The accessible price point means that even if you're only planning to use your portable induction hob occasionally, it's still worth the spend.
(opens in new tab)
3. Tefal IH201840 Everyday Portable Induction Hob
Best portable induction hob for smaller spaces
Specifications
Dimensions: W27.5 x D34.5 x H5.7cm
Number of rings: One
Number of heat levels: Nine
Reasons to buy
+
Two-year guarantee gives us confidence in the quality
+
Additional settings to help you cook food to certain specifications
+
Great price point for what you get
Reasons to avoid
-
Trial and error needed to find correct setting
-
Two-hour time limit before switching off
Tefal is a trusted brand, so if you like the reassurance that brand familiarity brings, this portable induction hob could be for you. While a little trial and error is needed in order to find your perfect setting, there are plenty of elements to commend this small, efficient model—which is one of the best portable induction hobs for small kitchens or use in smaller spaces.
We like that it offers good value for money, with a few above-average offerings; the stew mode, for example, can be used to slow cook everything from pulled pork to baked beans. Be warned though, it has a two-hour limit so some monitoring is needed if your recipe requires a little more time. Slight drawbacks come in the form of a loud fan noise and fairly piercing warning beeps when you remove a pan—although these are fairly standard across the board and can be beneficial for safety.
(opens in new tab)
4. Gionien Domino Induction Hob
Best portable induction hob for regular use
Specifications
Dimensions: W29 x D52 x H7cm
Number of rings: 2
Number of heat levels: 9
Reasons to buy
+
Can be built in or used ad-hoc
+
Good temperature control
+
Higher heat than many competitors
+
Sensitive touch controls
Reasons to avoid
-
Noisy fan
-
Fairly expensive
While some induction cookers can struggle to get up enough heat to sear a steak well or achieve a lovely crisp skin on a piece of fish, this model beats the odds to allow for intuitive cooking at any temperature, much like the best cast iron skillets. There is good variation on the settings too—you can go from a gentle simmer to a rapid boil in minutes, and the addition of a boost function means the latter takes less time than a regular hob to come up to heat.
Things unravel slightly with a common complaint: the noisy fan, which in this case goes on for minutes post switching off. If you can brave the noise, the positives elsewhere make it a useful addition to any kitchen though, and while it's not strictly classed as 'portable', the plug-and-play functionality means you can buy it as a temporary fixture and if you like it enough, have it built in later. We like that kind of commitment-free option!
What to consider when choosing the right portable induction hob for you
There are a few things to think about when picking the best portable induction hob for your home, to ensure you are choosing the one that best suits your needs:
How you will use it—for instance, if you are looking to buy one ahead of a kitchen renovation, you'll probably want a machine with more than one hob. If you plan on taking yours camping, you may want two rings as well, to be able to cook more than one thing at once. Or, if you just need a bit of extra cooking capacity in your kitchen, a portable hob with one ring should be enough.
Its capabilities—when on the lookout for the best portable induction hobs, it's also worth considering small (but important) details, such as how long the plug cable is depending on how much room you have, and how noisy the fans gets, if you plan to use yours when others are asleep, for example.
Whether or not you've used induction cookware before—if this is your first time using induction, be aware that you may need new induction cookware for your hob. But it's worth noting that some of the best cookware is induction-hob compatible, even if you don't use it on an induction hob. An easy way to test your existing kitchenware is to try sticking a magnet to the bottom; if the magnet stays in place, your pans will work. Many of the best non-stick pans are also induction-safe too, which is worth noting—including the Our Place Always Pan.
What to do if your induction hob isn't working
Induction hobs are kitchen essentials for many people, and are generally easy to use. But issues can arise from time to time that you wouldn't experience with gas or electric hobs. Some common problems can include:
If your induction hob doesn't turn on—check the voltage for your cooktop and see if you have the right voltage distribution. If the hob still isn't powering on, check the power outage. Your circuit may be overloaded and/or there may be an issue with the house fuse.
If your cooktop shuts off while cooking—most likely, the automatic power-on feature turned it off, which happens when your cooking exceeds the maximum time limit. Additionally, many hobs feature sensors, which automatically shut down when they don't detect any cookware on the burner. Therefore, be sure to properly place your cookware on the hob. Many induction hobs are also sensitive to pressure elsewhere—if you have other items on the hob whilst cooking, the hob may turn itself off to stop any burning occurring.
If your meal isn't heating properly—check the control settings. Your heat may be too low in temperature. Overheating and uneven heating can be attributed to how your cookware is positioned. To resolve this, place your cookware flat on the burner, as this will ensure even heat distribution.
If the display keeps flashing—this happens when there isn't a pan placed on the cooking area, or when the pan's material and size aren't suitable for the appliance. Make sure you combine an induction hob with an induction pan, and ensure that the bottom of the pan comfortably fits the hob ring (e.g, not too big or too small).
Tips for cleaning a portable induction hob
Cleaning an induction hob, like cleaning many kitchen gadgets, isn't difficult, but there are a few important things to bear in mind to ensure you don't damage yours:
Use the proper pots and pans—avoid cookware that can easily scratch the surface of glass-top stoves. Example materials include glass, stoneware, aluminum, ceramic iron, and cast iron. Opt for tools made of steel or magnetic stainless steel.
Have a damp sponge or cloth nearby—it's best to immediately clean up messes, spills, and grime as they happen on an induction hob. If you don't, expect hard-to-scrub stains and buildup to form. Wiping with a sponge/cloth will prevent this from occurring—though make sure you know how to clean a sponge too to avoid it transferring any dirt or grime into your hob.
Clean yours daily if in daily use—this will help maintain the quality of your induction hob and extend its lifespan. Along with a damp soap, be sure to always use mild household detergent and a kitchen spray designed for grease removal.
Use a scraper or razor for serious stains—these work well for stubborn, baked, and burnt-on foods and should be purchased directly through the hob manufacturer to prevent damage to the glass surface. And before going in with your device, remember to apply a good amount of liquid cleaning detergent to the area.
Avoid caustic cleaners—think bleach and ammonia. These cleaners are abrasive and incompatible with induction hob surfaces, often causing scratches and cracks.
Rosie Conroy is a food and drinks journalist with over a decade of experience working for big-name titles in both print and online. Formerly the Digital Food Editor of woman&home, Rosie went on to head up the team at SquareMeal, reviewing the best London restaurants and hunting out emerging culinary trends. With previous experience in food styling and recipe development, Rosie knows what to look for in a good piece of kitchenware and has extensive experience testing consumer goods—from kitchen electricalz and cooking accouterments through to new foodie treats.