The 10 best cast iron skillets for getting the perfect sear
In our guide to the best cast iron skillets we've shared the results of extensive testing on each pan, to help you decide on the best option for your kitchen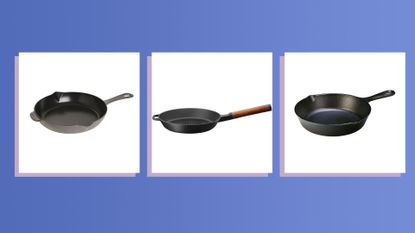 (Image credit: Future)
The best cast iron skillets are solid, reliable, and expertly made, making them an essential piece of kit for any expert or novice chef. In fact, they're ideal for multi-tasking in the kitchen, given that they can go in the oven, on the hob or even atop a barbecue.
Cast iron skillets are arguably one of the best cookware items around for versatile meal prep. They are generally best used for cooking meats, and will help you achieve an expert sear and that all-important crust. But, they're also perfect for preparing a number of other dishes too, such as hearty paellas, pizzas, omelets or frittatas. They do require a certain amount of care—you'll need to 'season' your pan properly between uses. But this extra attention should pay off tenfold, giving you a sturdy and long-lasting pan for years to come.
Following extensive research and consideration, we've showcased our pick of the best cast iron skillets below. This includes options for most homes, including budget picks, pans for induction hobs and lightweight options. We made sure to test skillets from popular brands too, such as Crane, Staub and Fiskars Norden.
How we tested the best cast iron skillets
Why you can trust Woman & Home Our expert reviewers spend hours testing and comparing products and services so you can choose the best for you. Find out more about how we test.
As with everything we test—from the best induction pans and the best food processors, though to the best blenders—when putting these cast iron skillets through their paces we did real-world checks to ensure we're only bringing you useful, usable feedback.
Our expert Homes and Cookery writer Rosie Conroy used each pan in her kitchen over the course of a few weeks. During testing, she assessed factors like performance, design, how easy they were to clean, weight, and extra features.
We assessed:
How well the pans performed when cooked with—being the single most important factor, we looked at how well the pan came up to heat and how well it retained the heat. We also checked whether each pan was oven-proof, and looked out for heat spotting vs even coloring on recipes like pancakes, omelets and steaks.
The design of each pan/skillet—once we were finished working out how good the functionality of each pan was, we then looked at aesthetics. We weighed up the merits of each skillet's good looks to ensure they'd look as good on open shelving in your kitchen, as well as tucked away in a cupboard.
The ease of cleaning and durability of each pan—we scrubbed, rinsed and repeated the cleaning of each pan a few different times to make sure there were no little gripes that would appear throughout the skillet's lifetime. Smaller details like whether they were pre-seasoned and what kind of warranty they came with were also taken into account.
To make the testing process completely clear, you'll find details of what was considered with each of our best cast iron skillet picks below too, in their individual descriptions.
The best cast iron skillets at a glance:
The best cast iron skillets as tested by our expert
1. Kuhn Rikon Black Star 28cm Iron Serving Pan
The best overall cast iron skillet
Specifications
RRP: $205.77/£159.95
Warranty/guarantee: UK Limited Lifetime Guarantee
Oven safe: Yes
Dishwasher safe: Yes
Materials: Cast iron
Reasons to buy
+
Dual handles for ease of use
+
Attractive design
+
Easy to clean
+
Good weight
+
Excellent heat transfer and retention
+
Uncoated for a perfect sear
Reasons to avoid
-
No lid for slow cooking
-
No lifetime guarantee
-
Hand Wash only
This beautifully symmetrical design (which looks a similar shape to many of the best woks) comes with the benefit of having dual handles. Not only does this mean better maneuverability from hob to oven, but it also helps spread the weight of the pan across two pressure points—ideal if you typically struggle with the heaviness of a standard single-handled skillet. We loved the attention to detail on this pan, with every angle seemingly having been carefully considered. This translated in part to flattened rivets in the handles, which we found much easier to clean than the regular raised pins which can get food crusted around them.
The attractive design is not only aesthetically pleasing (meaning serving straight from the skillet is no issue) it also meant storage was easy, with no long handles making cupboard storage awkward. Kuhn Rikon recommend the pan for making paella, so we gave it a go. Because the whole pan heats up simultaneously it almost becomes like a little oven in itself on the stovetop, which made for a combination of perfectly cooked rice and that delicious crispy bottom. This was slightly hard to budge when it came to cleaning, but we weren't expecting a completely non-stick finish. We think the patina ( a layer that is created over time on cast iron cookware as a result of natural seasoning and oils) and natural coating would build up over time to create an increasingly non-stick finish, though. As this isn't a coated cast iron pan, it needs seasoning before you use it, and regular maintenance after that. If you're up for giving it simple but routine care then we think this pan will repay you double-fold for your efforts—though if you feel you simply don't have the time to do this may not be the best cast iron skillet for you. But overall, this pan is highly receptive to heat, provides a really even cooking experience, looks great, and is easy to handle—making it our pick for overall best cast iron skillet.
2. Staub Cast Iron Frying Pan Graphite Grey
The best luxury cast iron skillet
Specifications
RRP: $189.95/£139
Warranty/guarantee: Lifetime
Oven safe: Yes
Dishwasher safe: Yes
Materials: Cast iron
Reasons to buy
+
Pouring lips
+
Cook and serve from the pan
+
Ideal for skillet meals
+
Excellent for achieving a crust
+
Works on all cooker types—so will last a lifetime even if you change cooker style
Reasons to avoid
-
Takes a bit of getting used to
-
High sided, so not as easy as some other pans for searing meat
With an enamel coating, Staub's 26cm cast iron skillet isn't a 'bare' pan (ie, non-coated) so it can generally withstand much more varied uses. In some cast iron pans which aren't coated, you'll find that cooking acidic things—like tomato sauces—can cause degradation of the natural non-stick patina that has been built up over time, which eventually can lead to rusting. Here, that's not a problem though—so we enjoyed being able to chuck anything at all at this pan and it being able to withstand all manner of ingredients. The trick, we found, to getting the most out of this pan was to bring it up to heat before adding any ingredients. So, for instance, when making steak, we'd advise getting the pan smoking hot, adding the oil and then adding the meat.
We also noted that because there isn't a chemical non-stick coating (which is a plus in many ways) food had to be left undisturbed until a good crust had been formed before moving, otherwise things ended up sticking. Once we got the hang of using the pan properly this quickly became one we found ourselves reaching for repeatedly thanks to its versatility. The pouring lips are a nice additional bonus too, making the transfer of sauces simple and mess-free, while the high-end design and exterior meant we were as keen to use this as a serving dish as we were to use it as a pan. Plus, it works on every cooker type, meaning you don't need to worry about its longevity should you move house or get a new hob.
3. Lodge 20cm Round Skillet
Best budget cast iron skillet
Specifications
RRP: $25/£31
Warranty/guarantee: None
Oven safe: Yes
Dishwasher safe: No
Materials: Cast iron
Reasons to buy
+
Lighter than a lot of the alternatives
+
Brilliant price point
+
Double pouring lips
+
Handy hanging hooks
+
Effective pre-seasoning
Reasons to avoid
-
Not dishwasher safe
-
Handle gets very hot during cooking
-
No guarantee
Traditional and well made, Lodge cast iron skillets are a classic piece of kit. The shallow, almost straight sides, cocoon whatever you're cooking to make a sort of mini oven, meaning you can get this pan really, really hot for perfect frying, searing and roasting. We liked the little hanging hook and thought it was a well balanced pan—not too heavy—thanks to its traditional design and relatively thin sides and base. The pouring lips were a great addition (and aren't found on all cast iron pans!), adding that little bit more versatility to cooking—meaning you can pour off cooking juices from meats to make gravies with, or serve sauce straight from the pan.
When frying eggs in our Lodge pan we found that the pre-seasoning effectively created a non-stick barrier, with just a little oil needed for the eggs to nicely crisp on the bottom and slip right out without too much effort. We suspect that over time you could build up the patina on this pan really easily, making it even more effective. One huge pro of this pan is its really affordable price—and we reckon that for the money you're getting a really great product, making it excellent value-for-money, too. Our best cast iron skillet for those on a smaller budget.
4. Netherton Foundry 25cm Spun Iron Frying Pan
The best lightweight skillet
Specifications
RRP: $85/£73.86
Warranty/guarantee: Two years
Oven safe: Yes
Dishwasher safe: No
Materials: Spun Iron
Reasons to buy
+
Spun iron keeps it lightweight and easy to handle
+
Handmade in the UK
+
Compatible with all cooker types, including AGAs
+
Pre-seasoned
+
Great heat conductor
Reasons to avoid
-
Wooden handle must be removed with a screwdriver if putting in the oven
-
More easily tipped than a heavier bottomed cast iron pan because of its lightweight nature
What makes Netherton Foundry pans so special is that each one is handmade in the UK by master craftsmen and women. Now stocked at some of the world's finest cookware shops, these popular pans are as much coveted for their appearance as their functionality, and we can see why—the pans are certainly stylish. The sleek, traditional shape is complemented nicely by the extended wooden handle, but sadly we found this slightly hindered us when using it. You can remove it for cooking in the oven or over fire, but it's a bit of a fiddly job, and once removed the handle isn't so comfortable. Happily though, this skillet has many more merits. Best of all is how lightweight it is, because of its spun iron makeup, which means it's much thinner than its contemporaries. This also means it gets incredibly hot, incredibly quickly—and holds its heat well too.
We made some brilliant chargrilled veg in ours, as well as an obligatory steak which came out with a perfect sear and dark crust. For finer things, like pancakes, there was some heat spotting, which we expected for an object not made by a machine. If you're happy to only use a skillet on the hob and not in the oven, we think the combination of heritage and heat conduction makes this a once-in-a-lifetime purchase.
5. Crane C3 Cast Iron Frying Pan 23CM
Best cast iron skillet with lid
Specifications
RRP: $184/£140
Warranty/guarantee: 10 year warranty
Oven safe: Yes
Dishwasher safe: Yes
Materials: Vitreous enamelled cast iron
Reasons to buy
+
Sleek and simple matte enamel design
+
Lid to help with stews and slow cooking
+
Works on all hobs
+
Handmade
+
Built to last
+
High density
Reasons to avoid
-
1.9kg, so heavy to move around
-
No second handle to get in and out of oven easily
Setting itself apart from the rest, Crane's cast iron pan comes with a unique feature that in turn makes it much more versatile—a lid. This small addition might not sound like much, but it takes things to the next level, making all sorts of recipes a possibility. We loved steaming veg in ours and making rice, but it would also be a great pan for taking camping, for slow cooking joints, or making homemade baked beans in. The snug fit of the lid means no steam escapes, resulting in perfectly fluffy grains of rice and wonderfully flavorful veg. The enameled cast iron interior means there's no need to season this one, so it's great for low maintenance cooking. Plus, it works on all hob tops, including the best portable induction hobs, which is a great bonus.
We also found the interior simple and easy to clean by hand. The sleek, minimalistic design has timeless appeal, and it's perfect for displaying proudly on open shelving. While technically the pans are dishwasher safe, Crane recommends washing by hand where possible, as the harsh cycles and detergents can eventually damage the non-stick coating. Minor gripes include the pan being fairly heavy to maneuver (but this equally means great heat retention through the thick metal base and sides) and there being no grip handle to assist when taking the skillet from the hob to the oven or vice versa. Overall though, this was one of our favorite pans to test thanks to its harmonious marriage of form and function.
6. Skeppshult Professional Cast Iron & Stainless Steel Frying Pan
The best cast iron skillet for cooking steaks and other meats
Specifications
RRP: $120/£115
Warranty/guarantee: 25 years
Oven safe: Yes
Dishwasher safe: Yes
Materials: Cast iron and stainless steel
Reasons to buy
+
Stay-cool handle design
+
Shallow sides for perfect searing
+
Oven safe
+
Uncoated interior for great heat transfer
+
Suitable for all hob types
Reasons to avoid
-
Takes time to come up to temperature if using a small hob ring
-
Heavy
-
Not dishwasher safe
Unusually for a cast iron skillet, Skeppshult's version comes with a ventilated stainless steel handle. This combats a common issue with these types of pans, in that the handle isn't just an extension of the cast iron, which ordinarily rapidly heats up with the pan, even when using them on the hob. So we were impressed at how cool this hollow handle stayed when used on both an Aga and an electric hob, but caution should probably still be exercised if using over open fire or in the oven, when the stainless steel would be directly exposed to heat too. We'd say this is the best pick for those who enjoy cooking meat, as the shallow sides make for a perfect sear.
For those unfamiliar with the brand, Skeppshult is a Swedish company which has been making pans by hand since 1906. This heritage is apparent in the unique hand-grinded edges and the slightly concave bottom, which meant we saw no warping no matter how high we brought the heat under it. The only downsides we could uncover were that it is pretty heavy to hold, and it isn't dishwasher safe (although, coming pre-seasoned meant a quick wipe with a damp cloth was all the cleaning it required by hand—it wasn't laborious) and that the base did struggle to come up to heat completely when used with a smaller ring size than its diameter. This, however, would be the same with any cast iron skillet, and once the pan was hot it was excellent at maintaining its heat for round after round of perfectly blistered flat breads. We even tried making scrambled eggs in ours and can confirm that they didn't fare too badly, with a quick rinse taking care of any residue.
7. Fiskars Norden cast-iron grill pan 28cm
The best cast iron skillet for an induction cooktop
Specifications
RRP: $180/£129.99
Warranty/guarantee: None
Oven safe: Yes
Dishwasher safe: Yes
Materials: Cast iron
Reasons to buy
+
Secondary control handle
+
Attractive design
+
Pre-seasoned
+
Oven safe
+
Induction compatible
+
Large, useful size
Reasons to avoid
-
Hand wash only
-
Handle must be removed before it becomes oven safe
-
No guarantee
This beautifully balanced cast iron skillet was comfortable to grip and hold thanks to the attractive birch handle, which is ergonomically designed to be rounded on top and flat underneath. The handle could be a contentious element however, in that if using over gas you'd have to be careful not to burn the wood—but for an induction stove, it's perfect. You can actually remove the handle, but in all honesty we found this a bit awkward, and would probably recommend opting for one of the other options if we wanted a cast iron skillet that we regularly planned to use in the oven.
When cooking though, the pan performed well—we saw no evidence of heat spotting, suggesting an even distribution of energy for precise results. In our experience, this meant crunchy roasties cooked in the oven, and gorgeous crispy-skinned fish with a wonderfully charred edge. It's also our best pick for an induction cooktop, given how intuitively it worked on ours, coming up to heat effortlessly, and with no issues moving the pan on and off the heat.
Fiskers' pan comes pre-seasoned, and when compared to our other cast iron skillets we thought it performed well, releasing ingredients relatively easily from the get-go. Hand-washing was required, but a quick rinse with a soft cloth and warm water was all it took. The small control handle made it easy to grip even when full, and we thought it was stylish enough for presenting straight to the table with its contents. For a high-end cast iron skillet this won us over with its good looks and unique wooden handle—but if it was the only cast iron pan you were going to buy and you don't have an induction hob, we thought there were a few more efficient ones in the group we tested.
8. Ayesha Curry 10" Cast Iron Enamel Skillet
Best cast iron skillet for one meal cooking
Specifications
RRP: $49.99/£49
Warranty/guarantee: None
Oven safe: Yes
Dishwasher safe: No
Materials: Ceramic coated cast iron
Reasons to buy
+
Double handle for lifting in and out of the oven
+
Big enough for family cooking
+
Pour spout to drain cooking liquid or pour sauces
+
Low cost
+
Colorful
Reasons to avoid
-
Not dishwasher safe
-
Heavy
-
Food can stick if not regularly seasoned
For the affordable price, this cast iron skillet held up well against its competitors, successfully browning meat and shellfish to give decent caramelization without too much sticking. We say 'too much' because there was a little resistance despite the ceramic non-stick coating—but not enough to make cooking complicated, and we think with regular seasoning this would come up to par with its contemporaries.
We liked the cheerful blue color on the outside which would add some fun to any kitchen, and the design is functional as well as good-looking. The combination of the longer handle with the smaller helper handle made for excellent maneuverability, especially when placing the pan in and out of the oven. This element was a necessary one given the weight of the pan too—it's pretty robustly designed, so wouldn't be any good if it was flipping pancakes you were in the market for. This also meant pouring from the spouts on either side was a two-handed job, and it took a bit of effort to tip everything out. But overall, this is a great cast iron skillet and it's roomy enough to cook multiple ingredients in, meaning it would be great for a one-pot meal. Plus, a charity donation is made for every purchase, which adds a nice feel-good factor to boot.
9. BergHOFF Green 28cm Cast Iron Covered Skillet
The best cast iron skillet for low and slow cooking
Specifications
RRP: £110
Warranty/guarantee: Limited lifetime guarantee
Oven safe: Yes
Dishwasher safe: No
Materials: Enamel coated cast iron
Reasons to buy
+
Lid allows extra functionality
+
High sides great for steaming
+
Easy to use double handles
+
Enamelled coating for quick cleaning
+
Perfect for slow cooking
+
Includes wooden serving board
Reasons to avoid
-
Bulky and heavy
-
Enamelled coating limits its searing potential
-
Not available in the U.S.
For a stylish, multi-functional cast iron skillet we thought this one was tough to beat. Its point of difference in its colorful exterior, which really made it stand out from the rest—we reckon it would look great in a country-style kitchen, for example. But how did it perform? Well, we first of all really appreciated that this cast iron pan came with a lid, which just makes it so much more versatile than ones without. Similar to Staub saucepans, the lid on this has 'condensation bumps' which help keep stews and slow-cooked joints really moist and flavorsome (something we can attest to, we were impressed with this pan's low and slow performance on tougher joints of meat).
Because of the larger surface area—bigger than most hob rings—and its ceramic coating, this didn't really come up to heat as well as some of the other pans we tried, so it wasn't a match for cooking things like steak or burgers, for instance. If you're happy with a decent performance for searing—rather than a standout one—and the additional functionality of being able to use it as a sort of mini Dutch oven, we thought this was a great-sized, multi-tasking pan that would get routine use in busy households. But if searing meats is your main focus for your cast iron, we'd maybe suggest opting for another of our best cast iron skillet picks, such as the Staub or the Skeppshult.
10. Ooni Cast Iron Skillet Pan
The best cast iron skillet for using on a pizza oven
Specifications
RRP: $39.99/£34.99
Warranty/guaranty : None
Oven safe: Yes
Dishwasher safe: No
Materials: Cast iron
Reasons to buy
+
Detachable handle
+
Perfect for pizza ovens
+
Secondary helper handle
+
Great price point
+
Excellent heat conduction
Reasons to avoid
-
Hand wash only
-
No lid
-
No warranty
There's something ultimately pleasing about this simple shape with angular, slightly higher sides than usual. While Ooni might be famous for their pizza ovens—which this pan is intended to be used in—we loved the versatility of their design for use in regular cookers too. This pan performed well when it came to our tests. We found that it came up to heat well and evenly to cook large joints of meat (like a rib of beef) perfectly, for a deep and richly flavored finish. We also made roasted potatoes and vegetables in ours which came our crisp and charred respectively, for a wonderfully earthy meal—proving this pan's versatility.
The detachable handle, however, was what set this apart from the rest. This little detail was a genius tweak on a more traditional design and meant both storage and functionality were easier than normal. It clicked into place easily and felt incredibly sturdy once connected, while also being easy to remove once the pan was in the oven. Although we didn't attempt it, we also think the high, straight sides on this one would make a great crust on bakes like cornbread, which could be a further perk for keen cooks. Two slight drawbacks were the fact that it's not dishwasher safe (though not many cast irons are), and that it doesn't come with a lid. But despite that, this, in our opinion, is the best cast iron skillet (at a great price point) for outdoor cooking enthusiasts.
How can you tell if a cast iron skillet is good?
It goes without saying that all of the picks in our best cast iron skillet round-up above are brilliant—we've done all the testing for you to work out whether it's worth a spot in your kitchen.
But, if you want to assess whether a different cast iron pan is good enough, or want to work out yourself how good a cast iron is, there are a few ways to tell. The best cast iron skillets are made in one piece. This traditional method means the hot metal has been poured into a mould and ensures the pan is virtually indestructible once forged. If there are too many additional 'bits'—like separate handles—it may mean there are weak points where things can break or go wrong.
Another thing to look out for when judging how good a cast iron skillet is, is how heavy it is. By its nature your pan should feel heavy with a solid weight and no visible seams between the body of the pan and the base. It's this weight that helps your pan conduct heat well, giving you an excellent cooking surface for all kinds of meals—from meat and fish through to veg and even baking. That being said, in recent years some of the best cast iron pans are a little more lightweight, to suit modern cooking needs—so don't immediately dismiss a cast iron that doesn't feel as weighty.
Finally, check the surface. Cast iron skillet typically have a semi-rough texture when new which becomes smoother with use and continued seasoning. If uncoated, your cast iron skillet should also be very dark grey or black, and not be showing any signs of rusting.
What size of cast iron skillet do I need?
This is a bit of a 'how long is a piece of string?' type of question. No two households cook in the same way, so the way you use your cast iron skillet will be unique. But generally, we like to have two sizes in our cupboard, so that both big and small jobs are covered.
A small 13cm one is perfect for meals for one or for cooking little extras—like fried eggs or crispy onions—while a large one, around 26cm, is ideal for family cooking or slow cooking, easily allowing you to make meals for up to four people.
Do's and don'ts when it comes to cast iron skillets
Cast iron skillets, when looked after properly, can last a lifetime (and beyond—vintage cast iron skillets are a big seller these days). There are a few tips and tricks that will ensure you get the most out of your pan though, and to help you we've listed our top do's and don'ts when it comes to cast iron skillets.
Do:
Clean and dry your skillet properly after each use—this will keep rust at bay and maintain your pan's patina properly. If you're not entirely sure how to do this, see our guide to how to clean a cast iron skillet the right way.
Season your pan every few months—this will help to maintain its natural non-stick coating. See our guide to doing this correctly below.
Use metal utensils—while metal utensils aren't great in even the best non-stick pans, they're fine to use in cast iron skillets and can be preferable to wooden spoons as they withstand high heats.
Use it on any hob type—even cooking over coals is fine.
Use it in the oven—the beauty of using the best cast iron skillet is that it easily goes from hob to oven for multi-faceted recipe cooking.
Don't:
Leave your cast iron skillet damp—this will encourage rust to form which will corrode the natural non-stick coating which you build up with use.
Soak your pan in water for prolonged periods—again, this is harsh on the pan's interior. Get the most out of your skillet by washing and drying it immediately after use.
Put your pan in the dishwasher—while some might be dishwasher safe, most cast iron skillets with no additional coating won't be suitable for the harsh detergents and cycles of a dishwasher, which may dislodge the surface and create flaking or rusting.
Allow any residue from food or excess oil to build up—this can cause flaking and will strip the non-stick coating.
How to season a cast iron skillet
Seasoning your cast iron pan is essential to preserving it and keeping it in its best condition possible. And it's surprisingly easy to do, too.
This process should be done every three-six months ideally, and here's a quick run-through on how to do it properly:
Step 1—clean and dry your pan. Using mild non-lye soap and warm water, gently scrub the interior of the pan to remove any flaking, built of debris or dirt. Once clean, dry throughly with a soft, clean tea towel.
Step 2—grease your pan. Using a rag or some kitchen towel, generously grease the interior of your pan—both bottom and sides—with a neutral oil. We've found vegetable oil to be an effective fat here, but you could use something like rapeseed oil, depending on what you have.
Step 3—bake your pan. Turn your oven up to high (around 375F or 190C), and add a rack or shelf to the middle of it. Turn your cast iron skillet upside down on the rack or shelf and bake hot and high for around one hour. Make sure to line the bottom of your oven to catch any drips
Step 4—allow to cool. Once baked, switch your oven off and allow the pan to gradually come back to cold while remaining in the oven. Once cool, your pan's non-stick coating should be restored—and it's now ready for use again.
Rosie Conroy is a food and drinks journalist with over a decade of experience working for big-name titles in both print and online. Formerly the Digital Food Editor of woman&home, Rosie went on to head up the team at SquareMeal, reviewing the best London restaurants and hunting out emerging culinary trends. With previous experience in food styling and recipe development, Rosie knows what to look for in a good piece of kitchenware and has extensive experience testing consumer goods—from kitchen electricalz and cooking accouterments through to new foodie treats.